Running is an excellent form of exercise to improve overall fitness, cardiovascular, and mental health. But have you ever avoided going for a morning run because of the bitter cold weather? Ever passed on the Christmas ice skating because the cold ice rink makes your ears hurt? Thankfully, an excellent set of running ear muffs could be the perfect solution to keeping your frozen ears warm.
However, you might think that the real struggle will begin once you start your search for the perfect earmuffs. There's so much choice, and so many brands claiming to have the best earmuffs! 'Where do I even begin on the quest to keep my ears warm?' you might be asking.
Thankfully, we understand the perils of too much choice. That's why we have put together this thorough investigation. We're going to discuss what you should be looking for when shopping for running earmuffs. We will answer all your questions about banded vs bandless earmuffs and discuss how best to wear each kind of ear warmer.
Finally, we will showcase three sets of earmuffs that we think will best suit the needs of any and every runner, jogger, and everyone in between. We have chosen options that match our standards for comfort, ear protection, design and durability, as well as unique little twists to make your active life a little easier.
So keep reading to learn more about how to find the best ear muffs of 2021 for running!
What to Consider when Buying Earmuffs
You don't want to rush in and throw your money at the first option that comes along just because you need a set of ear muffs ASAP! Here are a few things you'll want to look out for. Earmuffs that meet these criteria will stand out as the cream of the headgear crop.
Comfort and Style
If your earmuffs don't fit comfortably then you won't be able to concentrate on how invigorating and rewarding your exercise regime is. You should absolutely be prioritising comfort, especially if you'll be wearing these for long periods of time (on hikes for example). Your ears are a very sensitive part of your body, so you need to treat them gently to avoid discomfort and headaches.
Adjustable straps allow you to change the fit of the earmuffs to suit you, making the ear muffs suitable for all different head sizes. They ensure that you will get the most comfortable, snug fit possible.
It's a given that the earmuff itself should keep your ears warm in cold weather! Faux fur and fleece lining will make sure your ears stay warm and cosy. However, extra mesh material in the lining will make the ear warmer breathable, which is a necessity when you'll be working up a sweat.
Whether we like it or not, we are also drawn to accessories that are sleek and stylish. Most people look for an attractive, unisex design and colors that will complement their carefully-chosen running attire. We've kept our eye out for ear warmers that meet these criteria.
Banded vs Bandless
This is entirely up to the individual. When we think of ear muffs, the first type to spring to mind will be the earmuffs with wire or fleece headbands. These fit snugly and comfortably onto the runner's head. They stay securely in place, but you are very aware of the fact that you're wearing headgear. A fleece headband provides a particularly comfortable fit.
Bandless ear muffs (or ear bags) are perfect for those who prefer to let their head breathe a bit more or want to avoid a "squashed" hair do whilst running. Bandless earmuffs take a bit of getting used to as there's a knack to putting them on. Earbags are very comfortable and perfect if you want the rest of your head to feel free, or if headbands cause you scalp discomfort.
Additional Features
Though your main focus will be comfort and durability, you'll be surprised to discover that you can find ear muffs and ear warmers with some useful extra features.
Some designs allow you to fit your earphones underneath them, so you can listen to your podcasts and music whilst you're running. Some will even have built-in Bluetooth connectivity which allows you to listen to music from a Bluetooth-enabled smartphone.
Additionally, some headband designs include a ponytail hole for those who prefer to tie up their locks on a long run. This makes them particularly suitable earmuffs for women (or men) with long hair.
These features aren't necessities, but helpful little extras can be a godsend.
Durability
You'll want a pair of earmuffs or ear warmers that are light enough to run in, but tough enough to survive the elements. Opt for durable windproof and waterproof models so they won't end up damaged on the go. A flexible design prevents snapping, so look for one that incorperates a stretchy band or rubber
Affordable Price
You don't need to break the bank in order to kit yourself out with the best running products! There are plenty of very affordable options that deliver all the comfort, durability and style that you'll want. Never assume that the most expensive designer products are the best. Our picks for the best ear muffs for running are priced very reasonably but incorporate all of the most desirable features for a set of earmuffs.
Where can I buy earmuffs?
The products detailed in this article are all available from Amazon.com as well as other online shopping sites. Earmuffs are also available from all good outdoor clothing and equipment retailers. You can find earmuffs in some high street clothing shops during the winter months, but earmuffs sold in clothes shops generally are more for fashion and won't be as durable or suited to running as the pairs we have outlined here. Keep reading to see our picks for the best earmuffs of 2021 for running.
The Best Earmuffs for Running:
Here are a few of our picks for the best earmuffs to take for a run. Each of the options detailed below have been picked especially for their particularly high quality and affordability. There's a set of earmuffs to suit every kind of runner. Whether you're a music lover prone to frostbite or a fashionista on the hunt for earbags to match your running shoes. Keep on reading to see our favourite products!
Sprigs Bandless Earbags with Thinsulate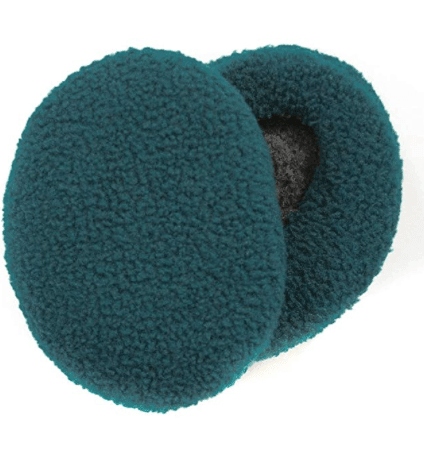 This bandless design is lightweight but full of warmth. The ear bags have a fleece interior lining and use two layers of Thinsulate which stop the wind from penetrating the material and keep your ears warm and cosy.
As they're bandless, they won't interfere with your hairstyle and can even be tucked away behind loose hair for a barely-there look. They will easily tuck neatly inside your jacket or leggings pocket when you aren't wearing them.
They use something called 'Snap On' technology to lock in place over your ears. This stops them from slipping off even during intense exercise, making them ideal for running.
They come in three sizing options (S, M or L) so you can make sure you really are getting the best possible fit. The whopping assortment of 15 colors means you can choose a set of earmuffs that suits your personality, whether that means sticking with classic black or buying multiple pairs in all the colors of the rainbow!
Best Features
Discreet design won't mess up your hair
Available in a wide variety of colors
Stay in place whilst you're running
Warm polyester fleece lining
---
Tough Headwear Earmuffs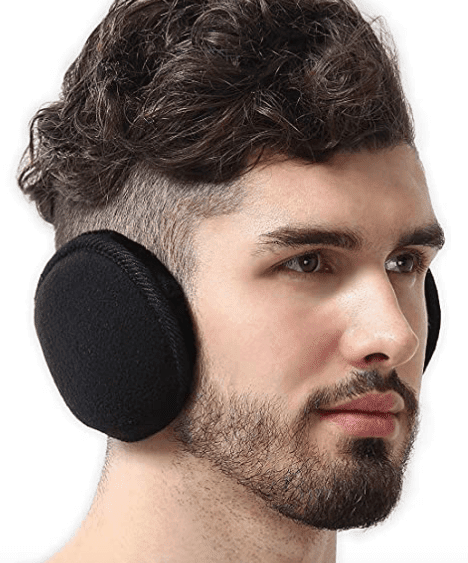 This affordable behind-the-head banded design will cover your entire ear with a premium fleece that provides a midweight thermal warmth.
The ergonomic headband fits itself around the back of your head with a premium comfort stretch. As the headband itself is stretchy the one size can accommodate every head size. The strong yet flexible design makes this pair of earmuffs a force to be reckoned with during the cold weather of the winter months.
Although this is a pair of earmuffs with a band, as it fits around the back of your head it will not cause any discomfort when you're wearing a hood or a hat. Those with sensitive scalps prone to irritation will find this design super comfortable and convenient.
Dual-layer waffle fleece prevents strong winds from penetrating the ear muff, providing a remarkable full coverage that will keep your ears warm for hours of outdoor running.
The ear warmer design itself is tough but stylish with its bold black color and streamlined headband. Its classic unisex design makes this product the perfect pair of ear muffs for women or men!
Best Features
Stretch headband to fit all head sizes
Full coverage for maximum warmth and protection
Comfortable as it fits around back of head
Very affordable
---
180s Unisex Exolite Ear Warmers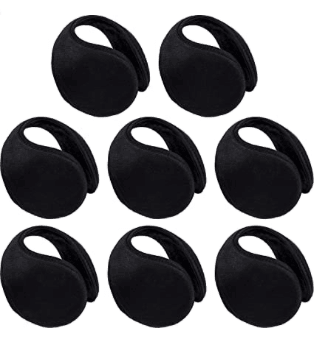 The Unisex Exolite are a particularly good choice for any podcast-lovers or podcast fanatics prone to chilly ears. The big draw of this set is its built-in opening for earbuds. Your wired or wireless earbuds slot neatly into the hole, so you can listen to your tunes whilst running without muffling the audio quality! If you want to jam out to your playlist and keep your ears toasty at the same time then this is the ear warmer to invest in.
This one size fits all design is particularly thin and lightweight, and you can remove the ear warmers from the headband and throw them in the wash when necessary.
The design is unisex (the pair works as both men's and women's earmuffs) and it is stylish and sleek, so even the most fashion-conscious of runners will be happy to wear this design whilst running.
As the ear warmer is so thin you can easily wear it underneath a waterproof hood or a comfy hat for extra protection against the damp and cold winter weather. This makes it ideal for anyone who likes to layer up when running. They are made with a soft polyester fabric cloth and flexible rubber which makes them incredibly comfortable. Your ears will stay cosy and protected from harsh winds even though it feels as though you aren't wearing headgear at all!
Best Features
Extremely thin and lightweight
Built-in earbud holes for wired or Bluetooth earbuds
Stylish design
Comfortable fit with a strong grip
So there you have it! By now we think you'll certainly have found your ideal kind of running earmuffs. So what are you waiting for? Buy yourself a set now so you can grab your running shoes and spend the day outdoors with the cosiest ears money can buy!