Are you on the lookout for a new pair of high quality clip on headphones? Well you're in the right place. Most headphones consist of ear pieces that you insert into your ears. Over time this can cause soreness, treble spikes and even infections in the ear canal. But fear not, headphones have advanced a lot over the years and you can now purchase ones that won't leave you in pain every time you workout! Unlike traditional earbuds, these headphones clip on to your ear instead of being inserted, thus preventing any nasty infections. They simply rest on the ear for a much more comfortable sound experience.
You may think there isn't much to consider when purchasing headphones but think again. Technology is constantly improving and new features are being created so you'll want to be in the know! For some people, headphones are just a tool they'll use every now and again. But for others it's more than a hobby, it's a lifestyle.
For hardcore audiophiles, headphones are more than just devices that play their favourite music. It can mean the difference between having a successful day or a rubbish one. However even for non enthusiasts, headphones can brighten up your day. The right music, being played on a high quality set of headphones can really help make your day!
They're ideal for the gym, home or outdoor workouts such as running or jogging. They fit securely and comfortably and they have great sound quality, so you can still enjoy your favourite music as you pump some iron.
In this article we'll look at some of the top picks of best clip on headphones. We'll explain the benefits of each one and go through their positives and negatives so you can make the best informed decision. We've also included some factors to consider when looking to make your purchase as well as some FAQs that we've answered.
Top 10 Best Clip-On Headphones
Now let's take a look at our best clip on headphones. With 10 different fantastic styles to choose from, we're sure there's something for everyone in this selection, no matter what your chosen activity is. Running, jogging, housework, gym or even commuting, we've got you covered!
1. Panasonic RP-HS46E-K Affordable Clip On Headphones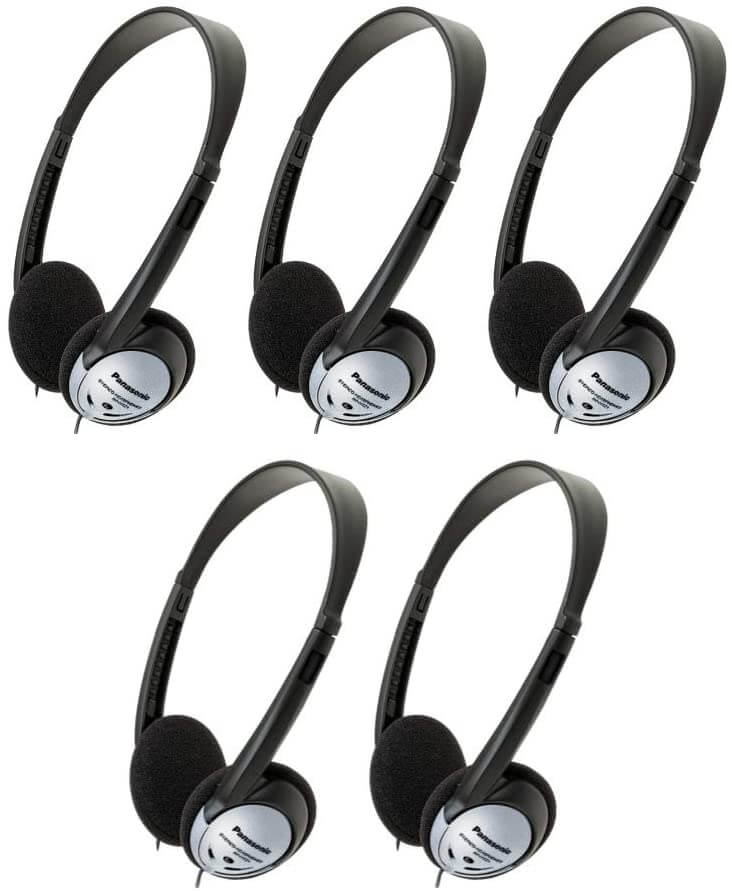 Kicking off our list of the best clip on headphones is this affordable and comfortable set from a brand that you can trust. These clip on earphones from Panasonic are suitable for everyone. The earpieces are slim and lightweight so they won't put any pressure on your ears. They're easy to carry around and because of their subtle design they're even suitable for wearing at work.
Key Features
They feature 30mm audio drivers in each earpiece to give a powerful sound quality. These little earphones really pack a punch. They also have ergonomically designed ear hooks so they're comfortable and secure.
Best Features:
Great price
Slim and lightweight
30mm driver gives high audio quality
Ergonomic design fits ears comfortably
---
2. Koss KSC75 Portable Lightweight Clip On Headphones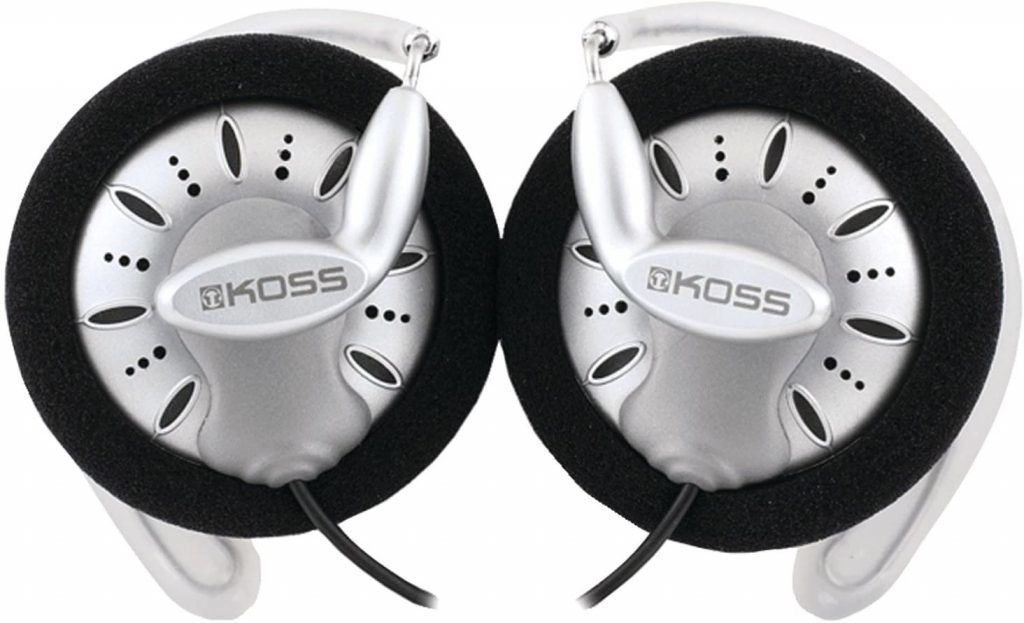 These lightweight clip on earphones are perfect for a range of uses – school, workplace, at home or while you're out and about, running errands or working out. They have soft, pivoting sport ear clips to give you a comfortable fit.
Key Features
The Titanium coated drivers give amazing quality sound that's ideal for regular use. The Neodymium magnets offer a deep bass performance and the wired 4 feet long cord connects to devices with a 3.5mm plug.
Best Features:
Limited lifetime guarantee
Ideal for daily use
Great sound quality
Works with any device with a 3.5mm plug
---
3. JBL Endurance Jump Waterproof Wireless In-Ear Headphones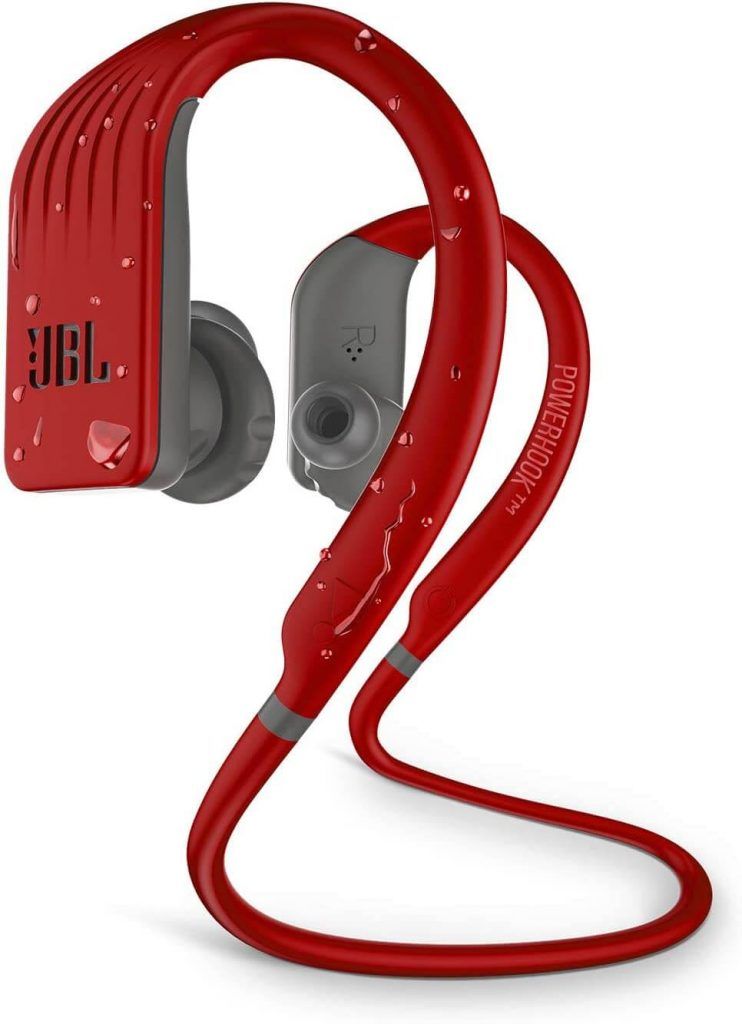 Enjoy wireless activity with these waterproof earphones from JBL. With bluetooth wireless you can listen to your favourite music for a full 8 hours without worrying about pesky wires getting in your way. The earpiece design is secure and they're automatically powered on or off when you put them on or take them off.
Key features
The PowerHook design of these headphones automatically power on and the wireless neckband and TwistLock ear tips allow you to move around confidently. Don't let the rain dampen your workouts. With IPX7 waterproofing you can exercise whatever the weather. On top of that you can enjoy a battery life of 8 hours! Also available in 5 different colours, pick the one to suit your style and mood.
Best Features:
Bluetooth wireless
Long battery life
Waterproof
Secure and designed to stay in place
---
4. Anker Soundcore Spirit X2 Wireless Headphones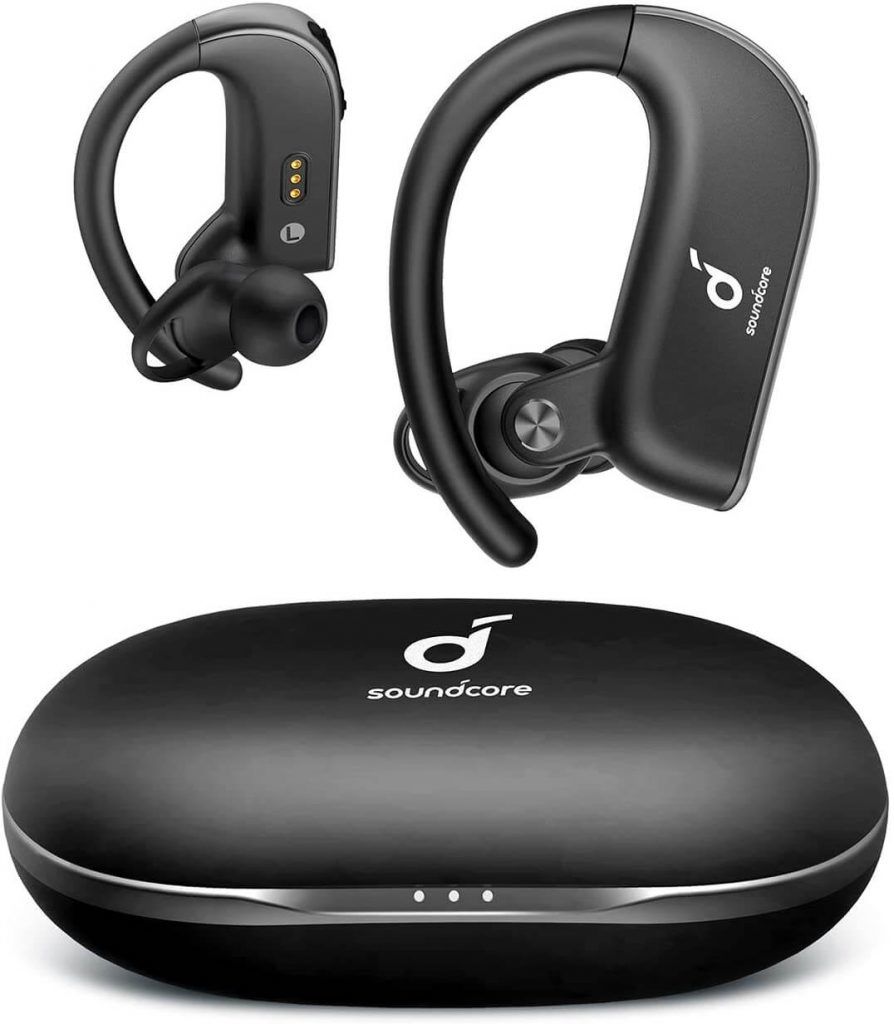 If you're looking for a more advanced pair of headphones, then take a look at these ones from Soundcore. Packed full of features, these are headphones for the serious athlete. If you need ear headphones that you can rely on to stay put during your workouts, then these are the ones for you.
Key Features
Featuring BassTurbo, inspired by technology that you'll find in high-end speakers. The BassTurbo is an acoustic chamber behind the driver to create that powerful bass.
The IP68 protection repels dust and water. The SweatGuard technology will resist sweat so you can push yourself to the max during your gym session. Thanks to the submarine structure and hydrophobic nano-coating, these earpieces will last much longer than ordinary wireless earbuds.
From just one charge you get 9 hours of battery life! Then to boost that to 36 hours just use the included charging case. Incredibly comfortable to wear – these earpieces have extra-flex eartips and hooks so you get a secure, comfortable fit that doesn't restrict you, no matter how hard you run or workout. They come with a selection of tips and wings so you can have a perfectly tailored fit.
Best Features:
BassTurbo Technology
IP68 waterproof rating
Long lasting
Long battery life
---
5. Powerbeats Pro Wireless Headphones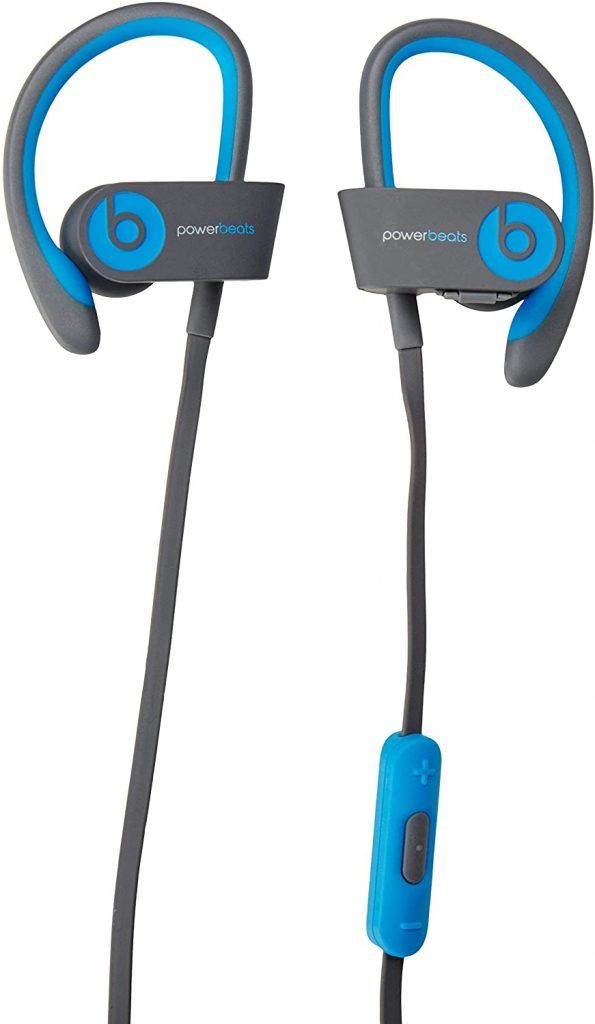 Searching for a serious pair of headphones? Then look no further. One of the most well known and respected brands, Beats has created the Powerbeats Pro wireless headphones. Bursting with advanced features, these earphones are perfect for any hardcore workouts.
Key Features
The adjustable and secure ear hooks give you confidence to move and with the multiple ear tips included, you get a fully tailored fit. They also have a reinforced design to repel sweat and water. With up to 9 hours of battery, you can enjoy working out for longer.
Want to share your favourite music with friends? Well with Audio Share you can pair 2 sets of Beats headphones or 2 Airpods to one iPhone and enjoy the same song, film or podcast.
Best Features:
Long battery life
Audio Share feature
Reinforced design
Sweat and water resistant
---
6. Sony MDR-Q55SL Dynamic Clip On Headphones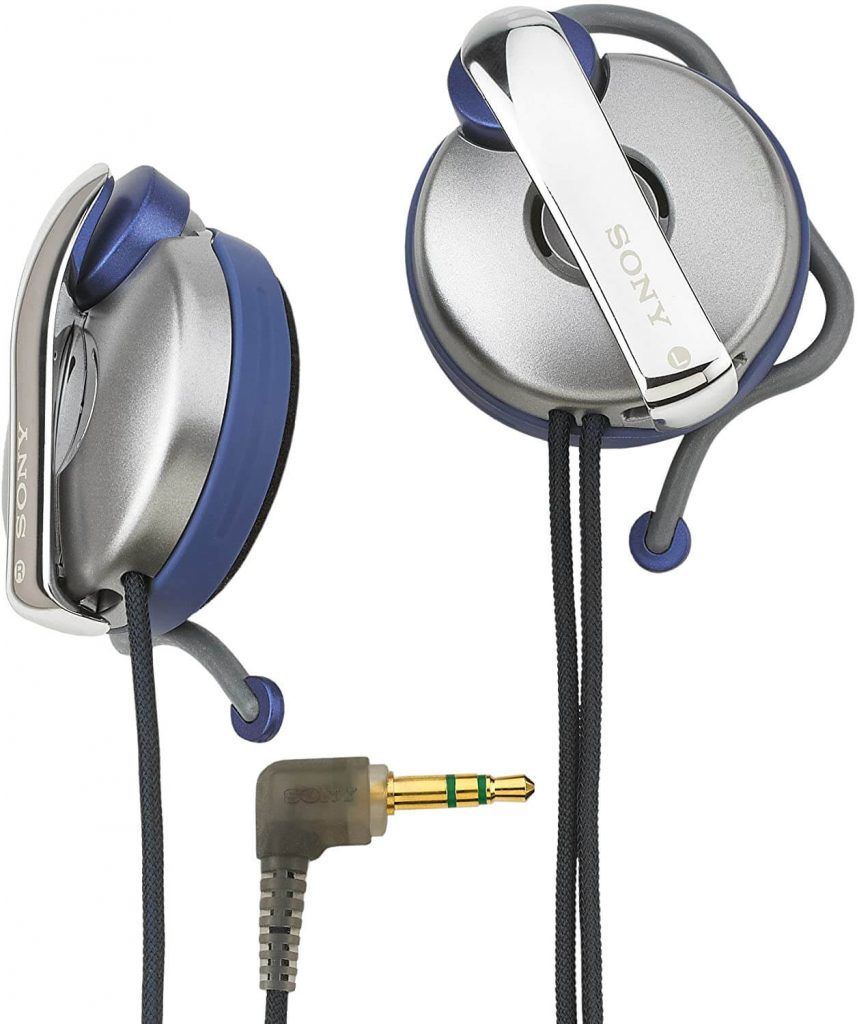 When you're wearing headphones it can be a bit unsafe if they completely block out all external noise. Although you need to enjoy your favourite music, you also need to know what's going on around you. With these clip on headphones from Sony you get the best of both worlds. The open air design allows you to hear outside sounds, as well as giving you a good quality listening experience.
Key Features
The neodymium magnets offer you the biggest sound in a small package. They give you higher levels of sensitivity and ultra HD sound quality in a convenient clip on style. The turning feature means they're really easy to wear and are flexible enough to fit a variety of different people. Also comes with a handy tangle free cord.
The snug fit will mean you get less sound leakage and high quality audio sound. Ideal for sports use, with their headband free design they slip straight onto your ears and won't mess up your hair, so you can exercise in style. Other handy features include a mini plug, reduced sound leak and a tangle free cord.
Best Features:
Open air design
Ultra high definition sound
Universal fit
---
7. Leqingchun Affordable Clip On Headphones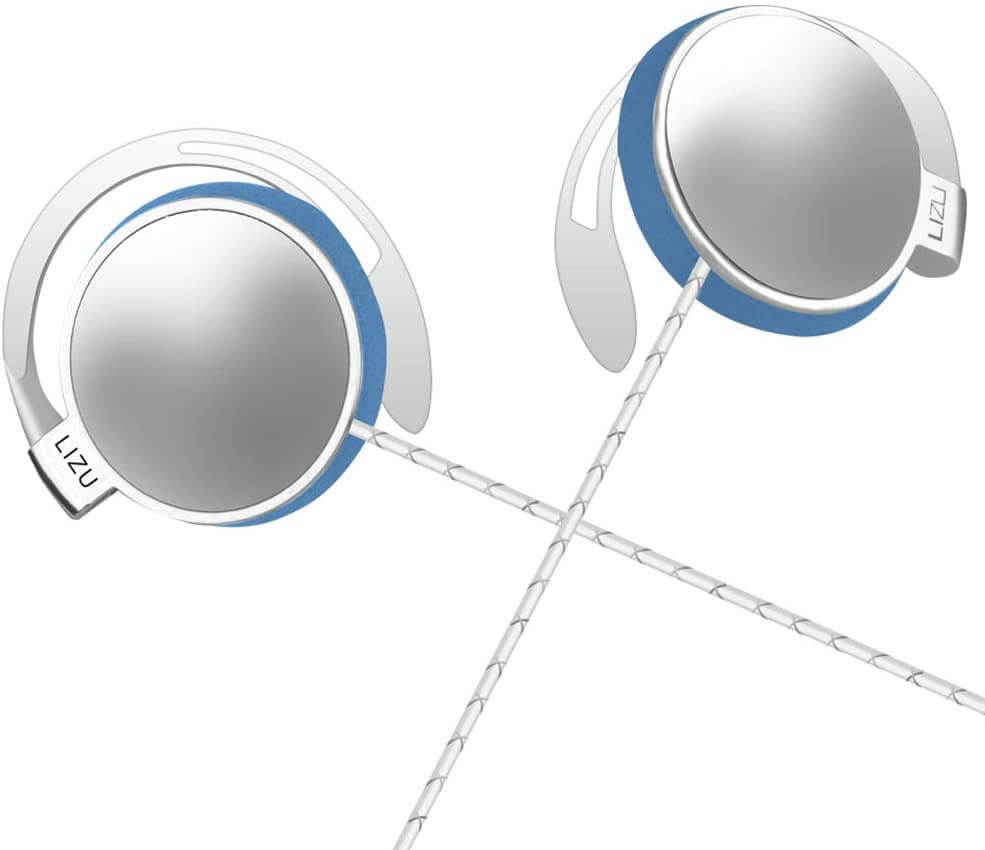 A decent pair of clip on headphones don't have to cost the earth. If you're on a budget then these earphones have got you covered. Suitable for IOS and Android, their built in microphone offers good quality sound.
Key Features
Enjoy the comfort and performance of these clip on ear headphones. The soft sponge cover on the earbud offers a comfortable, snug fit so there's no danger of it damaging the ear canal. The secure fit makes sure you can move in confidence without fear of the earphones falling off.
The standard 3.5mm plug will fit most smart phones, laptops, tablets and other electronic devices. Also available in 4 different colors.
Best Features:
Affordable price
Multiple color options
Snug, secure fit
---
8. SoundBot SB221 Wireless Bluetooth Clip On Headphones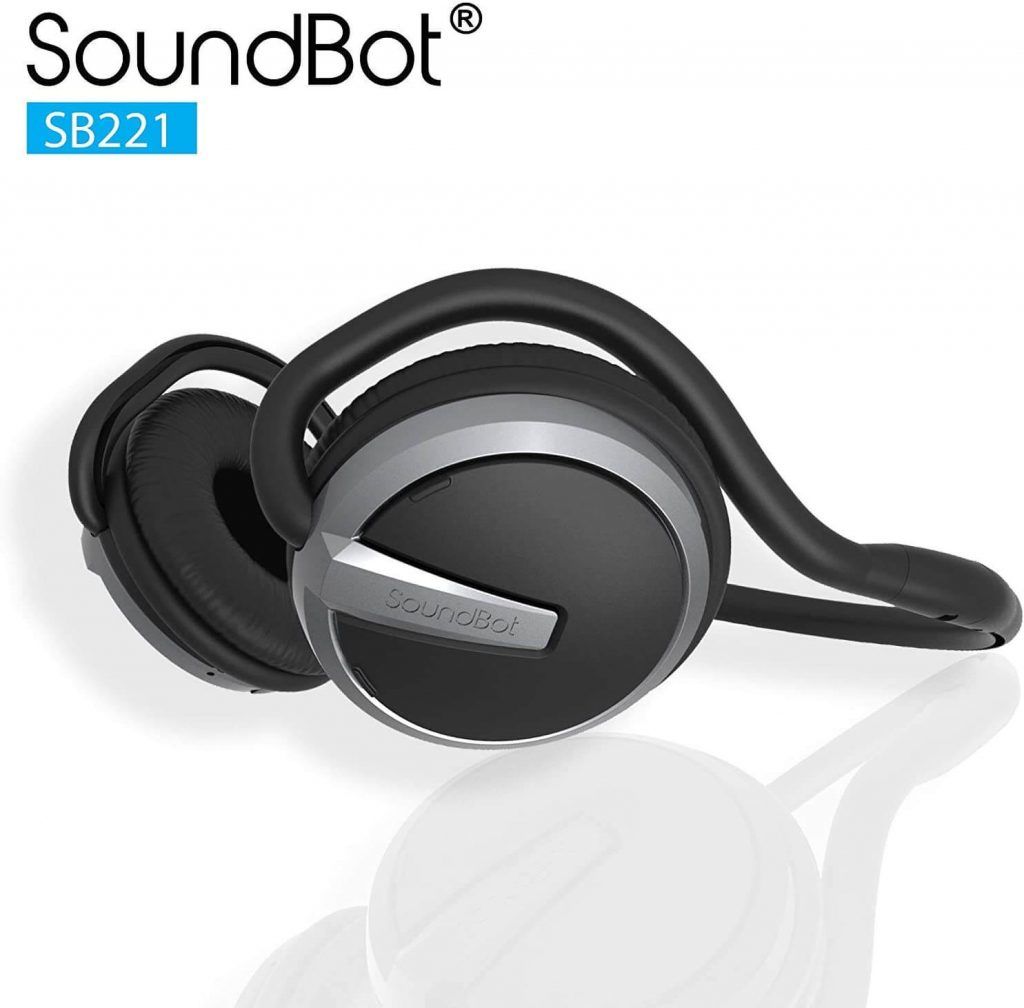 Next we have these clip on earphones from SoundBot. These affordable headphones have some great features. The compact, slim design means they're easy to carry around and are perfect for general everyday use, whether you're outside or at the gym.
Key Features
The ergonomic design ensures you get a secure and comfortable fit. The 5 intuitive remote control buttons allows you to have quick access to SIRI or android voice control. It will also enable you to access wireless music streaming, calls and to adjust the volume as needed.
Thanks to the high performance speaker driver unit, you get crystal clear and balanced audio reproduction for better listening pleasure. With the built-in rechargeable lithium-ion battery and microphone, you get upto 20 hours of wireless music streaming from just one charge.
With its swiveling ear cups and foldable water resistant frames, you get maximum comfort every time you use them. With the scratch resistant surface you won't have to worry about marks or wear and tear on your new headphones.
Best Features:
Noise reduction
Full 1 year guarantee
Ergonomic design
---
9. Aurvana Air Lightweight Clip On Headphones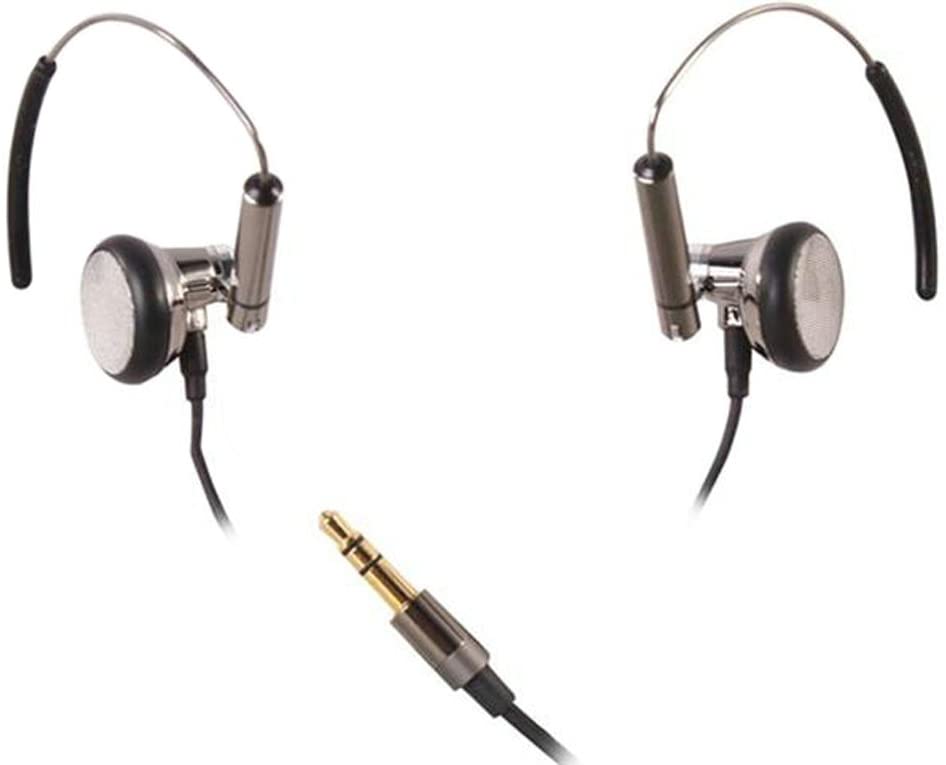 Are you an active person? Are you always on the go? Then you'll need some headphones that can keep up with you. These earphones from Aurvana will become your ride or die earphones. Not only are they lightweight and secure, they also look the part. With their sleek metal design, these are stylish headphones that you'll want to be seen in.
Key Features
The EaseFit ear hook design is easy to wear and gives you a secure and comfortable ear fit, even when worn for long periods of time. The Flexnium ear hooks have been constructed with Shape Memory Metal so it's flexible and comfortable. For those who are allergic to nickel, don't worry, these earphones feature an inert coating.
The integrated neodymium magnets and superb high performance diaphragms, makes the Aurvana Air headphones a real audio heavyweight. The high quality thermoplastic elastomer covered cable remains tangle free and is very quiet when the cord brushes against you.
Weighing just 6oz, these earphones are ridiculously easy to carry around. When you're not using them, simply pop them in the included leather travel pouch and be on your way.
Best Features:
EaseFit design
Secure and comfortable
Inner coating to prevent allergic reactions
---
10. Koss KSC35 Clip On Bluetooth Headphones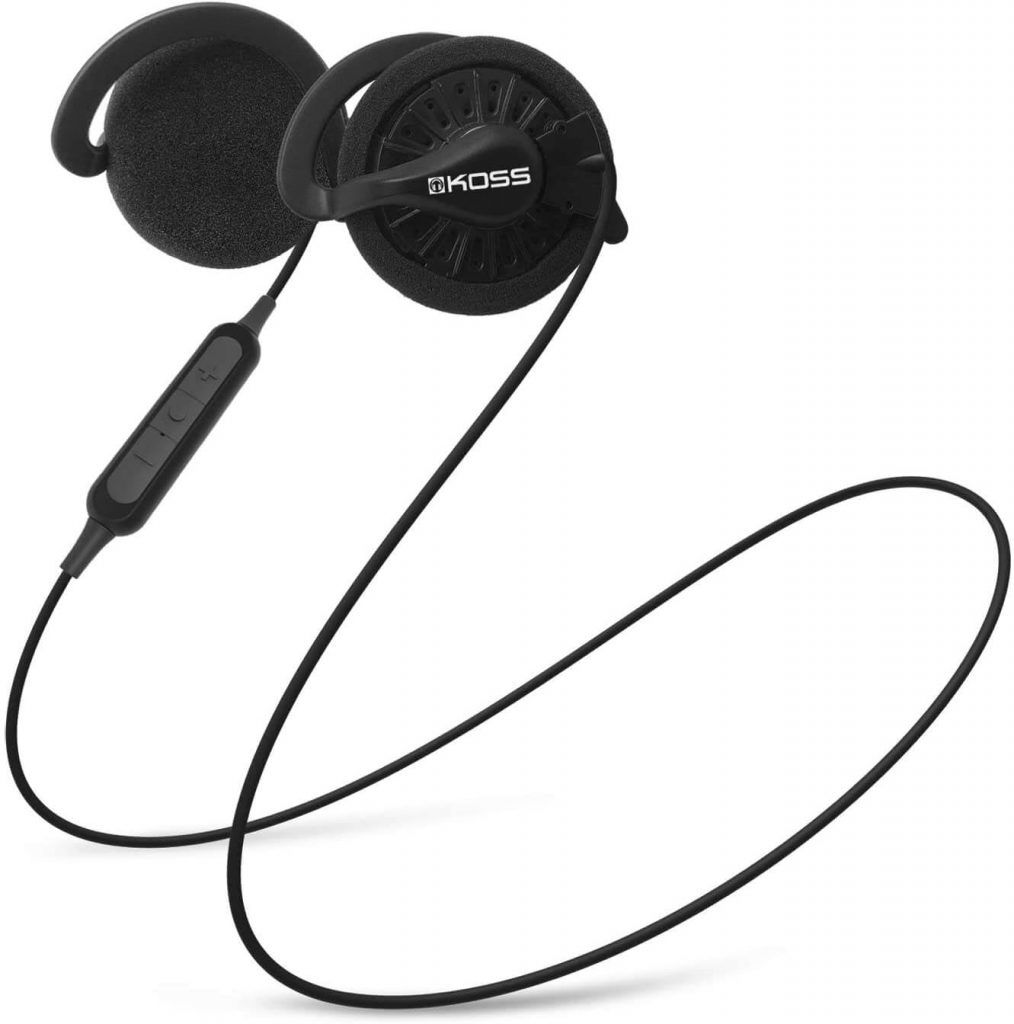 Finishing off our list of the best clip on headphones, are these simple but stylish bluetooth earphones from Koss. They're ideal for any activity, whether you're at home, out jogging or commuting. With their trendy design, you'll definitely want to be seen wearing these!
Key Features
The Koss KSC35 ear clip headphones have been specially designed with an incredibly wide frequency response of 15-25000 Hz. With its rechargeable battery you get 6 hours of use and features an in-line microphone and remote with multiple button functions.
The rotating ear plates are made from a soft foam material and you also get Bluetooth connectivity. Other handy extras include a cable management clip to keep everything tidy and a protective carry case to prevent your new earphones from getting damaged.
The ear pieces are made from soft rubber that's pliable for a more comfortable experience. Thanks to the oxygen free copper voice coils you get crisp, clear sound.
Best Features:
Limited 12 month guarantee
Bluetooth connectivity
Comfortable and easy to wear
Our Top Picks
So we've gone through our top picks of clip on headphones, now we'll pick the best overall of the following 3 categories to help you make your decision.
Best Overall
With its featherweight, dynamic design, we think the Sony MDR-Q55SL are the best clip on headphones overall. The open air design means you won't miss anything that happens in your surroundings. From a safety point of view this is especially important when you're out running. When you're enjoying your favourite music it can be easy to get lost in the moment and not be present, but with these headphones you'll be aware of potential obstacles or dangers such as cars or other people.
Other features such as HD sound, a flexible universal fit and reduced sound leakage also earned these headphones the award of best overall product!
Best for the Money
The SoundBot SB221 Wireless clip on ear headphones offer the best value. With its many features, these headphones really pack a punch. From the ergonomic design to the noise reduction, rechargeable battery to the sweat and scratch resistant ear frame material, these headphones really deserve the title of best for the money!
Best Sound Quality
With their deep bass sound, the Powerbeats Pro headphones won the title of best sound quality. These are workout headphones for sure and when you're busy pumping iron you need music and sound that will motivate you. These clip on ear headphones are more than capable of doing that! The signature bass sounds that they usually use are super refined on the Powerbeats Pro, so you get the best possible listening experience.
What to Consider when Buying Clip-On Headphones:
Sound Quality
An obvious consideration when buying the best clip on headphones is the quality. The whole point of them is to listen to your favourite music, podcasts or films, so if the sound is poor then it'll ruin your listening pleasure. However, for safety reasons, it's important to make sure they're not so loud that they hurt your ears. If you find yourself wincing and grimacing while wearing them, they're too loud! When it comes to sound quality you need to take into consideration sensitivity and the impedance.
The sensitivity refers to how loud the sound is. Depending on what activity you'll be using your headphones for, you may not want a super loud sound. If you'll be using them for relaxing activities such as meditation or yoga then you'll want a more subtle sound. However if you'll be using them for running or other high impact sports you'll probably want a louder, more aggressive bass to get you feeling motivated to get a sweat on.
Lastly, impedance means the volume range you'll get from your headphones. If you want a higher range of volume selection then make sure you buy one with a high impedance rating. Check out the headphones with a rating of at least 30 ohm, this means they're high quality and built to last.
Durability
This is another crucial factor to consider. The best clip on headphones are made with quality materials, meaning they will last longer and you won't spend money repairing them or replacing them altogether. If you're going to be putting them through their paces then it would be worth spending a little extra on a tougher set of earphones. Whereas if you're only going to be doing light activity then you won't need to splash out as much.
Connectivity
Think about whether you want wireless connectivity as well. If you want to stay in touch with technology then headphones with bluetooth will be essential. Or you may want to get away from technology for a while, if so there are plenty of earphones that don't come with wireless connectivity, the bottom line is it's all down to your personal preference.
Ergonomics and Comfort
When it comes to headphones, comfort is very important. The ears can be very sensitive and when you're working out hard you want earphones that are going to work with you. An ergonomic design will mean you get the best possible fit and a clip on style means it won't be intrusive and cause damage inside the ear.
If you're worried about how the headphones will fit, opt for ones that include different tips so you can tailor them to fit your ear size.
Driver Size
The driver size is also super important. In simple terms, the bigger the driver, the better the sound will be. Once the size of the driver starts to increase you'll get a more premium bass sound. Again, it really depends on what you want from your headphones, for calmer activities go for a small driver, on the flipside go for a larger one for more vigorous activities.
Suitability to User
Your lifestyle will also determine what kind of earphones you'll purchase. If you're going to be using them for commuting then it's best to look at one that features noise cancellation. Traffic and public transport can create an awful lot of noise and you wouldn't want your listening experience to be ruined.
If you're going to be wearing them outside a lot then it's probably wise to invest in a water resistant set of headphones. Let's face it, the weather can be unpredictable and the last thing you want is to be caught in a rain storm and have your new headphones ruined.
If you're an active person then you'll have to deal with dampness and sweat, especially in the summer months. Try to choose headphones that are sweat resistant.
If you're a runner then you'll want earphones that give you real freedom of movement. Wireless headphones will be your best friend in this case! No more annoying cords to worry about.
FAQs
If you're still on the fence about which headphones to purchase, then check out these frequently asked questions we've answered.
What are the benefits of clip-on headphones?
If you've ever worn traditional earphones you know how uncomfortable they can be. After wearing them for a while they can even start to make your ears feel sore. Clip on headphones solve that problem. They fit securely with an ear hook on each side, some are very subtle so it doesn't even look like you're wearing them.
Clip on headphones that are wireless could prove to be a lifesaver. You won't have to mess around with pesky wires and you can run or jog completely hands free. Headphones with a headband and giant earcups can weigh you down and feel really heavy. They can end up putting a lot of pressure on your ears, particularly if you're doing a high impact activity. Clip on headphones are super lightweight, you might even forget you're wearing them.
Clip on earphones are designed to stay put, so if you're running or doing high intensity cardio, you'll have the confidence to push yourself harder.
Another great benefit of clip on headphones is that they don't completely shut out the world, which is incredibly important in a lot of situations. If you're wearing them at your workplace, as much as you want to enjoy your music or podcast, you also want to be aware of any calls or notifications from your superiors or colleagues.
If you're out jogging with friends you'll want to listen out for a conversation that involves you. You'll also want to be aware of what the traffic is doing so you stay safe.
Which clip-on headphones have the best reliability?
The Koss KSC35 has all of the features you'd expect from a great set of headphones. They also come with a 1 year limited warranty so you can shop with confidence.
Another name prominent in the world of music and technology, the Powerbeats Pro headphones have proved to be incredibly reliable. Although at the higher end of the price range, they are worth every penny. If you're looking for a serious set of headphones that can keep up with your demanding schedule, we're sure the Powerbeats would be up for the job.
How do clip-on headphones work and what can I use them for?
Clip on headphones can be divided into two categories. The first is quite similar to the classic earbud, but it features a frame that wraps around the ear and hangs the speaker so that it gently sits just outside of the ear canal. The other one has ear pads that rests comfortably against the outer ear. They do have different sound levels, the outer ear version doesn't have the loudest sound and usually doesn't offer the best bass.
The inner ear headphones obviously have the best sound but they can be a health risk after a while. On ear, clip on headphones are definitely the safest option.
Are clip-on headphones comfortable?
In a word. Yes! Clip on headphones don't insert inside your ear so they are super comfortable, not to mention safer and better for your health than inner ear headphones. They sit securely and comfortably over your ears with hooks. A lot of them are also adjustable and flexible so they'll fit no matter what your ear size is.