Wondering what are the best cheap true wireless earbuds in 2021? We're here to answer all your questions! We've chosen 10 of the best true wireless earbuds based on audio quality, battery life, connectivity, design, and other features.
Wireless earbuds have become increasingly popular, and so has the number of brands producing them. This can make it difficult to choose the best pair to suit your needs. Top-of-the-line earbuds come with a hefty price tag, so how can you choose a pair to suit your budget? There are plenty of Apple Airpods Pro ripoffs out there, but with a nudge in the right direction, you can ensure you're spending your well-earned money on the best wireless earbuds that are high quality and worth the money.
There are lots of things you'll need to look out for when browsing the market for your new earbuds to ensure you're making the best decision. So without further ado, let's dive into our list of the best true wireless earbuds.
Top 10 Best Budget true wireless earbuds
Sony WF-XB700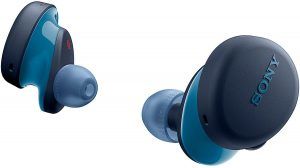 With the Sony WF-XB700 headphones, you can listen to your favorite tunes all day long with up to 35 hours of playback time. With 9 hours of battery life, extra bass that creates a deep and punchy sound, and an ergonomic design that fits your ears perfectly – there are plenty of reasons why these are some of the best wireless earbuds on the market.
Once hooked up via Bluetooth, you can access your smartphone's voice assistant with a simple touch, and enjoy easy-to-use hands-free calling for catching up on the go. You'll also get a charging case, a selection of different size earbuds, and a type USB C charging cable. Sony is pretty reliable in the technology world, so you know that when you purchase these earbuds you're going to get quality. Retailing for $128 they're not super cheap, but they're definitely worth the investment.
Best Features
Great battery life
Waterproof and sweat-resistant
---
TOZO T6 True Wireless Earbuds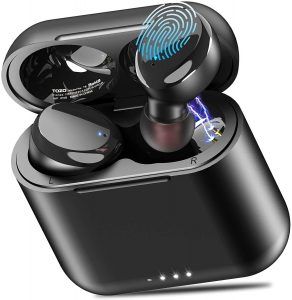 They might have copied Apple's design, but if you can overlook that fact then the Tozo T6 True Wireless Earbuds are a cheap, great quality alternative that tick all the boxes.
These headphones feature authentic sound quality and powerful bass with a battery life of over 6 hours of playtime for all-day listening. The ergonomic design features gel-flexible silicone earcaps to ensure a comfortable fit at all times.
One of the best features of these true wireless earbuds is that they're highly waterproof and sweat resistant with a nano-coating, which makes them ideal for working out at the gym. You can even wash the earbuds and their base!
The compact charging case allows you to charge the earbuds on the go, so you'll never be without a soundtrack to your day. Pair the headphones with Bluetooth 5.0 technology to your device for quick and easy pairing.
Best Features
Lightweight and comfortable
Convenient touch controls
---
Anker Soundcore Life P2 True Wireless Earbuds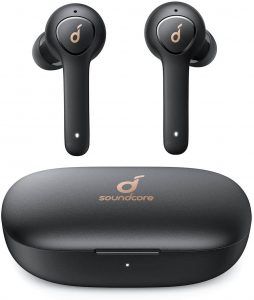 The Anker Soundcore Life P2 wireless earbuds feature push and go technology that allows for easy setup and automatic connection to the last paired device. These best cheap true headphones provide a 40-hour battery life with a charging case and a full 7 hours of playtime after a single charge. We hope you've got a playlist lined up!
They're also fast charging, so if you're in a rush and don't have time to charge just charge for 10 minutes and you'll get an hour of playtime. Just enough for your commute to work!
When it comes to listening to your favorite songs, the Anker Soundcore Life P2 buds deliver exceptional accuracy and clarity with BassUp technology and aptX audio for smooth transitions between devices. They're also IPX7 water-resistant and can defend against any liquid without compromising your sound experience. Ideal for home offices, each earbud features 2 microphones with noise-reduction technology and vocal enhancement for clear calls.
Best Features
Clear sound quality
Excellent battery life
---
Anker Soundcore Liberty Neo True Wireless Earbuds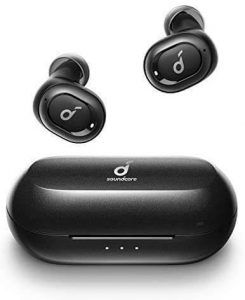 Anker Soundcore Liberty Neo are some of the best true wireless earbuds on the market. The design is lightweight and durable and optimized for the user's comfort. The Soundcore Liberty Neo's graphene drivers oscillate with extreme precision to bring you extraordinary clarity and authentic user experience, so you can hear every detail. BassUp technology increases the bass by 43% for a music experience you can feel.
When it comes to connectivity, Anker Soundcore Liberty Neo earbuds are the best on the market. They feature an LDS antenna that combines with Bluetooth 5.0 to create an unbreakable link between your device and earbuds, even in the busiest places. You don't have to worry about losing connection, skips, or drops in sound quality. These earbuds feature a battery life of 3.5 hours of wireless playtime from a single charge, with another 9 hours of battery life from the compact charging case.
If you're looking for the best cheap wireless headphones that combine sound quality with precision design and lasting battery life, then the Liberty Neo earbuds are guaranteed to impress.
Best Features
Highly affordable
Lightweight design
AUKEY True Wireless Earbuds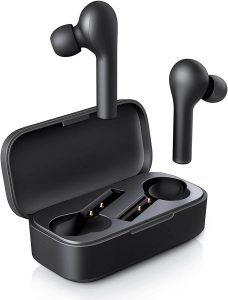 Aukey EP-T21 wireless earbuds feature crisp sound quality and Bluetooth 5 for fast pairing and stable listening experience. The one-step reconnection process means all you have to do is take the earbuds out of their stylish charging case and they'll automatically connect to the last device. Convenient touch controls allow you to effortlessly manage playback and phone calls with the touch panel. They feature a microphone on each earbud for seamless calling.
The stylish design means they're lightweight and easy to pop in on the go. The stylish charging case is the perfect pocket-size meaning you can charge wherever you are and avoid the risk of running out of battery mid-song.
These headphones provide up to 5 hours of great quality listening with a single charge, and an additional 35 hours of playtime with the charging case. When you buy these cheap true wireless earbuds you'll receive a variety of ear tips to choose from, a user manual, and a micro-USB C cable for charging.
Best Features
Crisp audio quality
Water-resistant
---
Dveda Bluetooth 5.0 C5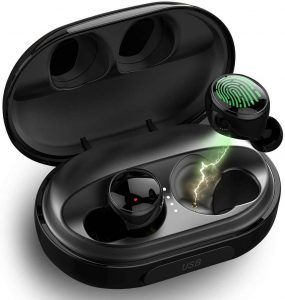 With the Dveda wireless earbuds, you can enjoy premium 3D great sound quality for between 4-5 hours from a single charge. What's more, the battery life can last up to 110 hours with the 3500Ah charging case. You can charge your true wireless earbuds on the go in the compact case for wireless charging.
Dveda earbuds feature a comfortable design so that they remain in place whether you're in the office, at home, or at the gym. They're super easy to connect, all you have to do is remove them from their case and they'll connect automatically to your smartphone or electronic device. They're water-resistant with an IPX8 rating and are designed for people who lead active lifestyles. These truly wireless ear headphones are lightweight, stylish, and the quality is good for the price.
Best Features
Affordable price and quality is good
4-5 hours of battery life
---
OKG Truly Wireless Earphones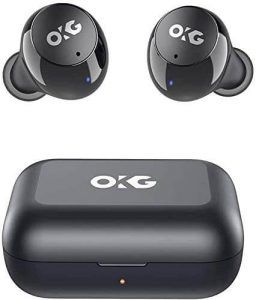 OKG 1-step connect Bluetooth 5.0 wireless earbuds feature great compatibility and stability. They feature built-in microphones on each bud for no distortion and exceptional call quality. The lightweight design means you'll barely notice they're there! Their ergonomic fit means they're super comfortable and will fit perfectly to your ears. They sport 6mm dynamic drivers which means they're smaller than usual earbuds, this doesn't affect the audio quality, however. These little buds pack plenty of punch for their size! Whether you prefer heavy metal, smooth jazz, or all-out bass – you can expect great sound with these wireless ear tips.
You can use the smart touch controls to navigate between songs and volume levels, for smooth transitions and a simple interface. These affordable earbuds provide 5 hours of battery life and music playtime + 24 hours extra when you use the wireless charging case integrated with USB C lead. Simply plug them into the case and charge on the go, so you'll always be ready for the next song. They're also IPX8 waterproof to guarantee great functionality regardless of the weather or how vigorous your workout is.
Best Features
Reliable stable Bluetooth 5.0 connection
Affordable price
---
JLab Jbuds Air Go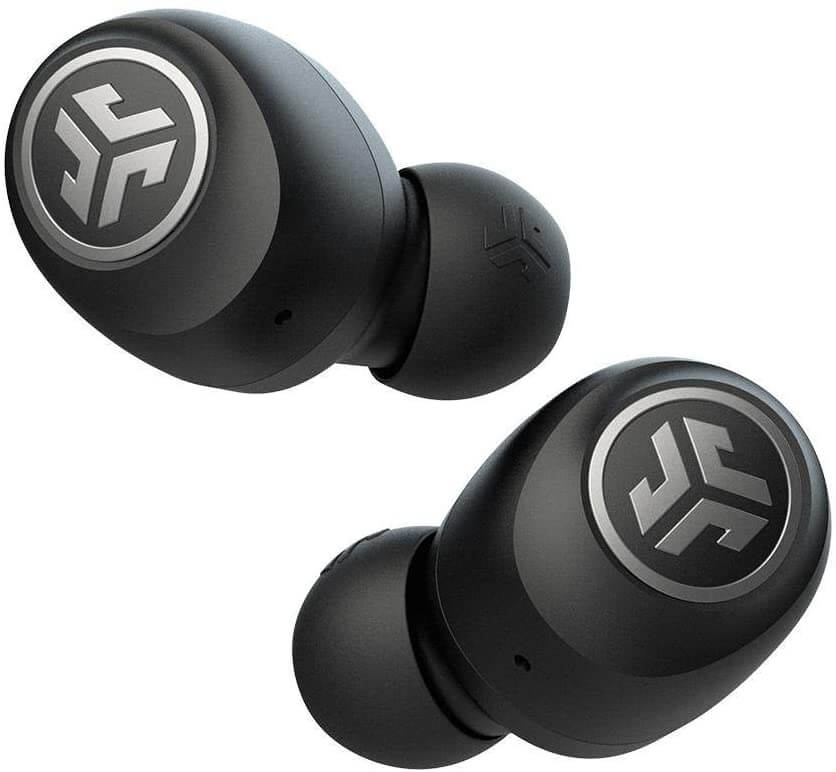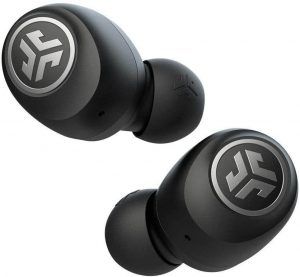 Some of the best true wireless earbuds can cost upwards of $200 – so how can you guarantee that a pair costing $30 like the Jbuds Go Air can measure up in terms of quality? Well, these ones can! Not only are they super affordable, but you won't have to compromise on great quality either.
The JLab Jbuds Air Go headphones offer a battery life of five hours from a single charge. You can listen to your favorite album at least 5 times! What's more, when plugged into the charging case they'll last for an additional 15 hours of playtime. That means over 20 hours of playtime and hassle-free charging with the truly wireless charging case and integrated USB C charging cord.
Their design is another feature that makes these earbuds stand out as some of the best on the market. They're 20% smaller than their predecessor Jbuds Air, which means a slimmer profile and comfortable fit, ideal if you're hitting the gym or constantly on the go. The longer earbud stem provides a more comfortable fit and creates the perfect seal for great sound quality.
What's more, you can use the dual connect feature to connect each earbud individually. Each has a built-in microphone to ensure high call quality. Both auto-connect to your apple or android devices for a seamless user experience without the hassle of reconnecting every time. You can use the touch sense control, and with just a tap or two you can choose the sound to match your personal preference, whether it's JLab Signature, Balanced, and Bass Boost modes – all without an app!
Included in the box you'll receive GO Air true wireless earbuds, a compact wireless charging case, 3 Sets of gel ear tips, and a two-year warranty in case anything goes wrong. You can choose from classic black, deep blue, khaki green or bright white colors.
Best Features
---
AUKEY True Wireless Earbuds Active Noise Cancelling Bluetooth 5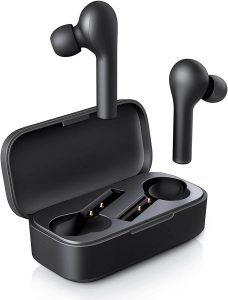 AUKEY EP-N5 true wireless earbuds feature advanced noise-canceling technology that detects and cancels a maximum of 28DB of ambient noise, allowing you to focus on your music or call without background noise. The 10mm drivers enhance the bass and deliver exceptional sound quality at an affordable price.
With a single charge, these earbuds can last an astonishing 7 hours with ANC off and 4.5 hours with ANC on. What's more, the in case charger extends their listening time to 35 hours. The one-step pairing means they're ready in seconds, just take them out of the charging box and they'll connect automatically to your paired iPhone or Android devices.
Featuring dual microphones, each earbud has 2 mics for better voice picked and background noise cancellation. This makes them ideal for the workplace. They're also great for fitness fans, and are IPX5 water-resistant meaning they'll continue to blast your favorite tunes no matter how vigorous your workout.
These are a step up from the previous AUKEY model mentioned on this list, as they feature noise suppression technology, which the others don't. With your purchase, you'll receive 3 pairs of ear tips in small, medium, or large so you can choose the most comfortable fit. There's also a USB C charging cable for charging, a 2-year warranty, and a quick start manual so you'll be rocking out in no time at all.
Best Features
Noise reduction technology
Long-lasting battery
---
YW YUWISS T04 Bluetooth 5.0 True Wireless Earbuds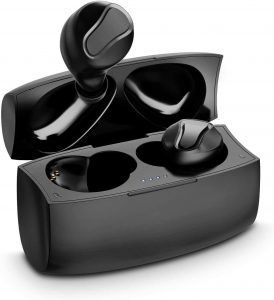 At just $23.99 these are some of the most affordable best cheap true wireless earbuds on the market. YW YUWISS T04 earbuds offer premium hi-fi stereo sound quality via the latest dynamic speakers for deep bass and balanced audio clarity. Each bud features a built-in microphone and CVC 6.0 noise-canceling technology to block out unwanted noise for the ideal immersive listening experience.
The Bluetooth 5.0 technology allows you to stay connected to your device up to 33 feet away, with no interruptions. Touch-sensitive pads allow you to control music playback, volume, incoming calls, and more. These true wireless headphones are insanely comfortable, weighing just 0.14 ounces they're lightweight and durable. The ergonomically calibrated design ensures the perfect fit, so the earbuds stay in play whether you're walking, running, or biking.
The T04 earbuds provide up to 4-5 hours of battery, and with the case, you'll get an additional 25 hours per day. Equipped with a micro USB C charging cable, it only takes 1 hour until it's full. If you want highly compatible truly cheap wireless head phones, then the T04 is a great option.
Best Features
---
Purity True Wireless Earbuds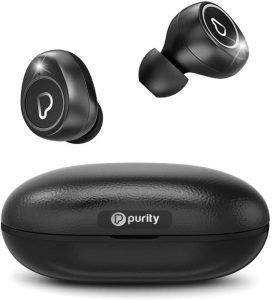 The cheapest earbuds on our list, these will set you back just $19.99! Purity offers great sound with Bluetooth 5.0 for superior connectivity throughout the listening experience. Stress-free pairing is another advantage, as they automatically connect once removed from the case. You can charge on the go, and four bright LED lights light up to show the charging percentage – so you'll know when they're ready to go.
The battery lasts up to 4 hours from a single charge, and 10 hours battery life with the charging capsule. They're also IPX5 sweat-resistant, so you don't need to worry about damaging them during an intense workout. If you're looking for affordable earbuds that don't compromise on sound then these from Purity come highly recommended.
Best Features
---
Honorable Mention
The earbuds above represent some of the best and cheapest true wireless earbuds on the market. But there are plenty more where they came from!
With a price tag of $99.99, the Anker Soundcore Liberty Air 2 earbuds are some of the best true wireless earphones under $100. Liberty air earbuds have plenty of features that highlight them as leaders in the field of wireless earbuds. Soundcore liberty air 2 features driver domes that stay rigid despite vibrating high frequencies. They also reproduce music with a 15% larger frequency bandwidth.
With the Anker Soundcore Liberty Air 2 earbuds you can enjoy a full seven hours of listening from one charge, and up to 28 hours more battery life with the wireless charging capsule. They also incorporate CVC 8.0 noise reduction which reduces external noise by up to 60%. The Air 2 Hear ID technology allows you to take a test that creates custom EQ settings optimized for your ears only. With these Liberty Air 2 earbuds, you'll get a truly unique sound experience, all for under $100!
The wireless charge case is fitted with a USB C charging cable, and these earphones use Bluetooth 5.0 technology for optimal connection all the time. These Liberty air 2 headphones also feature dual microphones for seamless call quality every time. If you're looking for high quality, great design, and 7+ hour battery life then the Anker Soundcore Liberty Air 2 buds won't let you down.
Best Features
Great sound quality
Quick charging
Considerations Choosing Cheap true wireless earbuds
These days there are so many true wireless earbuds on the market, so it can be difficult to pick from the bunch. There are some things you should take into consideration when making your decision to ensure you don't feel dissatisfied with your purchase.
Price
Often cheap brands can lack the quality and durability of more expensive brands. Luckily, this isn't the case with wireless earbuds. There are plenty of choices on the market that provide great quality sound at an affordable price point. Whether your price point range is between 20-60 or 100-200; there are numerous options that tick all the boxes while remaining comfortably inside your budget. Lower end models might lack the precise sound clarity that more expensive models provide, but mostly they offer the exact same features.
Sound Quality
When it comes to listening to music, this is probably your top priority. The best true earbuds (wireless) provide authentic sound for listening to music, audiobooks, or podcasts as well as great quality calls. When making a decision based on sound quality be sure to check what other people have said about the product in the reviews section. This way you can understand whether the headphones are too bass-heavy or not bass-heavy enough and whether the sound experience is truly what they advertise. Bass lovers will want to choose headphones with great bass response, and noise cancellation technology is always a plus. Ambient noise reduction can make a huge difference to your user experience, so be sure to check these features in the product description.
Water-resistance
If you're going to be using your wireless earbuds to exercise, then it's important to take this into consideration. Depending on how hard you push yourself at the gym, you might sweat a lot! It's essential that your wireless earbuds can resist liquid and continue to function perfectly. After all, a good soundtrack can definitely push you to meet your workout goals!
When checking whether the true wireless head phones you're looking at are waterproof, look out for the IPX rating.
Connectivity
There's nothing worse than when your true wireless earphones skip or drop due to connectivity problems. When choosing your earphones, ensure that you're purchasing a pair with the best connectivity. Bluetooth 5.0 technology ensures a smooth user experience regardless of where you are, whether you're at home or at the gym – you won't have to worry about missing out on your favorite part of a song or losing track of your audiobook.
Battery Life
This one's kind of obvious. Battery life is definitely a deciding factor in choosing your best true wireless earbuds. You'll want to check out all the competition to ensure you choose some with long battery life, so you can listen to your favorite tunes all day. Most true wireless earbuds have an impressive battery life, with cheaper versions lasting around five hours or six hours and more top of the line models with a 7, 8, 9, or 10 hours battery life – and sound great the whole time.
Comfort
There's nothing worse than feeling excited to listen to music, popping your head phones in, and having to adjust them every minute because they don't fit properly. Comfort and design are definitely something to take into account when choosing your earbuds. No matter how many listening sessions you undergo per day, you'll need to assure that they don't cause irritation after long wear. Carefully check the design to ensure they're optimized for the wearer's comfort. Often included in your purchase you can find a range of ear tips to adjust to the size of your ears for a secure fit. Usually, the ear tips come in small, medium, or large sizes.
FAQS
Are cheap true wireless earbuds good?
Well, this is an easy question to answer. Yes! If you're tired of wires getting in the way, but don't want to deal with the weight of a pair of overhead Bluetooth headphones, then true wireless earbuds are a fantastic alternative.
The best true wireless earbuds sound great, are lightweight, and lasts for more than six hours. You can go about your daily life as normal. They're a great tool to use in the office, as you control the headphones with a touch of your finger – no buttons and no wires necessary!
If you're looking for the best headphones that allow you to conveniently listen and call without getting tangled up in a mess of wires or having to stay at your desk, then Bluetooth wireless buds will bring your comfort to a whole new level! No strings (wires) attached is especially useful at the gym or when you're doing exercise. What's more, most of the best wireless buds are waterproofed to ensure that you don't have to worry about water damage when enduring a high-intensity workout.
What are the best cheap earbuds?
Finding the best cheap earbuds really comes down to what you're looking for and your budget. At the higher end of the spectrum, you'll find expensive options like Apple Airpods, but just because they have a hefty price tag and brand reputation doesn't mean you should purchase them immediately. Take the time to consider all your options and you'll likely find that there are plenty of budget options that do exactly the same thing!
All of the earbuds noted on this list are among the best. We can't deny that the more expensive models have received higher praise across the spectrum, however, we also can't ignore the fact that there are plenty of budget options that offer all the features of more trusted brands.
What are the best true wireless earbuds under $50?
If your budget at the moment means you need a truly cheap option (under $50) then we can highly recommend the YW YUWISS T04 earbuds that retail for $23.99. These earbuds feature a good battery life and a case with USB C charger, as well as high-quality sound for bass lovers and businessmen alike. We covered all of their features above, and at this price, they're well within budget. As we mentioned before, when it comes to earbuds the usual motto "you get what you pay for" doesn't strictly apply. There are plenty of budget options out there if you're willing to forgo your brand loyalties and opt for a cheaper model.