With earbuds being small in size they can fit comfortably inside the ear making them perfect for pretty much any situation. They can be used for going to the gym and working out, going running, or hiking, your daily commute to work, or even just sat down lazing around at home. Plus, with the added extra of a microphone, you can enjoy complete hands-free communication in a convenient and easy way.
The size that earbuds make them a great choice and how they can isolate sound in both an active and a passive way how they fit in your ear is great for a listener who wants that noise isolation for full concentration in what they are listening too or what they are focusing on such as gym workouts or running.
In a lot of these earbuds, the microphone has been the second thought in the manufacturing process with them not being the best quality compared to the audio quality you are receiving. In this review article, we are going to be taking a look at some of the best tried and tested earbuds with microphones both wired and wireless, and see which are the best earbuds available for you.
The 10 Best Earbuds with Mic in 2021
1. Powerbeats Totally Wireless Earphones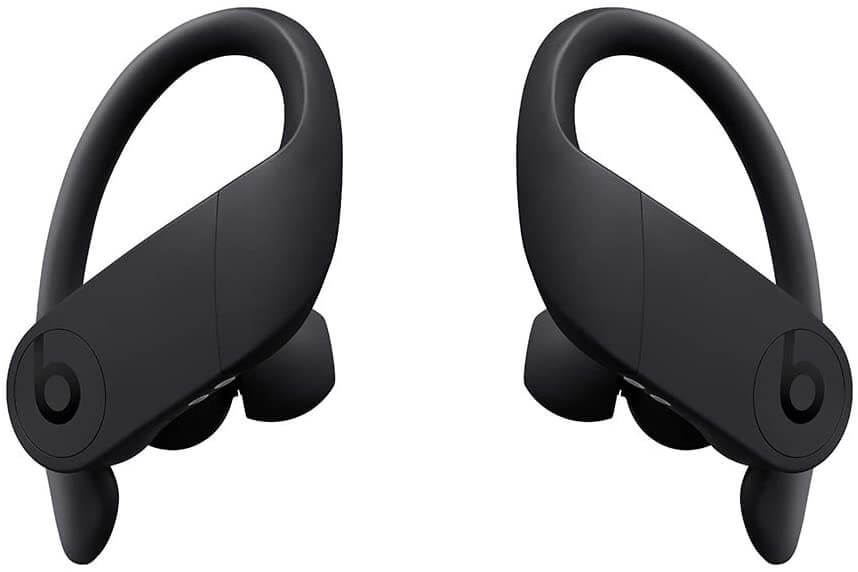 Connectivity: Wireless
The Powerbeats are totally wireless high-performance headphones with up to 9 hours of listening time that can be extended to a massive 24 hours with the charging case. The secure ear hooks are adjustable and help to create a completely comfortable fit, and the lightweight design helps them not irritate your ears after longer durations of wear.
For even, the more tough workouts you are going to complete these wireless earbuds have been designed with reinforced sweat and water-resistant materials that will help keep them protected, and not just for sweat even in bad weather conditions. There are volume and track controls on each earbud with voice capability and autoplay and pause features so you don't even need to touch your smartphone or smart device to change the track or answer the phone.
The box contains the Powerbeats Pro totally wireless earphones, a charging case, ear tips in 4 different size options, a USB to lightning charging cable for fast charging, a quick start guide, and a warranty card that keeps you covered. There are lots of colors to choose from with the Power beats best earbuds available in black, Ivory, Moss, and Navy.
Best Features
Water and Sweat resistant
Truly wireless
---
2. TaoTronics Sound Elite 71 Wireless Headphones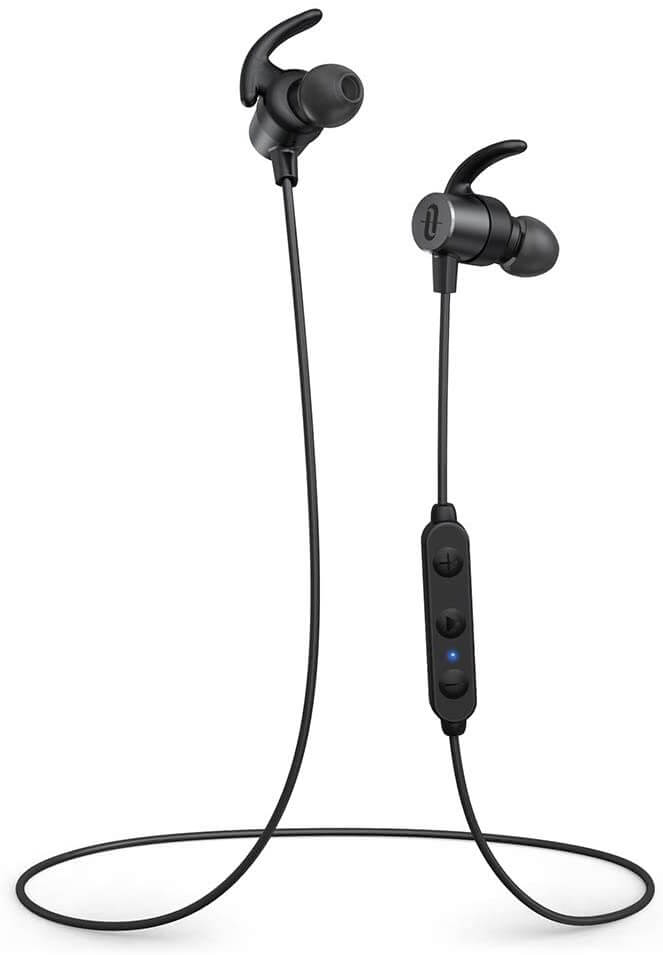 Connectivity: Wireless
From the ToaTronics Sound Elite 71 wireless headphones, you are able to stream high performance sounds that are rich, clear, and have a perfect definition with no distortion at higher volumes. The voice call is also amazing with cVc 8.0 noise cancelling technology that filters out any external background noise while also enhancing the sound of your voice through the microphone for a clear hands-free call.
The casing has been coated with protective materials that help protect against the elements such as rainy weather and even sweat when you are completing an intense workout session. The entire build has an IPX7 waterproof build keeping the wireless earbuds protected at all times.
The playtime is amazing and the battery life will last around 20 hours of continuous wireless listening all on a single charge which is more than enough time for long journeys, gym sessions, and day to day activities such as your commute to work or for doing the shopping. There is a magnetic design that provides you with a compact way to store your earbuds when you are not using them. The magnets are on the back of the ear design connecting together in a secure and sporty way.
Best Features
Long Battery life on a single charge
Great sound quality
Noise cancellation during phone calls
---
3. Ludos Clamor Wired Earbuds with Microphone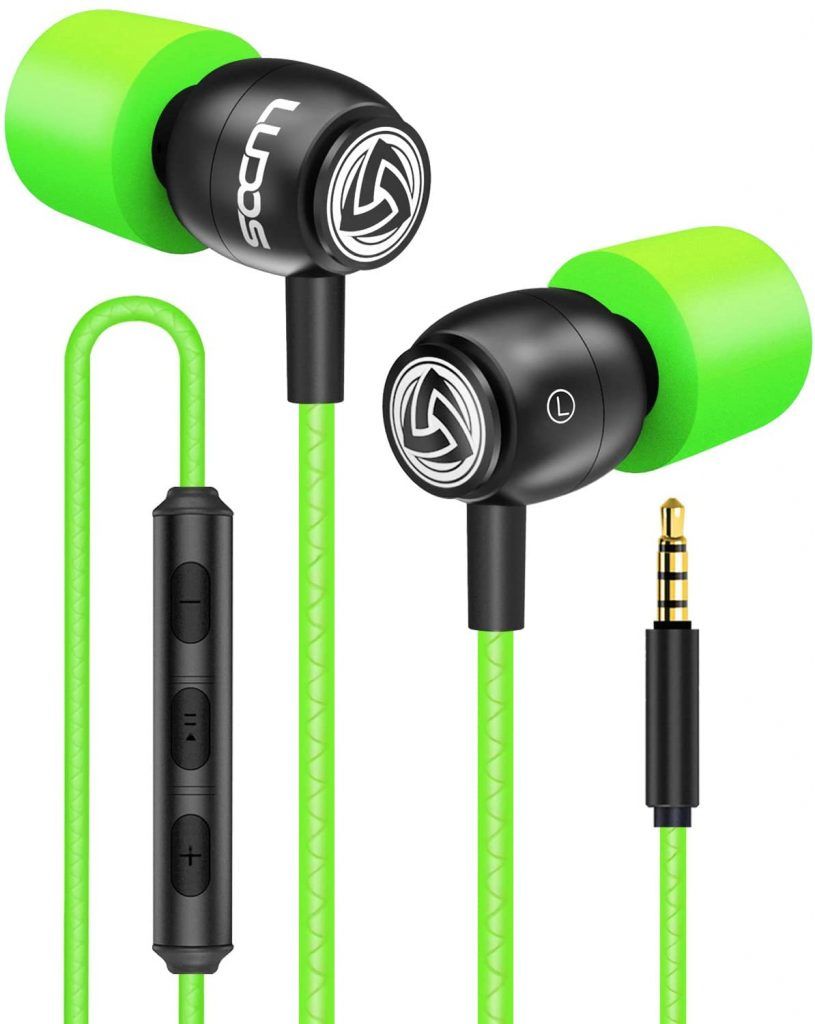 Connectivity: Wired
In the music industry today there are many different kinds of sound levels that are offered, The Ludos Clamor wired earbuds have a purposefully optimized speaker that lets you listen to music at a professional level offering a unique and immersive musical experience. A product that has been created to be great with no gimmicks.
The memory foam technology that has been developed over the last few years offers more comfort when listening to music through ear headphones. The new-generation pads are more comfortable than ever before with a resistance to wear that is 40% higher than the previous model after extensive studies on-ear comfort have been made. When it comes to bass these high audio quality wired earbuds are truly putting the capital 'B' in Bass, combined with the balanced sound of the mids and treble the sound is overall more immersive from the deep clear tones. Better quality at a price you can afford.
The Ludos Clamor wired earbuds are also stylish with the design being ready for every occasion, use them on the train, on the beach, or simply when you are trying to unwind. Comfort is never sacrificed with the Clamor from Ludos with the best materials possible chosen for pleasant listening and a high resistant cable that brings lots of durabilities.
The customer care for these earbuds with mic is amazing, connect 24/7 if you have any problems and on your purchase, you will receive an emailed eBook that has all of the information and advice you will need to get your new earphones up and running.
Best Features
Comfortable and stylish
Great customer service support
Balanced sound
---
4. Technics True Wireless Noise Cancelling Earbuds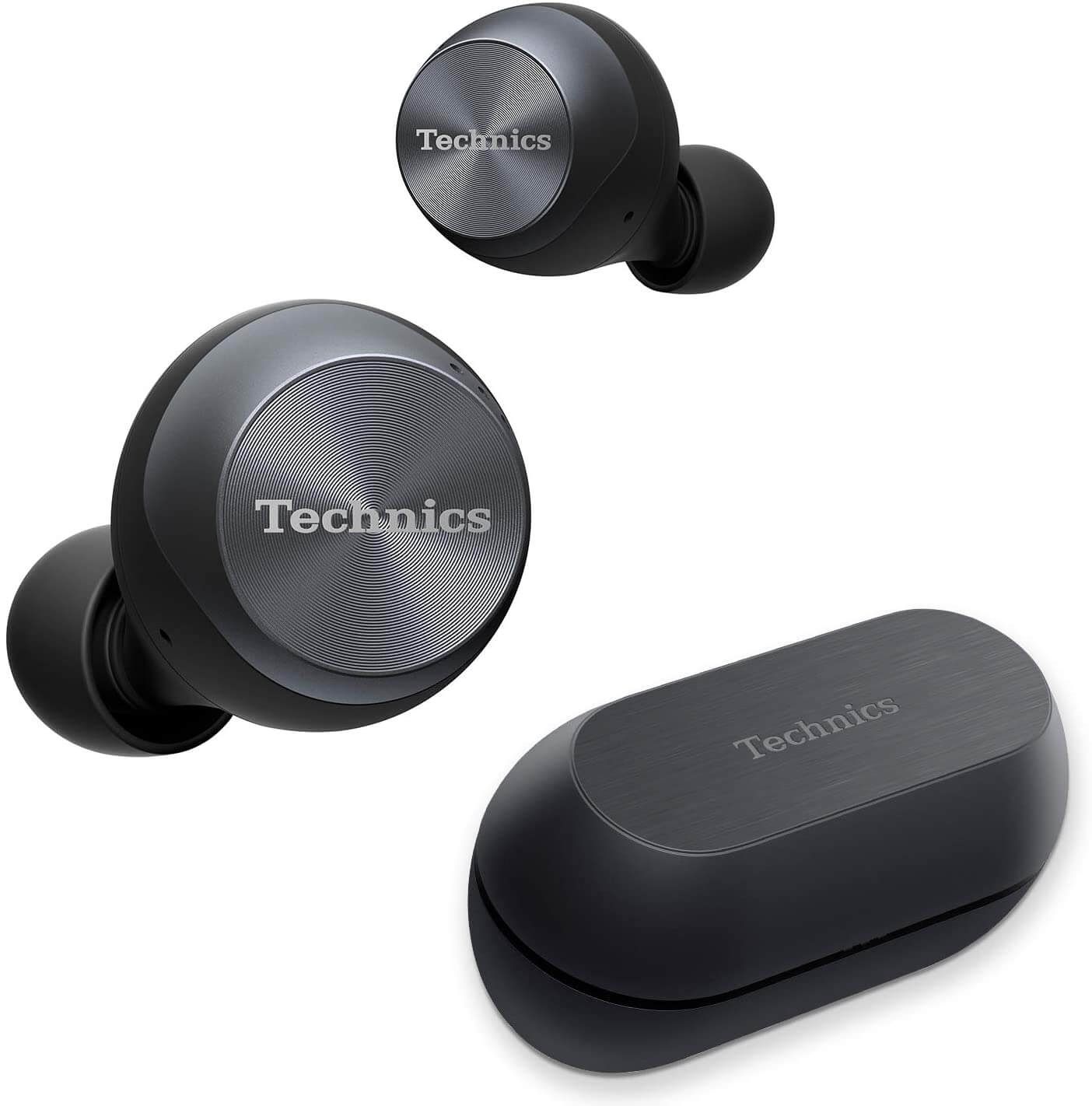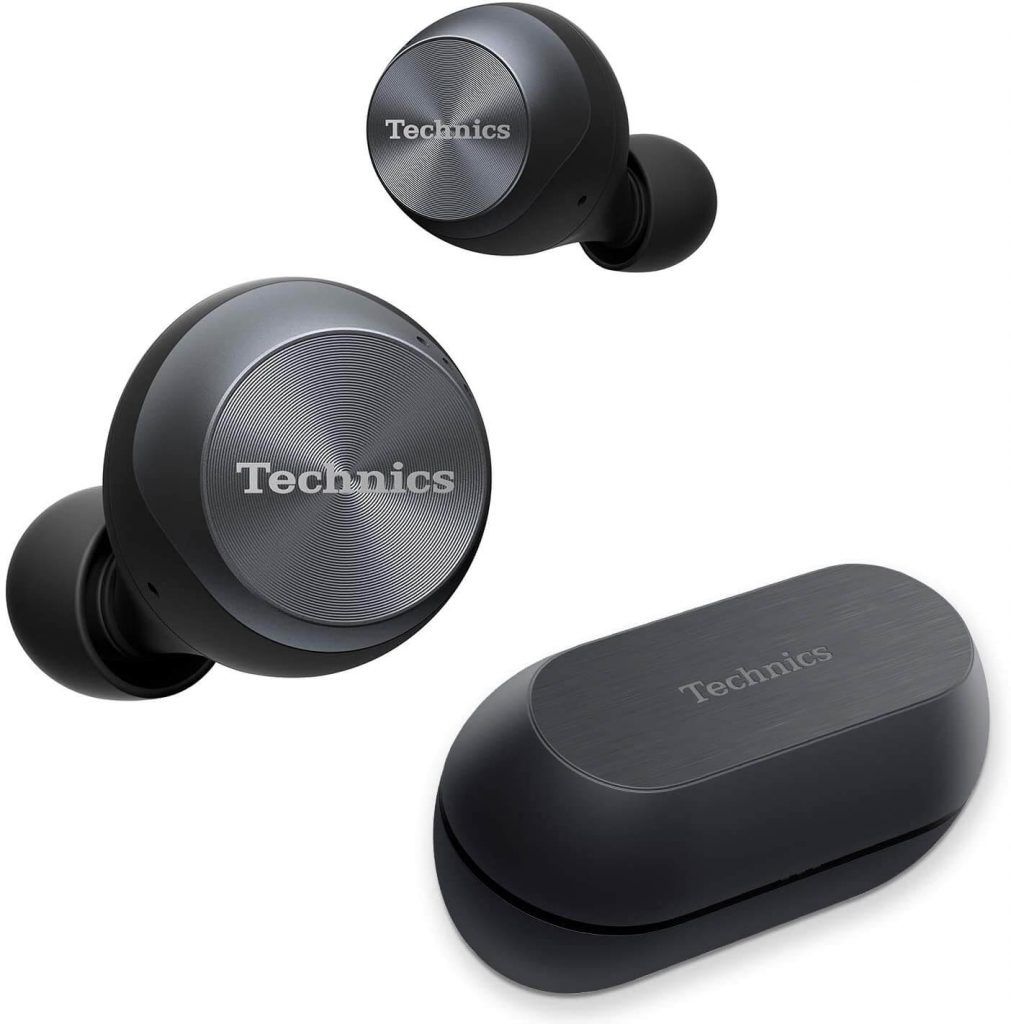 Connectivity: Wireless
The true wireless noise-isolating headphones from Technics have large 10mm drivers and a graphene-coated diaphragm that delivers the best rich, expensive audio with smooth and high detailed trebles, but also tight and crisp deep bass sounds creating a completely balanced sound for a truly wireless listening experience how music was intended to be heard.
The advanced noise cancelation combines both Feedforward and Feedback noise isolating technologies with both an analog and digital processing that helps achieve one of the best-advanced noise reduction true wireless earbuds on the market. This lets you utilize the ambient sound amplification when you want to hear any external sounds.
Technics have produced the patent-pending antenna design that is a reliable and powerful connection that is less sensitive to interference even in crowded spaces. It is done by sending independent signals to both the left and right earbud for a truly clear connection that has been designed to suppress wind noise when you are outside and transmit your voice in a crisp and clear way for better phone call quality.
The dual touch sensor is great allowing you to control your music playback, pause, track selection, and volume as well as accept and reject any calls you may have. On top of this, you can manage the noise-isolation technology and ambient sound amplification modes as well as connect to the voice assistant. All of these features without having to get your phone out of your pocket makes for a convenient and easy way of living.
Complete with strong Bluetooth connectivity and covered in an IPX4 rated coating that provides water and sweat resistance protection. A comfortable and lightweight choice that has 5 different sized ear tips that make sure they are the perfect fit for anyone who buys them. The battery life is great with around 6 hours continuous playback per earbud, plus an additional 13 hours of charge from the cradle. The cradle offers a quick charge to with over an hour's worth of playtime from 15 minutes of charge.
The elegant design from Technics is shown in the high-grade materials that have been chosen, from the clean lines to the meticulous attention to detail you can really see that nothing has been overlooked or come as a second thought in the entire development process.
Best Features
Advanced noise reduction technology
Truly wireless with great controls
---
5. Ugreen HiTune True Wireless Earbuds with Mic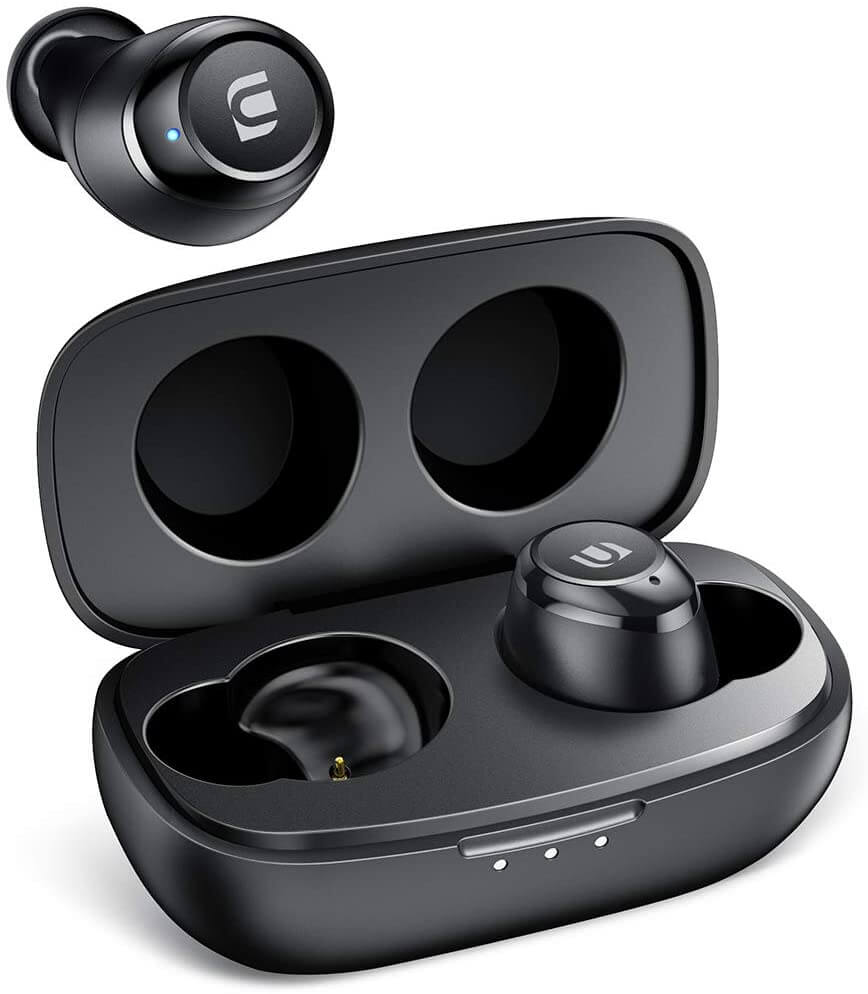 Connectivity: Wireless
Ugreen Earphones have adopted an advanced 5.0 Bluetooth connection in their best truly wireless ear headphones combined with a Qualcomm QCC3020 chip that ensures a strong and stable connection with high fidelity audio. The dynamic drivers are 5.8mm and deliver rich, crips, and completely immersive music letting you truly focus on what music you are enjoying.
Noise Cancelling technology is introduced in the built-in MEMS microphone and cVc 8.0 noise cancelling systems. This helps to effectively remove any ambient noise and enhance your voice when you are making phone calls. The ear design adds to this with a sealed in-ear ergonomic production that brings a passive noise isolation effect for a clearer sound that is heard when you are listening to your music and making crystal clear phone calls with the superb microphone quality even in the noisiest of environments.
The truly wireless best headphones from Ugreen offer 9 hours of continuous playtime from a single charge, but with an added extra 18 hours delivered from the portable charging case which equates to around 27 hours of listening time. Plus with the quick charging USB-C cable charges the case to full after only 2 hours, with the earbuds providing 2 hours of listening time after 15 mins of charge.
For a completely snug fit, these best earbuds with mic have been ergonomically designed ensuring they are going to fit and be comfortable in the majority of ears and a disperse of pressure allows comfort for all-day wearing. The box contains multiple different silicone tips to fit into a variety of different ear sizes. The IPX5 rating shows that these true wireless noise cancellation earphones can handle any weather and moisture even if that is from sweat after an intense workout session.
The one-step pairing will let you connect to your smart device automatically after the first time of pairing if your Bluetooth connection is on. It will work as soon as you take the earbuds out of the case with no need to fuss around looking for a network or connection manually. You can enjoy a completely hands-free experience as well with voice commands enabled from the voice assistant and control your music by playing, pausing, and skip songs. This hands-free ability doesn't stop there as you can also answer and reject calls freely with the same operations working in both the dual stereo mode and mono mode.
Best Features
Automatic pairing
Great frequency response for balanced audio
---
6. Panasonic ErgoFit Earbud Headphones with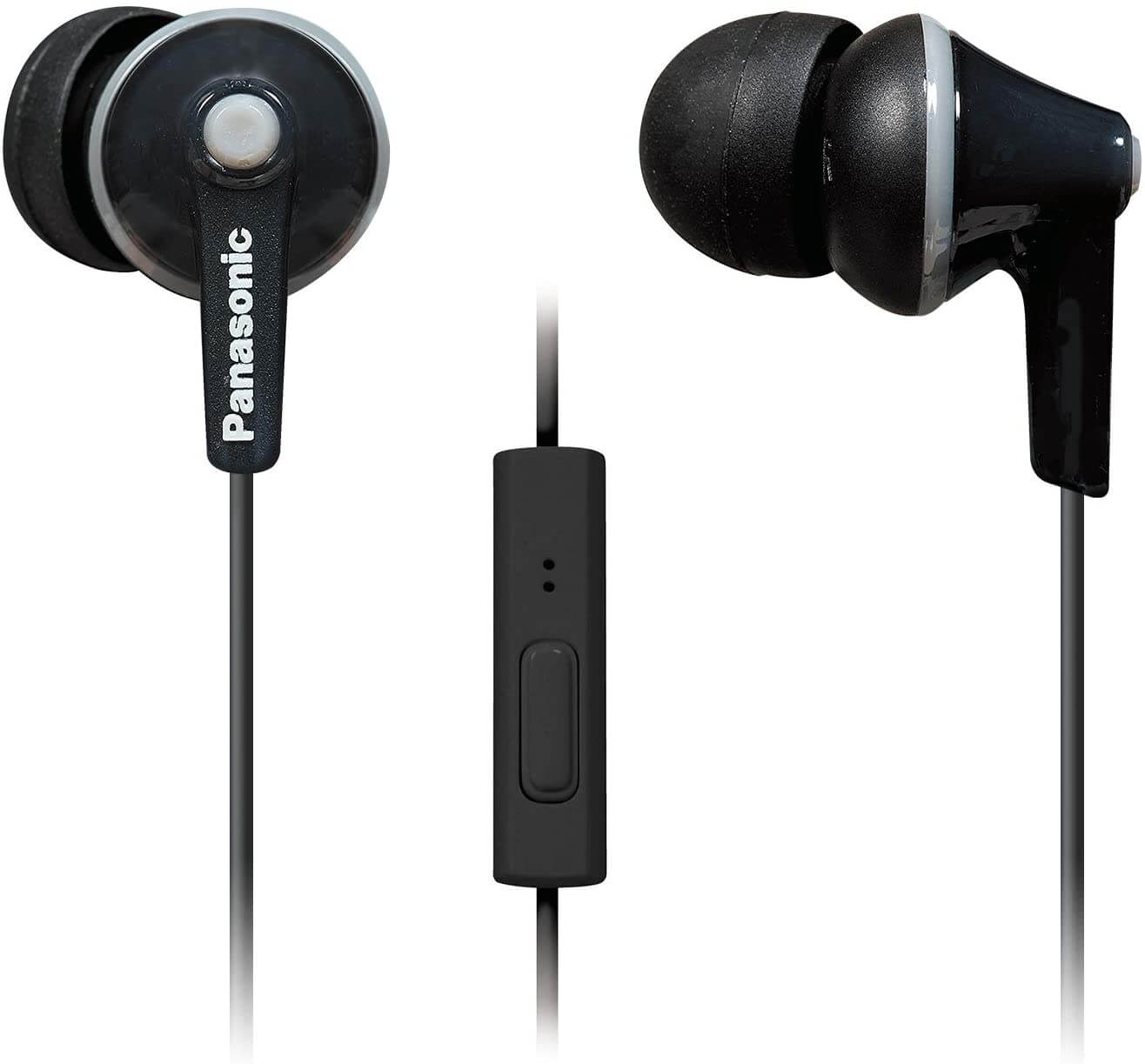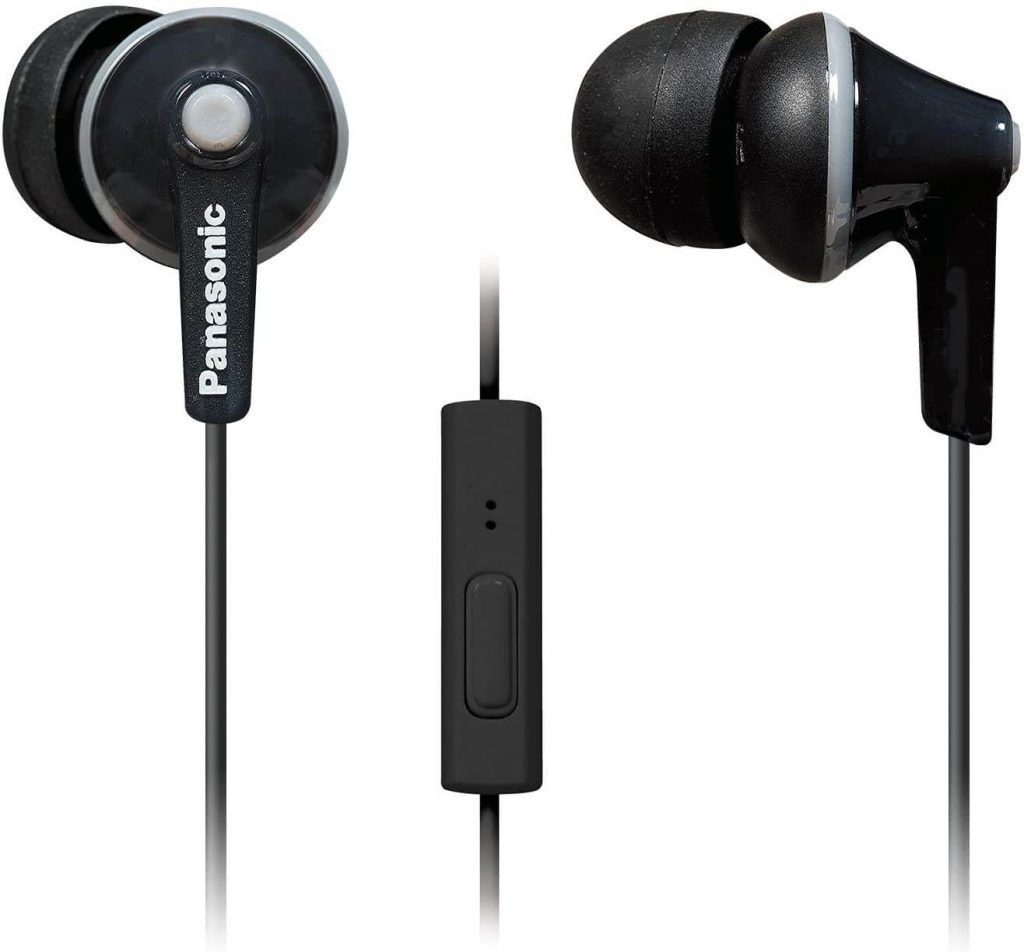 Connectivity: Wired
The Panasonic ErgoFit wired earbuds are the perfect choice for exercising, with 3 sets of different sized ear tips small, medium, and large they are sure to fit any sized ear in a secure way while also blocking out any external background noise. The microphone and call controller has an integrated microphone that lets you complete remote calls in a hands-free way not needing to touch your phone.
They are compatible with all devices from Apple to Android and Blackberry, pretty much anything with jack input and you are ready to go. The ErgoFit earbud design perfectly fits your ears in a comfortable way made from a material that is ultra-soft. The earbuds will conform to your ears for the perfect fit.
A completely balanced sound from the stereo audio produces tonal balance with crisp highs and deep bass notes. If you have any more lively sound quality audios from recorded audio there is also a wider frequency response that comes with the headphones that are great for someone who plays music and likes to record things won't their phone. Although they are not wireless, you will get that same sense of freedom from the extended headphone cord that is extremely long 3.6 feet making connections easy. This cord has been designed with a thread material for an overall comfortable feeling easily connecting through clothing and bags.
Best Features
Memory foam earbuds fit perfectly
Balanced audio
---
7. Donerton Wireless Bluetooth Sports Headphones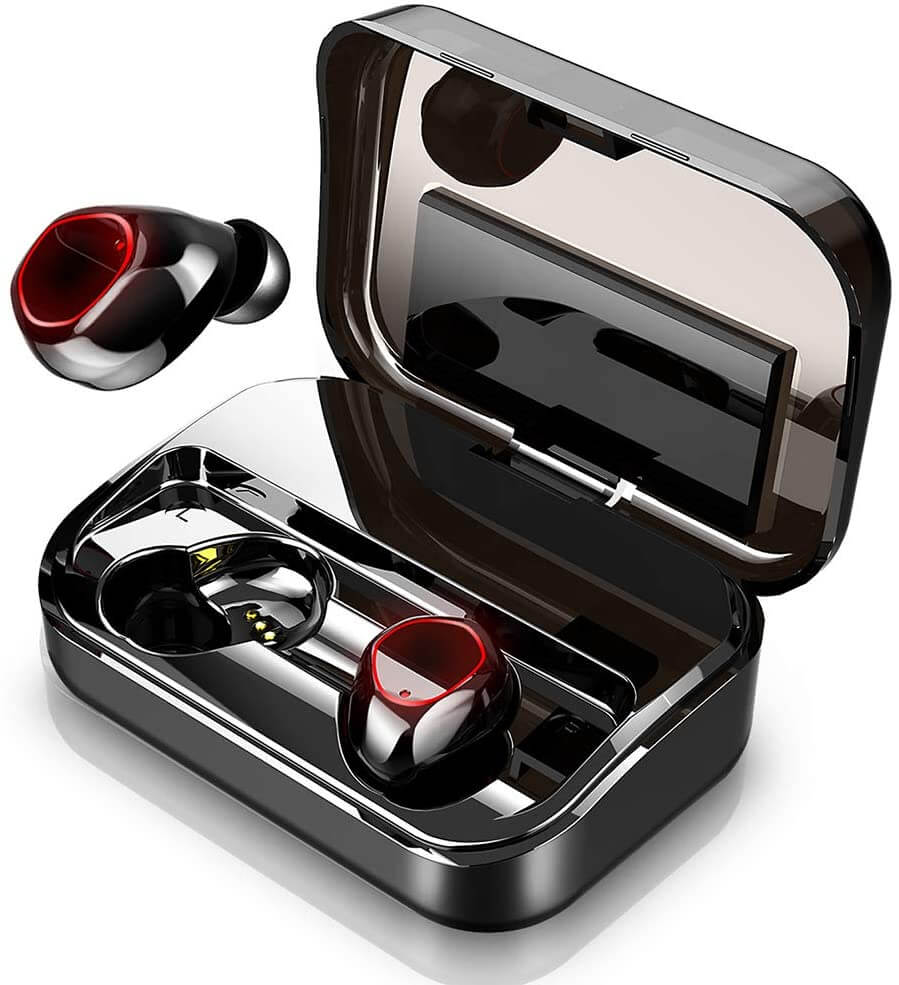 Connectivity: Wireless
Donerton has produced wireless Bluetooth sports headphones, the connection uses the 5.0 technology that ensures a strong and stable connection with limited dropouts. Donerton is pushing the boundaries of the industry with their truly wireless earbuds that provide oscillates with the best precision giving your music an overall wider soundstage creating crystal-clear tones throughout the entire frequency range for exceptional musical accuracy.
The earbuds themselves last around 4 to 5 hours on a single charge but paired with the portable charging case they can last for up to 80 hours with 16 full charges for the wireless headphones from the case. In addition to charging the truly wireless earbuds, the charging case acts as a charging dock for smartphones and smart devices.
The earbuds that are sported from the Donerton wireless headphones are the best choice for the outdoors, sports, and workouts the whole day long. For both heavy rain and sweat, you are completely protected from the IP8 tested material. These headphones can be used in the shower or on rainy days and can be rinsed clean under the tap, although they cannot be used underwater as the Bluetooth signal cannot be maintained submerged underwater. This protection allows the wireless earbuds to be the perfect accompaniment for traveling, driving, cycling, hiking, running, climbing, and pretty much any sports activities.
The use of touch control provides a completely hands-free experience with upgraded controls that let you play and pause music, answer or reject calls, skip songs back and forth and change the volume. The unique display system also allows you to easily check the battery life you have left giving you control of the state of charge at all times.
Including a completely automatic system is amazing, with the combination of wireless earbuds and the automatic connection system that comes into place as soon as you take these best earbuds out of the case. This instant pairing is effortless all the while adding to the free feeling you receive from using wireless connectivities.
Best Features
Amazing touch control
IP8 waterproof protection
---
8. Neekfox IPX7 Truly Wireless Earbuds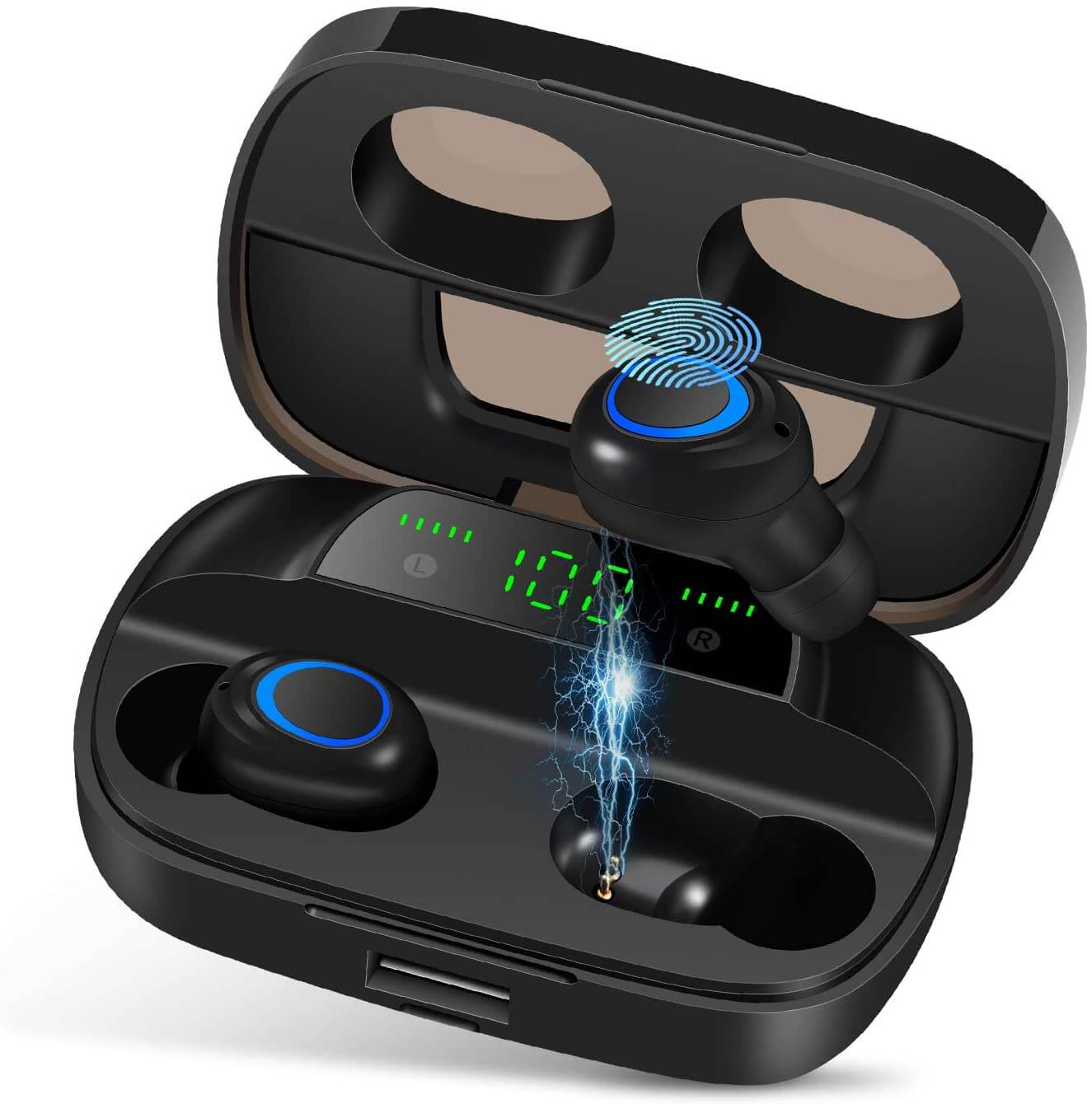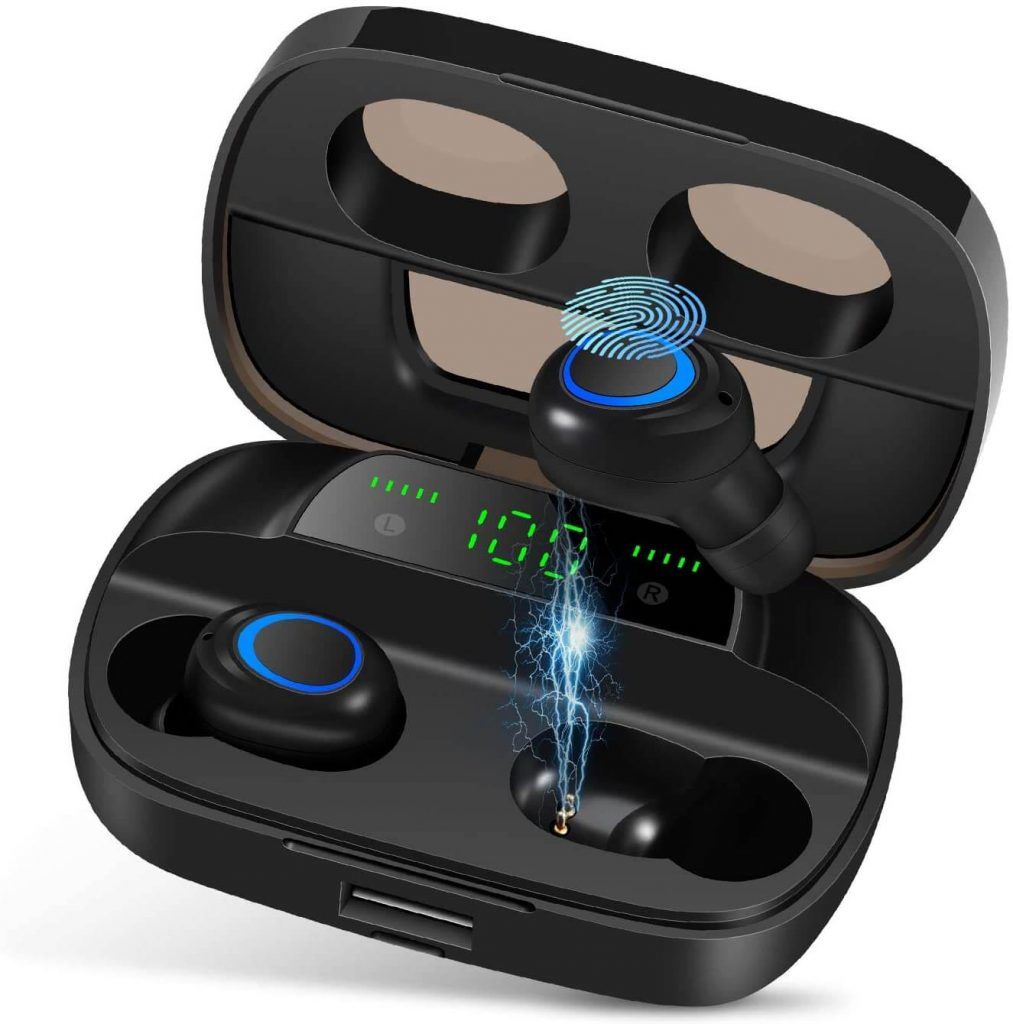 Connectivity: Wireless
For the best truly wireless experience the Neekfox IPX7 rated water resistance wireless earbuds are a perfect choice, they contain a high-quality audio chip combined with 8mm dynamic speakers that help produce a delicate sound performance. The cVc 8.0 noise cancellation technology is amazing blocking out any ambient noises in the background that may occur. This technology helps you submerge into the pure sound quality produced and the 3D deep bass stereo audio.
Including an LED battery display design on the case including that will indicate how much charge each earbud has left. The Bluetooth power will last around 5 hours before needing to be recharged and an enhanced standby time up to 120 hours long. The power bank is amazing with multiple functions and also the ability to charge your smartphones or tablets giving you power no matter where you go.
With an IPX7 rating listening to music can be taken pretty much anywhere whilst doing a number of activities. This level of protection is great for those more strenuous workouts at the gym or even just out in different kinds of weather, the perfect choice for sports lovers. Ergonomic designs make them more comfortable than ever even in long durations of wear, the design has also been made so that falling is prevented, keeping them safe and secure in your ears.
Advanced Bluetooth 5.0 technology ensures a swift and stable connection with limited dropouts, and you can pick up 2 headsets from the charging box which will then automatically connect to one another and also connect fastly to your mobile phone if they have been previously connected and Bluetooth connection has been turned on.
The touch control has more functions and is a lot more sensitive making tasks such as changing songs, playing and pausing music answering and rejecting calls, and also the use of voice assistants such as Siri or Google. In the box, you will receive a pair of Bluetooth headphones with 3 different ear tip sizes making sure they are the perfect fit, a portable charge case, a charging cable for the case, and a user manual to get you started if you come across any problems.
Best Features
The portable case can be used as a battery pack for phones and smart devices
The 3D deep bass makes for a balanced quality audio
---
9. Slitinto Bluetooth Wireless Earbuds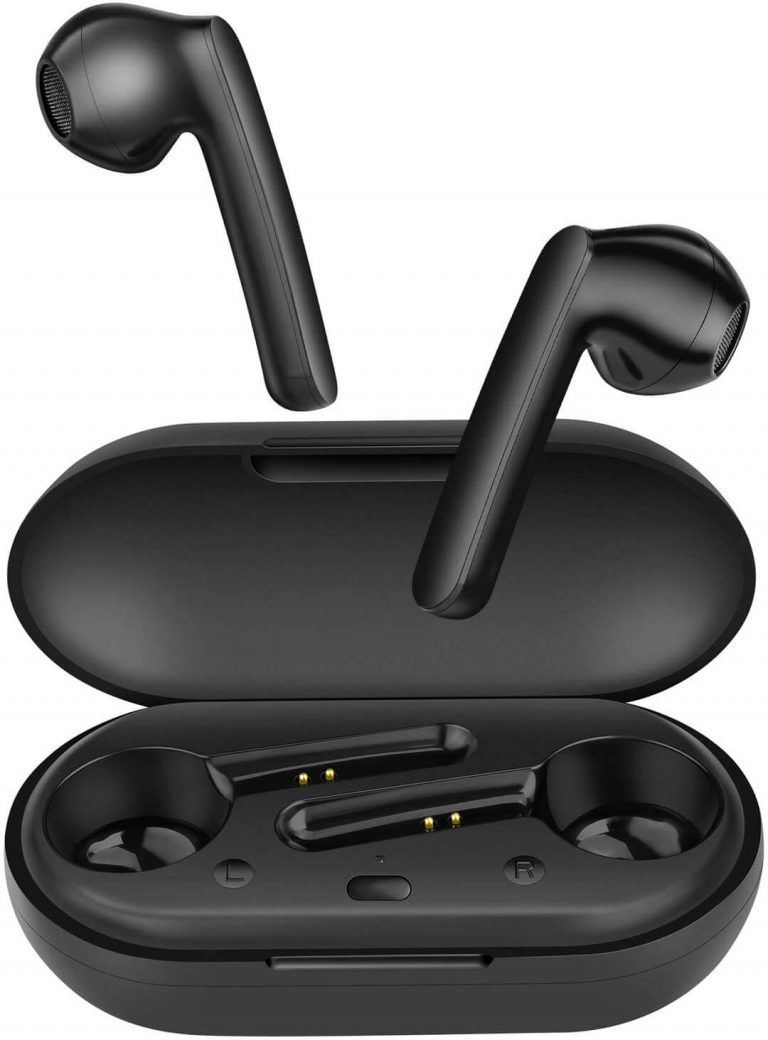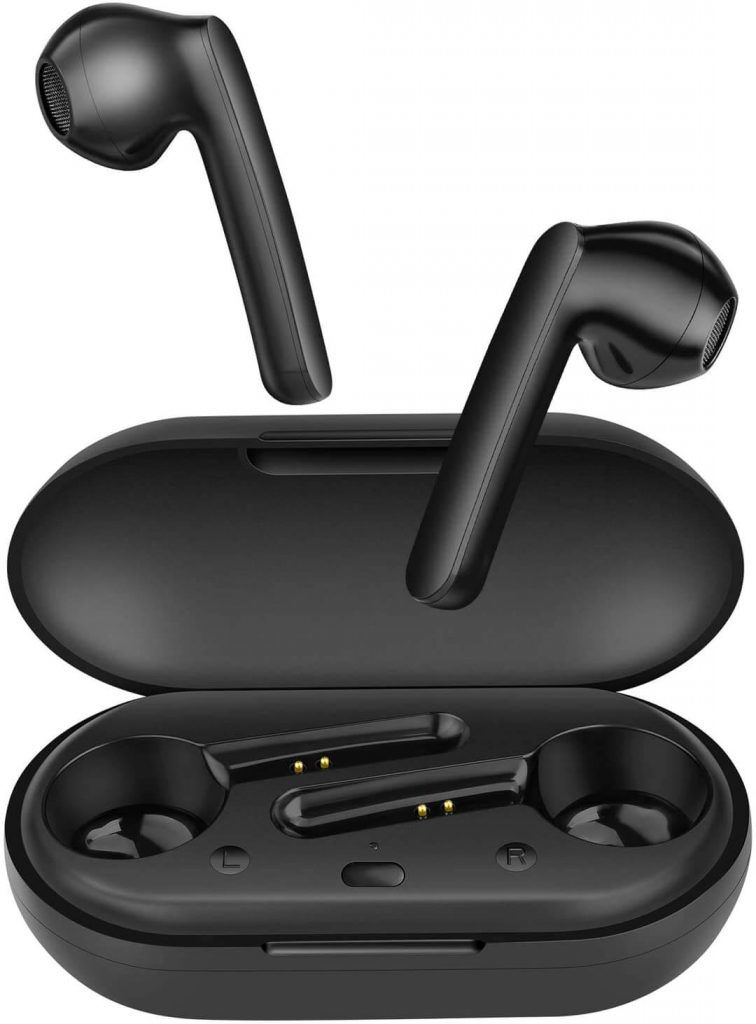 Connectivity: Wireless
Slitinto wireless earbuds include auto-pairing which lets the latest quality Bluetooth 5.0 technology automatically connect to your paired devices by just turning them on if Bluetooth has been enabled for more convenient and practical usage. The Bluetooth is both backward compatibility enabled for older devices with different versions, but the technology also improves and speeds up the connection making sure that your connection is strong and stable with limited to no dropouts. The earbuds will automatically connect as soon as they are removed from the portable protective case, quickly entering you into the world of music.
The truly wireless nature of these earbuds offers professional 10mm speaker units that have a completely authentic sound with powerful bass sounds created. There is the latest technology in active noise control featured in this in-ear earbuds that prevent any audio background noise from spilling into your music for a more subversive experience. This technology also helps to improve the quality of sound that you are listening to making call quality instantly be improved. With this call speech quality improvement, your voice will be picked up from the microphones receiver and projected to the listener for a crystal clear experience.
There is a light indicator featured in the TWS Bluetooth earphones that shows you how much battery is remaining in the charging case. The wireless earbuds can last for around 3.5 hours of continuous talking time or music playtime on a single charge. The touch control is amazing with lots of different functions available from music playback and pausing, answering and rejecting calls, and even using the voice assistant such as Google and Siri. All of these features are done by a simple series of taps to perform different tasks, a simple and effective method.
These best earphones and microphones have been ergonomically designed with a superlight design that allows the earbuds to be worn for long periods of time without feeling uncomfortable, but it is advised that you do not use headphones for over 3 hours. These best sports headphones are IPX7 waterproof rated so are the perfect choice for sports enthusiasts who like to work up a sweat. With this waterproof protection, you can also wear these earbuds out in the rain with no problems working well with fitness and daily life.
In the box, you will receive a pair of wireless headphones, a portable charge case, a charging cable, and a user manual that will help you get started and answer a lot of questions that you may have. The factory that produces these headphones assured product quality to the highest degree.
Best Features
10mm professional speaker units
Easy to use touch controls work really well
---
10. Betron YSM1000 Earphones with Microphone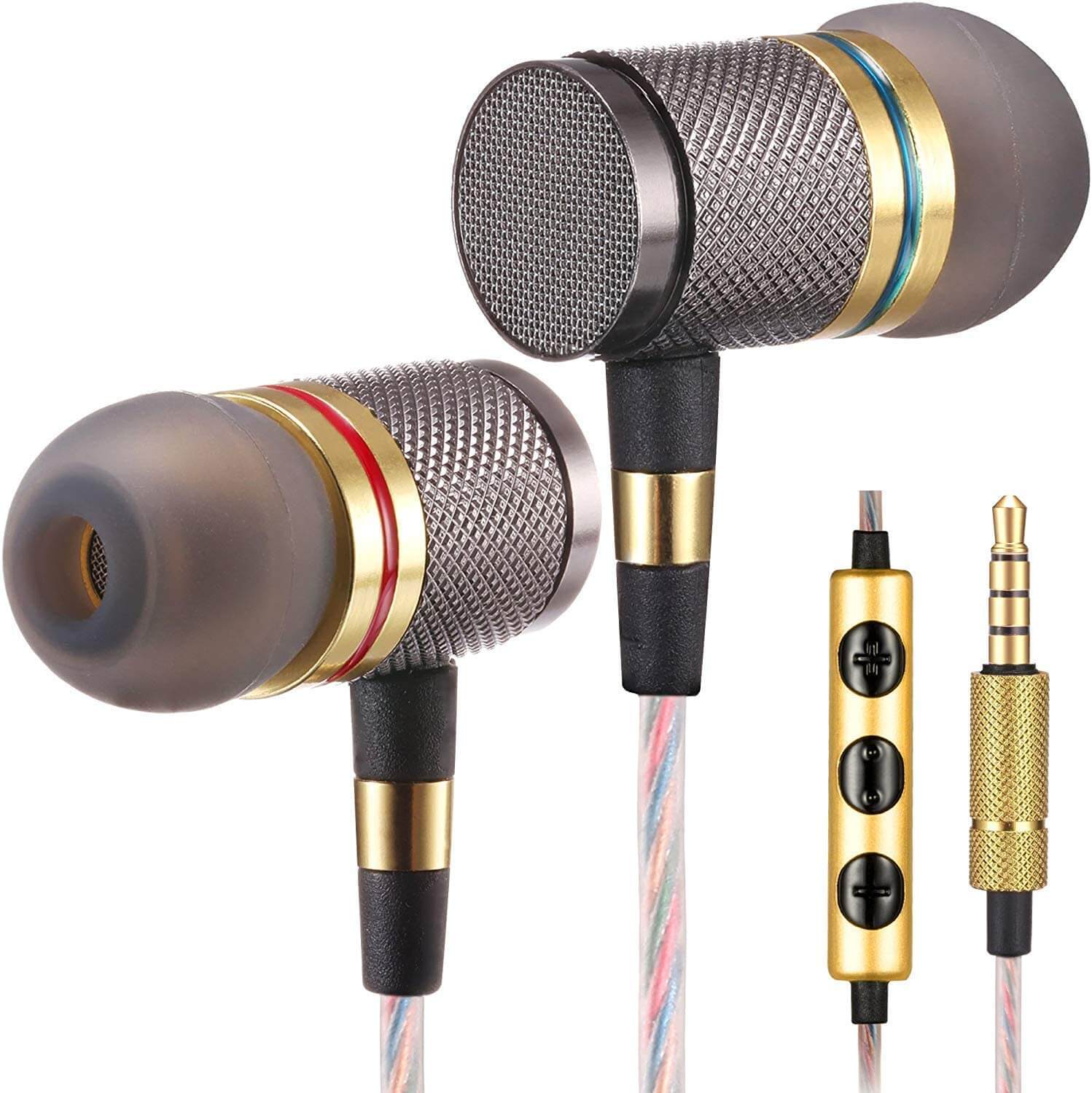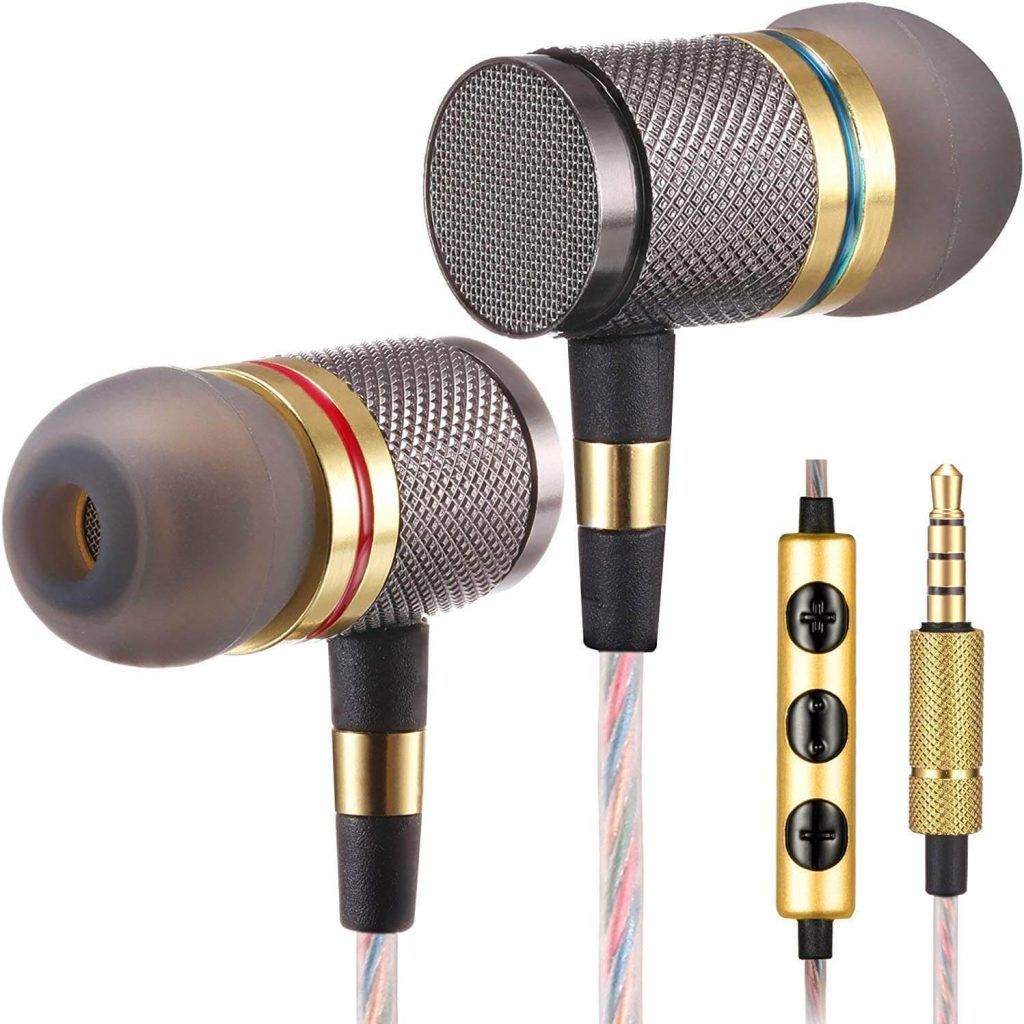 Connectivity: Wired
With superior bass quality, the Betron YSM1000 wired earphones are the best choice wired earbuds specifically designed to highlight the bass and tone of any track you are listening to no matter what the style. The 10mm neodymium drivers of the earbuds help to guarantee a premium audio quality for the best results. No matter what volume you are listening to your music you will experience clear audio all of the time.
The quality is rivaling that of the bigger brands but at a much more affordable level including 24k gold plated 3.5mm jack that produces optimum performances. The deep bass is powerful and crisp and the clear mids and highs help promote this superior audio for an overall accurate listening experience.
There are a built-in microphone and volume control featured on the earphone cord where you can receive a completely hands-free experience while making phone calls and control your music by playing and pausing. On some newer apple devices, an adaptor will be needed in order to connect the jack into the socket, which is not included in the price.
Noise-Cancelling with powerful bass is done in a passive way. This kind of Noise-Cancelling has been developed with the design of the earbuds letting the material provide the support of isolating the sound of your music. The sound of these earbuds is well balanced across the entire frequency spectrum with a deep bass that is powerful with a clear sound delivered.
In the box, there is a carry case, the pair of earbuds themselves, various sized silicone tips for all different sized ears, and also memory foam earbuds that will mold to the shape of the user's ears for an overall more comfortable wear.
Best Features
Passive noise-canceling materials for background ambient noise
24k 3.5 audio jack for crisper sounds
Uses of Earbuds with Microphones
Commuting
Earbuds with microphones are a great choice for commuting, they allow you to still concentrate on other tasks and keep your hands free. If you receive a call you can answer with just a tap rather than having to get your phone out of your pocket. This is great for anyone who has to carry things to work and doesn't really have the option to get their phone out of their pocket providing much more convenience to the user.
On-the-go Phone Calls
If you are someone who receives a lot of phone calls on the go then wired or wireless earbuds that have microphones could be a great option for you, you can even accept calls whilst you are in a call, all without having to even take your phone out of your pocket or your bag. The combined use of voice assistant will also allow you to make needed phone calls on the move whilst you are driving your car without having to pull over to the side of the road and pause your journey. Simply activate the voice assistant and let it know who you are wanting to call and the rest will be done for you, just another way to bring more convenience and ease of use to your life.
Voice Assistant Compatibility
Voice assistant is being featured more and more on our smart devices and mobiles, these earbuds with microphones let you activate this feature in your phone. This can give you traffic updates if you are driving and feel that you may be late and there is a better route, search for new locations on your maps so that you don't have to pull over if you are lost when you are driving, and also you can have emails read back to you by Siri or Google. Having these messages read back to you whilst you are on the go can keep you in the loop if you are connecting with someone over a work-related issue or even receive a message form your boss about that new meeting that has popped up in your working day.
Considerations for Buying Mic-Friendly Earbuds
Mono vs Stereo Sound
Mono and stereo are both features that will make a difference in how you are going to hear your audio. If you are opting for a mono earbud you will hear the same sound in both ears while with the stereo option there are two channels one for each earbud. For the better listening experience, stereo is the better option as the brain can map the location of the sound with there being two separate channels for listening.
Passive vs Active Noise Cancellation
Active noise cancelation or ANC works the same on earbuds as it does on over-ear headphones. Each earbud has a small microphone that registers the ambient sounds around it that then produces a counter sound wave that cancels out the background noise. Passive noise cancelation relies heavily on various materials that help to fill your ear canal blocking out any outside noises, keeping them that, outside! Due to the smaller design of earbuds and how they fit in the ear, this passive technology works extremely well in isolating any noise, so if you are not too fussed about this option then passive cancellation is the best option.
Connectivity
In today's climate, the coolest and most progressive designs are always wireless, and it always makes sense to choose the best quality Bluetooth earbuds with microphones. Nevertheless, wired designs are just as good and they don't need to be charged with batteries to work. In terms of durability, the wired choice has the upper hand for sure, but the Bluetooth designs are much more portable and don't get in the way while you're out running, walking, or even at work.
Size and Comfort
The size of earbuds can sometimes be annoying to find the fit with ear tips being either too big or too small, but a lot of companies now provide different sized ear tips in the box so that you can find the perfect fit for your ear so listening to music is a comfortable experience with the tips fitting perfect with the ear design. A lot of earbuds also feature memory foam aspects of the outer casing that mold to the shape of your ear making them a custom fit for your ear which lets them be in there all day and not cause any discomfort.
Sound Quality
If you purchase low-quality earbuds you will hear the difference straight away, you will need to crank the volume up before being able to listen to the music clearly, and even then it could be too loud and start to distort. The more high-quality designs have a volume limit so they won't go past the harmful 80-decibel range, but this high quality of sound ensures you can hear your audio clear and crisp with all the notes being well represented and well balanced. Just the same as you would find on over-the-ear headphones, earbuds have features such as frequency, impedance, and drivers and these will tell you everything you want to know about the quality of sound.
Durability
Durability is always something that you want to make sure that your earbuds have, being able to take a few knocks and bangs along the way is a part of the day to day life. The wired options are going to have more durability for sure, and are less likely to go missing with everything being connected together. The wireless versions won't be as strong but a lot fo these products come in protective carry cases that can be thrown around and take more punishment than the wired versions so this could be a great choice combining the portability of a wireless earbud with the protection of a charging carry case.
Price
Just as with a lot of these kinds of products, the more expensive choice is going to be the wireless version, but as technology has been developed it is not now a gimmick put onto low-quality headphones to boost the price, these devices are now just as good quality as you would find in a wired pair of headphones but again you are always going to expect to pay more money than the wired versions. There are also a lot of products that are lesser-known but still rival some of the giants within the industry. These devices will have all of the features that the well-known brands have but at a fraction of the price so it is worth doing your research if you are someone who knows what they want from their devices but aren't too bothered about buying the bigger brands that are available.
Wireless: Battery Life
The battery life of the best wireless earbuds can last 5-10 hours which is more than enough time to go about your day, or working out at the gym, and if you are feeling you are running out, a lot of these ear headphones come in charging cases that give you up to 40 hours of charge time before you need to plug them into the USB charging wire which is for sure more than enough time than you are ever going to need.