So you're in the market for a new set of headphones, however there's a catch: you want to use them in the pool. Well here's the article you've been waiting for as we will be covering the top ten waterproof headphones on the market!
Swimming at the best of times can often be quite tedious, especially if you're a long distance racer or you're maybe you in putting the reps preparing for a big competition. However, due to nature of the sport being in water, one thing is for sure, electronics and water have never gone hand in hand. Therefore, in the past headphones and specifically listening to music while submerged in the pool has never been fathomable. However, thanks to innovation and advancements in technology waterproof headphones are now a thing of the present.
Elite athletes in the sport of swimming such as Micheal Phelps, swear by using music to boost physical performance and are regular users of waterproof headphones, therefore if they're used by one fo the best Olympians to exist then can only be beneficial to you!
Lets take a look at some of the best waterproof headphones available on the market along with things you should take into consideration if you're looking to purchase.
The Best Waterproof Headphones in 2021
Kicking things off we're starting with SWMIUSK and their IPX8 Waterproof headphones:
1. SWMIUSK – Waterproof Headphones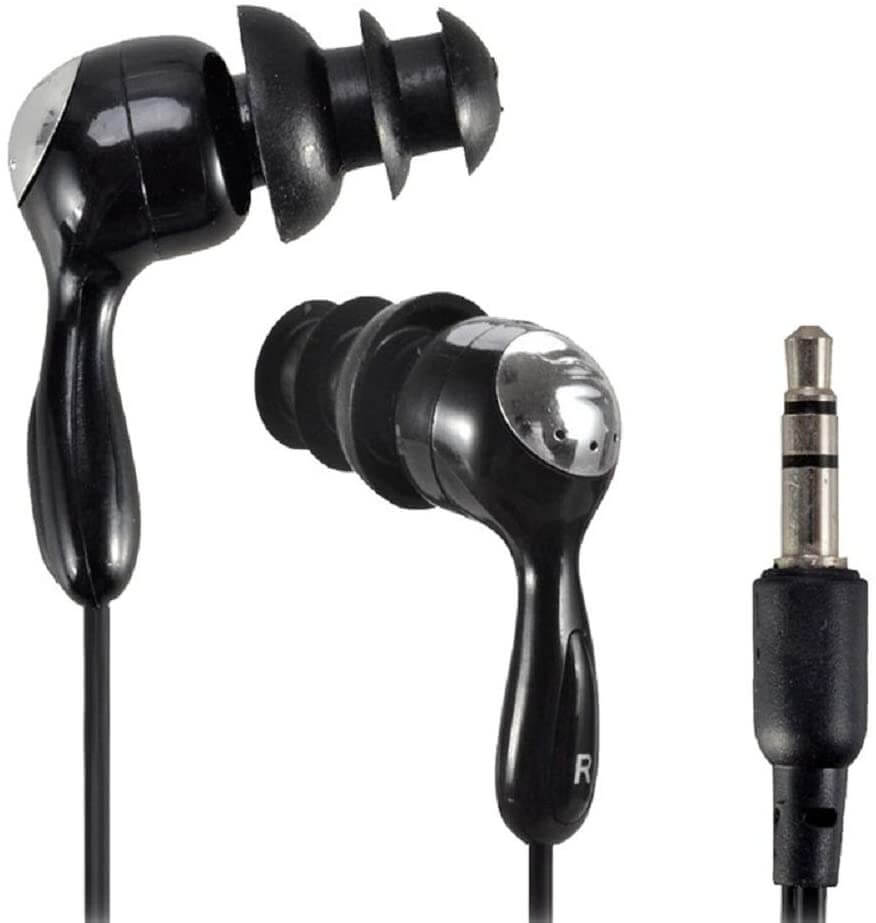 These headphones by SWMIUSK are exactly what anyone on a budget is looking for. A pair of seriously cheap headphones which are 100% IPX8 Waterproof. These are one of the best waterproof headphones for swimming available. They allow owners to enjoy music even while engaged in the most demanding sports activities – swimming, surfing, running, cycling, working out in the gym etc. Despite their cheap price this does not suggest poor quality. These headphones have had brilliant reviews online and are regarded as one of the best waterproof headsets for their price.
100cm length Suitable for swimming and running.
Good fit with 2 clips would not easy to fall.
Ergonomically Designed: Waterproof and comfortable for hours on end. The secure, over ear design will never fall out even during the most vigorous physical activities. Perfect for your daily swim workout, running, walking and the likes
Friendly Tips: You'd better rinse with fresh water and wipe off water after using it, then store it with dry environment
Best Features
Plenty of ear tips included
Available in white and black
They come with different sizes of earbud tips to make sure you get a good fit.
Come with a cord extender if you plan on using them for other activities that require a longer cord
Brilliant cost
---
2. AGPTEK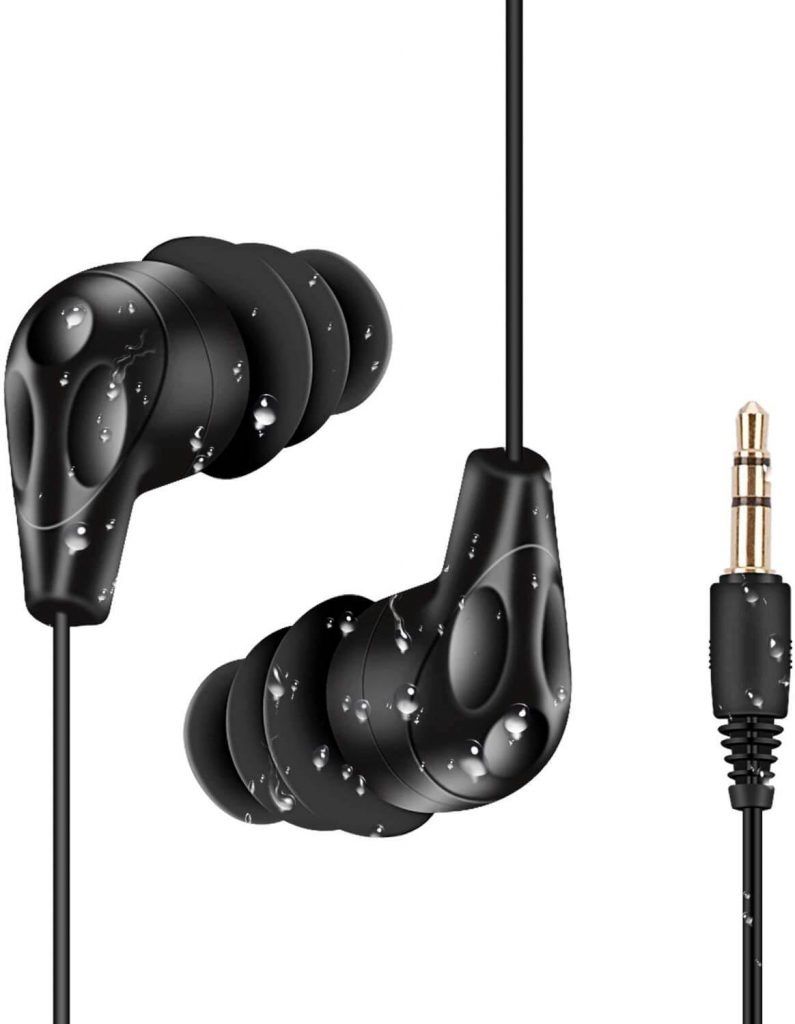 Next up are AGPTEK's waterproof in-ear earphones. These waterproof earbuds are High-level water-resistant, which makes them suitable for water sports such as swimming, surfing while also being ideal headphones for other sports such as running, skiing or tennis. The inner nano-coating makes it possible to immerse in water of 1.5 meters depth for 30 minutes without affecting the performance. These waterproof earphones are perfect for anyone on a budget who want something cheap and affordable.
A cheap in-ear IPX8 fully Waterproof headphone, available in three sizes. These headphones also come with a coiled earphone cord which is tangle proof for easy storage. The coiled wire allows for different sized heads to use the waterproof earphones reducing the need for different sizes.
These waterproof earphones have a high sound quality, delivering crisp clear sound while also having built in Noise Isolation Technology. These headphones are wired with a 3.5mm audio jack which enables them to be used with most smartphones, tablets, mp3/mp4 players among other electronic devises.
Best Features
Built in noise isolation technology
Very affordable
Crisp clear sound
Plenty of ear tips included
Coilled cable
No charging necessary as they are connected to an external device
---
3. Tayogo Headphones and built in 8GB MP3 player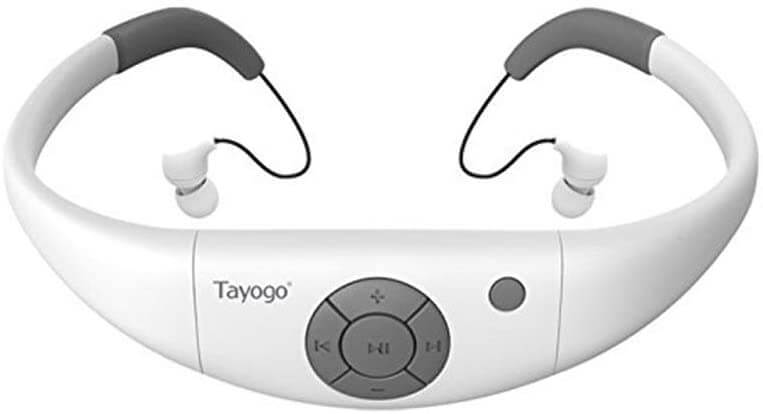 Moving deeper down the price range chart we have Tayogo's waterproof headphones. These are headphones specifically designed for swimming. In addition, these headphones have built in earplugs to prevent excess water from entering the ear whilst the headphones are in use.
These headphones have a built in 8GB mp3 player which has a removable USB flash drive enabling users to download up to 2,000 songs to the MP3 player. These headphones have a 2 hour charge time and last up to 6-8 hours. These headphones have a protection rating of IPX8. These headphones are heat resistant up to 60 degrees celcuis allowing music to be enjoyed in hot spring baths or showers.
Best Features
Long playing time
Built in MP3
Lightweight and stable weighing only 32g ideal Swimming headphones
---
4. H2o Audio Surge S+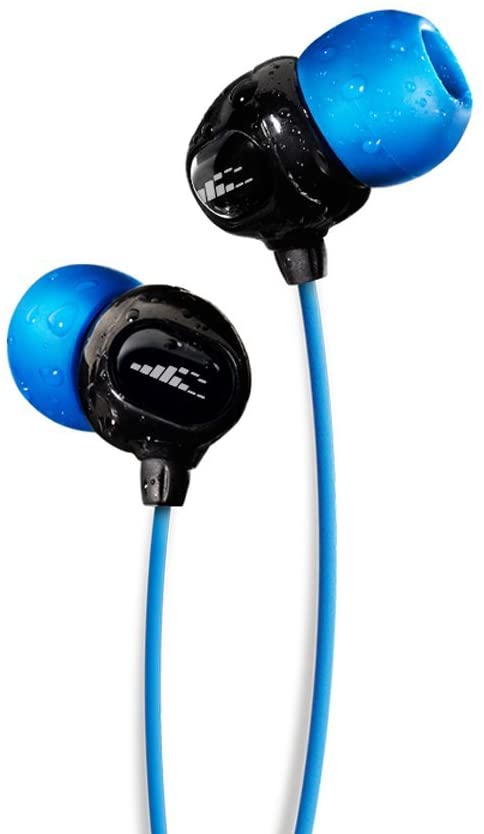 The audio surge headphones are used by the greatest Olympic swimmer of all time: Micheal Phelps. These headphones have H2O Audio surge technology which ensures these headphones can be submerged for a long time under water at depths of up to 12ft. The cord is approximately 1ft long which is ideal for head mounting as there is little to no excess cord. The hydrodynamic design has been ergonimically produced for optimal use in water. The speaker has been shaped to sit flush with the ear promoting proper alignment of the earbud. included are multiple ear tip sizes to provide a customisable fit for all users. These headphones also have optimum bass amplification to produce a rich sound over a full frequency range.
Best Features
Great sound and frequency
Optimal ear fit due to the different earbud variety
Ideal Swimming headphones used by Micheal Phelps
---
5. Waterfi Waterproof Headphones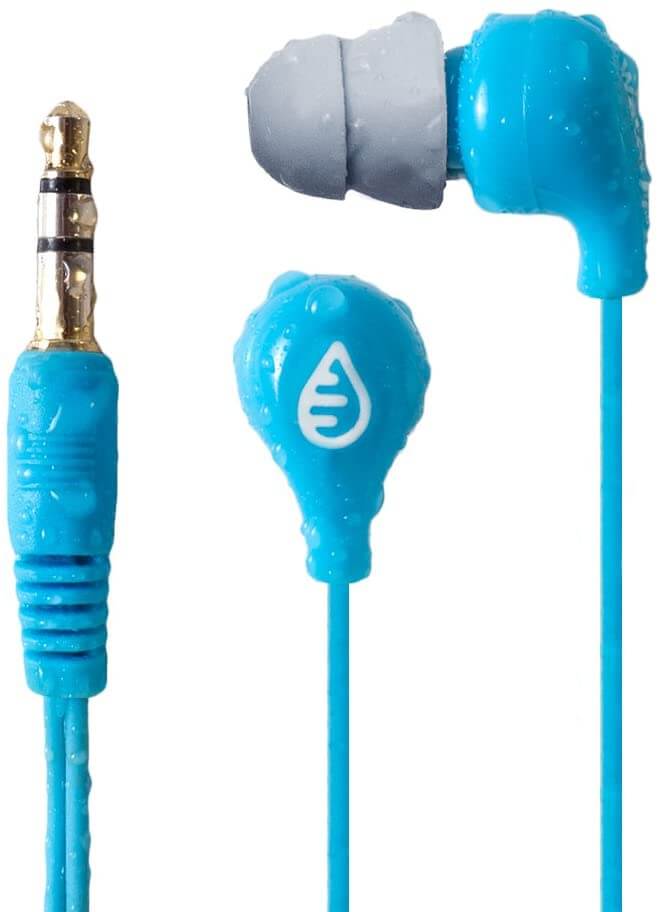 Next up are Waterfi's waterproof Headphones. These bad boys are aqua blue in colour which makes them look almost invisible in the water. Allow music to be listened to at depths up to 10 feet underwater. The 11 inch cord reduces drag and tangling. These headphones come with four different pairs of earbuds for a snug custom fit while also coming with a gold plated headphone jack which protects it from corrosion. Also included with the budget water resistant headphones is a 30 day no risk guarantee.
Best Features
Cool colour which makes them invisable in water
Snug fit thanks to ear bud variety
Rust prevention and protection thanks to gold plated audio jack
---
6. HPTCC Wireless Headphones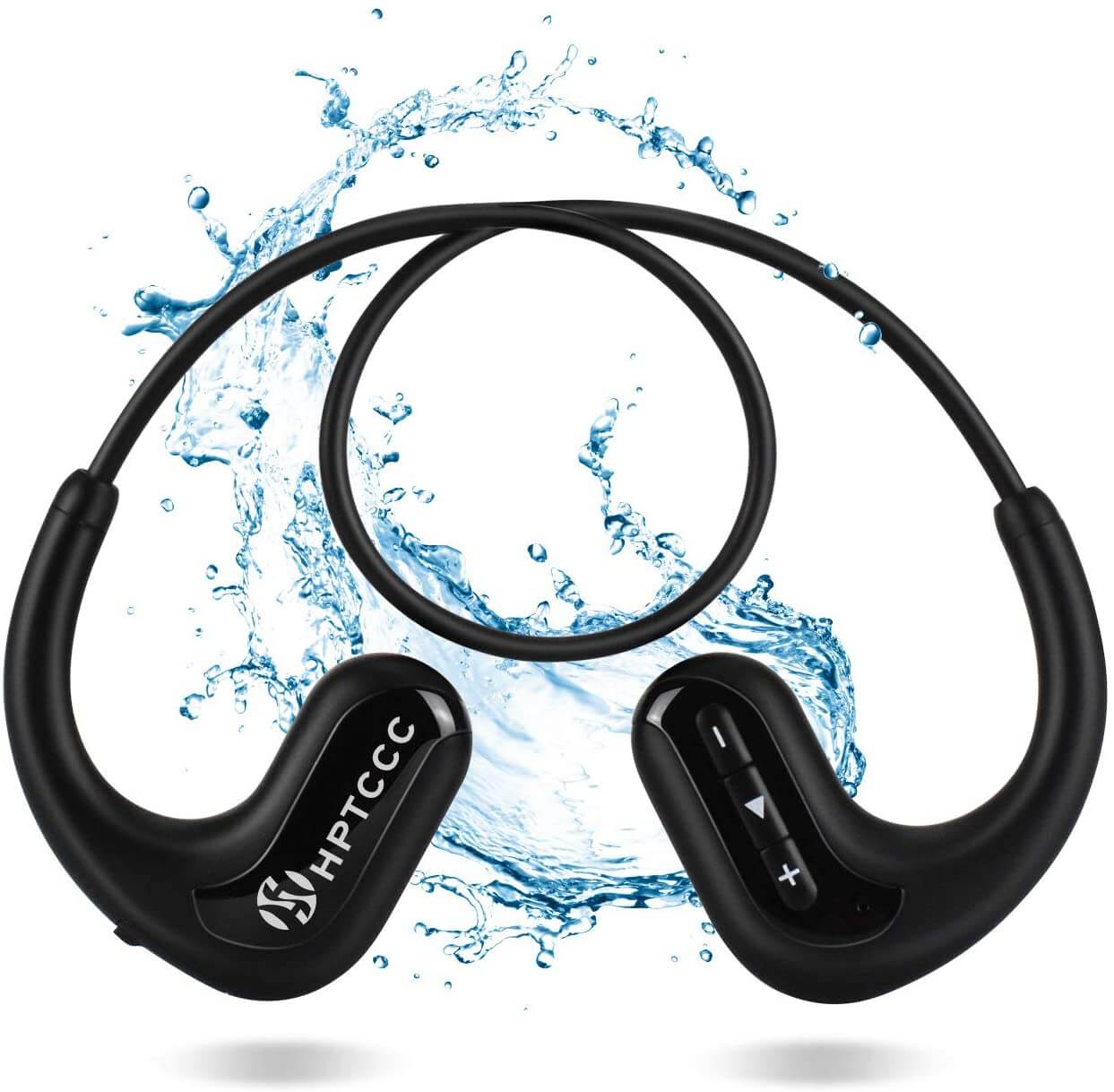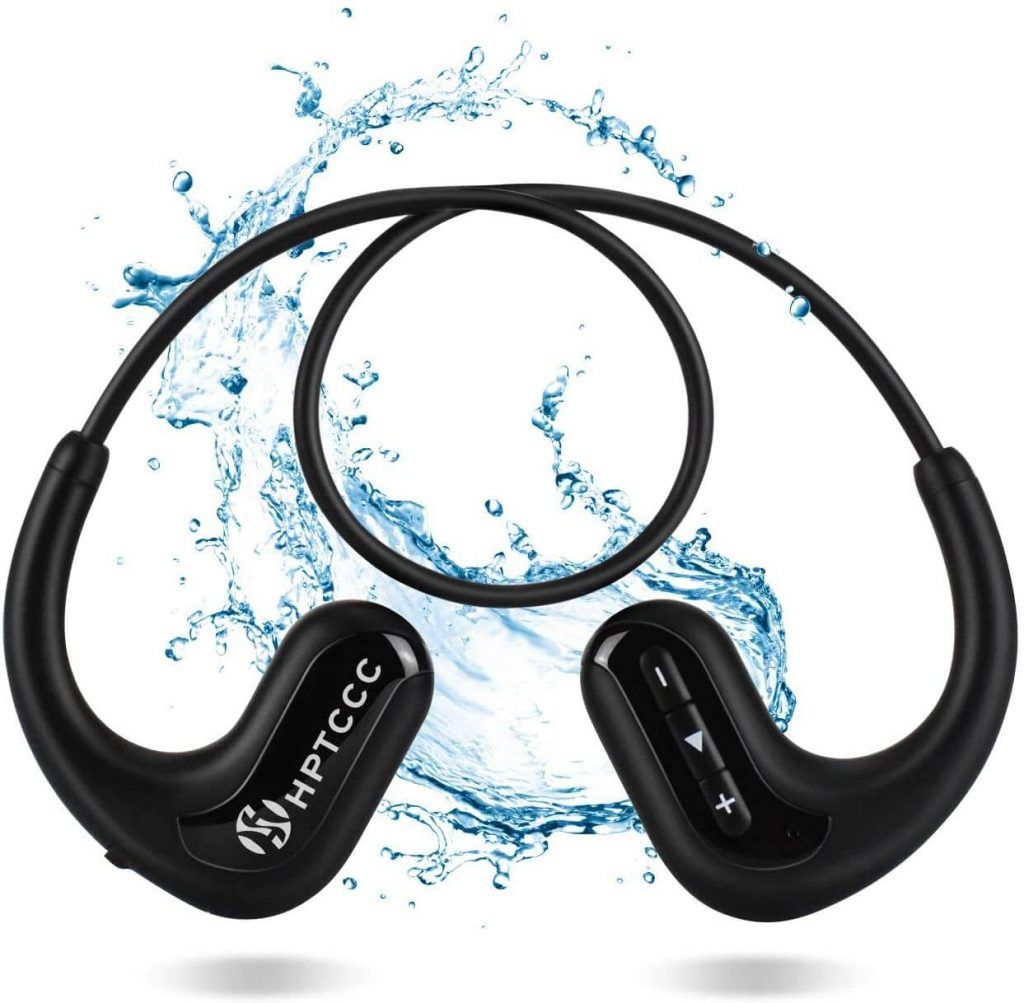 Here we have the majestic in black HPTCCC wireless headphones. These fully submersible headphones have a protection of IPX8 making them the best waterproof level. Perfect for swimming and other water sports. Included is a waterproof MP3 player with a hard drive capacity of 8GB enabling up to 2000-2400 songs (Subject to the length of the song). Included is a aftershock driver which produces a dynamic range of frequency and bass for a rich audio experience. These headphones are among the elite in their field for battery length which only needs to be charged for 2 hours and can last up to 5 days! Perfect for swimming laps. These headphones also have an integrated noise cancel technology making sure your have the optimal audio experience.
Best Features
5-day stand by battery life!
IPX8 Fully subversive protection
100% satisfaction guarentee
Active noise cancelation
Ideal Swimming headphones and listening to music in the water
---
7. HUICCN Waterproof Headphones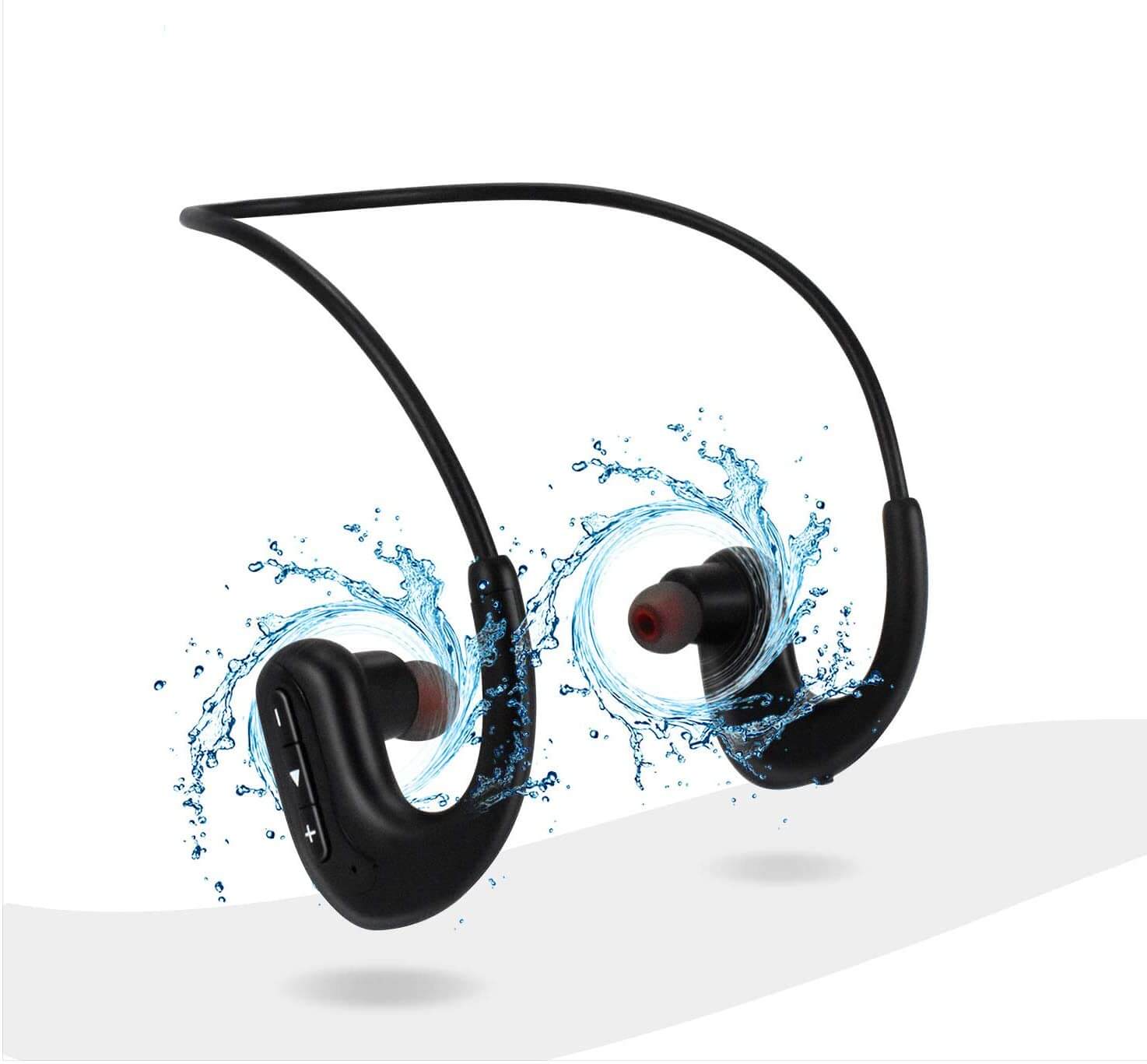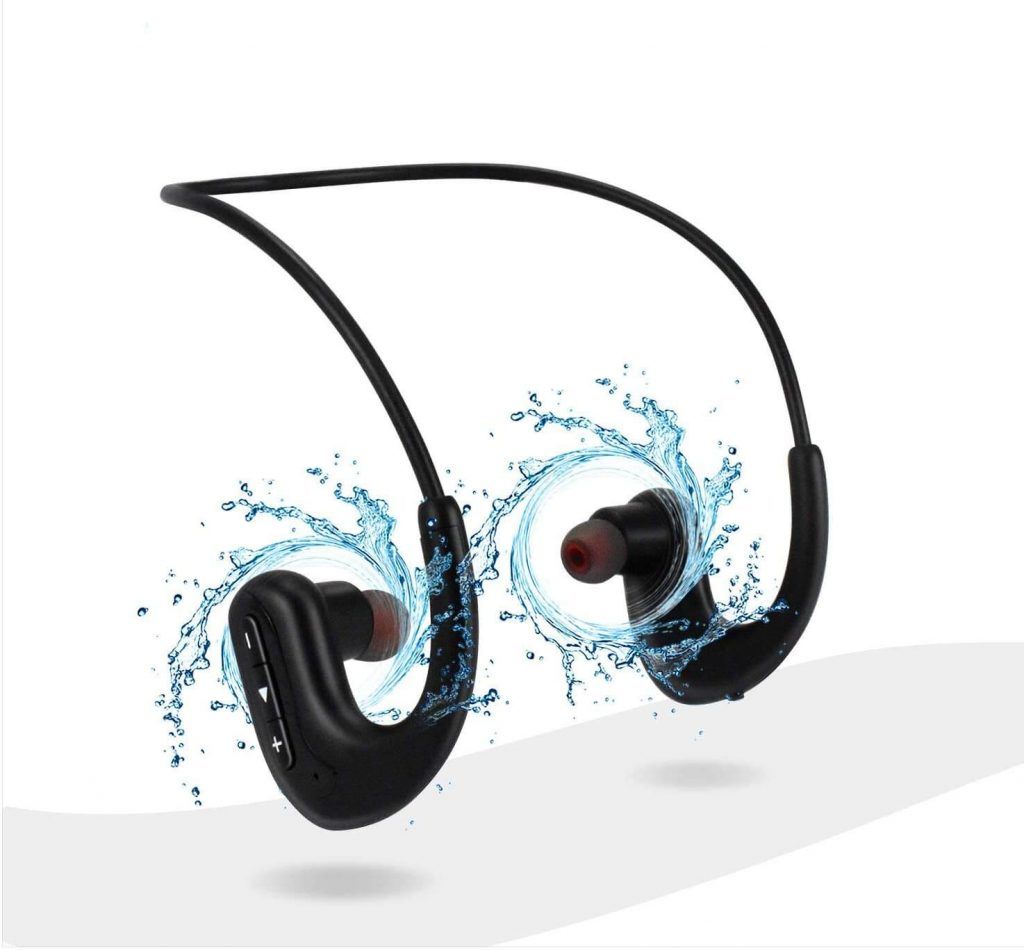 Another fully submersible headphone for swimming option, this time from HUICCN. Another headphone which is rated with a IPX8 waterproof rating. A very similar headphone to the previous HPTCCC. These fully submersible ear headphones perfect for swimming have integrated noise cancel technology making sure your have the optimal audio experience. They are also IPX8 on the rating system, making them the highest waterproof level. Perfect for swimming and other water sports. integrated to the back is a waterproof MP3 player with a USB which is 8GB in size allowing up to 2000 songs (Subject to the length of the songs). These headphones also have a dynamic range of frequency and bass for a rich audio experience thanks to their aftershock driver.
Best Features
Sleek Design which fits over the head perfect for swimming
Built in MP3 player
Noise cancelling technology
8GB USB harddrive
Plenty of ear tips included
---
8. Pyle MP3 Player Bluetooth Headphones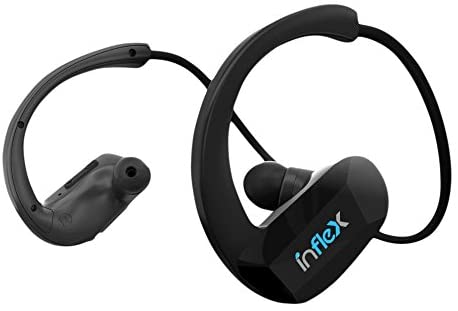 Next up is the Pyle MP3 player Bluetooth headphone. One of the more expensive pair of headphones in this guide however understandibly so as they're also one of the best. These headphones, waterproof, are designed for long periods of use up to 12 hours of batter life in one charge at depths of up to 12ft. Not only is this one of the more sleek designs available this set of headphone has brilliant ease of use reviews for the MP3. These headphones are a secure fit and the MP3 player is easy to use. You can easily drag and drop files from Itunes on multiple devices such as Mac and Windows. They also have a IPX8 rating, the best protection available and ideal for swimming.
These headphones also have flextreme technology built in allowing for a very bendable headstrap which is designed to hang around your neck when not in use! Integrated is a waterblocking earbuds so not only do the headphones play music but they also prevent water from entering your ear canal. This headset similar to the other has a 8GB flash drive which can store a couple thousand songs. All in all a solid option for anyone looking for a well reviewed waterproof headset.
Best Features
Modern look and stylish neck design for a secure fit
High quality built in MP3 players
10 hour battery life perfect for long swimming sessions
Compatible with both Mac and Windows
Quick Charge
---
9. Swimbuds Sport Waterproof Headphones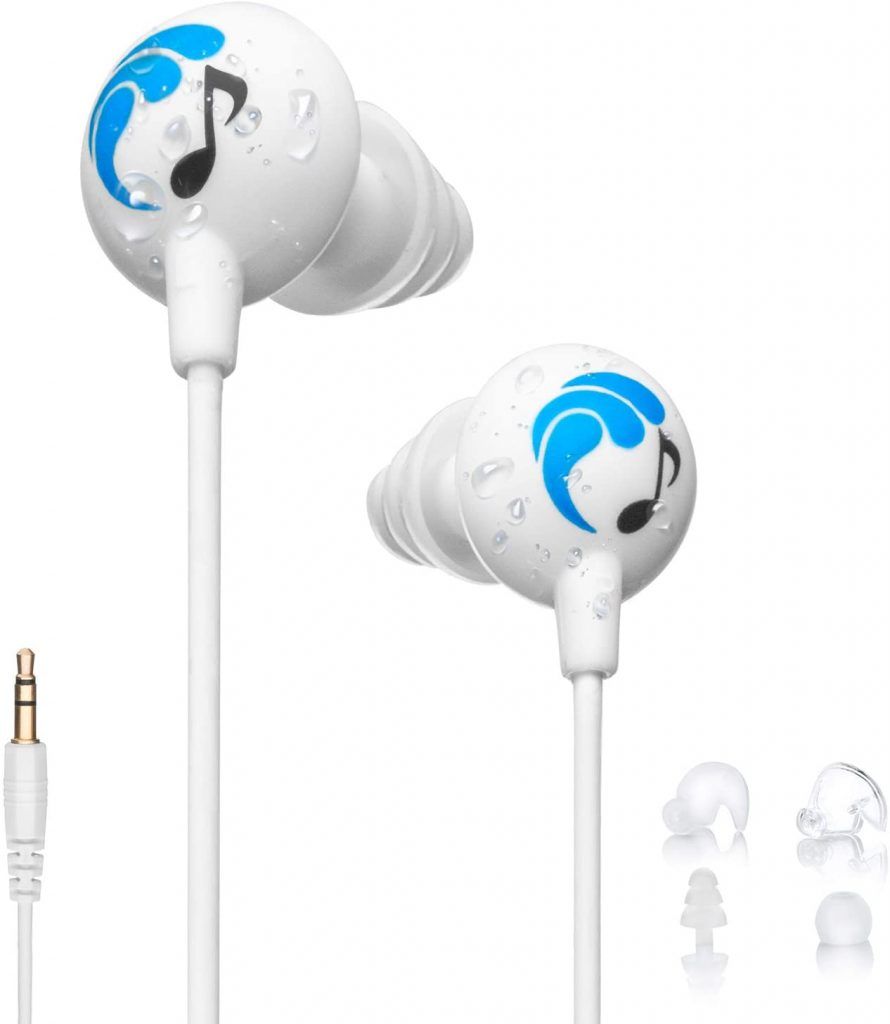 These swimbuds sport waterproof headphones are most expensive of the budget options shown. Swimbuds sport headphones are the successor to the Underwater widely popular 'Swimbuds classic'. These headphone include 11 pairs of earbud tips which prolongs the life cycle of this product! These are the worlds first short-cord pair of headphones specifically designed for swimmers as the demographic. These super secure headphones are designed to be worn tucked into your goggles strap above the ear. Argubl the best battery life on the market and plenty of storage make these headphones contenders for the best on the market. 8Gb of storage and both MP3 and WMA compatible, these versitle headphones will more than get the job done for any avid swimmers looking to up their headphone game in the lanes.
Best Features
Sleek white design
First Short-cord design specifically modelled for swimming in mind
10 hour battery life and 8GB USB storage among the best.
---
10. HUICCN Bone Conduction Headphones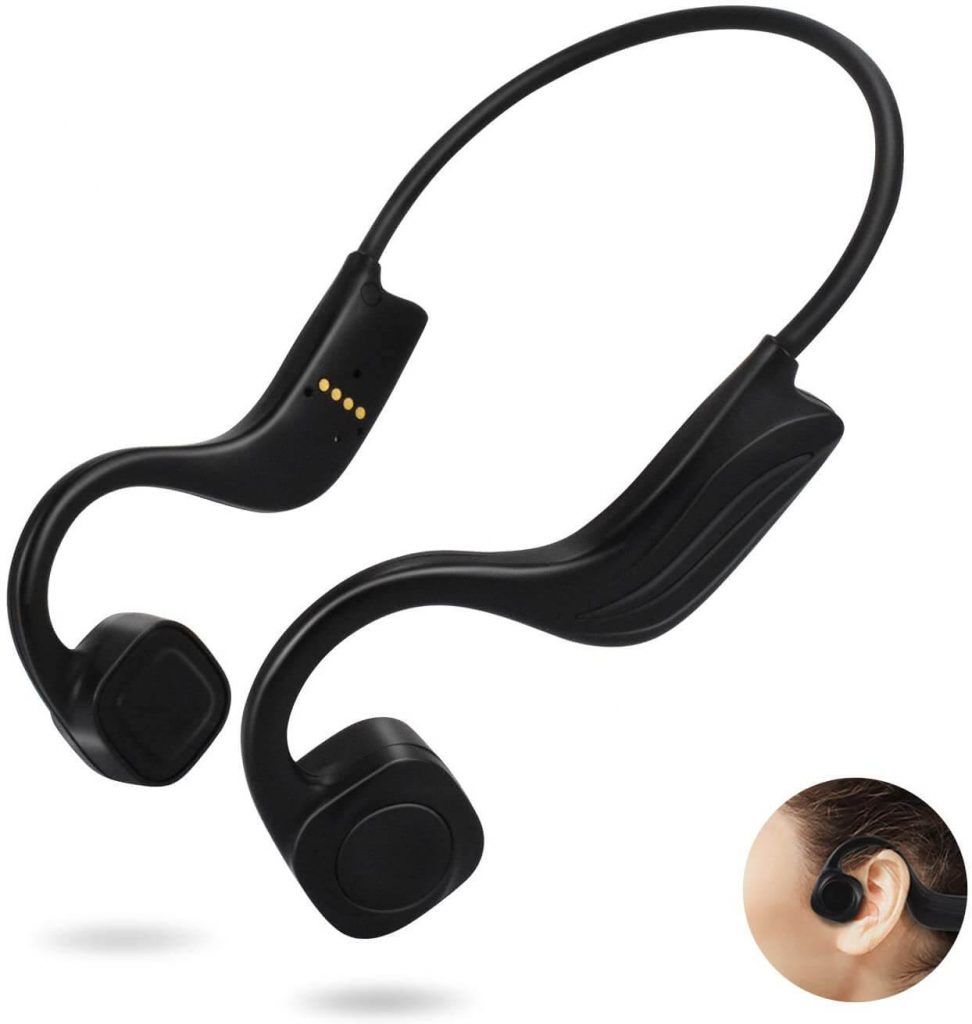 The first bone conduction headset show in this guide but arguably the best waterproof headphones for swimming of its kind available. These bone conduction headphones play music through sending the vibration of the music through the cheek bone above the ear as opposed to down the ear canals. These are ideal for everyone and specifically are best for those who have hearing problems as the audio is transfered via a different lane.
These headphones like most of the best are a IPX8 rating and have an integrated MP3 player which is designed to last up to 8-10 hours while being able to store up to 2000 songs via it's 8GB storage device. These headphones also have a integrated microphone and can connect via Bluetooth when not submerged in water. All in all a very high tech pair of seimming headphone which are easy to use and last up to 7 hours.
Best Features
Bone Conduction Cheekbone technology for those with hearing impediments
Long battery life and large storage
Bluetooth technology built in along with a microphone for answering phone calls when not swimming.
---
Buyers' Guide: What to Look for When Buying a Pair of Waterproof Headphones
Battery Life
Like most things electronic… they require a battery to work. It is the same for a pair of waterproof headphones. More often than not waterproof headphones have built in MP3 players which are what requires battery power. These MP3 models require battery to work. Although most of the best headphones have a maximum operating capacity of 4 hours, it's never a bad thing to give yourself some headroom and choose a higher capacity model.
Another thing to note is the use of chargers, as some might have proprietary connectors that are unique and aren't compatible with conventional ones, making it a pain in the ass when they break down. Try to choose a unit with universal connectors. As these will save you time and stress in the future if anything were to go missing or break!
Sound Quality
When using Waterproof headphones, as far as sound quality is concerned, bass response is rather underemphasized for a pair of workout earbuds. Waterproof headphones may benefit from a some boosted bass so you can hear your music above the splashing water. Fortunately, this is easy to do with some basic EQ tweaks. Though, in all fairness, sound quality is likely the last thing on swimmers' minds when using waterproof headphones.
Durability
Never settle for anything less than IPX8 if you're serious about using them for lap practice. IPX7 units are usually limited to 30 minutes of continuous use in over 3 ft. of water, while the IPX9K rating hasn't been used for any kind of audio equipment as of yet.
Know the difference between waterproof and water-resistant. Oftentimes people overlook this label, confusing one for the other. Water-resistant headphones are built to withstand water penetration but in limited degrees, while waterproof ones are physically impervious to water immersion.
Comfort
Other than in-ear headphones, there's another type of headphones that you can use for swimming: bone conduction headphones. Bone conduction headphones work by transmitting sound through a different path to the ear. It sends vibrations through the bones in your face to the temporal bone. This temporal bone is the bone surrounding the cochlea.
The vibration of the temporal bone causes the cochlear fluid to move, which in turn sends signals down to the auditory cortex where the sound is heard. Bone conduction headphones use your cheekbones to transfer sound to your ears.
While some debate the compromise of sound quality going through your skull instead of directly into your ear canal, bone conduction headphones are beneficial for those who are hard of hearing, because you aren't relying on your ear cavity to transfer sounds anymore. The benefit of Bone conduction headphones are swimmers are still able to wear ear plugs and hear music. Silicone designs also tend to be more comfortable than those manufactured out of plastic.
Waterproof Rating
Waterproof headphones are rated using a IP rating system: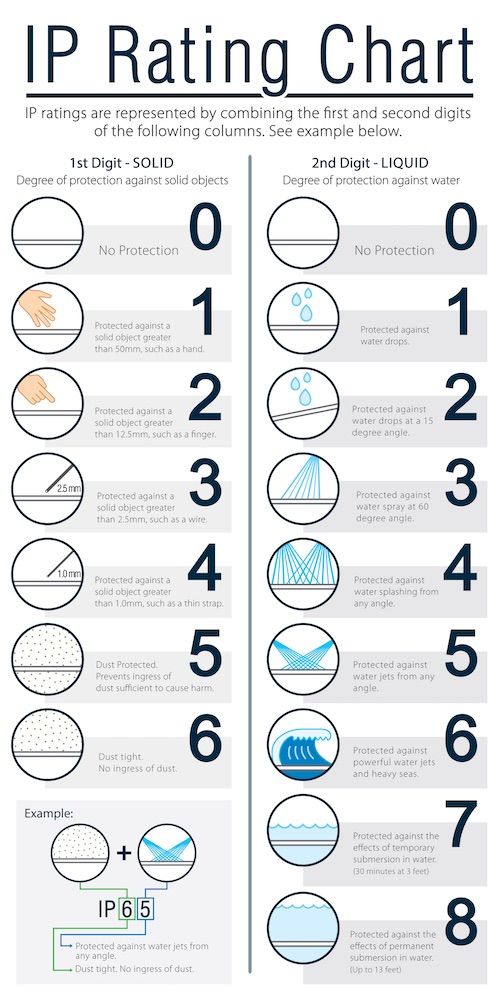 Headphones which are considered waterproof have a IPX rating of 7 or 8. It is important to note that IPX7 don't claim to be waterproof however they can be submerged in water for around 30minutes.
FAQs
Are there waterproof headphones for swimming?
So you're in the market for a set of waterproof headphones which by the way, yes, do exist. How on earth do they work I hear you ask? Well..that's a good question. One I don't know the science behind but essentially Waterproof headphones are the same as regular headphones however they have had their internal circuitry and components waterproofed…
It's important to add that there are certain waterproof headphone specifically designed for swimming and others which are simply designed to be water resistant. Now there is a key difference between something which is water resistant compared to being water proof. The easiest way to identify the headphones which are waterproof compared to the ones which are water resistant is by their IPX indicator.
Can you swim with ipx7 waterproof?
Now the important think to check when buying a set of waterproof headphones is the IPX rating. It is well known in the waterproof world that IPX7 ranked headphones are considered waterproof and able to be used when participating in watersports such as swimming. As illustrated by the IPX chart, headphones which are IPX7 or higher are essentially "waterproof". However, it is important to note than IPX8 is the recommended IPX rating for any waterproof headphones. Why? Well IPX 7 earbuds aren't covered under the waterproof category and are only claimed to be capable of being submerged for 30 minutes. Therefore, if they break, you would struggle to get your money back as they can't claim they are waterproof despite working under water… This is why earbuds which are ranked IPX8 are the more popular choice.
Are there any Bluetooth headphones for swimming?
Bluetooth headphones which are IPX7 or 8 exist and can be used for swimming. They do exist and are common within the swimming world. Waterproof headphones have been around for almost a decade and are becoming increasingly more and more popular, especially after they were shown to be warn by some of the swimming greats such as Micheal Phelps. Most headphones would break when submerged under water however thanks to the IPX ranking system, headphones have been able to specifically state just how waterproof they are compared to those headphones which are slightly resistant to water.
What headphones does Michael Phelps use while swimming?
Micheal Phelps has been photographed wearing waterproof headphones by a company called: H20 Audio serge+. These headphones have been reviewed above if you wish to seek any specification details on these headphones. Micheal Phelps was a big endorser of waterproof headphones during his preparation for the Olympics as the enabled him to dig deep and bush further during his training sessions. To those who dont know Michael Phelps… there may be one person… he was the most dominant swimmer to participate in the Olympics achieving 28 Olympic medals across his career including 23 gold medals alone. So if they're good enough for him and they benefited him and his training and preparation for the olympics then they will do wonders to your performance in training sessions.