Are you a regular concert-goer? Do you sometimes find that your ears ring a little too much after that gig? If so, read on. We know it's hard to find a balance between rocking out at a concert and being responsible with your listening – your ears deserve the best, after all. That's why this article is going to take you through the best earplugs for gigs.
In this write-we've got the best ear plug make for you – from the best high fidelity earplugs around, such as the Eargasm ear plugs. We won't let you down – you'll be sorted in no time, so you can rock on without worrying about your ears.
It's important to consider a bunch of different features when finding the best earplugs – such as noise reduction rating, sound quality, and even finding a pair of earplugs that's comfortable to wear. You want to protect your hearing, sure, but you also want to hear the live music you've come to see!
Here's what we've got coming up for you:
The best ear plugs for live music
Buyers guide:
Considerations for buying ear plugs
Why should I buy concert-friendly earplugs?
Best Earplugs for Live Music
1. Eargasm High Fidelity Earplugs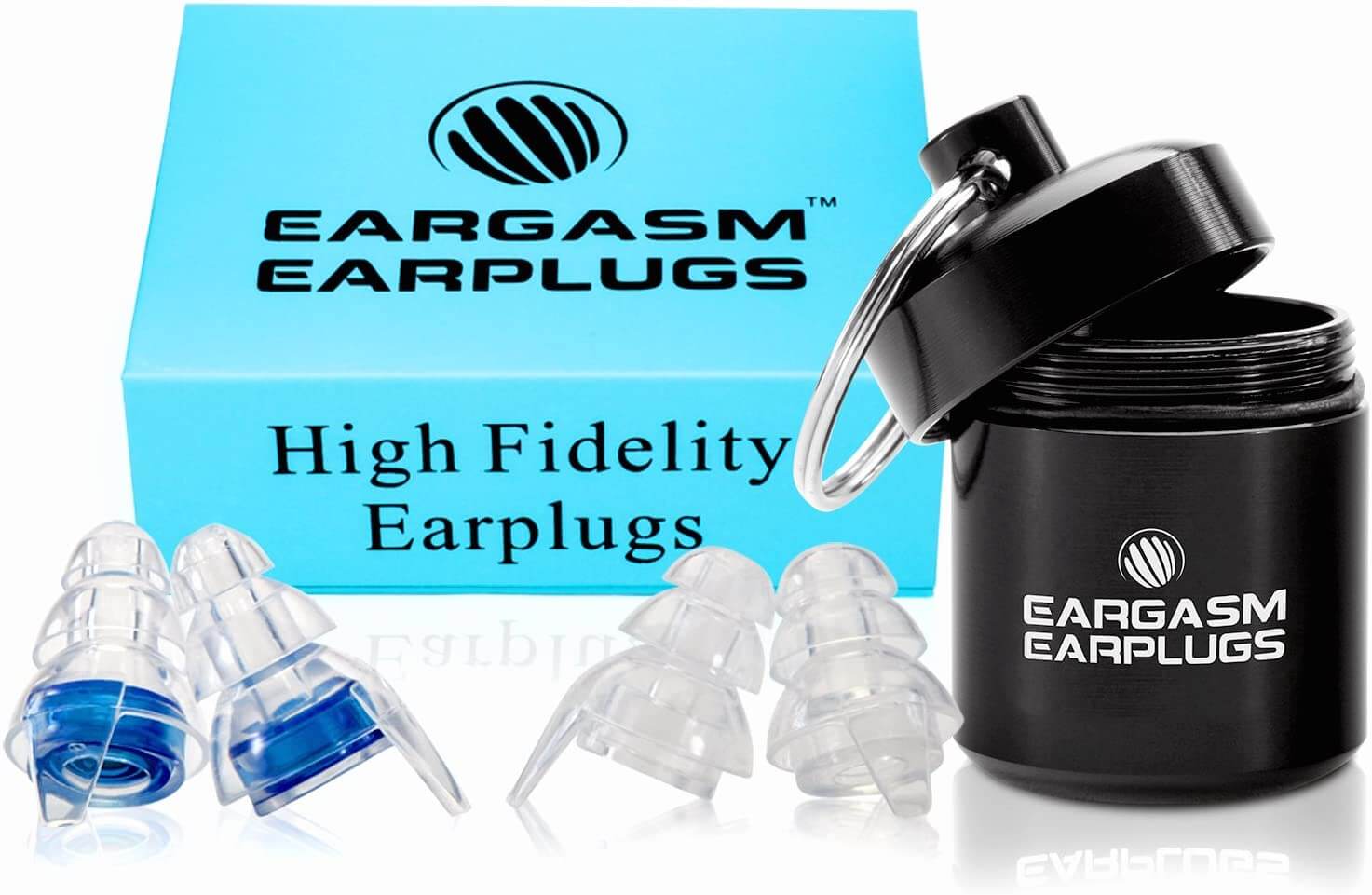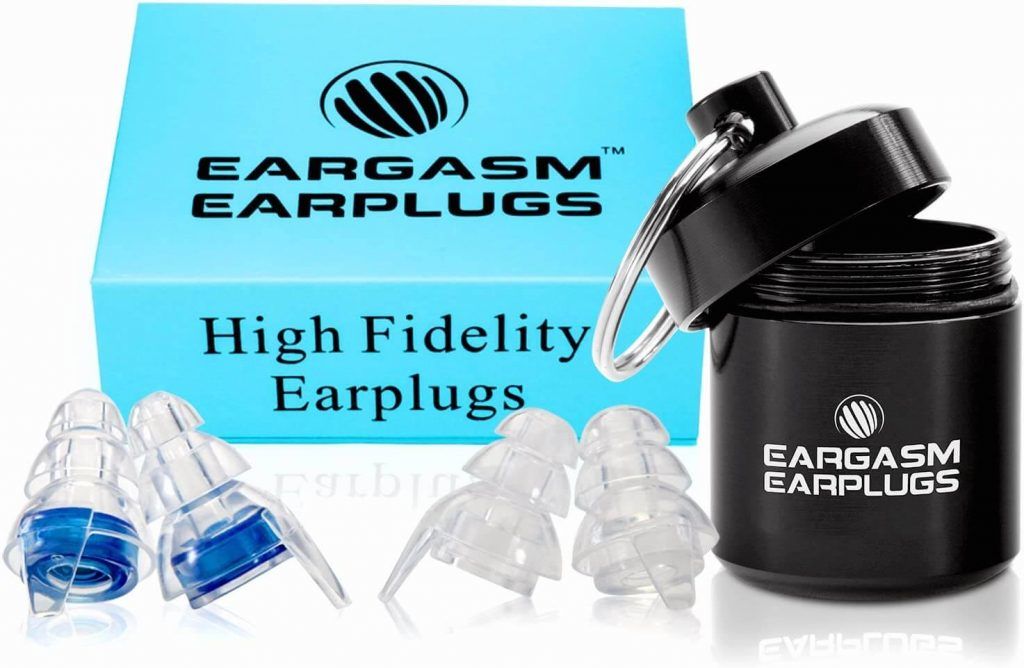 First on our feature we have the incredible Eargasm High Fidelity Earplugs offering a superbly comfy fit that lowers decibel levels and protects your ear canals from and potential sound damage. Providing super noise reduction alongside two sizes, these are some of the best earplugs on the market. An aluminium case has also been provided to help protect your ear plugs from wear and tear when travelling.
These ear plugs use patented noise attenuation filters that evenly reduces noise across a host of frequency ranges. This prevent the vocals and music from sounding muffled, but still offers superb noise protection that is incomparable at such a low price. Prolonged wear has been considered here as these silicone earplugs are made using the finest non-toxic material preventing both itching and pain from long-term use. Thanks to the high build quality these are especially suited for festivals as you will be able to comfortably wear them throughout the day.
At such a low cost but premium quality, you would be hard pressed to find a better pair of earplugs than these!
Best Features
Innovative noise attenuation filter offer volume reduction across the entire spectrum
Non-toxic silicone offers a comfortable wear
---
2. EarPeace Ear Plugs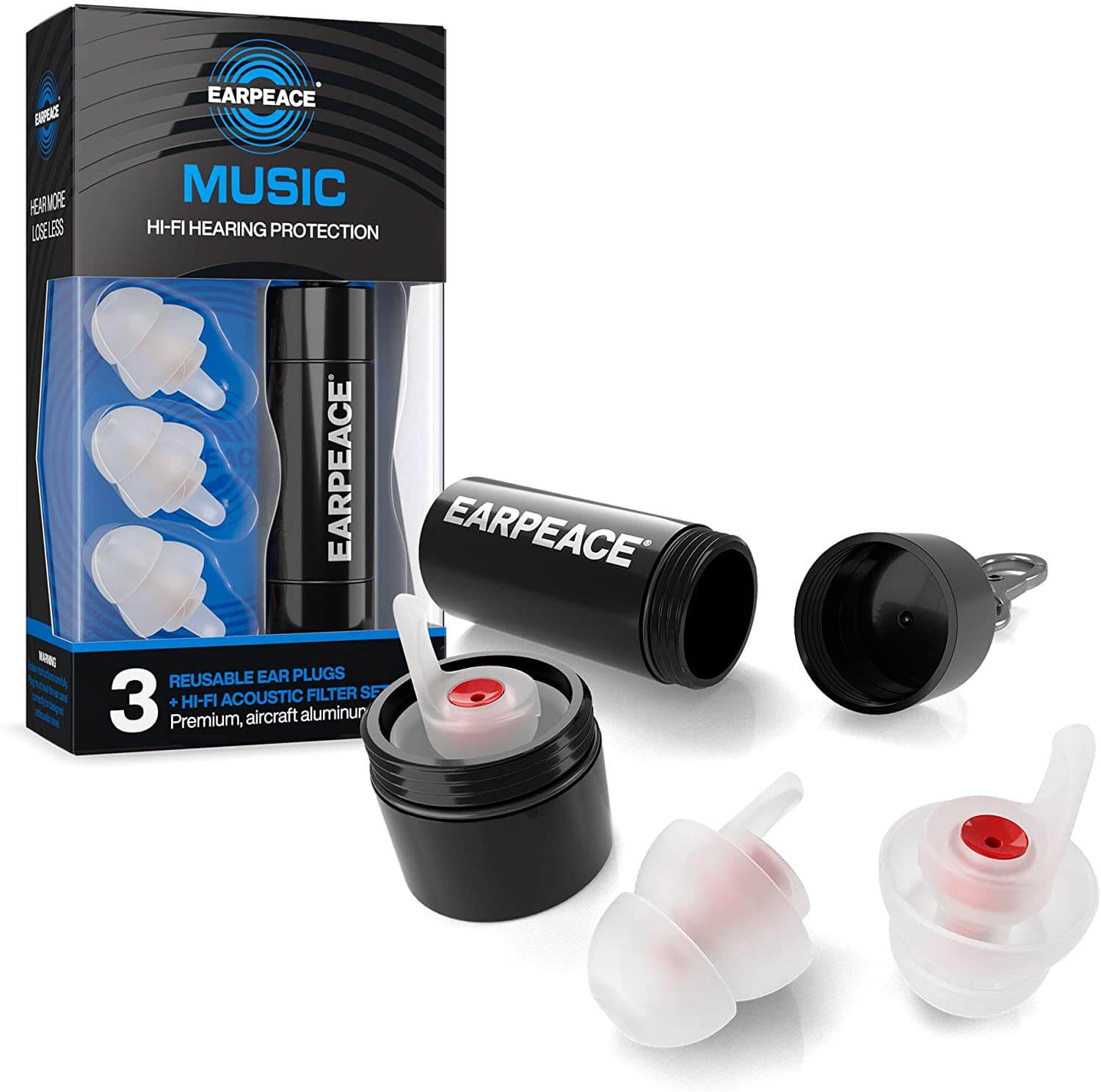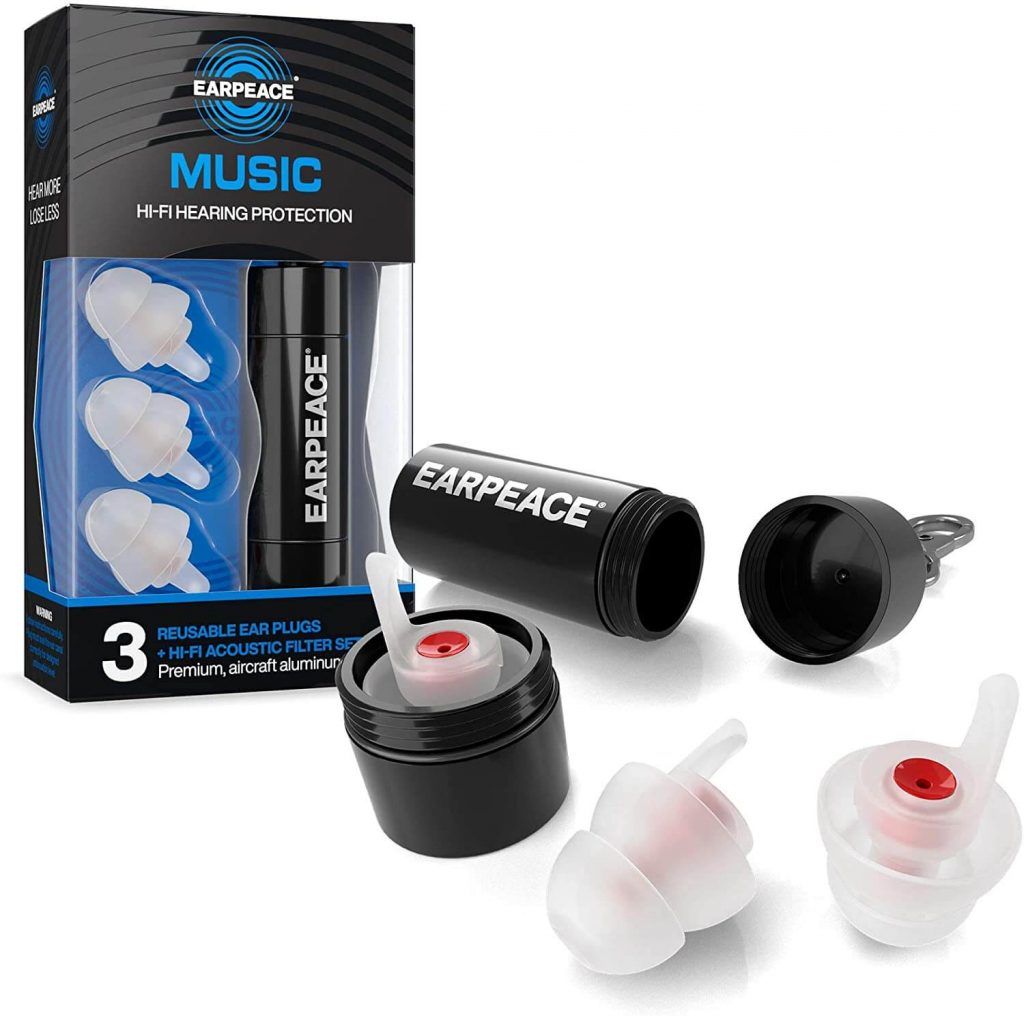 Up next we have the aptly named EarPeace Ear Plugs, providing impressive decibel reduction that fits comfortably inside your ear canal. Included in this package is 3 different re-usable sets of ear plugs alongside a premium aluminium carry case offering means of portability and sturdy enough to withstand any music festival. These plugs are exceptionally discreet meaning they won't look out of place no matter your outfit.
The high quality SNR (signal-to-noise ratio) silicone reduces volume levels by up to 26 dB meaning you can listen to your music peacefully without worrying about any would be ear problems. As an added bonus, the silicone used is hypoallergenic meaning these can double up as night time plugs to aid you in getting the rest you deserve. Earpeace ear plugs are also used throughout the industry with bands such as Metallica using them, meaning these are some of the best earplugs for musicians available today.
If you are after a cheap pair of high quality hear plugs that provide the hearing protection you are after, then this offering from EarPeace may be just the set for you.
Best Features
Exceptional noise reduction using SNR
Recommend by music experts and musicians alike – so you know these are high quality
---
3. EarDial Hi-Fi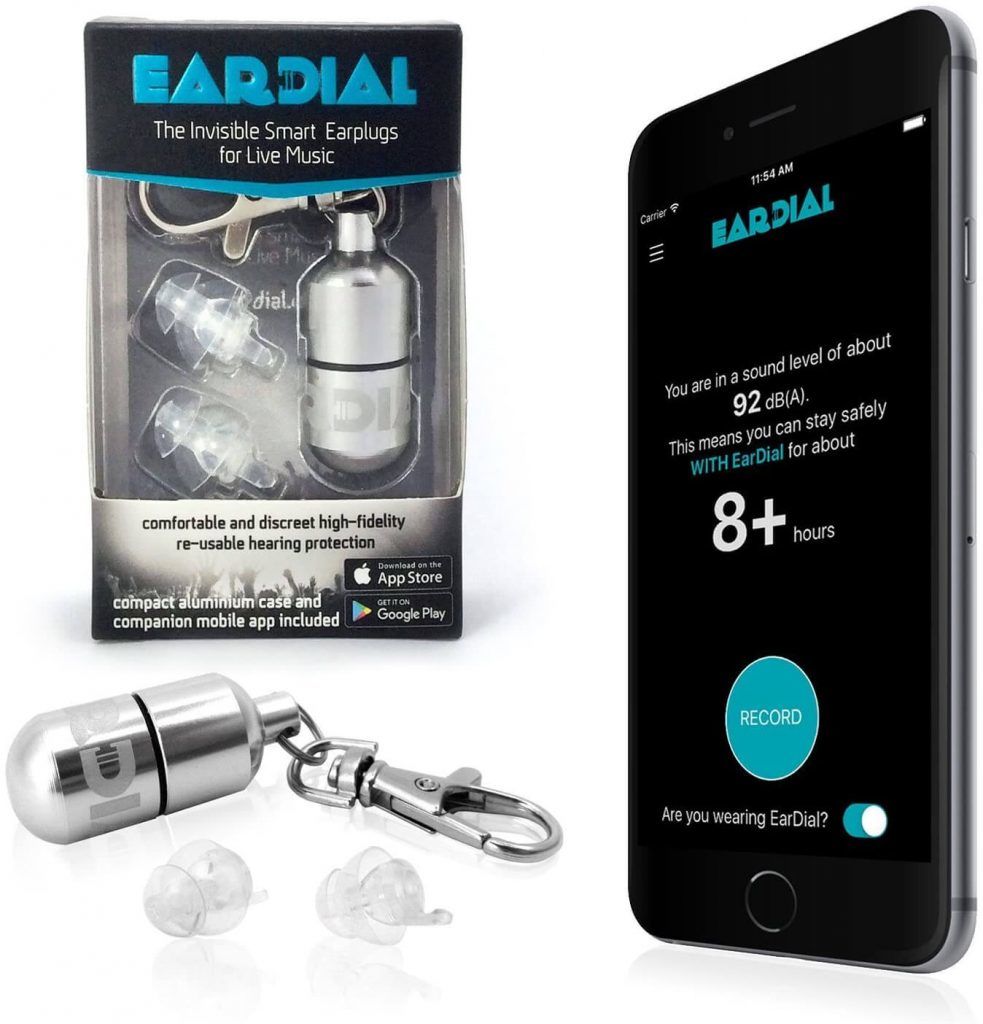 One of the top choice for most gig lovers, the EarDial Hi-Fi earplugs offer everything you would expect and more. These come accompanied with a smartphone app alerting you to high noise levels nearby so you know when to wear these for optimal hearing protection. The smartphone app also alerts you to how long you can stay safely before you risk damaging your ear canal – Which is an incredible addition to an already excellent package.
A provided aluminium case is small enough to be portable without running the risk of losing it. It also protects your earplugs from any outside harm they may sustain during the festival period. The earplugs themselves are also no slouch as they provide superb high fidelity noise reduction due to a confident silicone based design.
With all the added bonuses at such a low cost, you can protect your hearing with style thanks to these exceptional EarDial High fideilty earplugs.
Best Features
Compatible smartphone app is extremely useful and available on most smart phones
Supplied compact carry case is small enough to be taken with you wherever you go
---
4. EarTekPro Concert Earplugs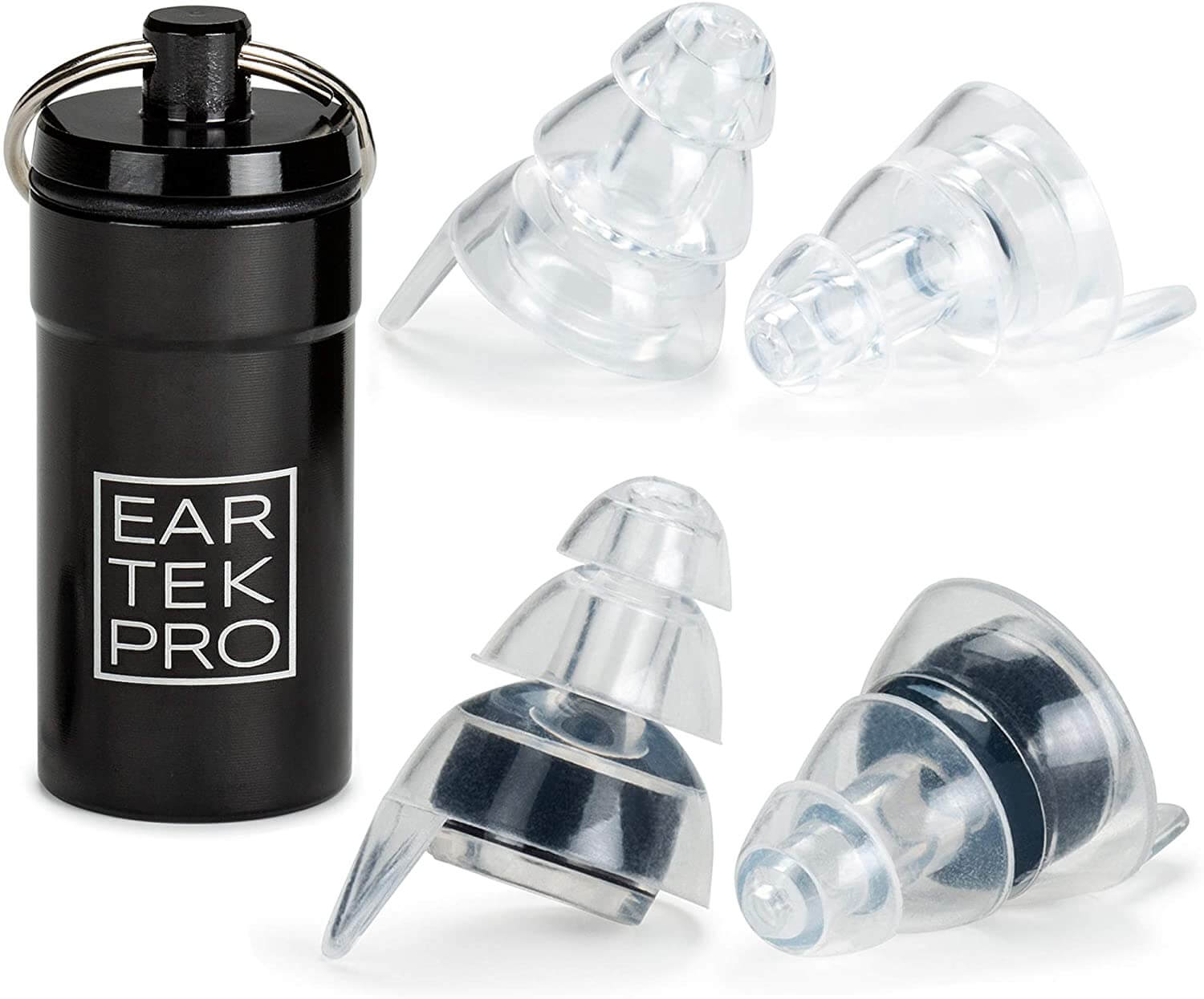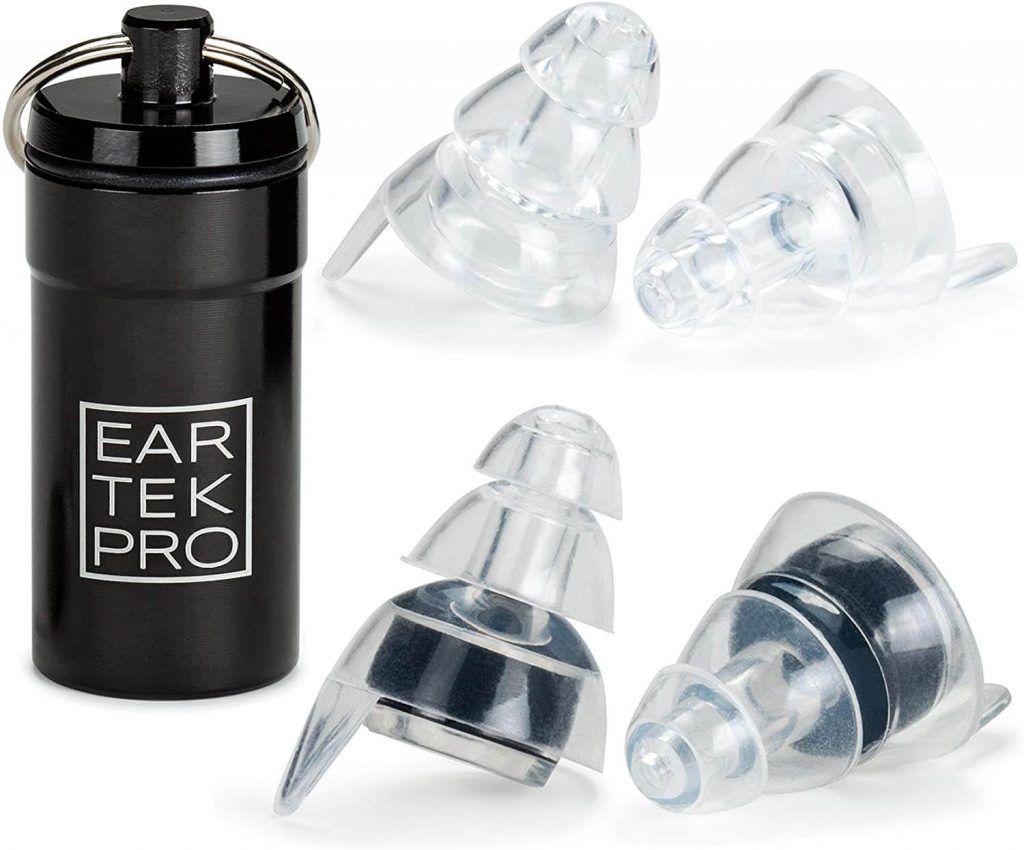 If you are looking for one of the cheapest silicone options currently available, then look no further as the EarTekPro Earplugs are some of the cheapest you can find. Prevent human hearing with these exceptional earplugs that offer a comfortable silicone design that will fit snugly inside any sized pair of ears.
An included case means you can take your noise reduction with you on the fly. You will also find that these earplugs come in 2 sizes, meaning you are sure to find a pair that fits you well. Their lightweight profile also allows you to use these for everyday tasks. If the sound of a bustling supermarket or cars speeding by puts you on edge, then this ear protection option is fit for you.
If you don't want to sacrifice sound quality but are still wary about loud sound levels then add these to your watch-list today.
Best Features
Lightweight and transparent design means each earplug offers a low profile
One of the cheapest silicone options available on Amazon
---
5. Etymotic Research ER20XS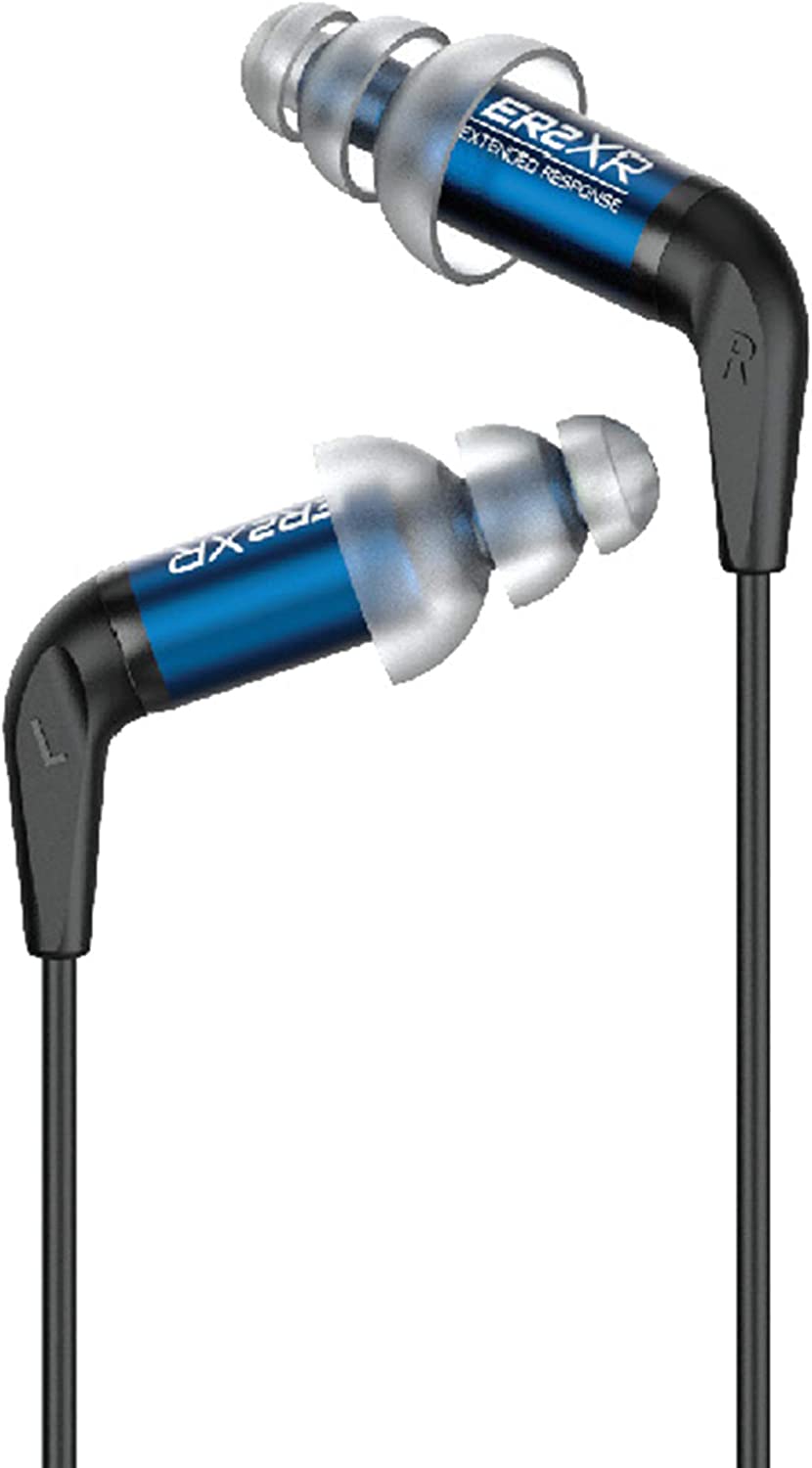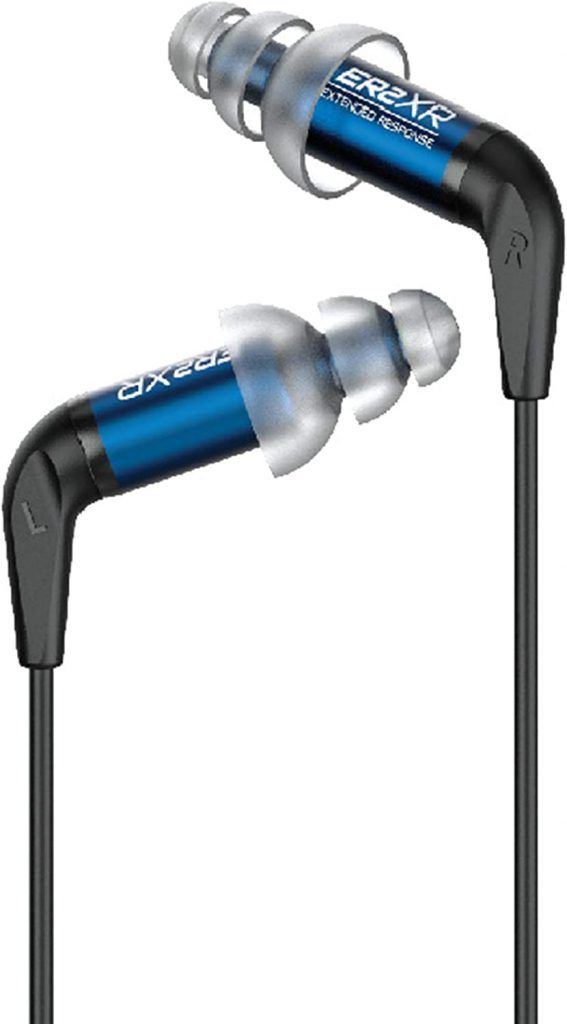 With their name quite literally translating to "true-to-the-ear" you can expect these Etymotic ER20XS earplugs to provide exceptional noise reduction without altering sound quality. The unique design provides high fidelity hearing protection that is also comfortable to wear.
Unlike a lot of other options featured in this article, these come supplied with a neck cord as well as a carrying case. This allows you to choose a method of portability, whether that's wearing them around your neck for easy access or carrying them in your pocket using the stylish case. These may not be suited for impulse tasks such as shooting sports but they are more than suited for live band events which is just what you need.
Anyone who is looking for a cheap pair of Etymotic earplugs that offer perfect protection ability across a range of frequencies, then these are more than worth the money!
Best Features
Comes in 3 different sizes
Interchangeable ear tips adds some customizability
---
6. EarPeace Safety Ear Plugs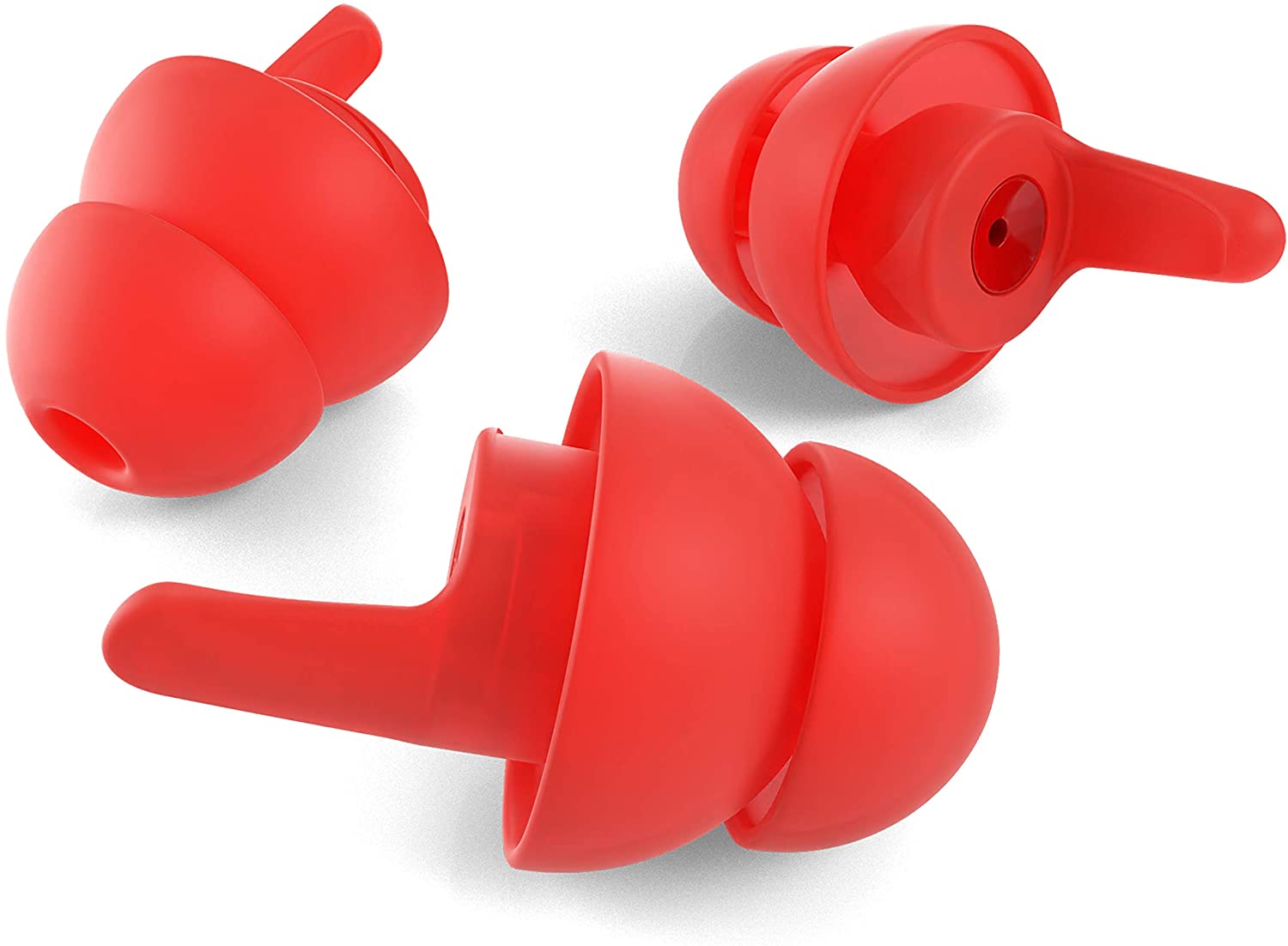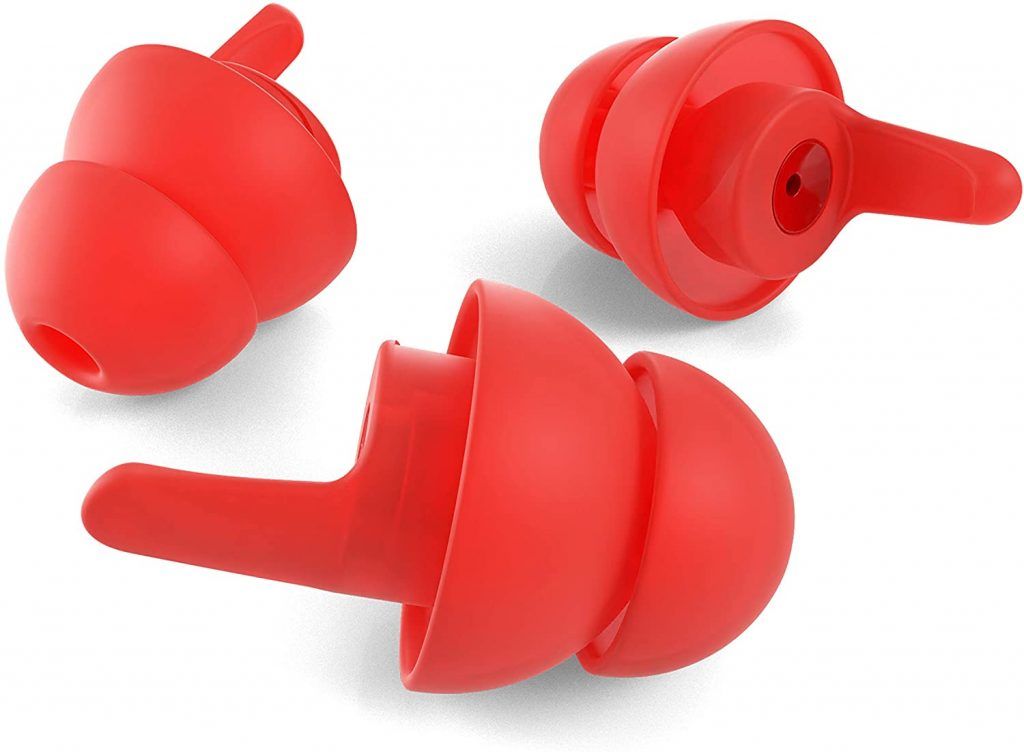 If you are looking for a set of earplugs that are suited for both music activities and industrial jobs such as working with drills, then these EarPeace Safety Ear Plugs are just what you need. These re-usable silicone plugs will sit comfortably inside your ear canal offering a great seal that filters sound and provides exceptional hearing protection.
These are the ear plugs of choose when it comes to industry work as both Caterpillar and Ford recommend these. If they are good enough for work settings then they will surely do wonder in festivals or your local club. The bright red design provides a level of aesthetics that is usually quite lacking in the earplugs industry. So not only do they offer superb sound reduction, but they also look good while doing it.
When it comes to around the clock hearsafe protection that is suited for any situation or job, then EarPeace are a company you can rely on!
Best Features
Filters the background noise whilst allowing high value sound to pass through
Industry rated plugs are suited for any experience
---
7. The Ear Buddy Premium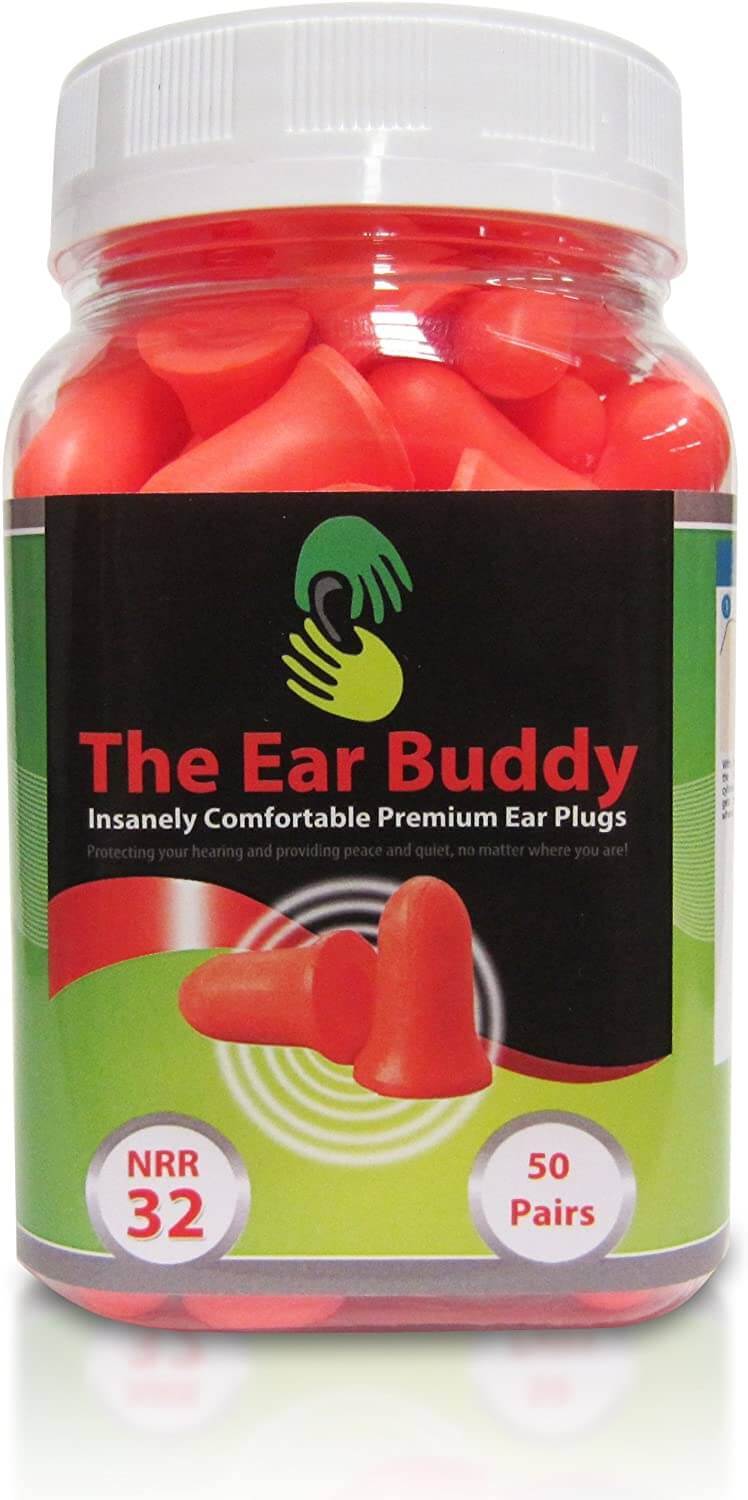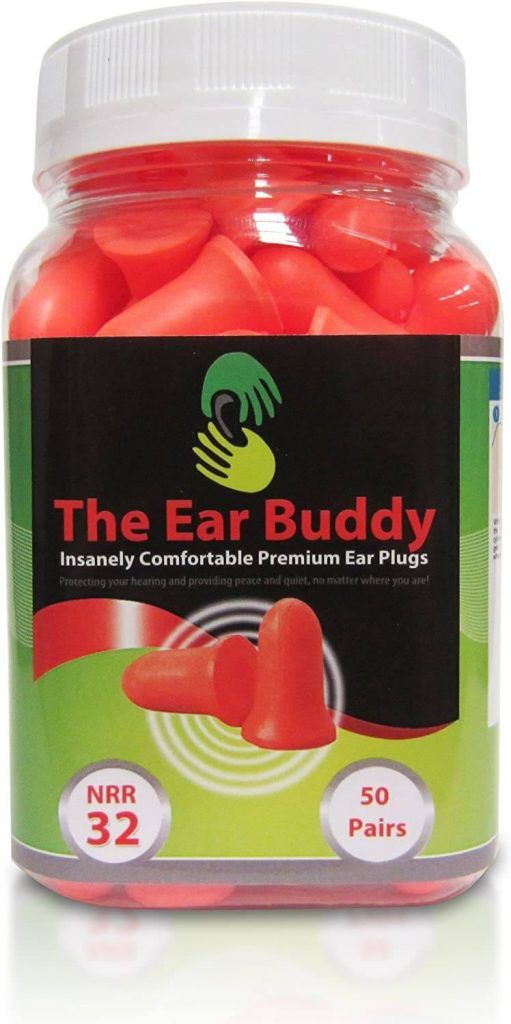 Some people prefer foam earplugs over silicone materials, if you are one of these then The Ear Buddy Premium earplugs could be the product you are searching for. With a 60 day 100% money back guarantee and coming with 50 pairs of earplugs, you can purchase this product with few problems. These premium earplugs will fit inside most ears without falling out so you can party on inhibited.
With one of the highest NRR featured in this write-up, up to a whopping 32 dB reduction, your hearing has never been more protected. For the best results and the comfiest fit, ensure you insert these inside your ears as instructed to filter out loud sound.
Cheap hearing protection and a soft foam design is the aim of the game here, and if that sounds enticing to you then definitely add them to you wishlist!
Best Features
Comes with a whopping 50 pairs, so you will have more than enough for every occasion
Foam plugs can supply a comfier experience to some
---
8. Decibullz Custom Molded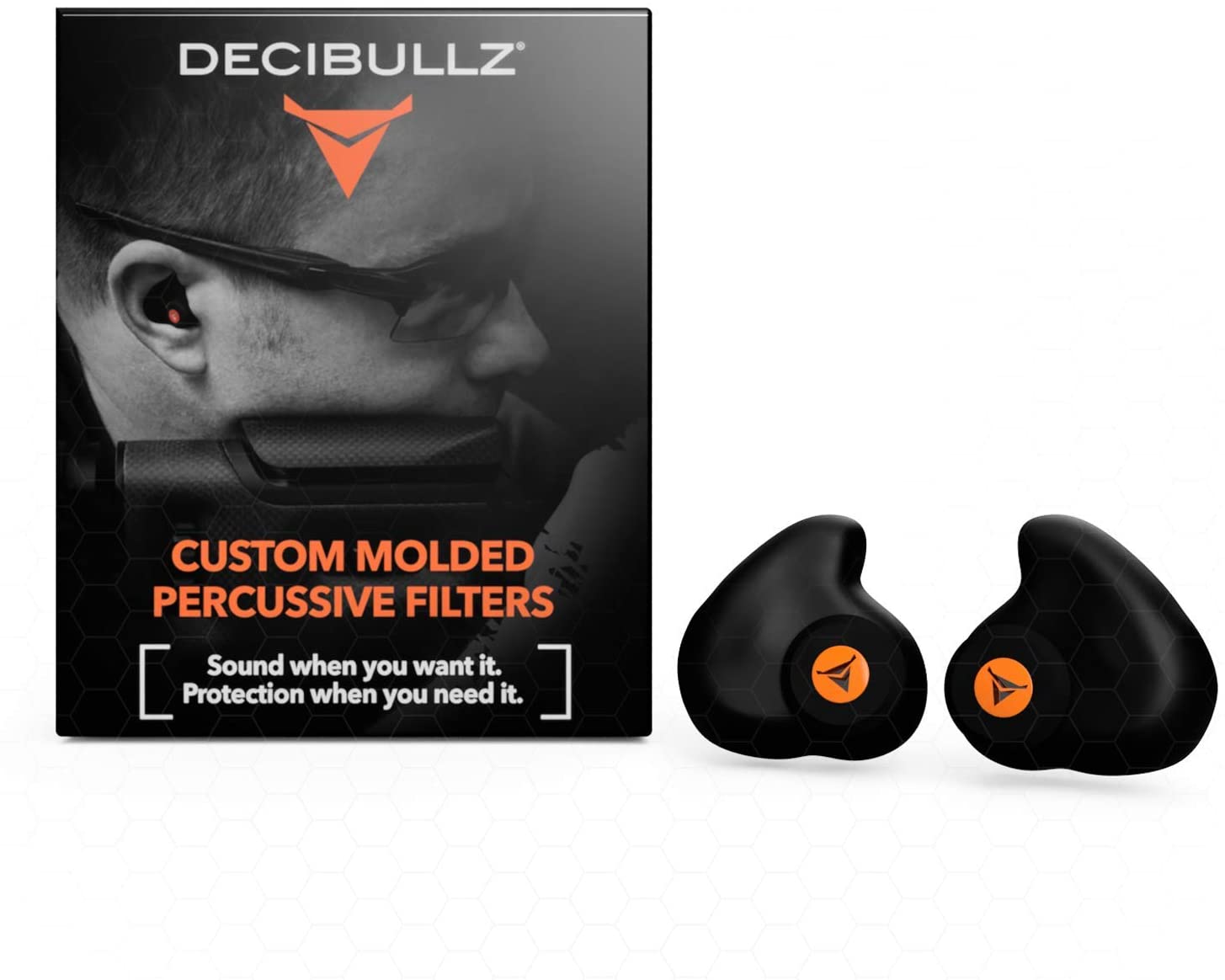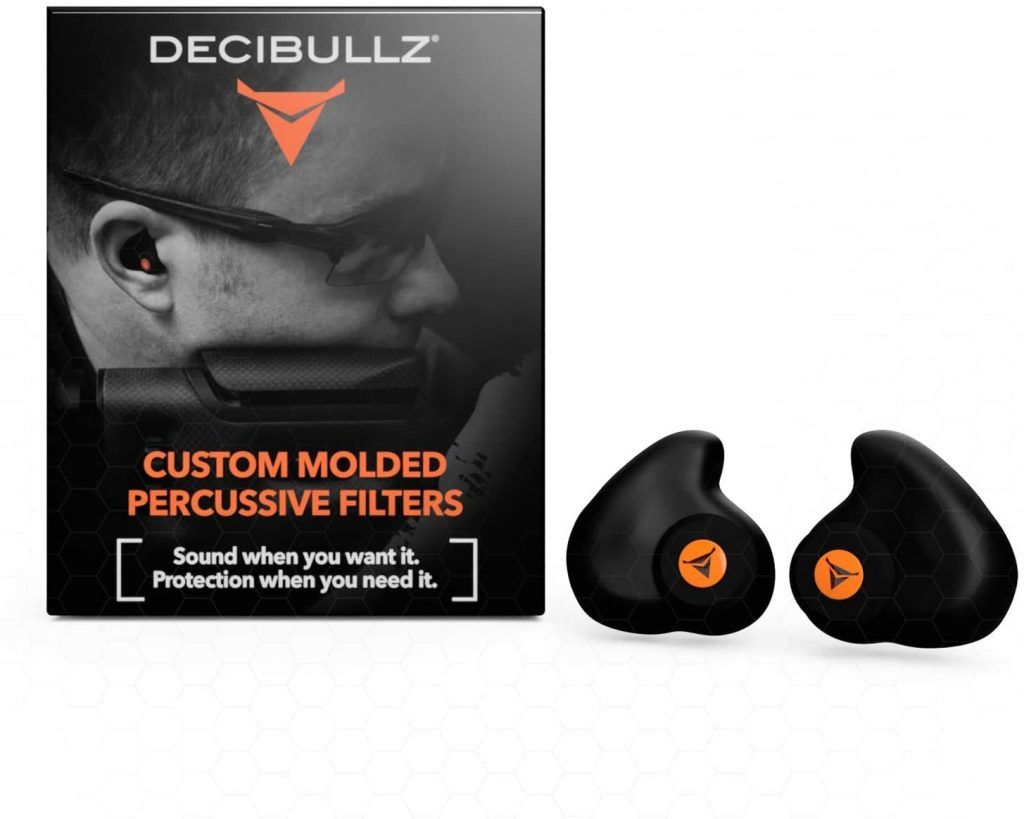 The only molded fit earplugs featured today, the Decibullz Custom Molded are an amazing pick if you struggle to find a set of earplugs that fits you well. A host of different colors choose from and the ability to re-mold these to fit your ears make these the best choice for straight up customizability. Heat the thermoplastic up in boiling water, leave them to cool slightly, then put them in your ears for a bespoke fit.
The rubber seal prevents high levels of sound to pass through due to a NRR of 31 thus lowering volume by up to 31 dB. Alongside this you also get 3 different sizes of triple flange tips, a pair of foam tips and a custom case for carrying.
These are without a doubt some of the best earplugs you will find to date, offering a moldable feature alongside excellent hearing protection. If you don't mind paying slightly more for higher quality, then be sure to check these out!
Best Features
Custom mold midrange products therefore they will fit every type of ears
Five different colour choices therefore these moldable earplugs stand out
---
9. SureFire EP4 Sonic Defenders Plus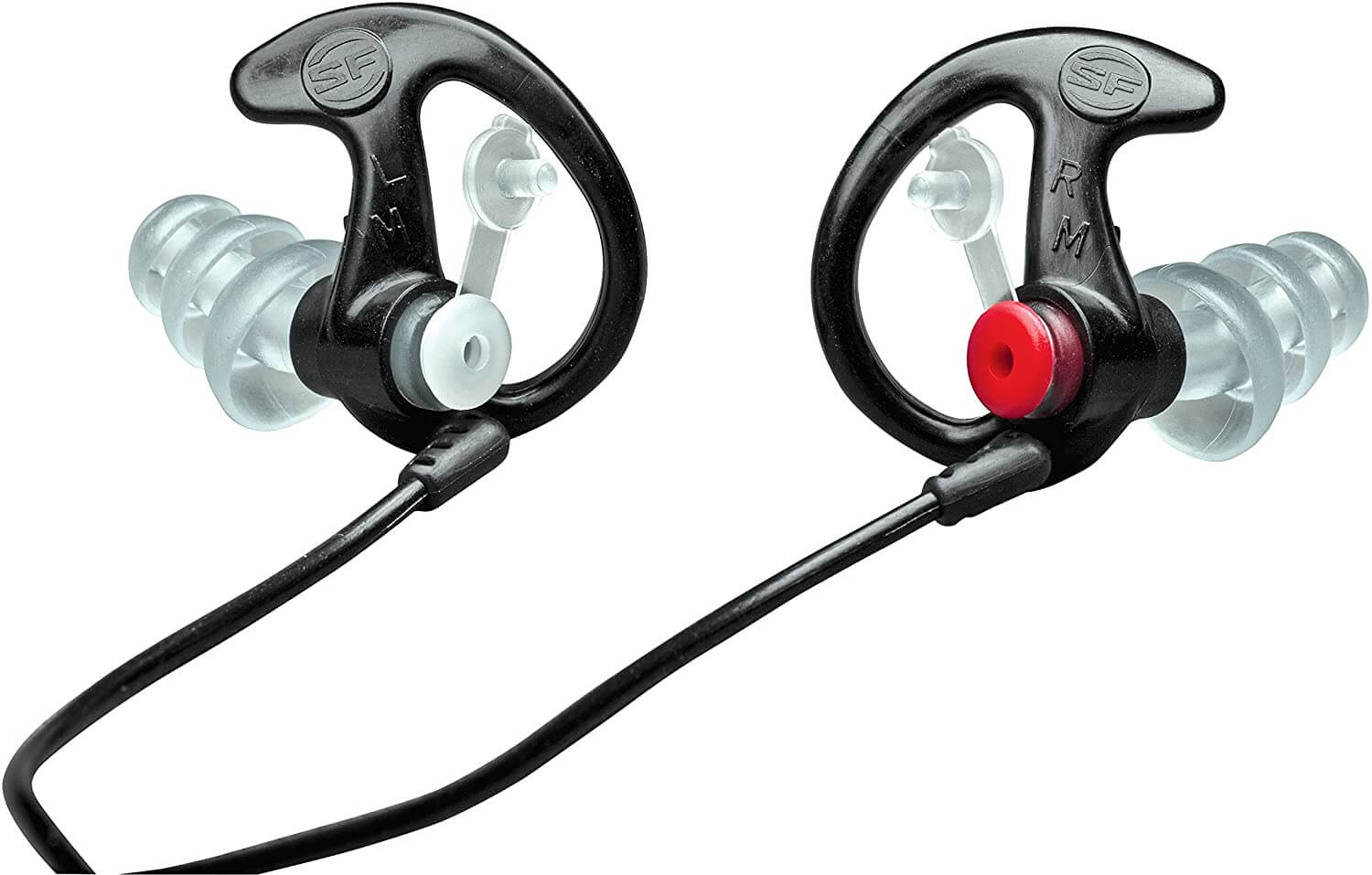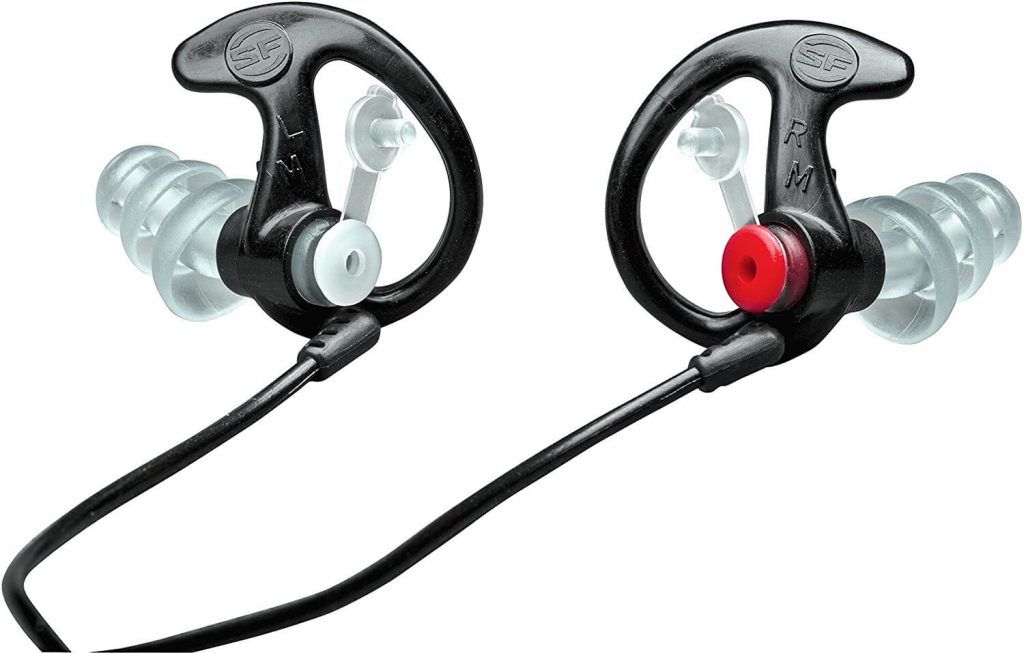 With removable ear filters that provide an NRR of 24 dB, the SureFire EP4 Sonic Defenders Plus are some of the best earplugs you will find available at such a low price. A patented EarLock retention ring uses seven separate contact points to ensure that each earplug fits the same way every time.
Due to their lightweight low sound profile, these earplugs are suited for fitting underneath a variety of helmets and hats or can even double up with a pair of noise reducing earmuffs if required. The hypo allergenic medical-grade polymer provides an exceptional levels of relief that few people will find uncomfortable. A triple flange stem offers all day wear and impressive noise attenuation that anyone can appreciate.
An exceptional entry choice for those who frequently attend festivals or are suffering from tinnitus. If an impressive NRR rating alongside removable ear filters for everyday use sounds like your thing, then these earplugs will be right up your street!
Best Features
Removable ear filters provides a NRR option so you can decide how much sound is reduced
Flexible, low-pressure medical grade materials provide a high comfort rating
---
10. WooTrip Concert Earplugs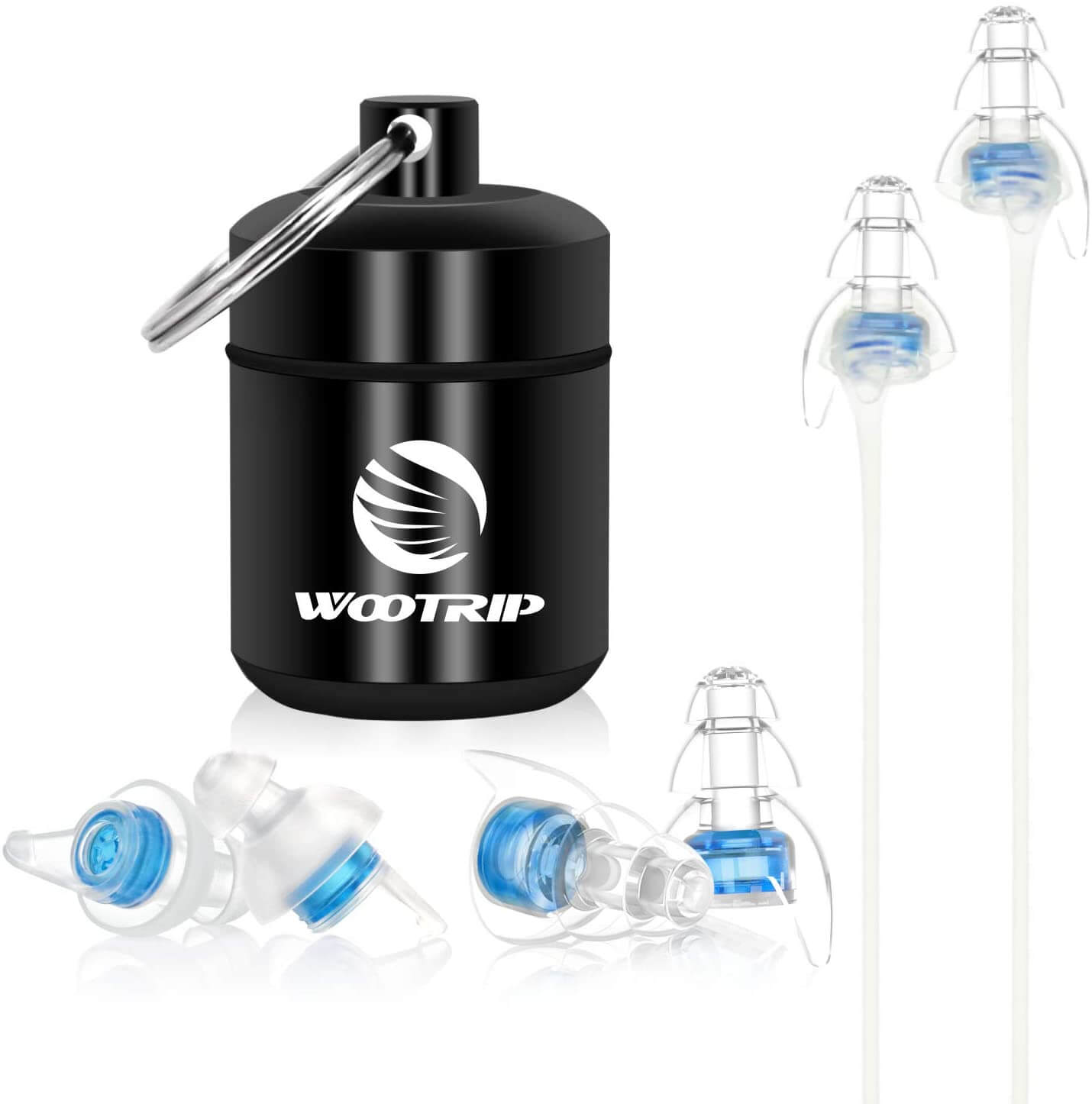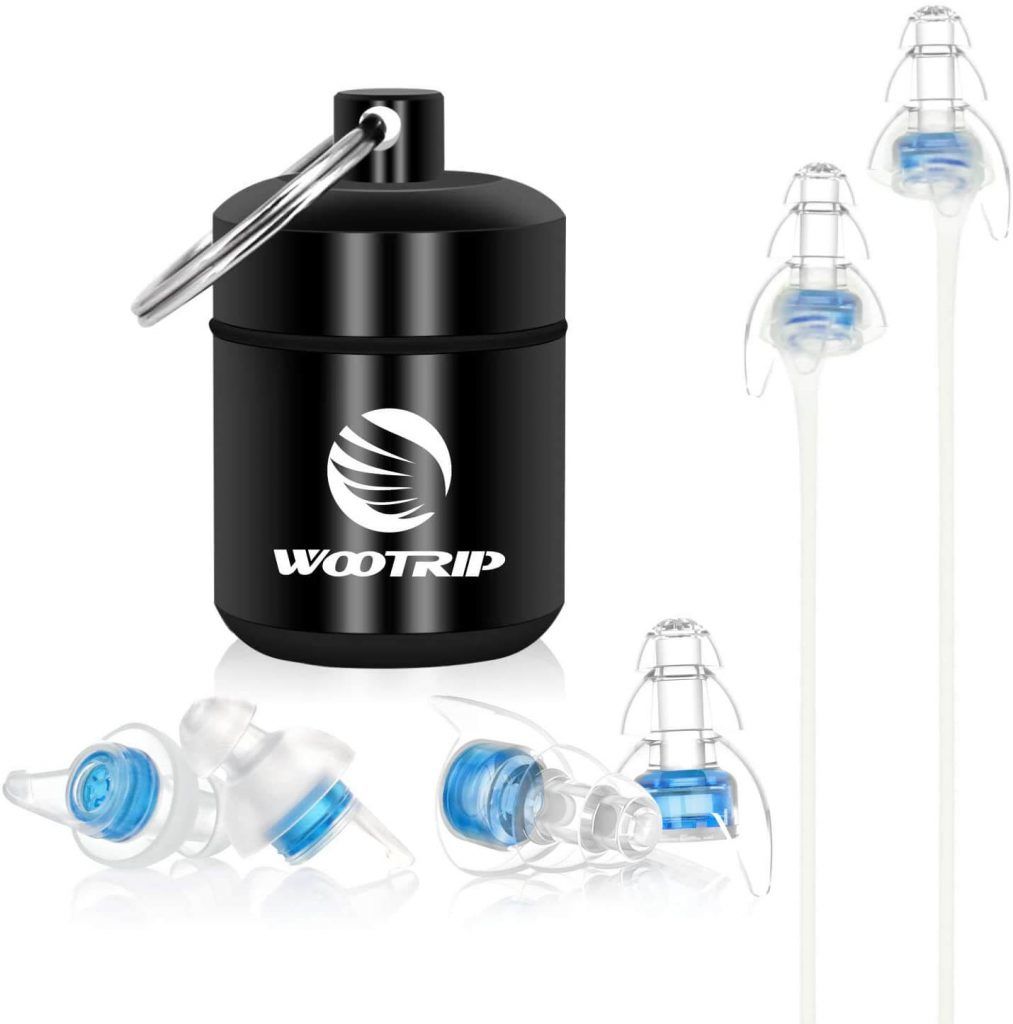 If you struggle with tinnitus daily, then the WooTrip Series Earplugs may be the best earplugs for you as they are designed specifically with tinnitus in mind. These high fidelity plugs feature attenuation filters that have a NRR of up to 23 decibels. Due to this, the sound will retains it's high quality but the volume level will be drastically reduced so you longer need to worry about muffled musicians.
That's not all however as both quality and hygiene are at the top of WooTrip's list. The soft non-toxic materials provide a comfortable wear your ears crave, which is why so many members of a band choose these around the world. You will also find that these come with 3 pairs of different sizes, so you will easily find the one earplug that fits you.
Protecting your hearing is exceptionally important, especially if you frequently attend festivals and push to the front in the company of your friends. These WooTrip Concert Earplugs are a highly recommended choice, due to their incredible attenuation filter and comfort.
Best Features
Around the clock protection that is easy to remove using the supplied pull tabs
Filter out a multitude of noise frequencies, suited for musicians and frequent festivals fans
Buyers' Guide
Before you opt for buying a pair of earplugs for all of your gig needs, it's best to consider a range of different features in your high fidelity earplugs. If you want premium quality for your ear canal, whilst ensuring you've got essential hearing protection from hearing damage, here's what you need to think about.
Considerations for Buying Earplugs for Concerts
Comfort and Form
Perhaps the most important thing to think about when buying a pair of earplugs is how comfortable they are and the structure. You ideally want a pair that is specific to you, rather than a pair that is suited to all ear sizes.
The key is to reduce the damaging effects of high noise levels and background noise, whilst ensuring you can still hear the music you're listening to. A lot of the efficacy of the best earplugs for musicians, or for those going to gigs, lies in how comfortable they are and the construction.
Comfort can refer to material, fit, size, and other aspects. Any comfortable pair of earplugs will be comfortable to use, sitting softly in your ear canals. You may also want to consider whether your earplugs come with an attenuation filter – which ensures that noise is filtered out equally across a range of frequency response.
There are different styles of ear protection which largely differ by structure and material. The key two types are flanged earplugs and custom molded earplugs.
Flanged earplugs provide a comfy listening experience for any music lovers or concert goers in the United States they create a seal against the ear canal which provides a universal fit.
As well as flange design, you can even find high fidelity specialist hearing protectors, or custom molded earplugs; no one will go without, no matter your ear size or requirements, when you consider that you can get earplugs custom made for you.
Therefore, make sure you consider:
Tip sizes
Tip quality i.e. industrial grade silicone tips
Noise attenuation filter across frequency ranges
Material
There are a range of materials available when it comes to the world of earplugs, but finding the right one for you is exceptionally important. Whether its the latest silcione materials or a classical foam style plug, you want to be sure that your chosen plugs don't cause your ears any discomfort. Below you will find a breakdown of the most popular materials used, and what their advantages and disadvantages are:
Silicone: Silicone is a synthetic elastometer, which is basically a polymer that uses some semblance of elasticity. This makes them a perfect fit for earplugs as they can be molded to fit a range of ear canal shapes whilst still maintaining impressive durability. Most high-fidelity plugs will use silicone as it is cheap but still maintains impressive superb protection from loud music, something that every decent pair of earplugs aims for. If you are looking for a cheap but comfortable performance, then silicone is the right call. These are especially common amongst musicians who require a hearsafe choice in a loud situation. Silicone is most commonly found in the best earplugs, so you shouldn't need to look far.
Foam: Perhaps more common in disposable earplugs as opposed to reusable ones, foam is an excellent choice for those who aren't planning on regularly using their earplugs. The foam used is typically soft while maintaining fairly decent hearing protection. Foam buds is one of the the most common materials used by a manufacturer to supply a decent product at a low cost. If you are happy with the idea that you will dispose of your earplug pairs after a one time use but you are still wanting to solve a high noise environment problem, foam is the choice for you.
Molded: The most premium option in the world of earplugs, molded earplugs are used to provide exceptional performance whilst using a bespoke tip. The idea is that these earplugs can be heated up and then placed inside your ear, allowing them to adapt to your individual ear shape. As each person has a unique shape, this high fidelity option offers impressive access. Everyone will be able to find a pair that fits them due to this. If you don't mind stretching a little to a slightly higher price point, then these are the best in ear plugs you can find.
Be sure to check the materials used are right for you before finalizing your order, this ensure that your earplugs suit your needs and you can enjoy your music safely!
Price
Perhaps quite an obvious one, you'll need to make sure that the best earplugs for musicians, or at least the best for you, match your price range. There's no point in buying premium ear protectors recommended by the music industry itself if you're not going to be able to afford it.
The truth is, you can find absolutely brilliant earplugs for gigs at a very affordable price. No matter the series, earplugs are available across a variety of prices – so it's easy to find a price that suits you. We recommend Etymotic Research – as their range of noise protection earplugs are top notch.
Noise Cancellation
Noise cancellation is perhaps the most obvious feature of trying to find the best earplugs. Any high fidelity earplugs should feature some embodiment of noise cancellation, especially ones that are suited for concerts. Although you want to make sure that not all noise is cancelled as you should still be able to hear the music playing. Which is why you tend to find concert earplugs that supply noise reduction as opposed to straight up noise cancellation.
Earplug manufacturers will also use attenuation filters to help provide decibel reduction across the entire sound spectrum to ensure that specific sounds aren't muffled. This is an excellent option to look out for as you still want some sound waves to pass through so you can hear the band that you paid to see.
Accessories
You will tend to find that the better earplugs will come with added accessories to create a more robust bundle then you are probably expecting. The most accessory that will be provided is a carrying case to provide a means of taking your earplugs with you on the go. This is a really useful addition as it can help prevent you from losing your earplugs, especially when a concert gets particularly lively. They also double up as a protective case to prevent any would be scuff and scratches on your earplugs.
Some earplugs will also come accompanied with a neck cord to prevent you losing them while wearing them. This is much like a wired headset where the chord will comfortably rest on your neck so if an earplug falls out it won't be lost on the ground.
Why Should I Buy Concert-friendly Earplugs?
One of the biggest reasons people choose to purchase concert-friendly earplugs is to protect any potential hearing issues due to how loud music at a concert typically is. Constant loud volume levels can cause hearing loss and potentially cause headaches. Concert earplugs will utilize decibel reduction lowering overall sound levels and protecting your ear canals from long term injury. It is better to be safe than sorry which makes concert earplugs a perfect choice for those of you with sensitive hearing.
FAQs
How loud are concerts?
This can depend entirely on the music playing, a country concert is going to be a lot less intense than say a heavy metal concert. A rough average however of a rock show sits at around 120 dB (decibels) which is double that of a normal conversation. Typically, if you spend a long time around something that produces sound greater than 85 dB then you may end up harming your ears. Which is why it is recommended to use some configuration of hearing protection to try and limit any potential injury as much as you can. This is especially true if you yourself are a musician as you will be closer to the sound.
With the average rock concert typically being around 120 dB it is highly recommended to find yourself a pair of earplugs that utilize decent sound reduction and offer impressive hearing protection. If you are the sort of person who rushes to the front row to get closer to the band then a good pair of earplugs is a must. If you are at a loss then read through our top 10 guide – we're certain you will find a pair that offers everything you need!
What are the best earplugs for concerts?
The best earplugs when it comes to live music are those that provide some semblance of attenuation that doesn't muffle the sound of the music itself. If you are paying to enter a gig or a host of live shows, you don't want the sound quality to be distorted or muffled but you may wish have some form of hearing protection. Although hearing protection is the main focus of the best earplugs, you should still be able to hear the music. One of the best earplugs featured today that has both impressive hearing protection alongside attenuation filter come from Etymotic. Be sure to check out our break down of these earplugs to see why we recommend them!
Where can I buy earplugs for concerts?
There are a variety of places in which you can purchase earplugs that are suited for loud shows so looking around your favourite retailer is recommended. We personally typically purchase our high fidelity earplugs from Amazon as they have an extraordinary wide selection available at competitive prices. It is also easy to see what the typical users thinks of a particular pair of earplugs and whether or not it is worth purchasing. Most amazon products are also easy to return and covered by some semblance of warranty which can help protect you when purchasing online.