When it comes to working out and listening to music, wireless has to be the best option, there is no chance of any interference with your wires getting in the way and you are left feeling the full freedom ready to complete your workout. When talking about wireless headphones there are two different types, true wireless headphones, and wireless headphones.
Wireless headphones can be further classified as wireless IEM or wireless earbuds and wireless over-ear headphones, this style has a connection that holds the two speakers together in the form of a neckband for earbuds or a headrest for wireless headphones. In this area is where you would find the microphones, volume controls, playback buttons, and battery.
When it comes to true wireless headphones they are mostly in-ear monitors or earbuds that don't contain a cord or anything that connects the two speakers together. All of the controls are also built into the housing of the earbud such as the microphone and battery. In-ear headphones are usually nano-coated, this coating helps keep them water resistant from any sweat or rainfall but would not be suitable for swimming.
Below, we are going to be going through the different types of best workout wireless headphones and giving you all of the information that will help you make a decision on what best working out headphones are available for you.
15 Best Workout Headphones of 2021
1. TREBLAB Z2 Over-Ear Workout Headphones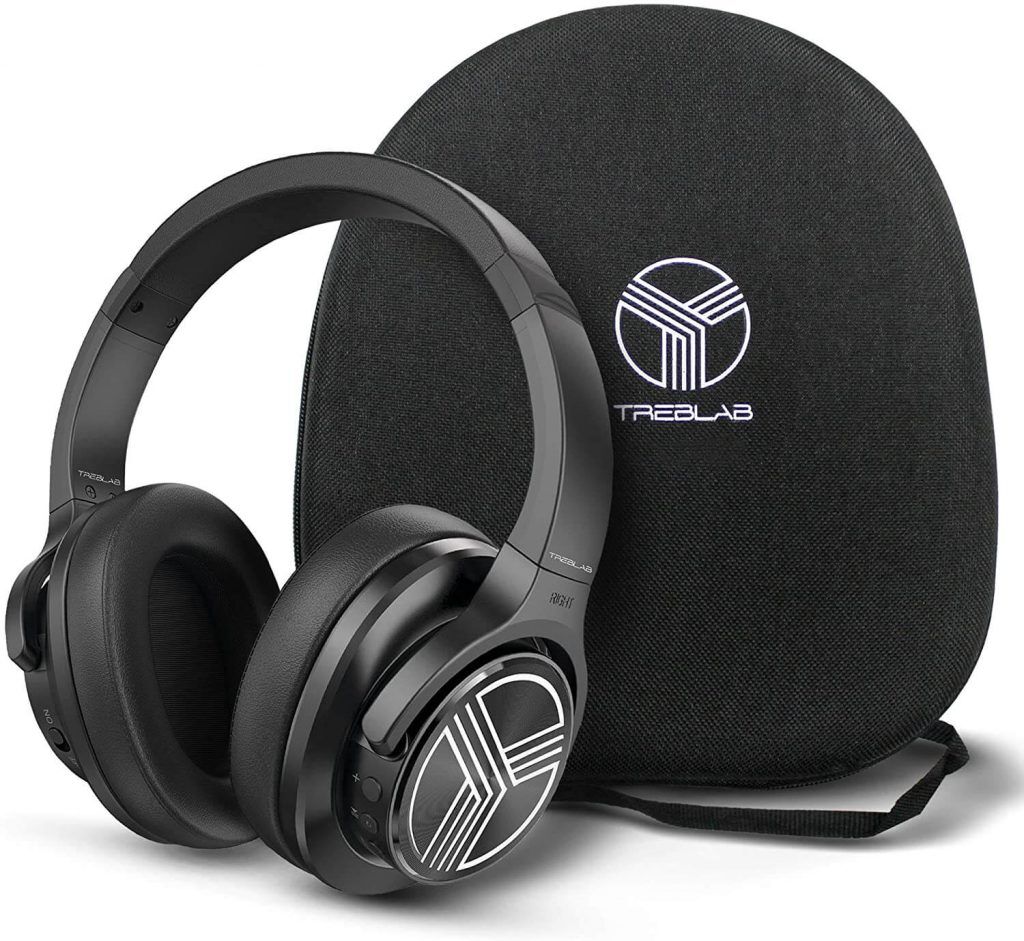 When it comes to total comfort you want your headphones to bring you peace and tranquility, with the noise-canceling technology provided from the TREBLAB Z2 Over-ear workout headphones you can block out any background noises that may disturb you such as music at the gym that is loud and obnoxious not at all the vibe you are looking for.
The best workout headphones with full wireless connectivity for your convenience, whether you are running on a treadmill, running outside, lifting weights, or playing basketball, the Bluetooth connectivity from the Z2 workout headphones will stay strong helping you completely focus on the task in hand. Even being able to handle the most sentence fitness sessions with the IPX4 water-resistant and sweatproof material.
With up to 35 hours of playtime on a single charge, you can listen to your favorite music all day long with a single quick charge lasting for many gym visits. There is the option of using these in a wired capacity which enables you to switch things up when your lifestyle is changing, you will be able to listen to your favorite tracks no matter what occasion. For a full charge, it will take around 3 hours which will save you loads of time waiting around for these the best workout headphones
Premium soft materials have been used that mold to the shape and contour of your ears providing a completely custom and comfortable fit. This custom design will help transform your gym experience allowing you to be fully submerged into what physical activity you are completing. With skin texture, the swivel ear-cups put no pressure on your ears and don't create that annoying warm ear feeling. Increased mobility is created with the lightweight build of only 0.53 lbs, and these sweat-resistant pair of headphones also come in a portable case providing extra protection.
On top of all the amazing features that help these headphones be the perfect choice for listening to your music while working out the Z2's include a built-in mic and cVc 6.0 technology for making phone calls. The easy control buttons include ANC and voice assistants such as Siri, Alexa, and Google, helping to provide a completely hands-free experience so that you can focus on exercising.
Best Features:
Water and Sweat resistant
Secure fit
Fast charge
Noise Cancellation technology
---
2. TBI Pro Wireless Sports Earphones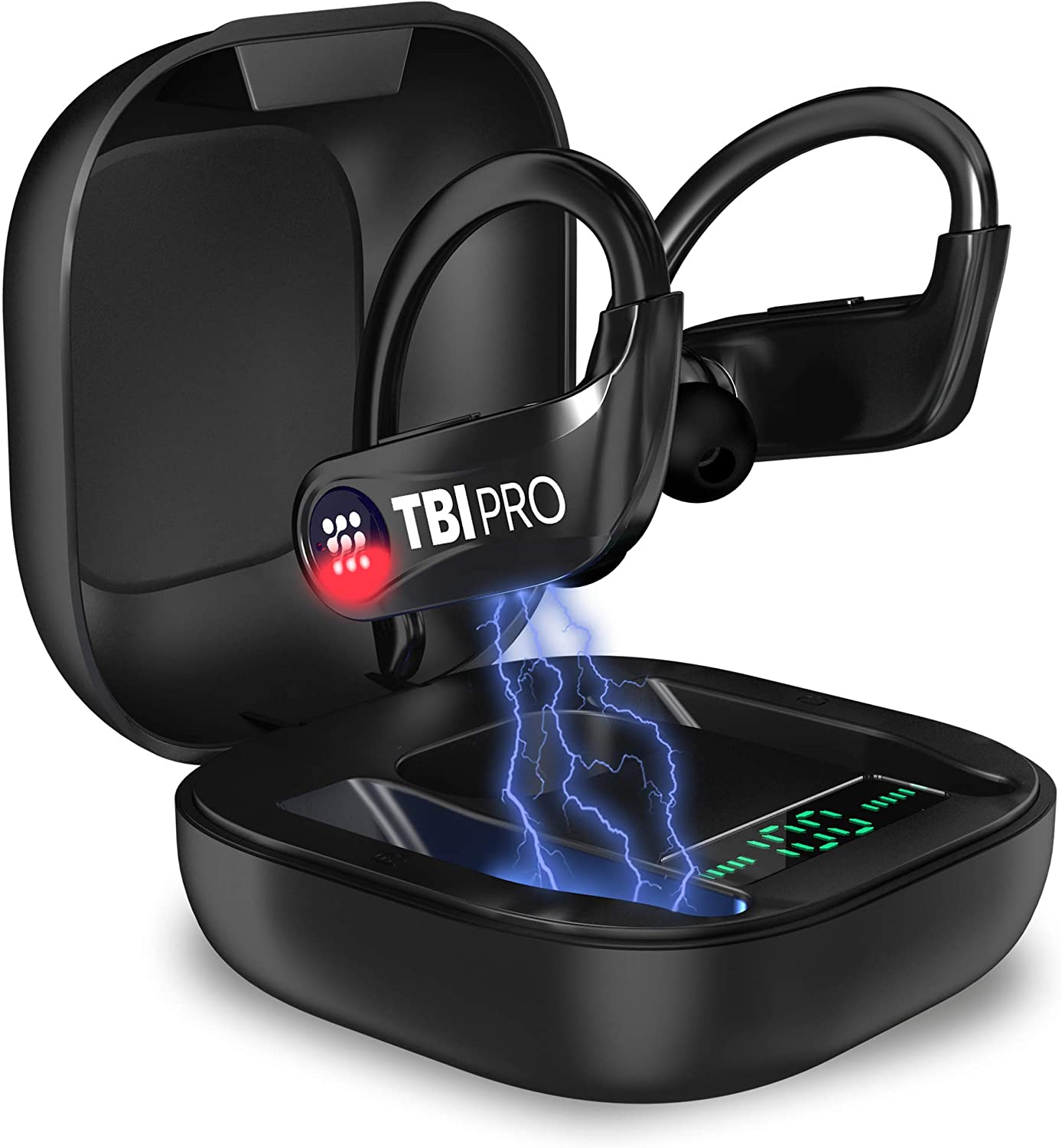 The TBI Pro Wireless Sports Earphones have a high-fidelity stereo sound, that paired with the aptX codec and state of the art Intel QCC 3003 chipset helps provide a fully immersive music listening experience working with the entire frequency range. A great connectivity range working with most apple and android smartphones.
The battery is an upgraded, powerful 170 mAh battery that provides up to 12 hours of continuous talking and music time and up to 240 hours in standby mode form a single charge. This makes these ear headphones the perfect choice for your workouts and sport sessions letting you enjoy long-lasting music from less charge time.
The 5.0 Bluetooth connectivity has a fast and stable transmission that provides crisp and clear sound quality from one song to the next with no skips or distortion. The low power consumption is another reason these headphones last longer from a single charge. Any of your Bluetooth devices can stream to these ear headphones for running at the highest quality available with a wide range of sound reproducing details from low and deep bass to high trebles.
The convenient hook design keeps you knowing that you are fully secure when wearing these wireless earbuds, and with an IPX7 sweatproof rating, the TBI Pro wireless prevents any damage to be caused by rainfall, water spray, or sweat from those intense workout sessions in the gym.
These best workout wireless earbuds have been designed and developed with the love of both exercise and music, providing a completely modern companion when you are completing any type of physical activity whether that is inside or outside, or even for just wearing around the home.
Best Features:
IPX7 sweat resistant rating
Fast Charging time
Secure fit
---
3. Mpow Flame Bluetooth Noise Cancelling Headphones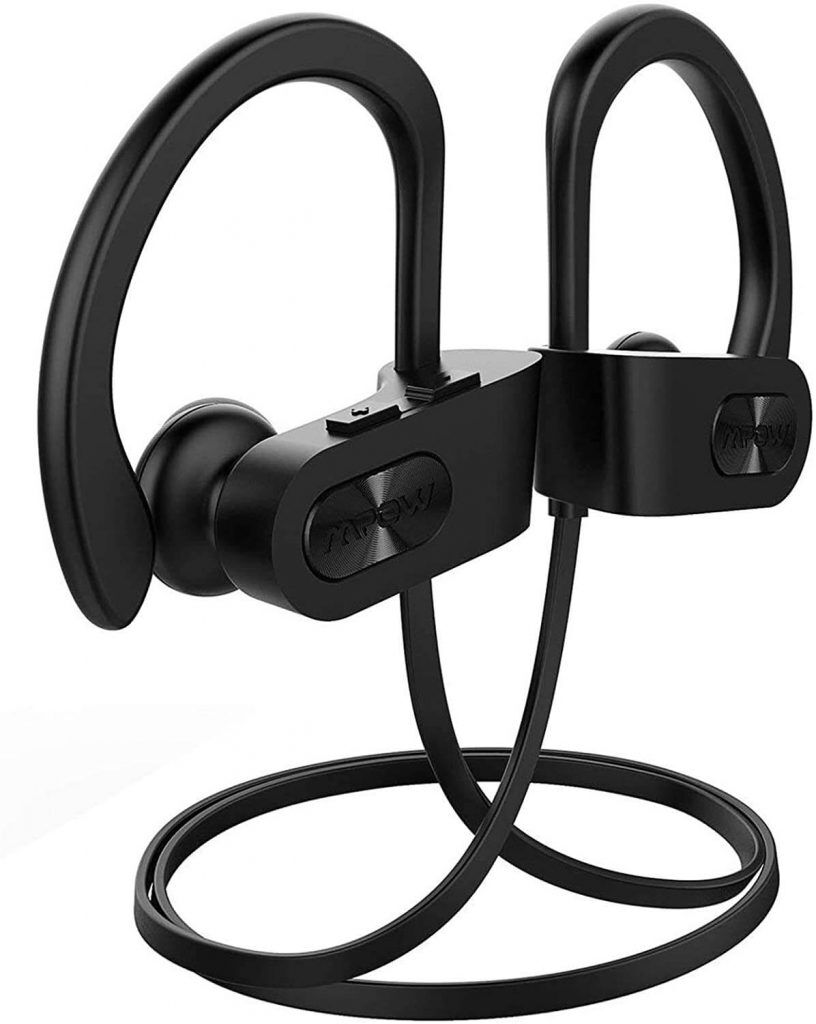 The 5.0 Bluetooth connection that is featured in the Mpow Flame Noise-cancelling headphones provides a more stable connection and stronger signal transmissions, and also supports lots of different Bluetooth-enabled devices, even staying connected to 2 Bluetooth devices at one single time.
The 11mm dynamic drivers and built-in cVc 6.0 noise-canceling microphone with SBC and AAC audio help provide fantastic sound quality with a powerful bass sound that makes calls crystal clear at any volume. Vocals will not blend together with instruments from the high-quality audio that can really push the frequency range from high trebles to low bass sounds. Comes with different sized ear tips that help these earbuds create a better sealing within your ear intensifying the listening experience and also your workout not being interrupted by any background noises that may occur in the gym.
Both the shell and the interior of these wireless workout headphones have been covered in a Nano-coating that helps protect them from heavy rain or even heavy sweat making them the perfect headphones for running, hiking, jogging, yoga, the gym, traveling, and any other activities you may get up to.
After only 2 hours of charge, the earbuds will be fully charged with a battery life between 7 and 9 hours long. If you are not sure how long you have been using your headphones for there is no need to worry as your phone will show you the remaining battery life your workout earphones contain. The lightweight and ergonomic design provide both comfortability and stability with the ear hook and in-ear fitting that is perfectly designed for strenuous workouts.
Best Features:
Water and sweat-resistant
Ergonomically designed for comfort
Noise-canceling technology
---
4. Aftershokz Aeropex Bone Conduction Earphones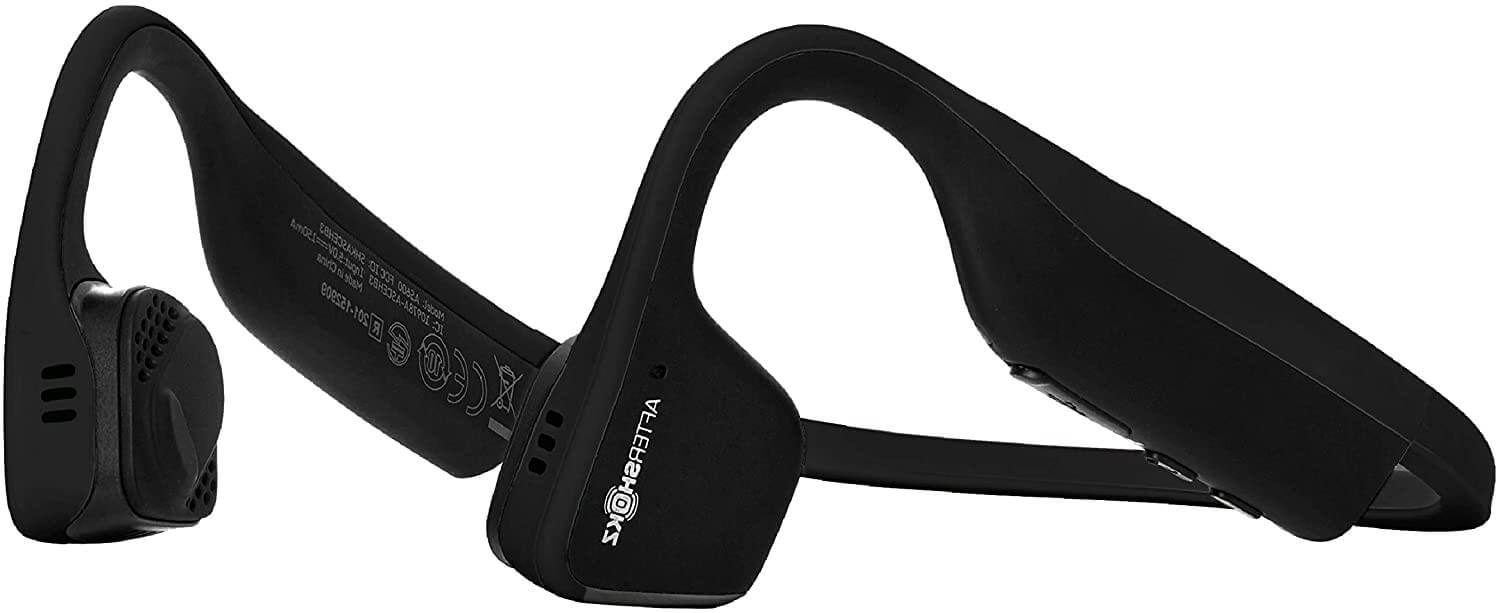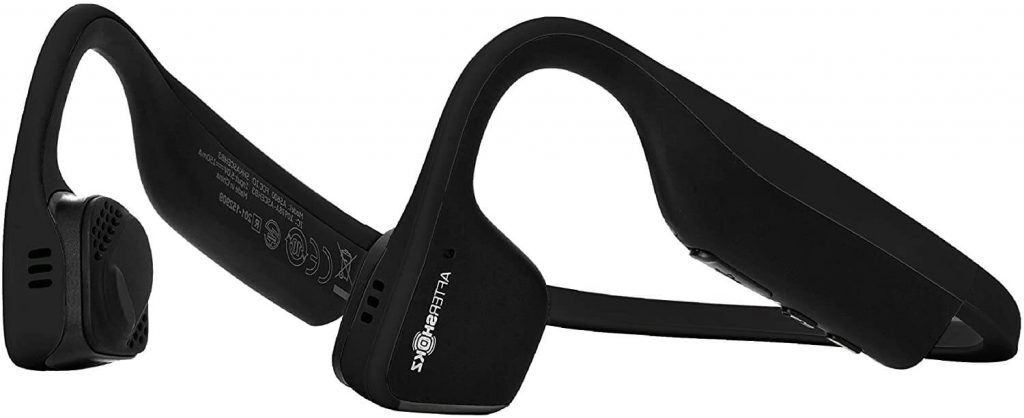 Unlike traditional headphones, the Aftershokz Aeropex open ear headphones use patented bone conduction technology that delivers audio through the cheekbones. This helps provide you with total awareness and comfort while you listen to your music with having nothing inside of your ears.
The re-engineered technology has been improved to provide optimal sound delivery, this conduction technology that is being developed by Aeropex is leaps and bounds ahead of any of its competitors. the volume is louder than ever before with 50% less sound leakage and a wide dynamic stereo sound that has PremiumPitch 2.0+ providing the best sound yet from Aeropex.
The battery life is also the longest available from this brand with 8 hours of continuous audio playback available for when you are working out or just going about your day. The magnetic charging is fast with the cables charging the headphones in just 2 hours.
While they are not suitable for swimming, they are completely water and sweatproof being designed for tough workouts and adventures in some of the most extreme weather conditions available. The Bluetooth technology is secure and strong not causing any lag or interference. The lightest version to date as well with the earphones weighing less than 1 ounce helping you experience ultimate comfort for longer durations of time.
Best Features:
Nothing in-ears so the listener is still alert
Fast 2-hour charging time
---
5. Bose SoundSport True Wireless Earbuds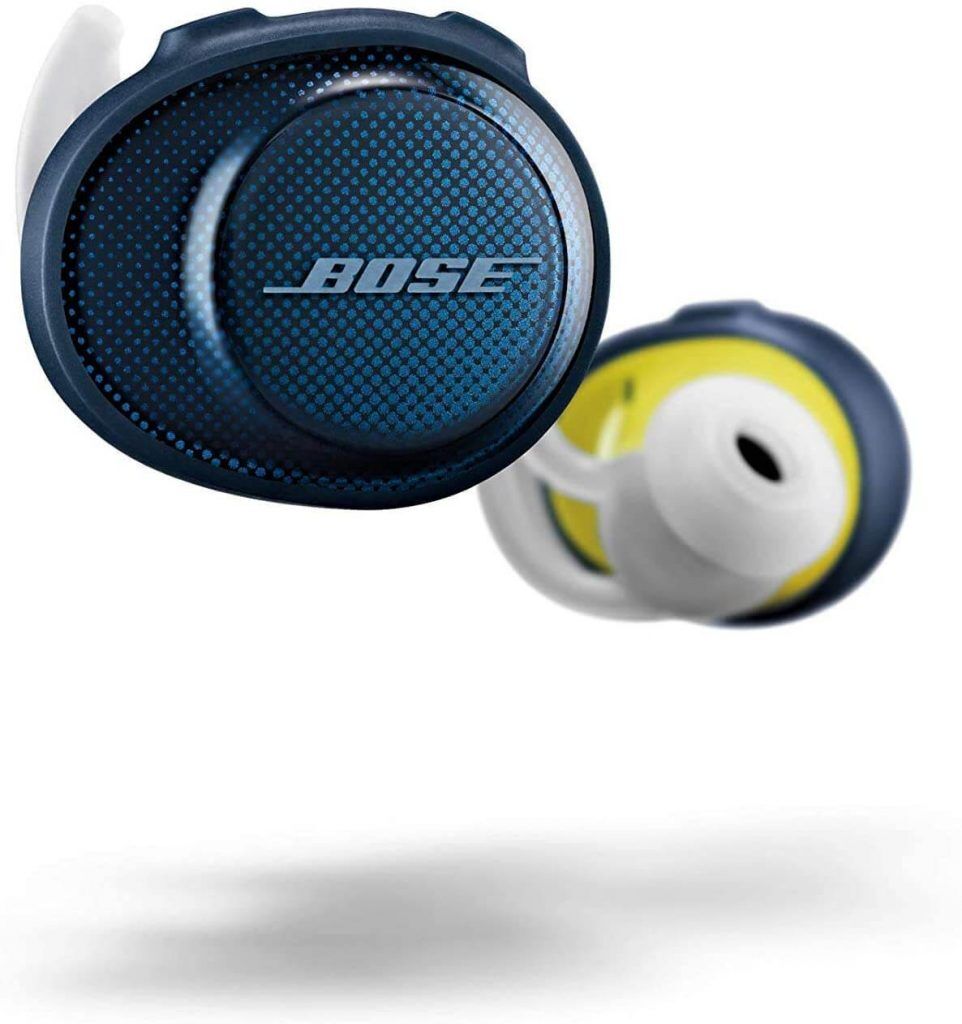 Bose has created the SoundSport true wireless earbuds that are the perfect true wireless set of earbuds for anything related to sports and working out. They have an IPX4 rating making them both sweat and weather-resistant and provide a comfortable, secure fit with the interchangeable sports ear tips in small, medium, and large. The earbuds don't have the longest battery life with 5 hours of playtime, but the charging case offers an additional 10 hours which makes them great for traveling and being on the go.
A great feature is the find my earbuds section of the Bose Connect application, this lets you locate and track your lost earbuds. There has been a firmware update that improves audio, video synchronization for any listeners using iPhones, iPads, or any other Bluetooth devices that support AVDTP versions 1.3 or later.
The best headphone for workout sessions also has an integrated dual microphone that is located on the right earbud to allow you to use them whilst you are connected to the smartphone that allows you to use Bluetooth calls, call audio will only be heard on one side though coming through the right earbud.
In the box you will receive the SoundSport Free wireless headphones, a portable charging case that helps keep them protected and safe as well as charging, a USB cable for charging the case, and 3 sports ear tips in different sizes. The truly wireless technology allows you to be completely free while listening to music allowing you to listen to clear and crisp audio sounds while keeping fully immersed into your workout.
Best Features:
Find lost earbuds with track app
Charging case
---
6. Mpow Flame Lite Bluetooth Earbuds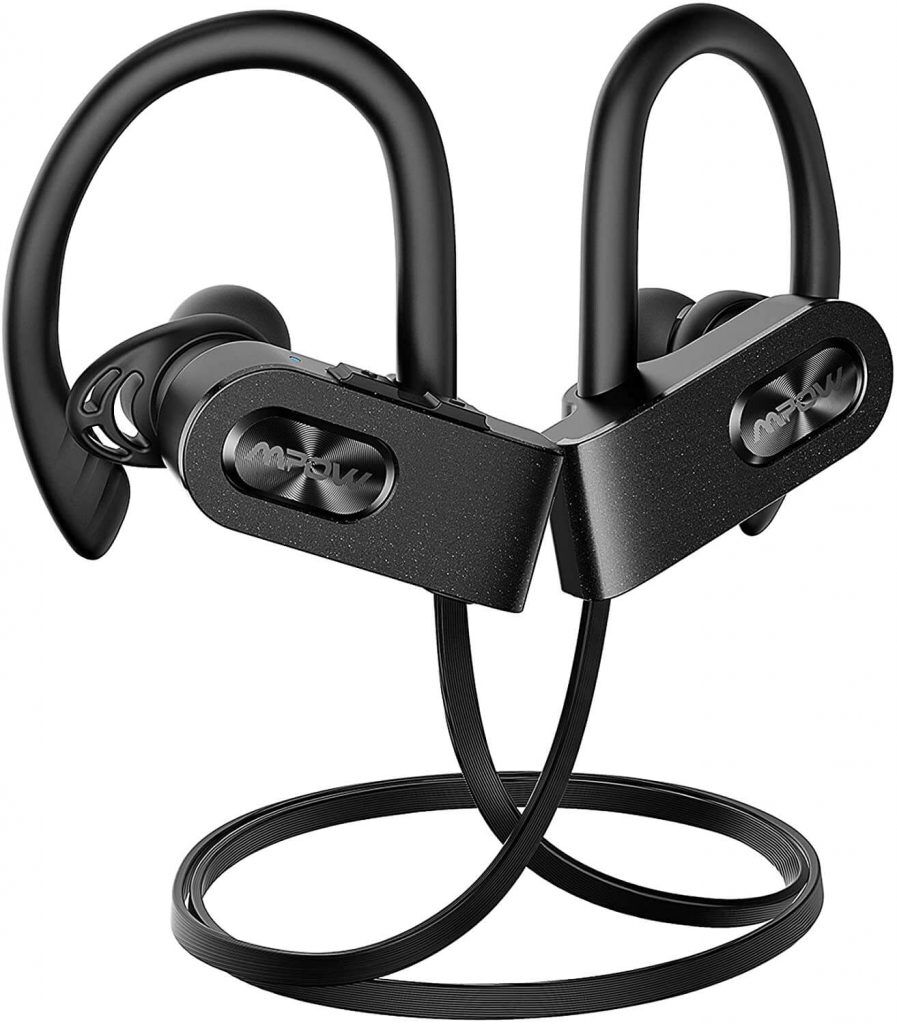 Both left and right earbuds with the Mpow Flame Lite can be the master controlling the touch control. They can be used as a mono earbud to take calls or for music while you are driving or crossing the road so that you still have the alertness to be able to hear your surroundings. Simply choose an earbud as the binaural stereo mode to immerse into your music. The touch control buttons also support tasks such as changing the volume, taking calls, controlling your music, and for even more convenience work with Siri, Google, and other smart speakers.
These earbuds are packed with an advanced chip that contains SBCandAAC audio codex with premium 14.2mm dynamic drivers. This, when in the immersive stereo mode produces powerful bass tones, high trebles, and crystal clear sound that pushes the dynamic range at any volume.
Automatic pairing allows you to connect to your paired devices seamlessly, and the 5.0 Bluetooth connectivity provides a strong connection. When you are done simply turn your true wireless ear headphones off and put them back into the case when you are ready to use them turn the best workout earbuds on and they will automatically connect to your device if the Bluetooth is turned on. Compatible with Bluetooth enabled devices such as phones, tablets, computers, laptops, TVs, and more.
There is a silicone ear hook design that is perfect for sports and combined with the multiple sized tips that the earbuds come with you are sure to be safe and secure fitting no matter what task or sport you are doing. They are the perfect choice best workout ear headphones for running, jogging, yoga, hiking, gym, fitness, and loads more.
The case is a USB charging case that only takes 2 hours to fully charge the earbuds, the battery life is around 5 hours but they can be charged a further 5 times using the case which allows for up to 30 hours of playtime. The earbuds are also sweat resistant with a waterproof level of IPX7 making them the perfect choice for sports in any kind of weather.
Best Features:
Water-resistant
Great sound
---
7. Bose SoundSport Wireless Headphones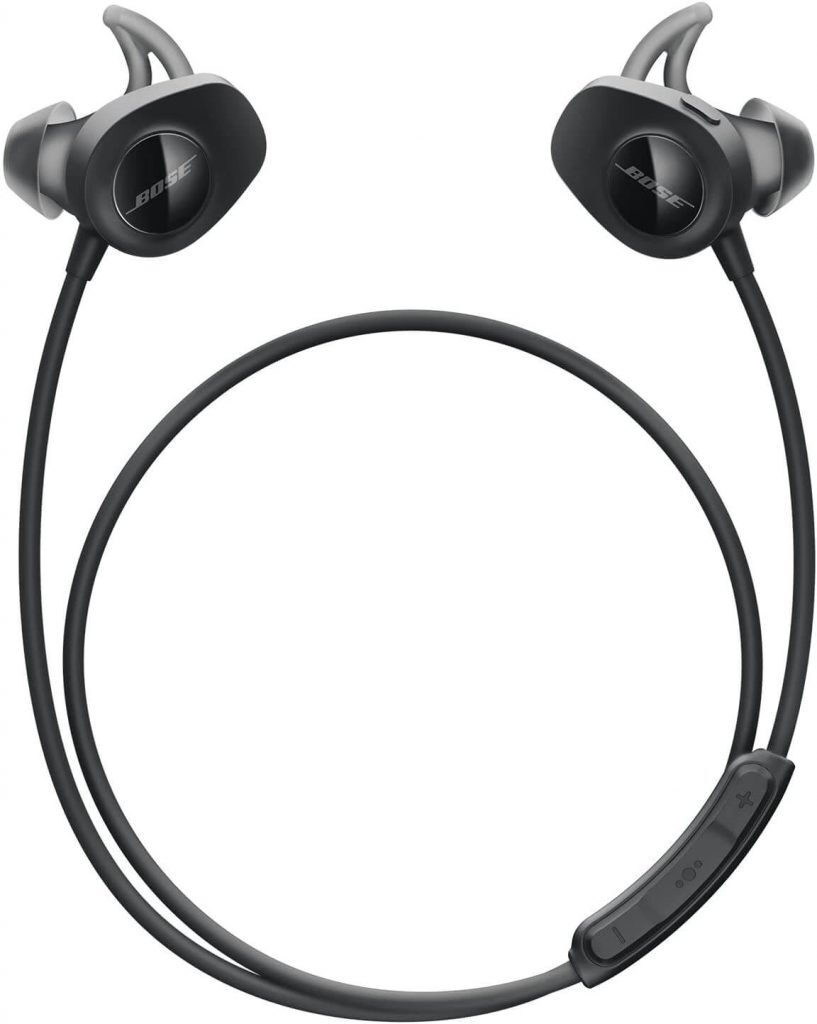 With no wires in the way, these sport wireless headphones from Bose will keep you moving with powerful audio and Stay Hear+ Ear tips that have been specifically designed for comfort and stability. The soft silicone material that has been used paired with the unique shape helps to provide a secure fit that stays secure and fixed in your ear but feels good.
Connecting to your Bluetooth devices couldn't be any easier and can be fully controlled with the Bose Connect App that helps you control and switch between multiple different devices with ease. The earbuds contain an inline microphone and a remote that controls the volume skips tracks and can take calls.
These best headphones also sweat and water-resistant which makes them perfect for sportspeople who are going to get sweaty even in outdoor rough weather. The Lithium ION battery delivers up to 6 hours of continuous playback in a single charge giving you unreal performances were the only challenge left is your workout.
The box contains the SoundSport wireless headphones, Stay Hear+ ear tips, a USB charging cable, and a carry case that protects them. The battery is quick to charge with it only taking 2 hours to fully charge up this pair of headphones. It is worth noting that it is recommended by the manufacturer that the headphones will not play whilst they are charging, and be sure the headphones are at room temperature before you begin to charge them.
Best Features:
Connect App is really useful
2 Hour fast charge
---
8. Occiam Bluetooth Headphones
The Sports Bluetooth headphones from Occiam come with a charging case that has an LED power display that shows the remaining power in percentage, this will help you know clearly how much power you have left at any time so you won't leave the house and fall short not knowing you didn't have enough charge. The charging case presents its battery life from 1-100%. There are separate power consumption indicators for both the right and left true wireless earbuds and during charging these will flash to show when they are fully charged.
You can switch between both mono and stereo mode with real ease allowing you to use one earbud at a time if you were leaving one to charge. This is perfect for exercising, driving, and even crossing the road as you are still alert being able to hear your surroundings.
The battery life is really good with each earbud being able to last 8 hours continuously playing on a single charge of 1.5 hours. Plus, with the charging case, you can charge the twin sport earbuds 6 times allowing a 48 Hour total music playtime at dual stereo mode and 96 hours from the mono mode. This will leave you never have to worry about losing charge when you are out about and not in a position to charge up your true wireless headphones.
The ear hook design helps to keep the earbuds secure and firm while doing sports such as running, hiking, jogging, and other outdoor activities. They are completely adjustable making them great for any ear shape or size, and different ear tips are also included in the box, all at different sizes making sure the suitable fit is ready for anyone's ears. The IPX5 rated splash-proof technology protects these sports wireless earphones from any outside weather or sweat damage that may occur when you are completing more intense workout sessions.
Bluetooth 5.0 technology comes as standard with the Occiam Sports earphones providing a strong and stable connection no matter what device they are paired to. After the first successful pairing, the headphone will connect to the device automatically if the Bluetooth is enabled which is really convenient rather than having to search for available devices every time you want to listen to your music. When you want to use one earphone in mono mode, simply take out one earphone and leave the other in the charging case. This will automatically start p the mono mode of the chosen earphone.
The sound quality is amazing and paired with the active noise canceling technology you can really immerse yourself in the music you are listening too not being distracted from any background noises. This is great for when exercising letting you really concentrate on the task you are doing. Both of the sports earbuds have functions to answer/reject phone calls, adjust the volume, switch music, and activate voice assistant, making it a really useful and convenient tool. The deep bass and stereo sound lets you enjoy your music in a truly wireless way experiencing hands-free calling during sports anytime and anywhere.
Best Features:
Mono and Dual Modes
Noise-canceling technology
---
9. JLab Audio Flex Sport Workout Headphones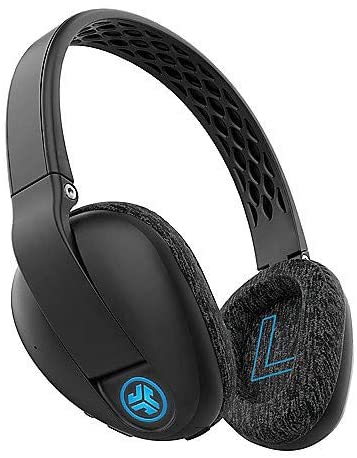 Make your music listening more convenient by freely linking your Bluetooth enabled device from up to 30 feet away with the JLab Audio Flex Sport workout headphones. Including a super long battery life of up to 20 hours continuous playtime of top-quality audio.
There are moisture-wicking ear pads featured on these workout headphones best-providing comfort all of the day, and the water-resistant technology keeps them working no matter how intense your workout session becomes. The custom-fit lets you set your ideal preference providing you with the most comfortable wear available. The ear cups are also machine or hand washable, they simply can be removed for quick and easy washing.
The premium sound quality that JLAb has produced is amazing for how affordable these wireless workout headphones are. The earbuds have been designed using high-quality sound drivers that deliver a wide and full range of audio frequencies with deep bass capabilities in a compact size. Ambient sounds are blocked out with the design of these wireless workout headphones letting you fully concentrate and indulge yourself into what you are listening to leaving no room for distractions of background noise around you.
These headphones come with a universal mic and music controls enabling you to control your music by skipping tracks, changing the volume, and even lets you answer calls without touching your phone, for a handsfree convenient experience. The microphone that is fitted within the JLab best wireless workout headphones is amazing, being able to create crystal clear communications to both the listener and the speaker of any call.
For that extra satisfaction, these headphones come with a two-year warranty and a 30-day money-back guarantee that lets you decide if these headphones are really the choice for you. The two-year warranty is great too ensuring you are covered if any issues may occur within the time you have the headphones.
Best Features:
Two-year warranty
Sound great
20-hour battery life
---
10. JBL Under Armour On-Ear Bluetooth headphones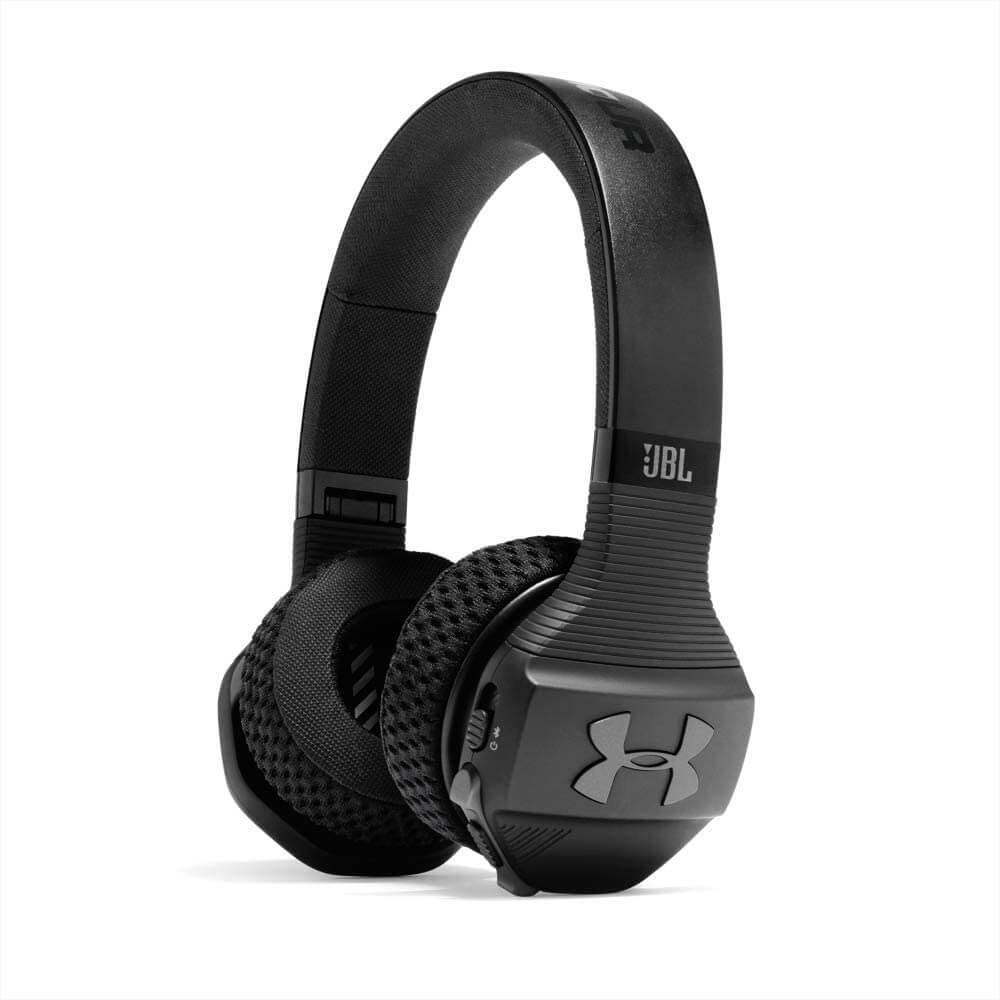 JBL has collaborated with Under Armour to create the best workout headphones, they feature two of under armour's unique fabric technologies making them the perfect choice for any gym user. The Under Armour SuperVent lines the outer ear cushions of the headphones that help create a truly breathable material in a light, durable, and fast-drying fabric. This fabric is also easy to remove and hand wash leaving no nasty smells from any sweating in the gym. For a soft feel and maximum stability, there is an Under Armour grip material that completely lines the inner headband and ear cushions.
With long battery life, these wireless headphones can keep you going for up to 16 hours on a single charge, and this charge is super quick with 1 hour of playtime created from just 5 minutes of charging. There is a technology known as bionic hearing within the JBL best workout headphones, this technology allows you to hear your surroundings with the TalkThru technology your music is lowered, and speech is amplified through the microphones that are in the earphones. This lets you work out with a partner and not have to remove your wireless headphones.
The EQ in these wireless pair of headphones has been specifically tuned for sport with rich deep bass tones that will match up and get you pumped for your workout. All of this technology comes with the freedom of wireless Bluetooth connectivity giving you complete freedom and handsfree abilities that will only enhance your time working out. The premium controls make it so you don't have to even touch your phone or smart device, all making the workout more focused and beneficial for you.
In the box comes the JBL – Under Armour Train Headphone, a protective case for carrying, an audio cable, and a quick start guide that will help you set your headphones up when you first purchase them. All of this technology has been encased in a rugged and durable design with an IPX4 rating that has been tested by athletes to withstand the demands of training and any sweat that may occur from doing so. The durable design allows them to be thrown around in and out of gym bags to knowing you will have these headphones for a very long time.
Best Features:
Under Armour fabric design
Fast charging time
---
11. Axloie Wireless Earbuds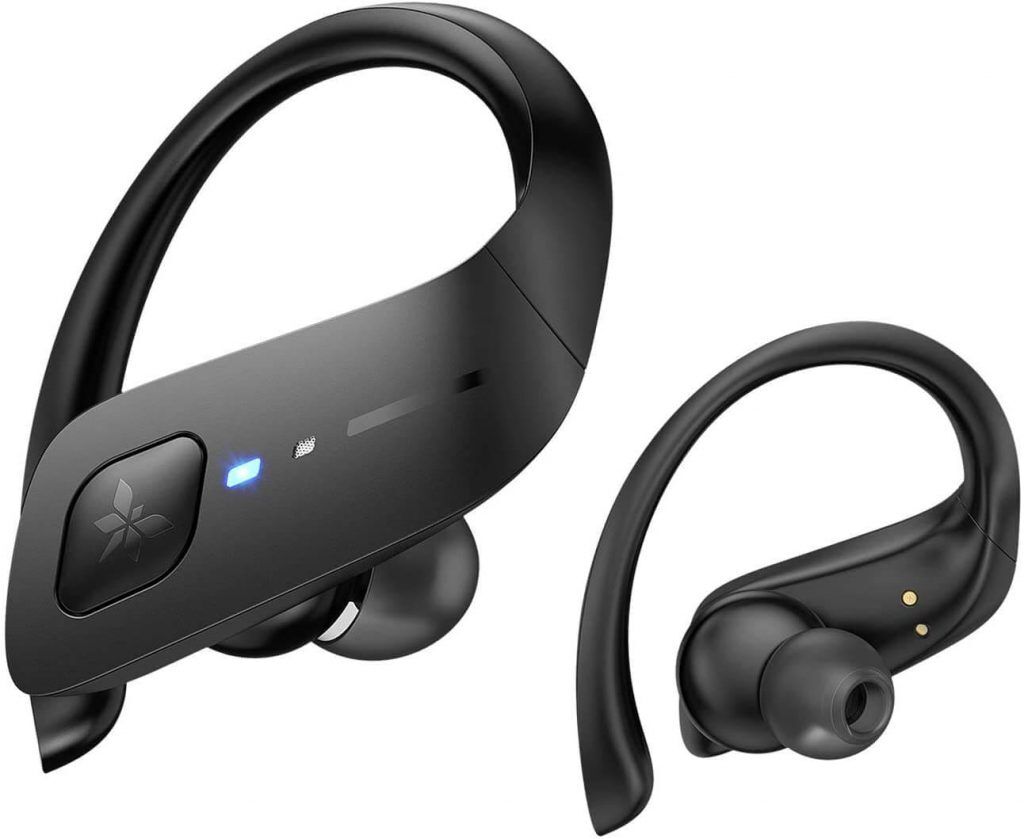 Different from ordinary in-ear earbuds, the Axloie true wireless headphones have been designed to be soft and flexible with a secure-fit ear hook that has been specifically designed to stay fully fitted in your ear without falling out even in those intense workouts. They are guaranteed to stay fixed in your ear providing unmatched comfort and stability when you move around. Activities in or outdoors are no problem with the Axloie water-resistant headphones being protected from weather and sweat from even the most extreme activities.
Delivering great sound overall that is powerful and balanced with a complete dynamic range stereo sound for an incredible listening experience. In addition to this, the EQ can be altered through Axloie's proprietary customized algorithm lets you increase the bass up to 30% allowing you to listen to your music in a more professional way while you are exercising. Better beats help you train that one step extra.
The battery like if only 5 hours long on a single charge but this is enough to get you through most workouts and combined with the portable charging protective case you can charge 6 additional full charges which give you an added extra 30-hour battery life keeping these true wireless earbuds ready to go all of the day. This playtime is matched with a fast-charging USB connection that allows an hour of playback time after just 15 minutes of charging time.
The Bluetooth connection is fast and reliable leaving no lag or interference, this is due to the upgraded 5.0 technology from the previous 4.2 overall creating fewer dropouts from listening to your favorite songs. When taking from the protective charge case the earbuds will automatically connect to your paired device if the Bluetooth connection is enabled giving you a hassle-free connection every time.
Complete hands-free ability is created with the headphones being able to control your music by changing the volume, playing songs, pausing songs, and skipping tracks. You can also answer or reject calls or use voice assistance that you may of on your devices. All of this is based on one control making it convenient and easy to use.
Best Features:
One button Control
Water resistance
Bluetooth 5.0
---
12. Motast Bluetooth Sports Earbuds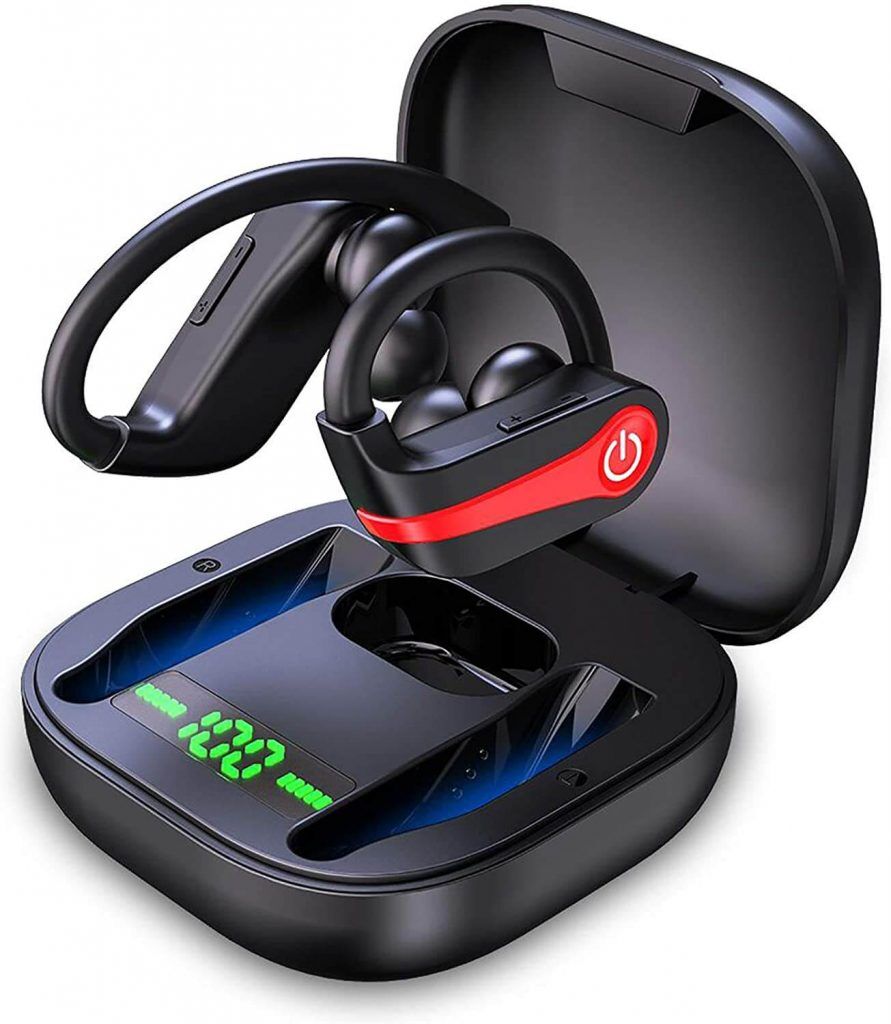 Matoast has developed the Sports Bluetooth earbuds that feature the latest 5.1 Bluetooth technology providing a stable and swift connection that is absolutely incredible. All of this with the wireless benefits of no messy wires. from the portable protective case with charging abilities, your true wireless earbuds will automatically connect with any paired devices that are connectivity enabled giving you complete connection in a convenient way.
You will enjoy crystal clear music with the best accuracy and clarity with the well-balanced bass and clear treble sounds that are produced, providing a rich high-fidelity listening experience. The earbud ear hook design also has button control where you can control play, pause, and answer phone calls.
The hook design has been ergonomically developed for the best comfort for everyday life, you can wash your earbuds too after periods of use with the water-resistant, sweat-resistant, and splash resistant materials keeping them fresh and clean after long periods of use. The unique ear hooks also ensure that these sport headphones for running will never fall out of your ears even in more vigorous training sessions. This design has also been developed to stay comfortable in your ear, not making them feel tired or in any pain when wearing for a long time. These true wireless headphones also support noise cancellation with the structure creating external noise isolation whilst still delivering premium high-quality audio results.
With 10 hours of continuous playtime on a single charge, you will never fall short when you are out and about, but if you ever feel like you are going to the case charges for up to 40 hours of continuous playtime. The charging design is done with magnets that offer a faster and more convenient way of charging.
The case has an LED screen that shows you the percentage of charge that your headphones have left which is a great feature never having to guess on how long you have left to listen or if you are going to be able to enjoy music through your entire gym workout.
Best Features:
The LED screen on the case shows battery life
Bluetooth 5.1 connectivity
---
13. Treblab XR700 PRO Wireless Running Earbuds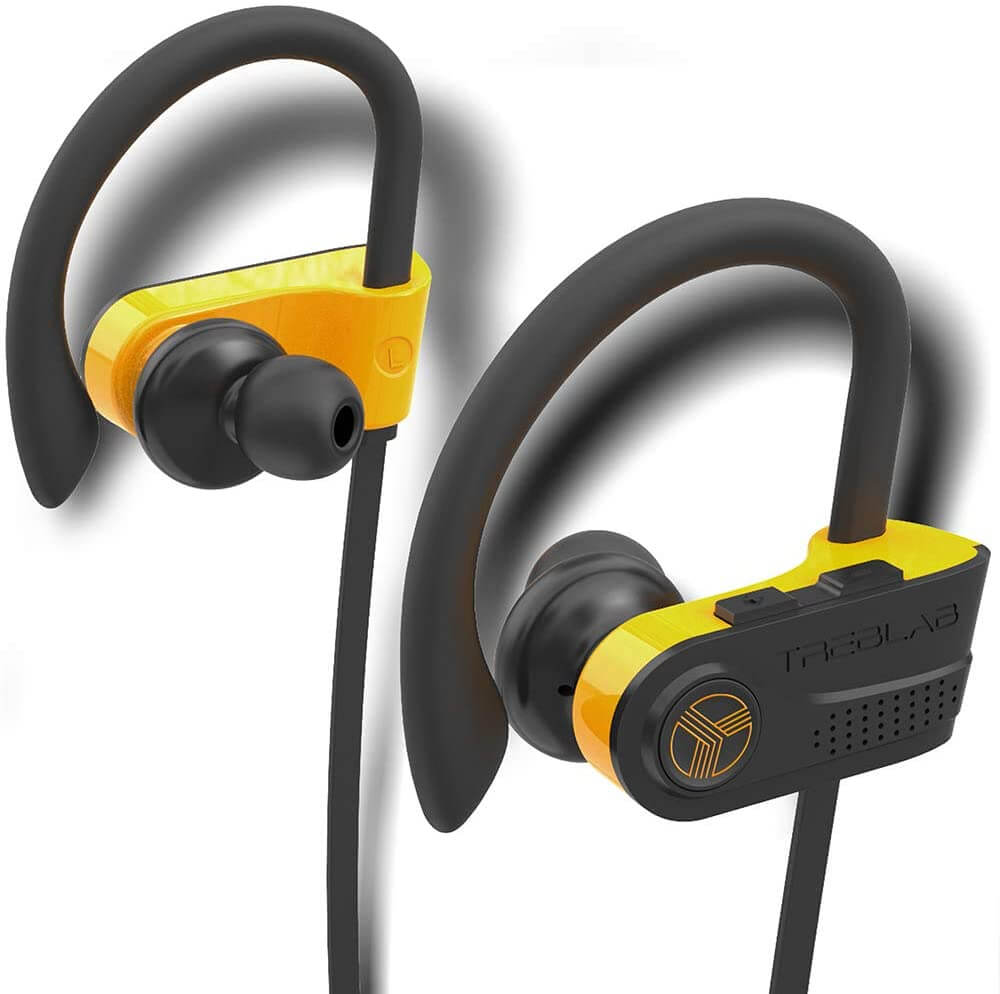 The Treblab XR700 Pro wireless running earbuds have been developed with specifically designed ear hooks that bend and keep to the shape of your ear providing the most comfortable fit possible, and the adjustable ear-hooks will stay firmly in place as you are running.
The unique sound has been created to increase energy levels while you are completing your best workout, this is done with the best Bluetooth connection leaving no interference or dropouts and the true HD sound with bass boost functionalities that boost your energy with it.
The perfect headphones for running in or outdoors with an IPX7 rating for waterproofing, and noise-canceling technology within these sport headphones that let you immerse yourself completely into your workout receiving no distractions from the background or ambient noises. This is also promoted with the noise isolation seal that helps in preventing background noises as well. This is done with expandable memory foam ear tips that comfortably seal any space for spilled noises letting you block out the rest of the world.
Listen to music and know you are secure in your purchase with a 1-year warranty and lifetime support. This is great if you come across any issues or your headphones top-performing in how they are intended to do so.
Best Features:
Lifetime support and 1-year warranty
True HD audio
Noise isolation
Changeable ear tips
---
14. Cowin SE7 Noise Cancelling Headphones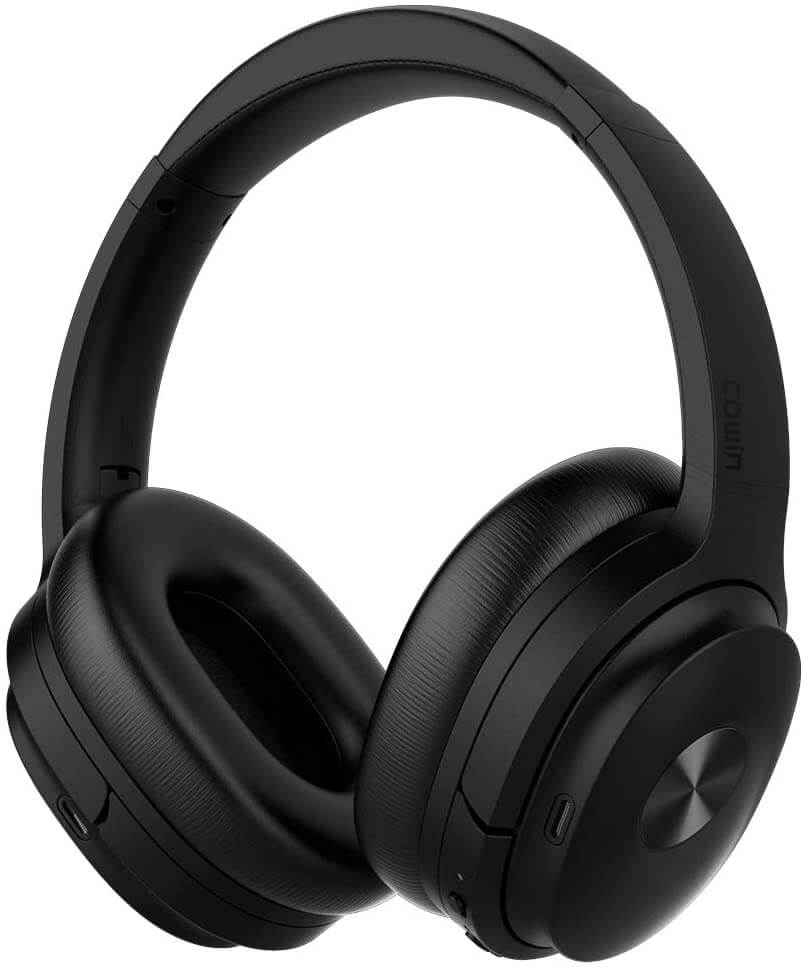 The Cowin SE7 Noise-canceling headphones are the best when it comes to this technology, the improved ANC system helps you focus on what you want to hear blocking out noises such as city traffic, a busy office, car engines, and even Airplane cabin noises. The ANC works both with or without the audio cable attached and is the perfect tool in reducing the sound in high volume environments during long trips and on flight travel.
The sound quality is amazing with AptX Hi-Fi technology that gives a deep, powerful, and crisp sound making your overall listening experience that little bit better. The company says that their constant goal is to provide customers with better sound quality which is a great thing to know.
The microphone is high-quality making calls crisp and clear, and with the 5.0 Bluetooth technology, there is no chance of any interruptions. The Bluetooth transmission is really strong too with a distance of 15 meters which is great for workout out in the gym not be constrained by any wires linking up to your music device.
The earpads have been made with a professional skin textured protein material that adjusts and molds to the shape of your ear for a more comfortable fit for longer periods of time, letting you wear them for the entire day and not feel any discomfort. The headband has a foldable design which when placed inside the easy carry bag , makes for a compact and portable design that is scratch-free from the protective bag.
There is a 30-hour playtime on the battery life from a single charge when the ANC isn't activated but 20 Hours when it is, which leaves with more than enough time to recharge, you can keep forgetting and still have enough battery life to last you for those long journeys. If you ever get stuck and run out of power there is a wired option that can be attached to the headphones making them one of the best choices for a lot of people giving that extra diversity and connection options.
Best Features:
Wide color range
18-month warranty
Long battery life
---
15. Cowin E7 Pro Active Noise Cancelling Headphones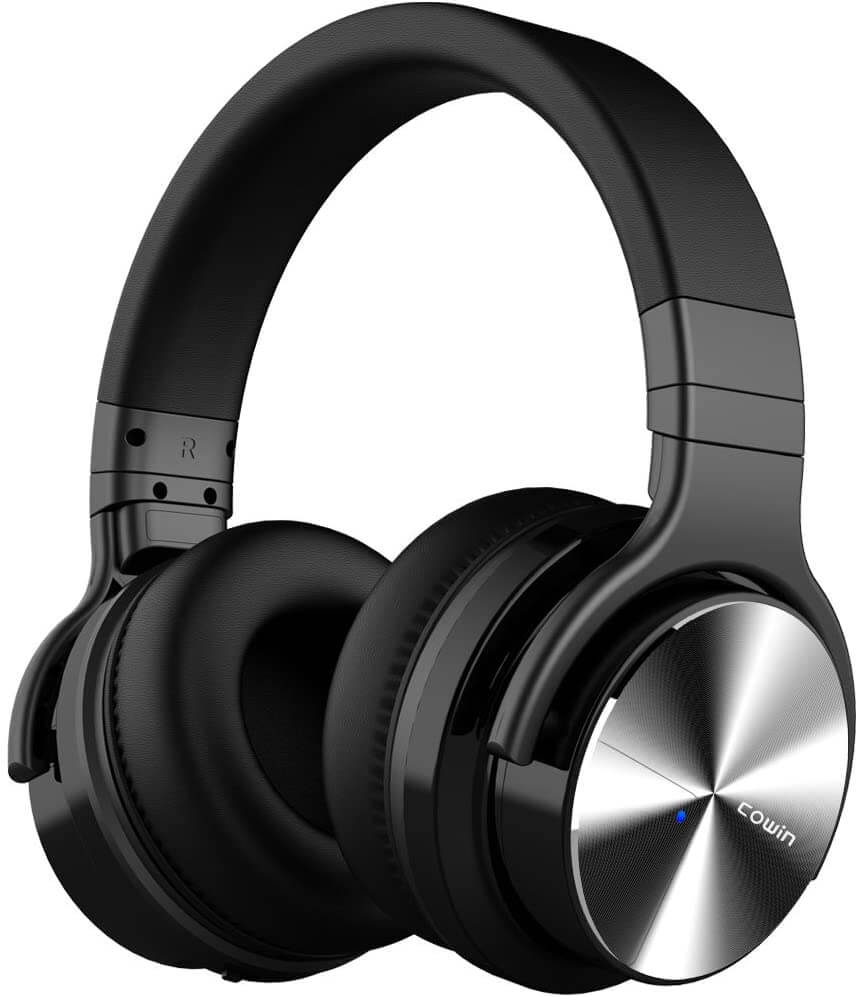 The Cowin E7 professional active noise-canceling headphones are the perfect way to focus on the task in hand, whether that is going to the gym to work out, going for a run or a hike, or just traveling to work they are the best way to block out any unwanted background noises letting you truly immerse yourself into the sounds of your music. The noise cancellation can work both wireless or wired which gives you that extra convenience not limiting you to one connection method.
The large-aperture drivers help provide you with deep and accurate bass sounds with a 75dB to 85dB level you are given crisp and powerful sounds that help you enjoy your music in a better way. The ear cups have been upgraded for comfort with a professional protein pad and swivel cup that molds to your ears shape and contour letting you listen to your music for longer durations of time and not feel any discomfort. It is advised you take the headphones off every 2-3 hours to give your ears a break but the skin texture is a material that provides a lot of comforts that are not always found in some other options.
The built-in microphone is great for hands-free calls providing clear and crisp quality audio that is both projected and received. Along with the powerful Bluetooth connectivity that ensures there are no connection interruptions, this is the same for the music you are listening with no lag being received or dropouts of audio.
The headphones shave a 30-hour battery life which is amazing for a single charge, leaving you with no worries on if you are not going to have enough charge for the longer journeys you may be taking. All of this technology is protected with an 18-month warranty enduring you have the best quality product for long periods of time, and if you do encounter any problems there are no worries as they can be easily fixed.
Best Features:
18-month warranty
Comfortable protein material
Why Should I Invest in a Pair of Wireless Headphones?
The reason to invest in a pair of wireless headphones is mainly that the technology is so advanced now they are rivaling even some of the best-wired headphones in terms of sound quality but giving you the freedom of no wires and devices being around you letting you completely focus and be free to complete your workout. The best headphones to complete the best workout are always wireless, with Bluetooth 5.0 technology providing a stable and secure connection with little to no dropouts. The battery life can be a problem when you go wireless but the shortest on our list is around 5 hours which is more than most people will need when they are working to, and even for a single music listening session.
Best Headphones to Workout: Over-ear vs In-ear?
When it comes to headphones vs earbuds, which is the best for working out? This comes entirely to preference and the style of fitness you are completing. Earbuds are definitely more secure, especially with the ear hook technology that is found in a lot of options, but if you are not completing any high movement workouts then this may never be a problem for you. Over ears can provide a more comfortable fit that has the best battery life, and the adjustable head strap will ensure your headphones will not fall off when cycling or running.
8 Considerations for Buying Wireless Workout Headphones
Price
When it comes to price there is always a varying range of products that you can get for your money, and this is very true with wireless headphones. The best wireless products will be more expensive but they will feature technologies like 5.0 Bluetooth for a stronger connection and noise isolation helping you be fully submerged into your workout and your music. If these extra features are not on your list of priorities then a cheaper alternative could be a good option, there is no need to pay for features that you are not going to use.
Comfort
Comfort is always a big thing to think about, and this can often depend on the duration of time you are going to be using your wireless headphones. The dreaded warm ear feeling when you have had the ear cups against them too long is never good, but some of the best products have tackled this with special materials that mold to the shape and contour of your ears providing everlasting comfort.
Durability
Head and earphones need to last a long time, they cost a good amount of money and you want that to be represented in the duration of time you keep them. Protective cases come with a lot of earbuds which also double up as a portable charging place which is really handy when you are out and about for the entire day. larger wireless headphones will be stronger especially if they have been designed to be gym headphones being able to handle any crashes and knocks from being thrown in and out of gym bags.
Sound Quality
The sound quality is a must-have thing, for workouts you want to be able to hear deep basses that will help keep you pumped through your workout and let the rhythm of your workout follow this section of music. This sound quality should also be represented in other features such as taking calls, as a lot of wireless and true wireless headphones come with microphones with amazing sound quality so your calls are always crisp and clear
Portability and Ease
Portability is great with wireless products as you are not having to untangle or mess with any wires. A lot of the best headphones come with protective portable cases making them easy to move around in your bag or pocket. For a more discrete look, it is better to opt for earbuds as they are a lot smaller, and even in the case, they can be placed inside a jacket pocket if you are not carrying a bag. This being said a lot of the wireless headphones fold up to a more compact size making storing very easy.
Noise Cancellation
Noise cancellation technology is great, it allows you to completely submerge yourself into your music and then your workout, with no distractions from the outside world. For noise cancellation, you are expected to pay a little bit more than standard headphones but if you really want to improve your productivity there really is no better option.
Warranty from Retailers
Warranty can always be found from retailers with a lot offering up to 2 years of customer support, this gives you the peace of mind that you are going to be protected for a long time of using your headphones and any problems are going to be fixed. Some companies also offer a 30-day buyback guarantee which lets you return your headphones for a full refund within 30 days, no questions asked.
Battery Life
Battery life is all dependant on how you are going to be using your headphones. Over-ear devices do enable a longer battery life but the charging cases that come with a lof of the true wireless earbuds let you charge on the go which works great for people who don't need to use their devices for long periods of time. This being said the smallest battery life is around 5 hours which is more than enough time for most gym workouts but could fall short if out hiking or walking.
FAQs
What are the benefits of wireless headphones for working out?
The benefits of wearing wireless headphones working out are the freedom that you get. A lot of gym wear doesn't include pockets and sometimes the phone straps that you can buy to fit on your arm are uncomfortable and sometimes restricting when completing certain activities. The option of having no wires is great as you can put your phone or smart device in your bag and start your workout without having to hold your phone. Most of these wireless headphones have control buttons that let you play, pause, and skip songs right from where you are providing a completely hands-free experience.
Should you wear headphones when running?
Wearing the best headphones for running can be great, the added motivation can come from a song or a beat giving you more output on your run, and with high-quality great sound, you can concentrate and focus that little bit extra without the distractions that can come from the outside world.
Which wireless headphones are best for working out?
For us, the JBL – Under Armour wireless sport headphones are the best for working out. They have been designed with some of Under Armour's best material providing water resistant technologies that will protect your headphones from rain and sweat. The combination of a fitness brand and an audio brand brings the best sides from both the audio world and the sports and fitness world making it the perfect headphones for running, cycling, hiking, gym workouts, and any kind of fitness-related activities.