Are you sick of your music being interrupted due to loud background noise and nosey bus passengers? Do you wish you could listen to your favourite tunes without being disturbed? Are tangled up wires and inaccessible volume controls becoming an issue? Then perhaps you should consider purchasing yourself a brand new pair of noise cancelling Bluetooth earbuds.
Featured today we have our top recommended picks for the best noise cancelling earbuds in 2021 and a brief breakdown of each headphone. You can also find a buyers guide to help point you in the right direction when it comes to what aspect of each gadget you should consider before making a purchase. Read on to discover what we think are the best earbuds available today. Who knows, perhaps you may discover your next favourite true wireless earbuds!
10 Best noise cancellation wireless earbuds
1. Boltune Wireless Earbuds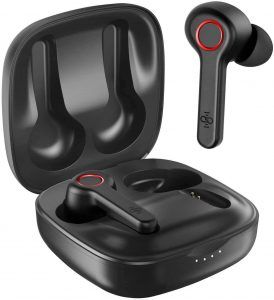 Although perhaps an unfamiliar name in the earplug market, this offering from Boltune could very well be one of the best. The Boltune wireless offer an incredible 28 dB noise reduction feature so unless you are stood next to a plane taking off, your listening experience will be uncompromised. Quell ambient noise such as conversations in a coffee shop to the sound of the engine while your ride the bus. Few earplugs offer a noise cancellation method as impressive as these.
These plugs come supplied with a portable case that can be used to charge your earplugs on the go, as the long as the case itself has been charged before setting off. You can also use these comfortably while exercising as they feature a IPX8 waterproof and sweat resistant rating. Taking your earplugs with you on the go has never been as simple as this. The Boltune earbuds are a cheap but cheerful option.
Best Features
28 dB noise reduction blocks out all but the loudest sounds
Large 10mm aperture drivers provide powerful levels of bass
Portable charging case so you no longer have to worry about low battery life
---
2. TOZO NC9 Hybrid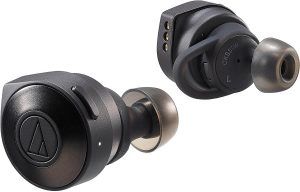 If you are a fan of multiple modes of operation and like to get the most of your purchase then the TOZO NC9 Hybrid could the option for you. An outward pointing microphone picks up any external noise, and if the noise cancelling mode is switched on then any background noise will be filtered out. However, if you want to use this device like a hearing aid you can opt for certain sounds to be enhanced giving you crisp audio. Few options offers such an impressive method of use as the transparency mode found on these noise cancelling earbuds.
Portability is an extreme consideration in these excellent noise cancelling earplugs as, at full power, their battery life can reach up to a whopping 8 hours! You can also pair these earbuds up simply use a single step pairing method, saving you both time and offering another layer of convenience. If you are looking for something a little different that features some innovative methods of use, then consider purchasing the TOZO NC9 hybrid wireless earplugs.
Best Features
Transparency mode allows you to enhance outside noise if required
One step pairing method saves you time and effort
Small design offer an minimalist aesthetic
---
3. Motast True Wireless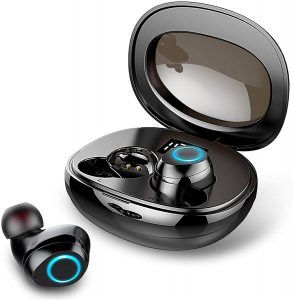 Hi-fidelity sound alongside impressive noise cancelling is just what you would expect from earbuds as great as these Motast True Wireless buds. These remarkable noise cancelling true wireless earplugs feature DSR lossless technology ensuring audio quality is high and your listening affair is enjoyable. You can also rely on them for hours as they feature a battery life of around 5 hours.
Ensuring that connection is never lost, these earbuds use the innovative Blue tooth 5.0 technology. This also provides high quality connectivity speeds so you can pair these up in seconds with minimal time wasted. On amazon it is clear to see that most users use these to aid their workout regime as the IPX7 rating offers an impressive sweat resistant build. When it comes to earbuds such as the Airpods Pro you can expect to pay a premium price. If you are after a budget pick however, then be sure to add these to your wish-list!
Best Features
Highly accurate intelligent touch control panel
DSR lossless technology means these earplugs sound great
Decent noise isolation method to filter out background noise
---
4. Anker Soundcore Life p2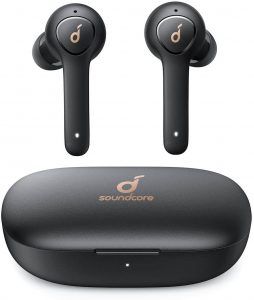 Anker have made a name for themselves pretty quickly since coming on the scene and with products such as the Anker Soundcore Life p2 it is easy to see why. A portable charging case provided alongside these earplugs extends the typical 7 hours of battery life up to a whopping 40+ hours. If you're on your train to work and you quickly need to charge them up, this ultra fast charging case has you covered.
These wireless headphones are powered by phenomenal graphite drivers which offer insane music playback quality alongside an active noise cancelling design. This active noise cancellation is achieved through cVc 8.0 technology that filters out ambient noise while enhancing a tracks vocals.
At this price tag such calibre can be rare, but you can rest easy knowing that if you purchase the Anker Soundcore Life P2 earplugs you will get the experience your ears deserve.
Best Features
cVc 8.0 technology provides impeccable audio reproduction
Extended battery life thanks to the sturdy charging case
Snug in ear fit means background noises are muted
---
5. Tozo T10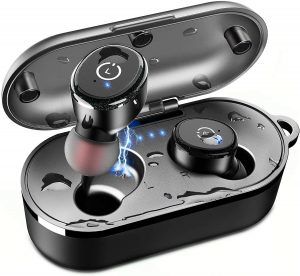 Our second offering from TOZO , but by no means lesser, these TOZO T10 in ear headphones are an impressive alternative to the NC9 Hybrid. Featuring the latest Blueooth 5.0 true wireless connectivity method and a great hands free method of use, these earbuds are extremely accessible.
The 8mm large driver provides compelling audio and powerful bass response adding new layers to all your favourite tunes. Additionally, the IPX8 water resistance rating means you can take these to the gym with you as these earbuds are sweat resistant. No longer worry about damaging them due to heavy workouts as durability is one of the largest considerations when it comes to these TOZO buds.
If you want to save your money but are worried about sacrificing quality then worry no more as these noise cancelling earbuds offer both a low price tag alongside supreme calibre.
Best Features
A selection of aesthetic colors to choose from
Stellar water resistance rating
5.0 Bluetooth technology offers encompassing compatibility
---
6. Donerton Wireless Earbuds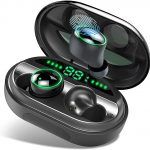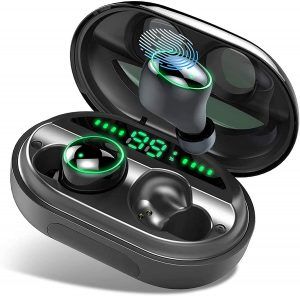 Few earbuds on this list offer as many features as the Donerton Wireless headphones with noise cancellation do. Whether that's extremely long battery life (Up to 80 hours thanks to a supplied charging carrying case) or the fine tuned soundstage driver, Donerton has considered everything.
Immediately you will notice a slick but futuristic design due to the black based plugs adorned with aesthetic lighting. The case itself is no slouch either as it keeps track of the amount of charge it has stored on an impressively good looking LED panel. The ear tips themselves sit comfortably within your ear canals offering suitable in ears noise canceling so background chatter doesn't ruin your listening experience.
These Donerton noise cancelling true wireless earbuds are one of the best budget options you will find anywhere today. If you're looking to save yourself some money whilst still maintaining excellent audio in a high quality package, then consider purchasing these buds today.
Best Features
Aesthetic futuristic look
80 hours battery life if using the supplied charging case
Battery LED display shows charge levels remaining
---
7. Apple Airpods Pro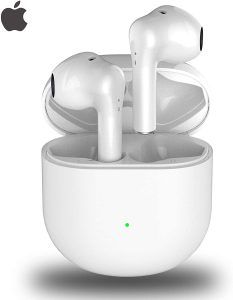 A far more premium choice than others featured on this list, but still cheaper than the Sennheiser Momentum True Wireless 2, the Apple Airpods Pro are an extremely popular choice. Most users tend to expect to only be able to Apple Airpods Pro exclusively with Apple products, but that just isn't the case. Although you won't get all the features, such as voice control, you can pair these up with any Blue tooth device. Due to this, these are excellent all rounders suitable for pairing with any compatible gadget.
These Apple earbuds provide remarkable active noise cancellation that will block all but the loudest ambient sound ensuring your listening sessions go uninterrupted. Similar to the TOZO NC9 Hybrid, they also utilize a transparency mode allowing you to hear the outside world with clarity. Few earphones offer the sound standard that the Apple Airpods Pro do; Music playback is refined due to an internal treble boost enhancing individual sound waves.
If you are familiar with Airpods Pro and are looking for a new set of earbuds then these are one of the top choices for you. Airpods are commonly referred to as the best noise cancelling headphone with reason.
Best Features
Airpods Pro are one of the most popular choices for a reasons
Easy volume touch controls
Superb noise cancellation blocks out most background noise
---
8. Bose SoundSport Free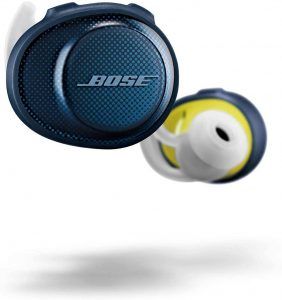 Bose are without a doubt one of the best names in the sound industry, so if you are looking for your next pair of earbuds you would be hard pressed to find a better pick than the Bose SoundSport Free. These are one of the only noise cancelling earbuds to come with a companion app that allows you to track your buds if you misplace them. Although this may seem pointless, due to how small some earbuds are this can be invaluable.
These SoundSport Free buds also feature a dual microphone setup allowing you to call your friends using a hands free method that is uncommon in noise cancelling earbuds such as these. We haven't even discussed the impeccable listening standard these offer, you just have to test them out to see why they are one of Amazons most recommended options.
If you are looking for the security of purchasing from a well known brand and don't mind playing slightly more for this, then the Bose SoundSport Free earbuds are the noise cancelling gadget you need.
Best Features
Useful tracking companion app
A multitude of aesthetic designs to choose from
Wonderful sound environment and volume levels
---
9. Samsung Galaxy Buds Live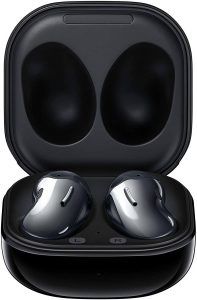 Next up and in a sleek metallic mystic bronze package we have the superb Samsung Galaxy Buds Live. Featuring innovative active noise cancellation, these wireless head phones block out ambient noise and offer a ton of excellent music quality at a fairly low price. Samsung are a popular option when it comes to electronic devices and with gadgets such as these, it's clear to see why.
These in ear phones enhance a range of sound frequencies, improving lass bass performance and a high treble range to ensure that your favourite songs sound as good as they can. This is due to the 12mm driver adorning each earbud enhancing your playback level and highlighting musical detail. Samsung earphones are also fit for ever-day life due to a comfortable wear, you can expect to find a place for in any task you do.
Offering a stylish look without sacrificing playback performance, the Samsung Galaxy Live are an easy recommendation.
Best Features
Eye catching metallic bronze aesthetic
Active noise cancelling technology is extremely effective
Bixby voice assistant control module can be helpful
---
10. Nillkin True Wireless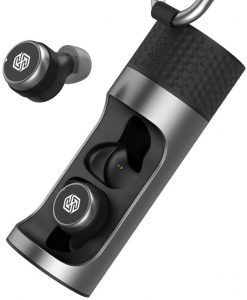 Our final device of the day is by no means the least as the Nillkin True Wireless is easily a contender for the best noise cancelling earbuds available today. These true wireless earphones provide up to 12 hours battery life as well as an additional 65 hours if you fully charge the carrying case. As this option offers one of the best noise cancelling methods in this list, the longer you can wear them, the better.
Three sizes of silicone tips are provided meaning you will find the right shape and size for you ear. A comfortable fit goes in a long way in ensuring the best noise cancelling experience you can find. Each bud also features simple touch volume controls offering you incomparable control over your device. The Nillkin True earphones are a common recommendation and it is clear to see why.
Best Features
Up to 65 hours battery life due to the robust charging case
CVC noise cancelling technology
Comes with three different tips
Considerations Choosing noise cancelling wireless earbuds
To ensure a version is right for you, you should always consider each angle of a potential purchase to prevent spending more money than you need on a earbud that just isn't suited for you. We have compiled a few of the considerations you should make when it comes to buying yourself a new pair of noise cancelling earbuds. We have also included a brief idea of how large of an impact on cost a specific consideration will make. Read on if you are struggling to decide what you should be looking for in your new purchase.
Comfort
How comfortable a duo of any headphones are should be a factor every potential buyer considers before diving headfirst into a purchase. If you are earbuds aren't comfortable then you won't be able to wear them for long periods of time and thus you will be lowering your overall use time. Really uncomfortable products can even cause damage to your ears as they can dig into your canal and cause long time pain. Ensuring that your chosen earbud is comfortable is an important process.
One of the top ways in which you can check how comfortable an item is, is by checking through the customer reviews. A majority of customers who leave comments will tend to mention how comfortable the gadget is to wear. This is an excellent way of making sure that the product you are interested in is a earbud worth buying. Just be sure to check out the customers review rating as there are a few customers who will leave negative ratings without having purchased the headphone itself.
The overall cost of a pair of earbuds shouldn't increase depending on how comfortable they are to wear. However, there tends to be a correlation between the price of an earbud and its comfortability as lower priced models will typically find a way to cut corners. This isn't always the case as some budget options are far more comfortable than extremely expensive models.
Noise Cancelling Quality
Although this seems fairly obvious, how much noise is blocked out is an extremely important part of finding a decent set of noise cancelling earbuds. Some ear phones may claim to offer incredible noise cancelling functionality but this is actually far from the truth. This can be a difficult thing to spot considering there isn't really a great measurement metric in which you can deduce how effective a pair of earbuds is at cancelling out noise.
As this is the main selling point when it comes to noise cancelling headphones you definitely want to check that a model offers a decent noise cancellation function. This can be checked through user reviews or by seeing if the manufacturer has made a note of how many decibels their earbuds can block out. The cost of your earbuds may marginally increase if the noise cancelling method is far more efficient then others, but this is fairly rare. Don't expect to pay more because of this feature. Although some more premium devices such as the Sennheiser Momentum True Wireless 2 earbuds will offer improved noise cancelling, the price difference just won't be worth it.
Connectivity
In terms of connection methods, when it comes to wireless earplugs you will tend to only really find that most companies use Bluetooth. This is due to Bluetooth being almost universal and most electronic device that can connect to other peripherals will usually feature a Bluetooth receiver within them. Things such as most phones and laptops can typically be paired up to earbuds and other devices through the use of Bluetooth therefore there is no need for companies to spice it up and change their method. Bluetooth methods prevent the need of worrying about cable length and can help offer a more rounded set of ear phones.
There are multiple types of Bluetooth technology currently available, but the one you will see most often in noise cancelling earbuds is probably Bluetooth 5.0. This is because it is the latest Bluetooth version and therefore will be backwards compatible with previous version. We would recommend finding a duo of earbuds that uses Bluetooth 5 as this is without a doubt the best wireless method currently available.
When it comes to the price, you will rarely see an increase just because a model features Bluetooth 5.0. Therefore, it is ideal to find a set of earbuds that utilizes Bluetooth in some form.
Material
There are multiple types of material used in ear tips therefore it is a good idea to find the ones that best suit your ears and personal preferences. The main material however that you will come across and we recommend, in terms of noise cancelling earbuds anyway, is silicone. Silicone is an incredible choice when it comes to earplugs as due to it's elasticity it can easily be molded to particular shapes. This allows companies to provide a multitude of different shapes and sizes of ear tips so that more people can wear theirs earbuds without irritation.
Silicone is fairly cheap to use and offers superb noise cancelling, therefore it is perhaps the best material to use in noise cancelling earplugs. Due to it being fairly cheap to manufacture it also means earbuds that use it won't set you back too much so it is an extremely affordable choice for both the manufacturer and the consumer.
FAQS
Are noise cancelling wireless earbuds worth it?
Yes, noise cancelling earbuds are more than worth it. If you enjoy listening to music on the fly, especially in noisy areas, then noise cancelling earbuds are an incredible option to go for. Most earbuds also offer compelling sound so you can appreciate your favourite music with added depth. In a country obsessed with the hustle and bustle of city living, noise cancelling earbuds are an ideal purchase.
What are the best noise cancelling wireless earphones in 2021?
If we are talking straight up performance without considering the price of the model then the Sennheiser Momentum True Wireless 2 earbuds are perhaps the best noise cancelling option for 2021. However, we have tried to balance both budget and performance in this article today so the Momentum True are just too expensive to recommend.
We would recommend browsing through our list of our recommended earbuds as we are certain you will find a perfect set to suit you. Each comes with their own unique design and advantages so it is hard to recommend a single product amongst a bunch of some of the best. Ideally, the best noise cancelling earbuds offers superb audio performance alongside impenetrable noise cancellation. If you can find both of these features, then you are ready to go.
What are the best quality noise cancelling wireless buds?
Noise cancelling earbuds with the best quality will usually use something known as active noise cancellation. This allows you to choose when you wish to use a noise cancellation feature and can help ensure your noise cancelling headphones provide a stunning experience. You should also keep your eyes peeled for long battery life as this can vastly improve a gadgets life span. Anything between 5 and 7 hours is ideal, but the longer the battery life the longer you can use your earbuds.
Which true wireless earbuds have the best sound quality?
The best noise cancelling earbuds tend to feature a large graphite driver to ensure that sound is as good as it can get. You may also come across BassUp technology which is one of the best methods in ensuring that bass content is optimised. In the world of earbuds competition is pretty tough so most companies tend to try and outdo each other by providing the best sound effectiveness. Check out what customers are saying about specific headphones to check that the device you are interested in sounds good.