Best for the Money:
The iJoy is our best for the money pick, as it performs all the functions you would expect from a wireless headphone set at a fraction of the cost. It has an adequate battery life for everyday use and provides a great balanced sound profile with the noise-canceling technology that it offers. You can trust the Bluetooth connection and enjoy using your phone handsfree while wearing the comfortable iJoy headphone set, making this one of the best cheap wireless headphones available.
Best Sound Quality:
The Anker Soundcore Q20 offers the best sound quality while also still being in the best budget wireless headphones range. All knowledgeable music enthusiasts comment on the brilliant HiFi sounds that the Anker Q20 offers, with the bonus of being able to add stronger bass when needed. The Anker Q20 has the ability to play any type of music as well as being a great all-round headphone set.
Best Premium: Vankyo C751
Our best premium wireless headphone set is the Vankyo C751 as it comes with technology that you would only expect to find with a high-cost headphone set. Enjoy listening to your headphones undisturbed with the Vankyo C751 and its amazing noise-canceling technology. You will struggle to beat the great Bluetooth connection that the Vankyo C751 offers so you can enjoy wireless music and phone calls.
Introduction
Wireless headphones are enabling a new found freedom for music listeners everywhere. No longer do you need to feel restricted or tied down by cables and wires, as a wireless headphone set offers you the perfect hands-free solution. You do not have to compromise with sound quality or connection options, as these best budget wireless headphones offer top quality features at a fraction of the price tag, making going wireless affordable for all. If you are not convinced that wireless headphones are for you then have a read of our guide which will answer any questions you may have about making wireless work for you.
We will review 10 of the best budget wireless headphones and highlight their best features and any points you may want to avoid, so you can choose a reliable wireless headset that is perfect for your requirements. All of the products listed are within the budget range so you can find perfect cheap wireless headphones that are affordable and won't break the bank. If you are stuck for choice then take a look at our top three recommended products that are loved by everyone who uses them.
The 10 Best Bluetooth Headphones of 2021
1. iJoy Headset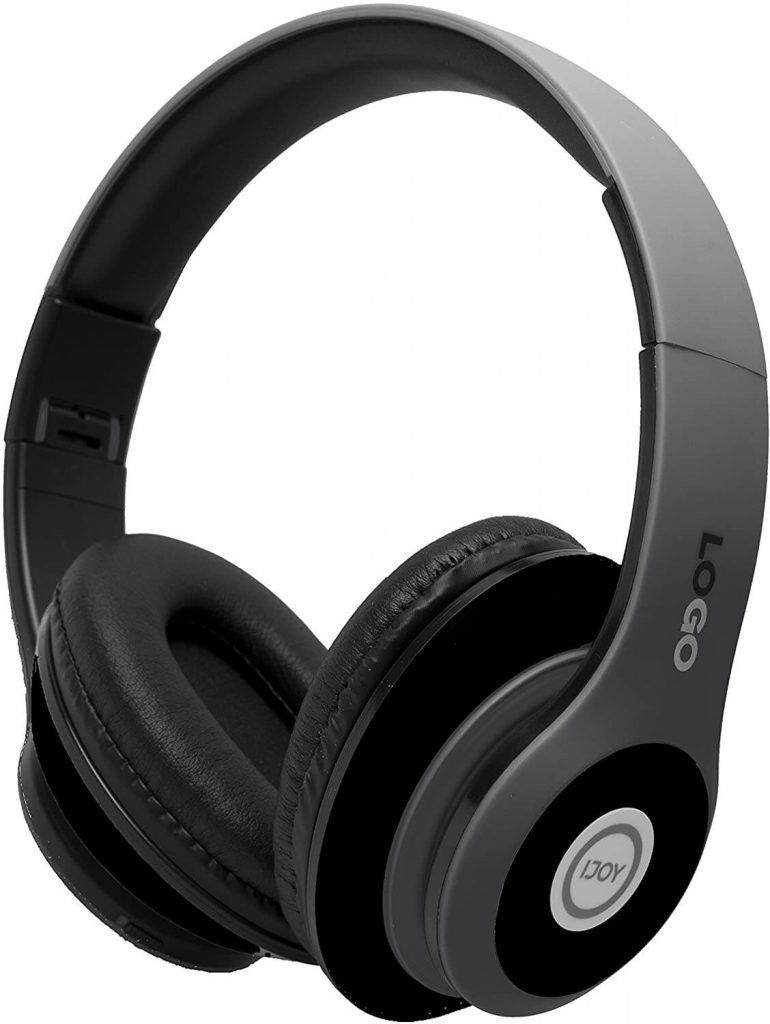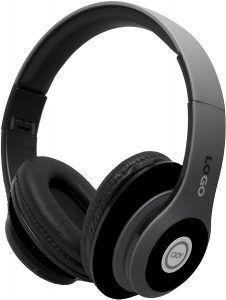 There are lots of reasons to love these attractive, colorful over the ear wireless headphones by iJoy, as along with being practical with their five-button headset control, they are also stylish and comfortable to wear. The iJoy is your ideal travel companion, as the headphone set folds up for easy storage, and the adjustable headpiece and cushioned earpieces, ensure the perfect fit.
You will never need to worry about your wireless connecting capability with the iJoy's reliable Bluetooth 4.1. It is quick and simple to set up, so you will soon be away and listening to your favorite tunes and enjoying the 6-hour battery life and answering a voice call using the fantastic in-built microphone. With a 10-meter roaming distance, you also do not have to rely on being glued to your device to keep the IJoy connected. Enjoy your music, wherever you are as the noise-canceling mode will blur out any background noise allowing you to enjoy the iJoy's great sound.
Best Features
Noise-cancelling headphones
Foldable headset
---
2. Cowin E7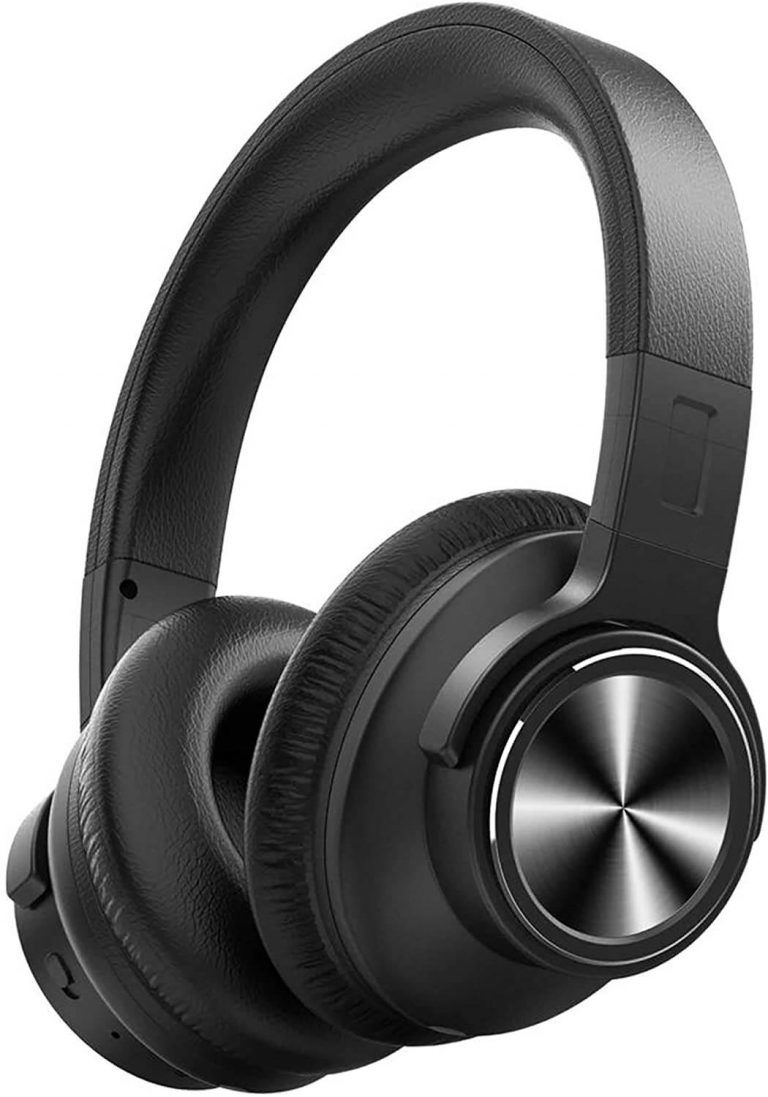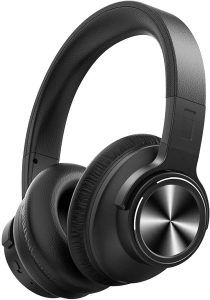 If you fly frequently or travel long distances then these lightweight Cowin E7 wireless budget headphones are perfect with their 30-hour battery playtime, so you will never run out of battery mid-journey again. The large 45mm driver and advance noise cancellation ensure that only crystal clear sound is produced and background noise will not distract you from your music.
If you enjoy listening to bass, then these Cowin E7 will provide you with quality while keeping the cost down. The additional hands-free enables you to answer any calls that may otherwise disturb your listening experience. These comfortable cheap wireless headphones with their top-rated protein ear cushions will surprise you, making these a wonderful set of budget wireless headphones that will be in constant use.
Best Features
30-hour battery life
90-degree swivel ear pads with protein cushioning
---
3. Sony WH-CH510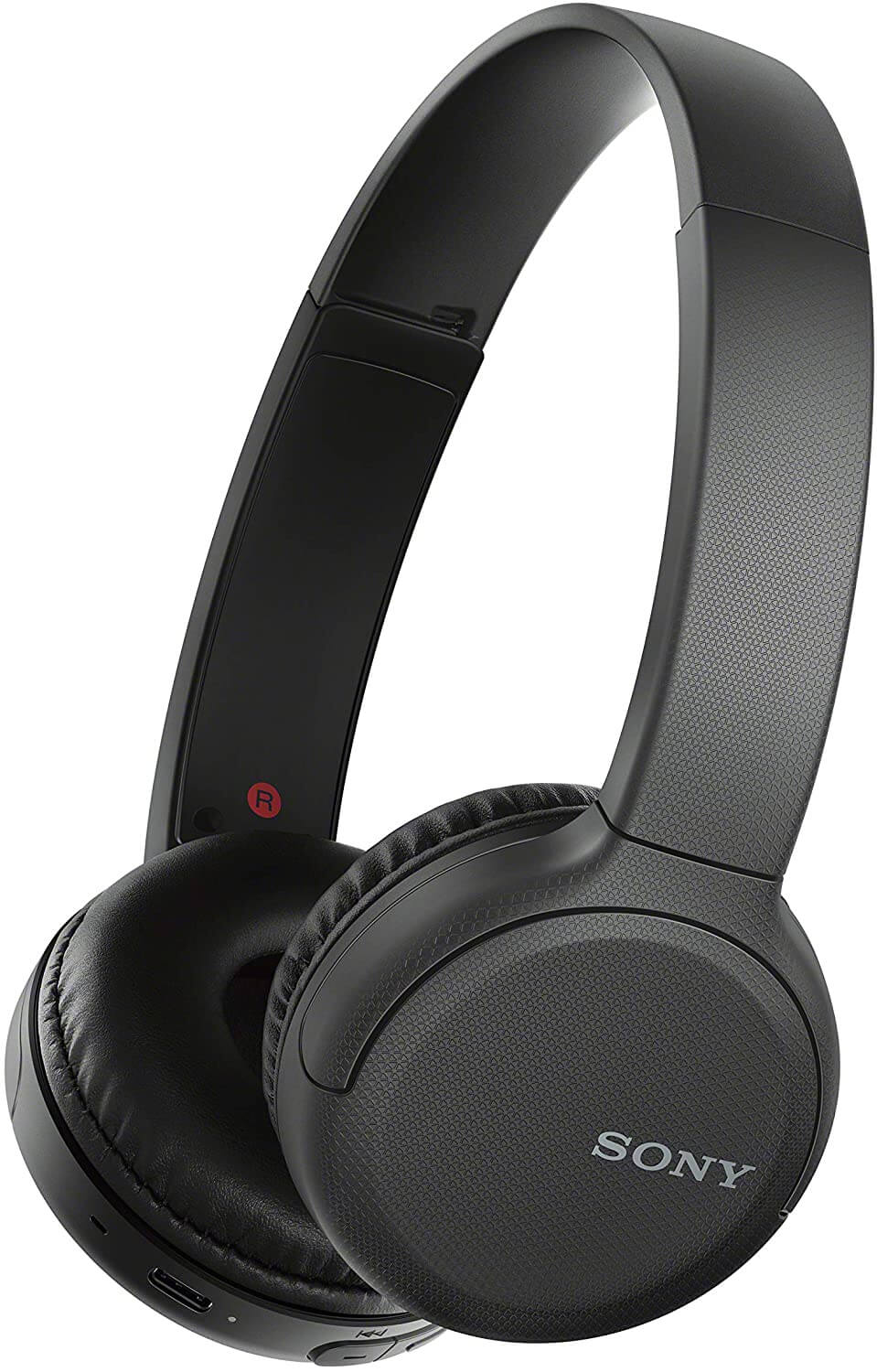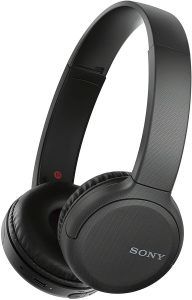 These discreet CH510 wireless over the ear headphones provide a comfortable fit and practical design, while also offering crisp and clear sound. For easy and convenient traveling the swivel headpieces can be folded flat, which will also protect against any damage when stored. Sony is a reliable brand and these cheap wireless headphones ensure everyone can access quality music on the go at a great price.
We love that the CH510 has included voice assistance along with the hands-free calling, so you can take Siri or Google assistance with you wherever you go. The long 35-hour battery life is great for long journeys, but even in emergencies you will never be without your trusty best budget headphones with the 10-minute fast USB C charge that gives you a bonus 90 minutes of playtime.
Best Features
Bluetooth Version 5
10-minute quick charge
---
4. Mpow H19 IPO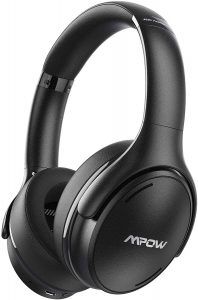 The Mpow H19 IPO are best budget wireless headphones that show that you do not have to compromise on quality when looking at the best budget range, as the fantastic Mpow will match the market leaders hands-down. You will not find better sound quality than the crystal clear HiFi sound that the Mpow offers with its 40mm drivers. It can also eliminate up to 90% of background noise with its active noise isolation.
You will find these 240g mega-light weight over the ear headphones comfortable and their memory foam earpiece cushions will ensure that you can wear the wireless headset all day. The Mpow's highlight has to be the use of Bluetooth 5 that provides a reliable and super-fast connecting speed that will never let you down. Enjoy listening to music on the go again with these superb budget wireless headphones.
Best Features
90% active noise isolation
Memory foam earpieces
---
5. PowerLocus Foldable Headset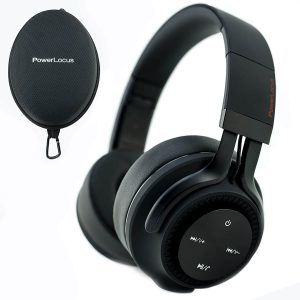 The attractive design and appealing two-tone color options of these PowerLocus wireless budget headphones, with ultra-comfortable memory protein earpieces, make this a popular choice for anyone looking for their first wireless headphone set. They are simple to use with their stretchy, adjustable fit and can be reverted back to a wired headphone if necessary. For the short amount of time that you are not using the headphones, you will be impressed that they can fold down to fit into the small protective carrying case included.
The highlight if the stylish PowerLocus has to be the great HD microphone that enables hands-free calls. You can also be sure that the Bluetooth 5 connecting speed will be fast and reliable, so the headphones can be used anywhere, and the decent 15-hour battery playing time with noise cancelling makes these fabulous wireless headphones perfect for commuting and exercising.
Best Features
Bluetooth 5
Handsfree phone calls
---
6. Anker Soundcore Life Q20
Anker Soundcore has produced the ultimate wireless headphone set that is suitable for everyone, including professionals. The ultra-long battery life of over 40 hours of playing music that lasts while using all of the additional effects is mind-blowing, so you will not have to worry about taking the charger with you on trips. These noise-canceling headphones will also eliminate up to 90% of background noise so you can listen to your music anywhere undisturbed.
Anker has thought of everything with these Q20 wireless budget headphones, as the rotating earpieces with their memory foam padding will fit every head shape comfortably. They have not compromised quality over design either, as the impressive HiFi sound quality with the added ability to also strengthen the bass ensures that your music will sound amazing. While a slightly more pricer choice, the Anker Q20 still falls in the best budget wireless headphones category and is one we would encourage you to look at.
Best Features
Hi Resolution Audio
At least 40 hours playing time
---
7. OneOdio A70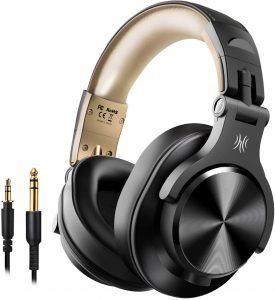 The OneOdio A70 wireless best budget wireless headphones have an appealing professional design and are available in four refreshing color options that music enthusiasts will love. They are practical, as well as smart looking, and the up to 50 hour playing time is perfect for every need. Fortunately, the OneOdio A70 also has breathable memory foam earmuffs, so are comfortable when worn for long durations, so you can really make use of that long battery life.
The highlight of the OneOdio A70 is the dual 3.5mm and 6.35mm jack ports that enable dual control and music sharing between headphones. If the quality of the bass is especially important to you then the OneOdio A70 is the perfect match with its deep bass sound. These cheap wireless headphones are light weight and comfortable for all to wear but when not being worn they can be folded into their carry pouch so will take up little space in your luggage when stored.
Best Features
Dual cable control for music sharing
Impressive battery life
---
8. Edifier W800BT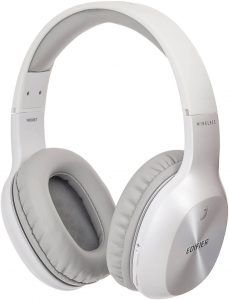 If you are looking for simple wireless over the ear headphones that are straightforward to work, then the Edifier W800BT are the headphones for you. They have the ability to be used as a wireless headphone, using the decent Bluetooth 4, or can be used wired using an Aux wire, depending on your preference. However, with a 35-hour battery life, the true wireless opportunities are endless. The hand-free phone answering capabilities are also appealing when out and about.
We love that the Edifier W800BT is lightweight and the over the ear design comfortable for everyone to wear but the headset is sturdy and durable for longlasting use. The on the ear touch controls are easy to work and discreet, giving the headset a smart look. This is a great first cheap wireless headphone set with a comfortable fit that also provides the listener with the perfect balanced sound.
Best Features
On the ear controls
Lightweight
---
9. Srhythm Headset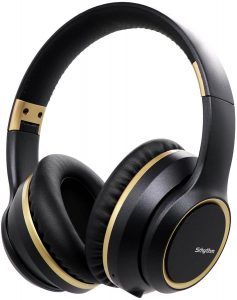 The bold colors that these Srhythm best budget headphones offer are fun and right in fashion at the moment, so these best budget wireless headphones are a great choice for any outgoing music lover. The Srhythm is a super lightweight headset and the over the ear design with rotating earpieces ensures a comfortable fit for all, whatever their head size. This wonderful budget headphone set even comes with a small carrying case that is the perfect fit for the folded headset, so you can take the Srhythm headset with you wherever you go.
Even though the headset only has an average battery life, it more than makes up for it with the inclusion of hands-free calling, with additional voice assistance. Take command of the Srhythm headset using Siri or Google Assistance. If you are limited by over 16 hours of playing time then the Aux lead can be used to give you more listening time. Enjoy listening to music with 85% active noise isolation and its crystal clear sound.
Best Features
Lightweight at 180g
Voice assistance
---
10. Vankyo C751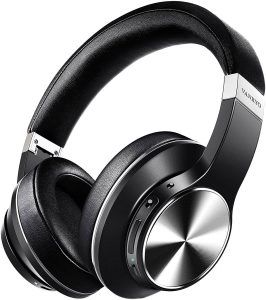 The Vankyo C751 is an impressive wireless headphone set in the best budget wireless headphones category. When looking at the price this is definitely the best buy when compared to other similar headphone sets. Bluetooth offers a fast and dependable connecting speed with up to two devices, and the long 30-hour battery life is backed up with a bonus quick 10-minute charge for an emergency when out and about.
The highlight of the Vankyo is the brilliant audio quality of both the treble and bass, which offers a pleasantly balanced sound, no matter what type of music you like listening to. The super in-built microphone ensures the headset is suitable for hand-free phone calls and users love the comfy over the ear design with 90% ambient noise isolation, making this a popular headphone choice.
Best Features
Bluetooth 5.0
Able to quick charge
Buyers' Guide: Considerations for Finding the Best Budget Wireless Headphones
Battery Life
Wireless headphones rely on their battery capacity to function, so the battery life of a product is one of the most important considerations for a buyer. Even within the best budget, wireless headphones category there is a wide variety of battery life options to choose from, with playback times ranging from a few hours to over a day. When making your choice you also need to consider how each playback mode will affect the battery life, as you want to ensure that you can listen to your new best budget wireless headphones for the duration you require.
When considering battery life you should also look at how the device is charged and how long a full charge takes, as this can also vary greatly. In addition, some headphones will have a quick charge function, where they will give a couple of hours of playback after a short charge of only 5 to 10 minutes. Another function that will offer an extended listening time when the battery has run out, is the ability to convert to using an Aux lead. You might be surprised to find that a lot of these points are included in the profile of many cheap wireless headphones.
Comfort
Choosing headphones that are comfortable for you is essential, especially if you will wear them for long periods of time or multiple times in a day. Everyone's ears are different so the headset has to be adaptable to provide a good secure fit that is also comfortable for your ears. You will often find that the headband is adjustable and the earpieces rotate or change their angle for a perfect fit.
The ear cups will also usually have protective padding for your ears, provided by a selection of different materials. Cushioned leather ear cups are a popular choice for many of the best budget wireless headphones though a few headphones will also include comfortable memory protein earmuffs for easy listening.
Sound Quality
When thinking about the best budget wireless headphones you might assume that you have to compromise on sound quality to keep the price down. However, this does not have to be the case. While cheap wireless headphones in this price bracket can vary with the features that they offer, there are a handful of fantastic options that have sought after drivers that enable wonderful Hifi sound and bass beats. These amazing budget headphones would compete with more specialized products when compared with the technology that they offer.
Not all best budget wireless headphones do have superior sound quality, so you need to know how to differentiate the good from the bad. Have a look at our recommended product pick for the best wireless headphones that feature top sound and listening qualities to get you started.
Connectivity
When you are streaming podcasts on your daily commute to work or listening to music in the gym, then the last thing you want is unreliable connectivity that prevents you from using your headphones as you desire. Most wireless headphones use Bluetooth to connect to your device but there are different versions on offer. Most commonly version 4.1 or the newer version 5 will be used by the best budget wireless headphones, and both will offer a fast and reliable link. This also means that any product that you want to listen to music with, will also need to have Bluetooth connectivity to be compatible.
If you also want the versatility to listen to music from something that does not have Bluetooth then some best budget headphones will also have the ability to connect an Aux lead and become wired headphones. While this option may feel like a step backward when you are wanting your independence to listen to music but not be tied down by cables, there are a few useful scenarios when the option to convert back to a wire might be useful.
Key Features
Many Bluetooth headphones can also act as a hands-free, giving you the ability to answer your phone and make calls with only a brief interruption to your music playlist. If your headphones feature an in-built microphone, which many best budget options do, then you are able to talk through your headphones too. This is a great feature for when you are in the office or out and about, and can also be used for in-game communication when playing video games. Having the ability to make hands-free calls with your headphones can save you having to spend cash buying additional hands-free equipment.
When choosing the best over the ear wireless headphones you should also consider if they also offer noise cancellation. This feature will help to block out low-frequency background noise, such as traffic, so you can enjoy listening to your music in privacy even while on the move. Some models will even be able to eliminate up to an impressive 90% of ambient background noise. You should be aware though that there is no degree of noise cancellation that will be able to block out talking but otherwise this feature is ideal for helping you enjoy listening to your music no matter where you are.
FAQs
What are the best inexpensive Bluetooth headphones?
When looking to buy budget wireless headphones you don't have to compromise on sound quality or the features they offer, if you choose the right ones. You should decide which qualities your headphones must include, so they are the right ones for the job you want them to do. At this price range, you may need to accept that certain extra add ons may not be included but this should not affect the overall performance of your headphones.
The best cheap wireless headphones will usually include,
Strong and reliable Bluetooth connectivity
Great sound quality and bass tones
Long playback time
In-built microphone with the ability to make and receive phone calls
Quick charge option
Decent roaming range
What are the best wireless headphones for the money?
If you really want headphones that have all of the latest gadgets but you don't want to pay too high a price for them then we have some budgeting tips so that you can get the best value for your money. Firstly, you need to decide which technology features your headphones need to support and which things you can live without. You need to be honest about what you want from your new headphones because if they don't meet your expectations then you will be unlikely to wear them and this is a waste of cash, no matter how little you paid for them.
Sometimes, to get the best value for money you need to look at less well-known brands to get the latest features at a great price. If you are looking at a brand that you have no previous experience of then we would recommend reading reviews to make sure you are getting a great value item at one of the best prices. Have a look through our best budget wireless headphones guide for inspiration and to discover the reliable models that we trust.
Wired vs wireless: which is better and why?
Wireless headphones are the latest fashion accessory and have been quickly growing in popularity. However, the reason everybody wants a pair is because they offer more freedom than the older wired headphone style. You will no longer be restricted by cables when enjoying your headphones on your daily commute, and never again will you have to spend time untangling wires before you can play your headphones. Wireless headphones are definitely the future.
In addition, wired headphones connect to your Bluetooth devices and allow you to make calls without interrupting your playlist. There isn't anything that a wired headphone can offer that a wireless headphone can't also do. Many wireless headphones also have the option to connect to an Aux cable and become wired if needed, so you will never be restricted by your wireless headphones.
Which wireless headphones are best for sound quality?
When looking for headphones that offer the best sound quality you need to consider the size and type of driver that they offer. A lot of wireless headphones have a large 40mm driver and this size enables the headphones to provide a great listening experience with strong bass notes. However, the sound you get from your headphones is not only down to the size of the driver but also the type, so certain headphones will be able to offer superior treble sounds with improved general sound quality.
To have the best sound quality you also need headphones that have an extensive battery life and are easy to connect, otherwise, you will not be able to enjoy music through even top of the range headphones. To preserve fantastic sound quality your headphones should also be durable, to prevent any damage affecting their use and provide you with a good fit, to stop any music from escaping.