Are you tired of your over-ear headphones slipping off when you go for a jog? Or fed up of getting your arms tangled up in your earphones cable when you do your yoga workouts? While you may enjoy your big expensive over-ear headphones or your Airpods when you're lounging around at home or sitting still at work, you will want to choose a more suitable pair of earbuds or wireless headphones for your sports and active leisure activities. You'll need a high quality pair that won't cause you endless frustration with tangled cables (after all, you're here because you want the best workout headphones – not the best "headphone workout").
When it comes to more energetic and dynamic activities, your best bet for complementary earphones will be wireless ear buds designed to handle everything your workout could throw at them. Wireless earphones won't get tangled on a run and are specially built to stay put in your ears whilst you go about your daily routine.
The fact is, there's a lot of choice on the wireless workout headphones market. This is both a blessing and a curse: a blessing because you aren't limited to one model, but a curse because not all model options will be of the highest quality. Thankfully, we've done the leg-work (if you'll pardon the pun) for you! We've compiled a list of the brands and makes that have produced high quality wireless earbuds that are specially designed to endure the toughest of workouts.
When you're in possession of a pair of the best headphones, working out will feel even more invigorating. Leave the Apple Airpods at home and get yourself a more durable pair of earbuds perfectly tailored to intense workouts. Keep on reading whilst we detail our top 10 best earbuds to workout in. We will also give you a comprehensive list of important qualities to look out for in the best wireless workout headphones so you can figure out what wireless headphones will best fit your requirements.
Considerations When Choosing Best Wireless Ear Buds for Working Out
Good Sound Quality
This one is fairly obvious! You want good quality wireless headphones that will sound great so that your tunes come out rich and clear and you can enjoy your music the way that your artist intended. However, the most important thing is to have wireless workout headphones that can block out annoying and repetitive noises from the gym, your home workout studio, or outdoors.
If the sound quality isn't quite as high as that of the expensive over ear headphones that you keep at your computer desk, it doesn't matter too much. Good sound quality, a decent volume scope, and maybe some inbuilt noise cancellation will be ideal.You don't need to waste money on the most expensive workout headphones models for the slightly better audio quality, especially since you will only be using them for quite a small chunk of each day.
They Stay In Your Ears
This is extremely important. Since you'll be on the move the whole time you're wearing them, you don't want to invest in headphones or earbuds that will keep slipping off or popping out during strenuous exercise. Leave the over ear headphones in your bedroom. Keep an eye out for earbuds which incorporate a great pair of soft, ergonomic earhooks. These will keep them attached to your ears in a way that is both secure and comfortable.
Additionally, ear tips with vents can help regulate the pressurization between the inside of your ear and the earbuds. This will help them to stay in your ears for long periods of time without dislodging. The best headphones for working out will come with multiple eartip sizes so you can find your perfect fit for your ears. A poorly-fitting eartip is a recipe for discomfort and dislodged earphones.
Wireless Headphones or True Wireless Headphones?
This is entirely up to you as both kinds are equally as suitable for exercise. You can find excellent sport headphones that are both wireless and true wireless.
Wireless headphones will come with a cable connecting the two earbuds. The cable works as a kind of neckband and drapes around you. This cable will often have inbuilt audio controls. Some of these come with handy rubber or metal clips that will hold the cable in place when you are wearing the earbuds. This will stop the wires from bouncing up and down and whacking your head as you run.
True wireless headphones have no connector between them and any audio controllers and on/off switch will be built into the earphone's housing case. The best ones will have multifunctional buttons built in, so you won't have to constantly pull your device out of your pocket when working out.
Water Resistant and Sweat Resistant
The best headphones to workout in to be able to withstand downpours and sweat (and potentially a quick rinse under the tap if the earbuds become end up dirty or covered in sweat). Opt for headphones or earbuds with a mid-to-high IPX rating. IPX is the rating system used to determine how water resistant something is.
A lot of the best sports earbuds have an IPX rating of IPX7, which is ideal as it means they will easily withstand torrential weather or getting dropped in a puddle or shallow pool. This rating of earbuds won't suffer water damage easily, and can withstand submersion up to 1 meter/3 feet for around 30 minutes. However, a lower IPX rating such as IPX5 will be able to survive small splashes of water and sweat.
Consider what kinds of sports activities you will be doing and choose your level of water resistance accordingly.
Battery Life
As you'll be using your sports earbuds when you're out and about (potentially for whole days at a time) you need to look for wireless ear buds that have a great battery life. The best workout headphones will come with around 6+ hours of battery life, which is ideal. Anything extra is a bonus.
Some earbuds will come with a case that can actually recharge the earbuds when you're not using them. If you're planning to be out for a long hike, youmight want to look for something like this.
Top 10 Best wireless earbuds for working out
1. VISSLA S7 Wireless Sport Earbuds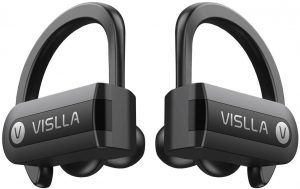 Rather than having a connector between the earbuds, this pair of headphones is completely wireless and free. This is great for those of you who go running with a friend or a partner and want to share your tunes. Keep your joint workouts sounding great with true wireless earbuds!
The VISSLA S7's sound quality is a huge draw. These sports headphones play your MP3s distortion-free and have an excellent clear bass sound. They sit snugly inside your ear which not only stops them from falling out during a run, but also adds an extra noise-cancelling effect. The VISSLA S7 comes with ear tips in a range of sizes so you can find your perfect secure fit.
They are Bluetooth-enabled and connect to your device wirelessly with ease. They're compatible with most Bluetooth-enabled devices including Apple and Android.
Each earbud has buttons that allow you to control playback, so you won't constantly need to whip out your smartphone if you want to skip a song, pause, or alter the volume. You can also take calls with the inbuilt stereo binaural phone call technology.
The VISSLA has a 110 mAh capacity li-ion battery built into each side of the earphone set. This will last you up to 8 hours of battery life on just a single charge. Their carrycase houses a 500mAh charging station, so whenever you're not using them you can keep them fully charged. This is perfect for someone who is likely to be out and about at all hours of the day.
Best Features
Long single-charge battery life (8 hour battery life)
Control playback directly from earbuds
No connector wires
Noise cancelling effect
Carry case is also a charging station
---
2. TBI Power Pro Earbuds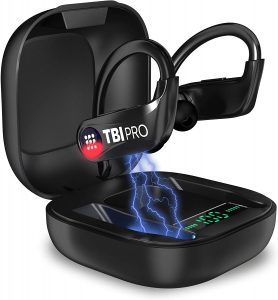 The TBI Power Pro earbuds are totally wireless workout headphones, and they're perfectly suited to outdoor activities thanks to their waterproof capability. They have an IPX7 rating waterproof standard meaning that they're fully sweat resistant and water resistant and can be submerged in up to 3 feet of liquid without suffering damage. Their internal hydrophobic layer of nano-coating adds an extra layer of water protection, so you can run in torrential weather without fear!
These true wireless, cordless, Bluetooth 5.0 sport headphones are sleek, stylish and lightweight. The soft silicone earhook matches the natural curve of the human ear. This will keep them secure over your ears whilst still maintaining maximum comfort.
This headphone set is also perfect for taking phonecalls on the go. Its inbuilt microphone is able to eliminate any back ground static. This helps to cut out any disruptive noise and keep the sound of your voice crystal clear – so you can run and chat on the phone without worrying about your conversation being affected.
The included protective case can provide these earphones with over 50 hours of total backup battery life. A mere 1 hour of charging via USB or 2 hours of charging using the charging case will give your headphones up to 10 hours worth of battery life and playback time. The convenient charge indicator will allow you to keep track of how much charge your headphones have.
Finally, its sound is not to be sniffed at. The specially designed driver has a diameter of 11mm, and is perfectly optimized for a highly accurate, rich reproduction of sound. This sound production system has been expertly crafted by the TBI sound engineers to give you a delicious rich bass, high fidelity and high quality.
Best Features
2 layers of waterproof protection
Sleek, comfortable style
50 hours of backup battery life
static-cancelling microphone
Rich, high-quality sound
---
3. Back Bay American EQ 30 Bluetooth Earbuds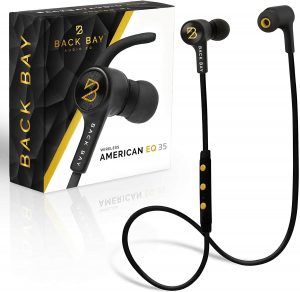 Boston-based Back Bay should definitely be on your radar if you're an audio enthusiast. Their American EQ30 Bluetooth earbuds have a unique audio quality inspired by classic American hi-fi with crisp sounds and a deep booming bass. You really can't find this sound anywhere else in the world!
These wireless headphones have an IPX7 rating and are waterproof up to 3 feet due to their advanced nano-coating, making them the ideal water and sweat resistant headphones for runs in rainy weather or sweaty workouts. Their comfortable over-ear hooks are flexible and will stop the earbuds from becoming dislodged mid-activity. The Back Bay American EQ30 comes with a cable adjuster clip accessory which will stop the connector cable from bouncing around on your neck. These earbuds also come with differently sized ear tips.
The 8 hour battery life is more than enough for anything from a quick yoga session to an all-day hike. The earbuds come with in-built buttons so you can change the volume, skip songs or pause your podcast.
Best Features
IPX7 waterproof
Long battery life (8 hours)
Comes with convenient adjuster clip
Won't dislodge during exercise
---
4. MPOW Flame Workout Earbuds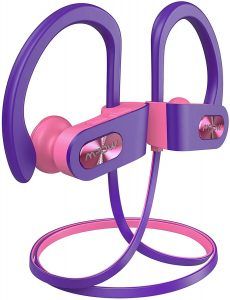 This is a particularly budget-friendly option perfect for runners trying to save some cash. The MPOW Flame has the latest Bluetooth 5.0 inbuilt and can stay connected to two phones or tablets at the same time. This is fantastic for those of us who have multiple phones. Its 11mm drivers, built-in cVc6.0 noise canceling microphones, and chip of SBC & AAC audio make the MPOW Flame's sound quality a force to be reckoned with. This proves that you don't need to spend a fortune for your music to sound great.
The MPOW flame is also IPX7 waterproof with nano-coating making it both weather-proof and sweat resistant. They're ergonomically designed with soft earhooks and memory foam ear tips, so you can have a perfect secure fit. The wire clamp is used to adjust the length of the neckband to keep it comfortable and held firmly in place.
Its polymer lithium battery allows for up to 9 hours of playback time for marathon workouts, and the remaining battery life of the earbuds is displayed directly on your phone. This makes desperately hoping you still have another few hours of battery left in your wireless earbuds a problem of the past.
The MPOW Flame earbuds also come with a handy EVA pouch!
Best Features
Extremely budget-friendly
Secure, comfortable fit
2 layers of waterproof
Stays connected to multiple smartphones
Long battery life (9 hours)
Convenient neckband adjuster clamp
Handy storage pouch
---
5. Boltune Earbuds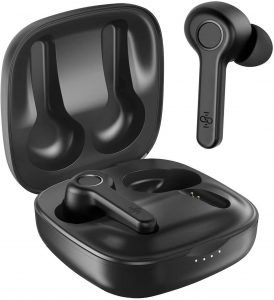 View on Amazon
Another of the best low cost options, the Boltune earbuds stand out due to their super impressive 16 hours of battery life and convenient magnetic design. The earbuds will magnetically connect together which adds the ability to wear the connector wire around your neck when they aren't in your ear. Their design is also remarkably sleek, subtle and stylish.
The Boltune earbuds are manufactured with aptX HD technology to add an uncompromising smoothness to your sound quality. They also come with three equalizer (EQ) settings so you can amplify certain components of the music to suit you. cVc 8.0 noise cancelling tech means that you can accept phone calls in windy outdoor weather and sound clear as day on the other line.
They are water resistant and manufactured with IPX7 waterproof technology, so you won't need to worry about sweat and rainy weather ruining your wireless workout headphones when you leave the house. The multiple included ear tips and ergonomic, comfortable ear hook give them added staying power during intense work outs.
Best Features
High quality HD sound
3 equalizer settings
Noise cancellation technology inbuilt
Extra long playtime battery life (16 hours)
IPX7 waterproof
Convenient magnetic design
Ergonomic earhooks
---
6. Bose SoundSport Earbuds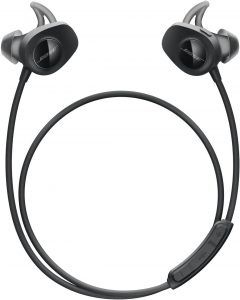 One of our best high-end picks, though don't be put off by the price. Bose is a name any audiophile will want to invest in, and their soundsport wireless headphones are no exception. The uniquely shaped patented StayHear+ ear tips and premium quality sound will take your workout listening as far as it can go. The unique Bose active equalizer will keep your music supremely balanced at any volume, and the earbuds come in four different colors so you can match your sports headphones to your workout gear (or your eyes!).
These wireless earbuds come with NFC pairing enabled. This means that if your device also supports NFC pairing, these workout headphones can connect to the device simply by touching it. This adds a new layer of ease to any workout. The inline mic control allows you to switch tracks and take calls without taking your device out of your pocket.
The clever Bose Connect app is designed especially for the Bose true wireless headphones user, so they can switch between smartphones easily and quickly. You can also use it to update your headphone software so you can use it in conjunction with the Tile app. This will help you locate your earbuds if you lose them. It's perfect for those of us who always misplace our earbuds before we go for a run. Being able to track your earbuds with just one tap of a screen will likely save a lot of pre-workout stress.
Best Features
High quality, perfectly balanced Bose sound
NFC pairing enabled
Switches between devices using the Bose Connect app
Compatible with the Tile app for easy earbud location
4 different colors to pick from
Inline mic controls
---
7. Bose SoundSport Free True Wireless Earbuds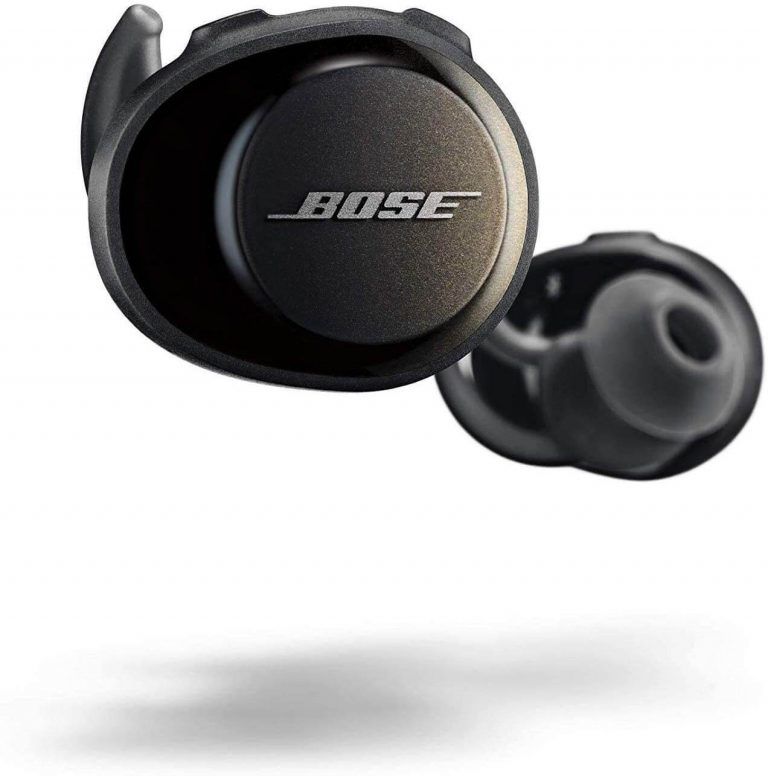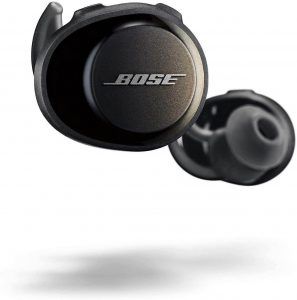 Another high quality pick from renowned headphone experts Bose. With the Bose SoundSport Free you get to do away with the connector entirely. Enjoy full freedom of movement whilst still keeping Bose's best sound quality. These earbuds come with custom digital signal processing and a proprietary acoustic design, which will bring your music to life and deliver a sound free of irritating crackles.
One of our more stylish best picks, it comes in a wide array of colors. The "midnight blue and citron", bright orange, classic black and ultraviolet designs will have you feeling extra sophisticated as you sweat out all the toxins in the gym.
The updated firmware means that these earbuds have improved audio and video syncronization for anyone using an iPhone, iPad or another Bluetooth device that can support AVDTP version 1.3 or later. You can also use the 'Find My Buds' feature to locate lost earbuds!
These true wireless ear buds come with three differently sized pairs of StayHear+ ear tips.
Best Features
True wireless with no connector wire
Custom digital signal processing
Proprietary acoustic design
4 different color options
Improved syncronization performance
'Find My Buds' feature tracks lost earbuds
3 differently sized unique Stay Hear+ ear tips included
---
8. Losei X12 True Wireless Earbuds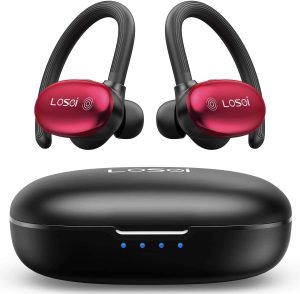 The Losei X12 true wireless is another sturdy ergonomic design especially developed for long workout routines. The vents in the ear tips keep pressure equalized in both sides.
They come with a sturdy recharging box that can hold up to 30 hours of additional battery life so you'll never have to worry about running out of battery on the go. Its Type-C charging port is safer and allows for faster recharging than traditional micro-USB charging ports. Additionally, its charging case comes with a handy, easy-to-read charging indicator so you'll know how much battery you have left when they're in the box.
Multiple usage modes make for a listening experience you can tailor to your needs – listen in stereo mode, mono mode, or sharing mode (so your running partner can enjoy your tunes too).
As they're IPX5 earbuds they're resistant to sweat, and perfect for yoga, running or hiking in the rain, jogging.
The Losei X12 Bluetooth 5.0+EDR has a connection that is faster & more stable that other previous Bluetooth incarnations. It's compatible with most Bluetooth-enabled devices including IOS system, Windows system, Apple Mac and most Android phones.
Best Features
Ear tip vents create optimal pressurization in ears
Charging box holds an extra 30 hours of battery life
Type-C charging port/cable
Multiple listening mode (mono, stereo, sharing)
Case has inbuilt charging indicator
---
9. Axloie True Wireless Bluetooth Earbuds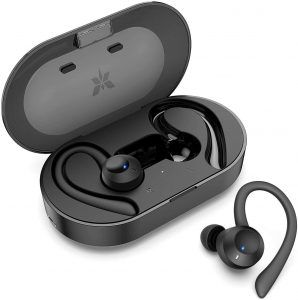 The Axloei True Wireless is another mid-tier priced headphone set specially designed for sports. The ergonomic fit will stay put in your ears even during extreme sports such as rock climbing. Enjoy a wireless workout for hours on end with a recharging earphone case that can provide 6 times the earbuds' original battery life. A quick 15 minutes will give you a whole hour of listening time!
Axloie's unique customized algorithm has the power to improve the bass by up to 30%, which is excellent news for anyone who enjoys a premium bass-heavy sound. It also functions with Bluetooth 5.0 which provides a faster, more stable wireless connection between your smartphone and your earbuds. They will pair automatically with a recently paired device once they're taken out of their charging case, meaning less hassle when you want to quickly get your podcasts going on the go.
Like many of the best workout earbuds the Axloie earbuds are also IPX7 water resistant and therefore suitable for wet weather and sweaty workout activities. Additionally, the one-button easy control means you won't have to fiddle around with multiple controls or your smartphone screen. This one button will fulfill all functions including pausing and playing music, answering and rejecting phonecalls, skipping to the next song and more.
Best Features
Case holds 6x original battery life
Premium bass heavy sound
Pair automatically to previous devices
Full IOX7 water resistance
One-button easy control
---
10. Valear Wireless Earphone
A singular earpiece is perfect for runners and fitness fanatics who want to take phonecalls and listen to background music without shutting out the world around them entirely. This stylish, almost sci-fi inspired true wireless singular earphone is perfect for anyone who wants the best of both worlds when on a fitness kick.
This is the best choice for an athlete looking for an edgy and different device. This shiny metellic shape is ergonomically designed and almost as light as a feather at only 0.3 ounces. It is retractible with a 180-degree adjustment angle, meaning that it can be worn in the left ear or the right ear depending on what best suits you. The Valear also comes with 5 differently sized spare ear tips, so you will always have a perfectly tailored fit for your ear shape.
The headset comes with its own portable carry case to protect it from getting scratched when not in use. It uses Bluetooth 5.0 for a strong, interruption-free connection with a 33ft (10-meter) operating range. It also comes equipped with CSR noise reduction chips and APTX. These ensure maximum signal quality as well as premium sound quality.
The mute button allows you to mute your microphone on a phone call if you don't want others to hear your voice. The headset also includes a one-click activation voice assistant. The Valear is equipped with EDR X audio decoding technology, high volume, bass, as well as high resolution sound to enhance your phone calls and music playlists. The dynamic speakers and ability to cancel out external sound will filter out unwanted noise if you're exercising in a noisy environment (such as the gym).
The earpiece can connect to all Bluetooth-enabled devices including Apple and Android phones and tablets, and can connect to two devices simultaneously, so you won't need to worry about switching between each. It can be left on standby for up to 180 hours and can be used for 7-9 hours per charge.
Best Features
Unique and sleek
Feather light
Equipped with CSR noise reduction and APTX
10-meter Bluetooth range
5 differently-sized ear tips
Connects to 2 devices simultaneously
Longterm standby battery life (180 hours) and up to 9 hours in-use
And there you have it, ten of the best workout headphones available. We hope you find a pair that meets all your exercise needs!