Are you looking to find the best true wireless earbuds under $50? Do you want to spend less on a pair of truly wire-free earphones without it meaning compromising on quality? Are you after a budget-friendly true wireless set that boast an impressive sound quality, a long lasting battery life, and a secure fit?
If this sounds like you then make sure to keep on reading because we have hand-picked ten of the best truly wireless earbuds under $50, each with a detailed product overview and a list of pros and cons. We've also made sure to include a buying guide to help outline which factors you'll want to take into consideration; from battery life to comfort, we have you covered. Following our guide, you'll find our answers to some of the most frequently asked questions when it comes to buying the best true wireless earphones on a budget of less than $50.
But first, let's explain the difference between wireless earbuds and true wireless earbuds. Pakistan News The main distinction between the two is that truly wireless earbuds do not have any form of cable or a physical connector between the two earpieces. Wireless earphones, on the other hand, will still either have a wire connecting the two ears behind your neck or they'll have an over-the-head connecting band. Both are deemed wireless because neither require a headphone jack, however it is only the true wireless earbuds that are, as the name suggests, truly wireless.
Top 10 Best True Wireless Earbuds Under $50
Whether or not your smartphone has a headphone jack, going truly wireless has become increasingly popular in recent years. Practical, compact, and no longer requiring the unnecessary frustration of untangling the wires on your headset, truly wireless earbuds are the best way forward. As more and more models are introduced to the market, each pair come packed with competitive features and a lower price point.
1. TOZO T6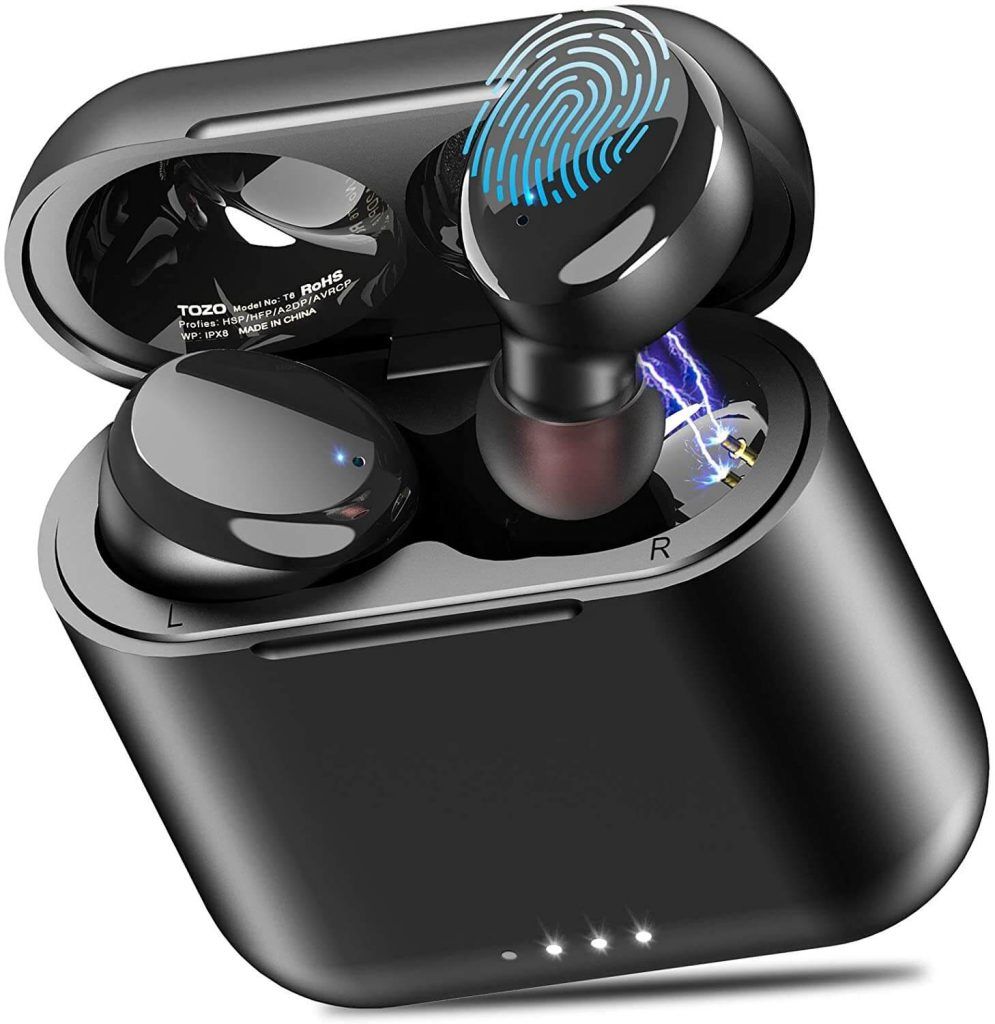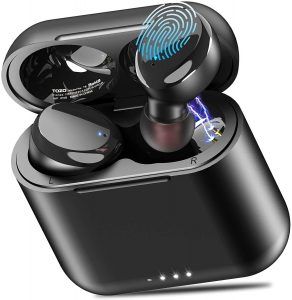 T6 have an IPX8 waterproof rating which makes them ideal for fitness enthusiasts who need a sweat-resistant set of earbuds. Compact, lightweight, and praised for their comfort, the T6 run the latest Bluetooth 5.0 technology to ensure a smooth, balanced connection. Capable of holding up to 6 hours of power after one charge, as well as an additional 24 hours by recharging them in their carrying case, these are a wallet-friendly option which prove that you don't have to spend a large amount of money to get a good quality set.
The T6 are touch controlled, making them more convenient than alternative button-controlled options. The natural Hi-Fi stereo sound quality, paired with the snug-fitting ergonomic design, creates an immersive listening experience. The fact that over 34,000 Amazon users have provided an average rating of 4.5 out of 5 speaks volumes about the quality of the T6.
Best Features
Rated IPX8.
Comfortable, ergonomic design.
Compact and lightweight.
---
2. Anker Soundcore Liberty Neo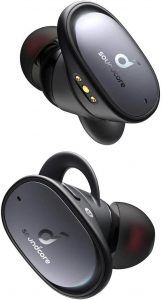 Anker's Soundcore Liberty Neo come with a range of ear tips and different shaped silicone sleeves, allowing the user to not only fit the buds to their ear's contours, but to also create a tight seal which blocks out any unwanted background noise. You can adjust the volume levels, access the playback functions, and make voice calls via the ears. Rated IPX7, the Soundcore Liberty Neo are able to endure intense workouts by being resistant to sweat. This, in combination with their secure fit, makes them ideal for those seeking true wire-free earbuds best suited to exercising.
With 5 hours of standalone battery life, as well as an additional 15 hours supplied by the charging case, these are a practical choice for commuters and gym-goers alike. The holder is charged up via a micro-USB cable and requires only ten minutes of charging to gain a full hour of play-time. Graphene-enhanced drivers provide an envious level of clarity in terms of audio quality and will also deliver an intensified bass. Coming in at under $50, these are an inexpensive option which don't feel or perform like they're cheap.
Best Features
Rated IPX7.
Comfortable wear thanks to the customized fit.
Straightforward to use.
---
3. JLab Go Air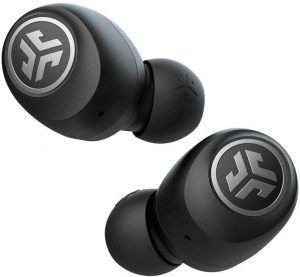 Perfect for those looking for the best cheap pair of exercise-friendly earphones, the JLab Go Air are among our favorites. Available in black, white, blue, and green, you'll be able to choose your favorite color to match your own tastes. The buds fit into their charging case magnetically when you're not using them, topping up with 15 hours of additional battery life while connected inside it. The Go Airs have up to 5 hours of playtime without recharging, making them ideal for wear during workouts or the daily commute.
Included with your purchase are three gel ear caps so that you can ensure a secure fit to your ear, aiding in creating an in-ear seal to enhance the sound quality. The 8mm neodymium drivers deliver a crystal clear sound and you'll be able to choose between the Signature, Balanced and Bass Boost sound modes. A nice bonus feature of this set is that the user can wear both earbuds at the same time or, alternately, to up the battery life one can be placed in the holder to recharge while the other is in use.
Best Features
Great at background noise reduction.
Available in a range of colors.
Good sound quality, especially for bass lovers.
---
4. Purity Truly Wireless Earbuds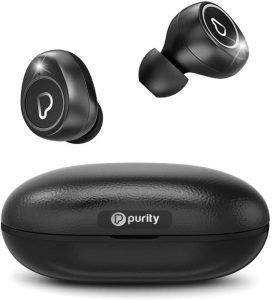 One of the top rated budget sets, Purity's Wire-Free Earbuds come in at well under $50 despite being packed with impressive features. Included with purchase are a number of different sizes of silicone ears, a micro-USB cable, and a compact hinged case. On the case's outside, there are four LEDs which helpfully indicate the charging status and the battery level of the pair. With a battery life of four hours of continuous playtime and up to 10 hours with the holder, stable connectivity using Bluetooth, and ultra-clear sound and call quality, these really are a wallet-friendly option which cover all the functions you could need.
Touch controls allow you to control playback directly through the earpieces and an integrated microphone works to a high standard when making phone calls. The IPX5 rating makes these functional for use when working out, no matter how far you plan on pushing yourself. Averaging 4.4 stars from over 16,000 Amazon users really speaks to the overall popularity of these earpieces among those seeking a cheaper alternative to the more expensive models on the market.
Best Features
Impressive battery life.
Highly affordable price of under $30.
Sweat-resistant.
---
5. Xmythorig Ultimate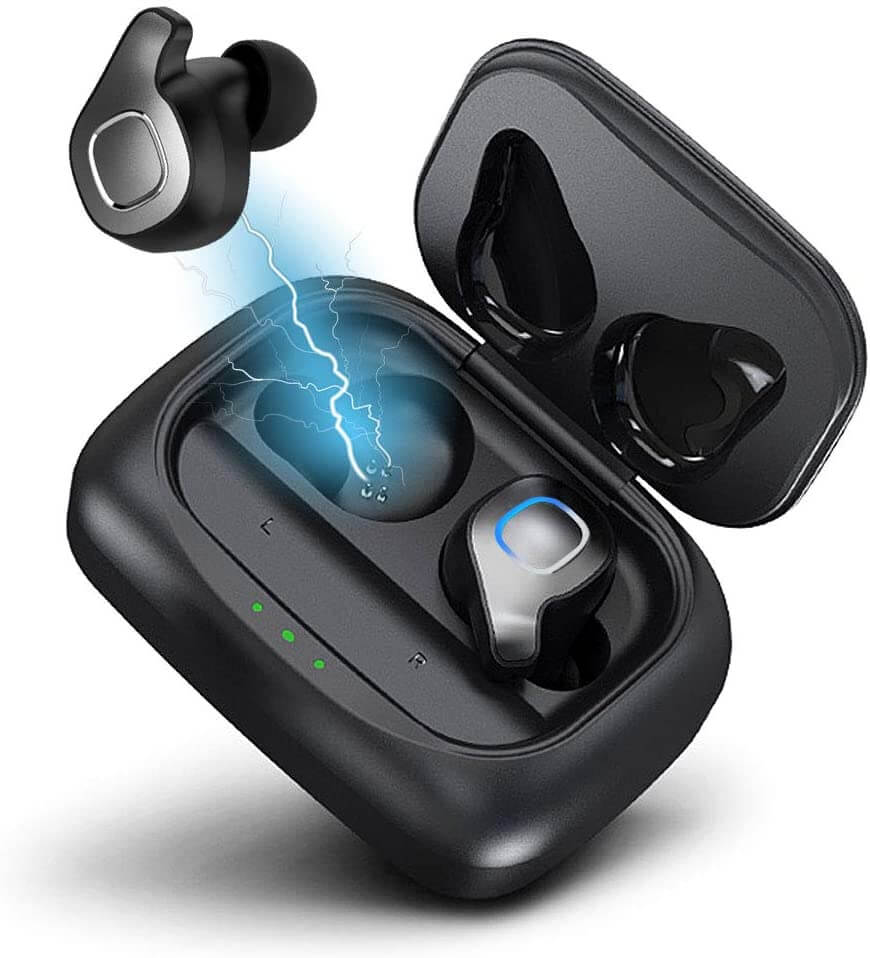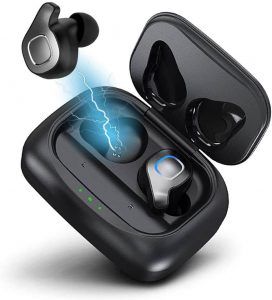 Next up, we have the Xmythorig Ultimate. One of the most impressive features of this set is its case; as well as offering a the ability to top up the battery on your earbuds, it can also act as a power bank for your mobile phone. The holder features an LED display which clearly shows you the amount of battery left by percentage, rather than through simple flashing lights. The battery life itself offers approximately 4-5 hours of continuous playtime and the case charges the Xmythorig Ultimate up an additional 25 times.
Rated IPX7, these earpieces are resistant to sweat and rain and the ergonomically designed snug fit of the buds means the Xmythorig Ultimate will remain firmly in place without the risk of falling out. This set has a noise canceling function which prevents ambient noise from interrupting your audio experience. Users frequently praise the detail of the sound and call quality, as well as the fact they take under an hour to reach a full charge.
Best Features
Feature noise reduction technology.
Impressive bonus recharge feature for phones.
Longevity of battery life.
---
6. DB DEGBIT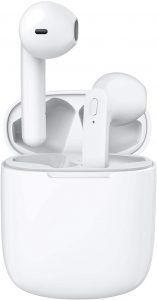 Our sixth pick are the DB DEGBIT Bluetooth Earphones. Budget-friendly with a price tag of under $50, this set boast features you'd expect to see among high-end, high-cost sets. Running the latest Bluetooth 5.0, holding a built-in microphone, and boasting versatile compatibility, these are among the best wireless earbuds for their price point. Designed to be comfortable to wear over a long period of time and capable of providing 4-5 hours of play time after a 1 hour charge and an additional 35 hours of battery life by topping them up using the portable charging case, these are a practical option for general daily usage.
The user simply takes the buds out of the holder to activate automatic pairing. This simple one-step process, twinned with the multi-function control button, means that these DB DEGBIT budget true wireless buds are incredibly easy to operate. You'll be able to decide between listening to your music in one ear, in both ears, or even giving one earbud to your friend to share. With almost 1000 Amazon reviewers giving an average of 4.6 out of 5, these are one of the best cheap sets you'll find.
Best Features
Versatile in terms of compatibility.
Great sound quality.
Highly affordable.
---
7. HolyHigh EA8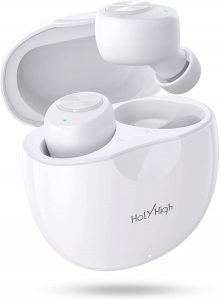 With 4.9 out of 5 stars from over 500 purchasers on Amazon, we had to give the HolyHigh EA8 a shout out. Delivering a rich, authentic sound with a powerful bass performance, these are ideal for listening to your playlists. A single charge will provide 5 hours of continuous listening, as well as an additional 20 hours when using the case. A range of tips and an in-canal ergonomic design make for a secure, comfortable fit even when taking part in the most intense of workouts.
For ease of use, a multi-functional button on each bud covers all audio operations. By running on Bluetooth, the EA8 will automatically pair with each other when they're taken out of the holder – after the initial setup, they will automatically connect to the device they were last paired with. HolyHigh also provide a 1 year warranty, demonstrating their confidence in the quality of the EA8.
Best Features
Excellent sound.
Average of 4.9 from Amazon reviewers.
Easy to operate.
---
8. Clarium Earbuds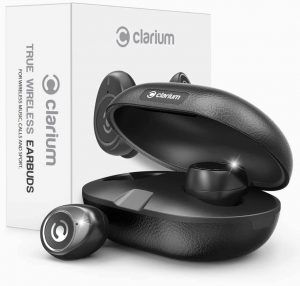 Clarium's Truly Wire-Free Earbuds provide excellent sound quality, great connectivity, and have a reassuring IPX5 water resistance rating. Promising stress-free pairing, these buds will notify you with flashing LED lights when syncing is complete and to indicate the percentage of charge remaining. This earpieces have an overall battery life of 14 hours, 4 of which are from the set themselves, and 10 which coming from recharging via the case.
Offering both a single mode and a dual mode, you'll be able to wear these how it best suits you. Clarium's earbuds have one-touch controls, making it easy to take calls and select your song of choice. Reviews frequently praise the impressive quality of these, describing them as a great value option especially when taking the price tag of under $50 into consideration.
Best Features
Great price-to-value ratio.
Clarium offer a 1 year warranty on this set.
Straightforward, quick pairing process.
---
9. AUKEY EP-T21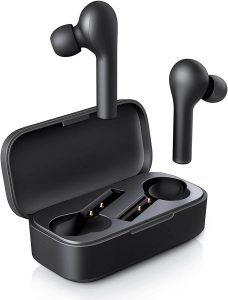 Another pair which prove that a low price tag doesn't have to mean low quality are the AUKEY EP-T21. Their ability to deliver clear, crisp sound is only improved by the range of silicone tips included with purchase which fit to your ear shape to maintain sound isolation. With a battery life of five hours, as well as an extra 30 hours by using the case, the EP-T21 are a practical purchase.
Rated a modest IPX4, these are sweat-proof and splash-proof, making them ideal for general usage and for wearing while exercising. The EP-T21 will support your device's voice-activated assistant so you can choose your audio without ever having to dig your phone out of your pocket. A large proportion of Amazon user reviews note that the microphone allows for clear call quality, while the build quality surpasses expectations when the low price is taken into consideration. All in all, the sleek appearance of the EP-T21 combined with their impressive audio clarity and noise isolation functions make these contenders for some of the best wireless headphones, cheapest or otherwise.
Best Features
Excellent phone call quality.
Good battery life.
Strong connection.
---
10. Mpow M9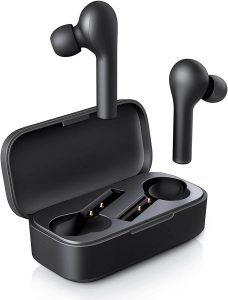 Our last recommendation are Mpow's M9. These earbuds, shaped to look like traditional in-ear earpieces, have small LED lights which illuminate when you've properly placed them into their case. They also feature soft-touch buttons which users praise for being easy to operate; answering and ending calls, playing and pausing music, and adjusting the volume levels are comfortable and intuitive to do.
The clam shell-shaped case has a reliable magnetic closure to ensure it stays closed when storing your M9s. Rated IPX7, these can be worn in the rain and during workouts without having to worry about water damage. The battery life of these earbuds is particularly impressive; with 6 hours of battery after a single charge, an additional 34 hours of recharges from the case, and an enviable 200 hours of standby time, these are among the very best budget options in terms of their batteries. As this pair run on Bluetooth, they're highly versatile by being compatible with all Bluetooth-enabled devices.
Best Features
Excellent battery life.
Intuitive to use.
Comfortable for long periods of use.
Considerations Choosing True Wireless Earbuds
Now that you have a good overview of our top ten best wire-free earbuds under $50, let's take a look at the factors you should bear in mind when choosing the best set for you.
Comfort
You want to be able to wear your earbuds for any length of time without them becoming uncomfortable. Well-designed earbuds should sit comfortably internally while being pressure-free on the outside. As you won't have a wire to prevent your buds from falling to the ground, you want your earbuds to fit securely in your ears. Certain manufacturers will include several silicone tips with your purchase so that you can choose between sizes to optimize their fit to your individual ear shape. Ear cups which are too small won't be able to form an adequate seal against your ear for background noise reduction, while too large won't fit into your ear properly.
Battery life
The activities you plan on using your wire-free earbuds for will be a good indicator of the length of the battery life you'll be requiring. It's good to be aware that most manufacturers will list the battery life as the combined playing time after a single charge and the top-up charges the case provides. As with any product, ensure you read the specifications to ensure they'll be suited to your needs.
Case
One of the most unique characteristics of truly wire-free earbuds is the recharging case they come with. Ideally, it should be both compact and durable to protect your earpieces and to withstand being carried around inside your bag all day. Most cases are charged up by being plugged into either a computer or a wall charger using a USB cable. The total time it takes to charge varies depending on the model but it will generally take around 1-2 hours. The instruction manual which comes with your purchase should outline how to charge your pair.
Controls
How the earpieces are operated will vary between models. Some wire-free earbuds have on-ear controls, while others will require the user to use their phone to control their audio. On-ear controlling can take the form of a button which is physically pressed or, instead, the surface of the earbud can be operated by tapping to activate a specific function. Of course, personal preference will play a big role in selecting the best method of operating for you.
FAQs
We've answered some of the most frequently asked questions which pop up again and again when looking for the best truly wireless affordable buds under $50.
Which true wireless earbuds are worth buying?
All of the above earpieces we have listed for you are, in our opinion, worthy of buying. If you're new to the world of wire-free buds, we'd recommend either Clarium's Truly Wire-Free Earphones or the JLab Go Air as both come in at under $30 while effectively covering all the basic functions you'd expect from a good pair of earphones.
Are truly wireless earbuds worth it?
If you spend a fair amount of time commuting to work each day, if you're an avid gym-goer, or perhaps just a fan of music, then true wireless earphones really are worth it; they'll give you greater freedom of movement, they'll be more compact and portable, and they'll be free from those tangled wires. As their popularity grows, the market is being filled with more and more wire-free models and, consequently, the price tags of each has drastically reduced, making them more affordable and much better value for your money.
What are the best truly wireless earbuds under $50?
Individual tastes will, as you would expect, play an important role in determining which wire-free earbuds are the best. That being said, Anker's Soundcore Liberty Neo prove that inexpensive doesn't necessarily mean cheap. Easy to use and high quality in terms of their sound and performance, these IPX7 rated earpieces do everything you could ever want from a pair of wire-free earbuds. They also come in five different color choices, they have an envious bass thump thanks to their graphene drivers, and they have Anker's GripFit technology to keep them fitting both securely and comfortably in your ears.