Are you wondering whether earbuds are good for running? Are you curious what the best headphones for working out are? Well, this article has all the information you need!
Whether you're an experienced marathon runner, or are just getting into seriously exercising, using the right earbuds can make so much difference. If you're tired of getting tangled up in cables, then wireless Bluetooth earbuds can keep your training stress free! They're light-weight, discreet, and won't interfere with your activities. No matter your running style, you're sure to find the best pair of running earbuds to suit your requirements.
With so many options on the market this year, it can be hard to know where to start. If you're unsure what style, shape, or extra features will suit you best, then our handy guide has all the information you need. Our list of the top ten best earbuds for runners has a great selection of options to suit any audio requirement, and our useful buyer's tips will provide you with all the right details.
If you've got any extra questions, scroll to the bottom for the answers to some key FAQs!
Top 10 Wireless Earbuds for Running
1. Bose SoundSport Wireless Earbuds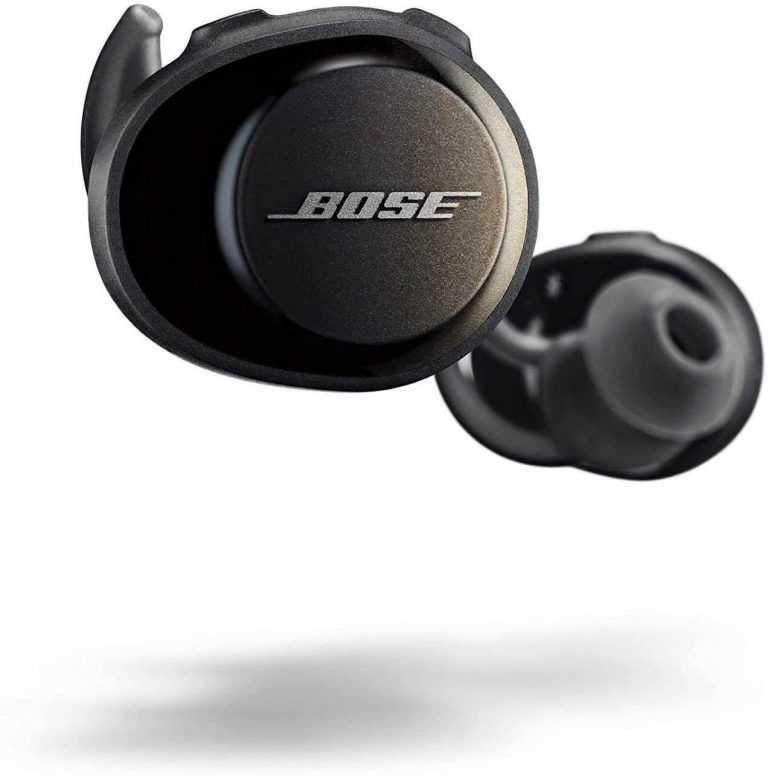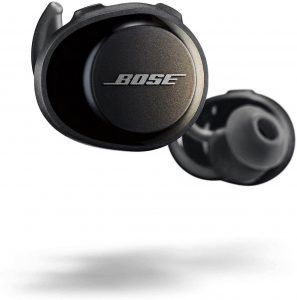 Our first pick of the best headphones for workouts is the Bose SoundSport Wireless Earbuds. They do come at a slightly more premium cost, but they really deliver excellent sound and build quality.
Bluetooth 4.2 and NFC pairing with your smartphone is quick and simple, with the choice to use handy voice prompts for fast activation. The active EQ technology ensures you receive balanced audio at every volume, and with six hours of battery life you'll even be sure to have an excellent experience on your longer runs.
The earbuds are wired together, but with 30ft of scope they don't require a cable connection to your smartphone. This way, you can enjoy all the benefits of wireless units, whilst the handy cord keeps your two earbuds safe together. The innovative Bose Connect app allows you to effortlessly switch between connected devices, so you can start your run quickly and easily.
The Bose SoundSport earbuds also deliver high quality comfort. The soft StayHear tips and built-in fins ensure a snug and long-lasting fit. With 3 different size options, you'll be able to customize your earbuds to your individual preferences. The useful in-line controls and microphone mean you can even adjust your audio and take calls without touching your cell phone.
A one year warranty will put your mind at ease, whilst a handy carry case and IPX4 sweat and water protection keeps everything safe.
Best Features
Consistent, high quality sound.
Several reviews praise the incredibly comfortable design.
---
2. Arbily Wireless Earbuds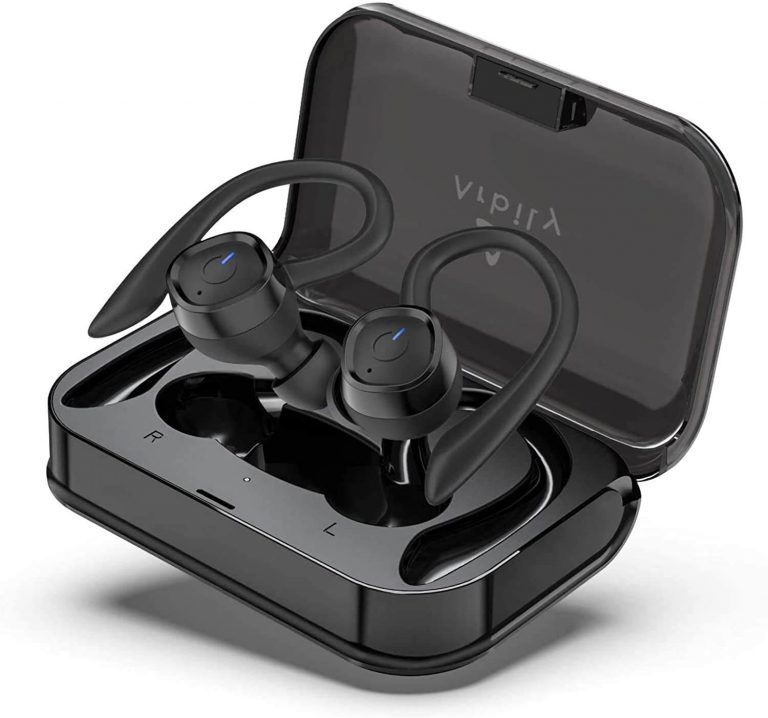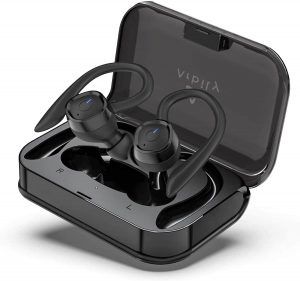 Our second pair of the best working out headphones is the Arbily Bluetooth Earbuds. They deliver rich bass and a dynamic sound signature, and even have noise isolating technology so that you can enjoy a great run distraction free.
The advanced Bluetooth 5.0 chip ensures fast pairing straight out of the case. With 30ft of range, nothing will restrict you as you run outdoors or in the gym. The great 5 hour battery life and impressive IPX7 water resistance means you won't have to cut your run short due to weather or low charge, either.
These completely wire free earbuds mean you won't have to worry about extra cords and cables, and soft hooks ensure a secure fit while you exercise. A built-in mic and control buttons let you take calls on the go, while stereo and mono listening modes allow you to customize your audio experience.
The addition of a handy case that gives you an extra 55 hours of power makes the Arbily headphones a really convenient pick.
Best Features
Water resistant to grade IPX7.
Powerful charging case.
---
3. MPOW Flame Lite True Wireless Earbuds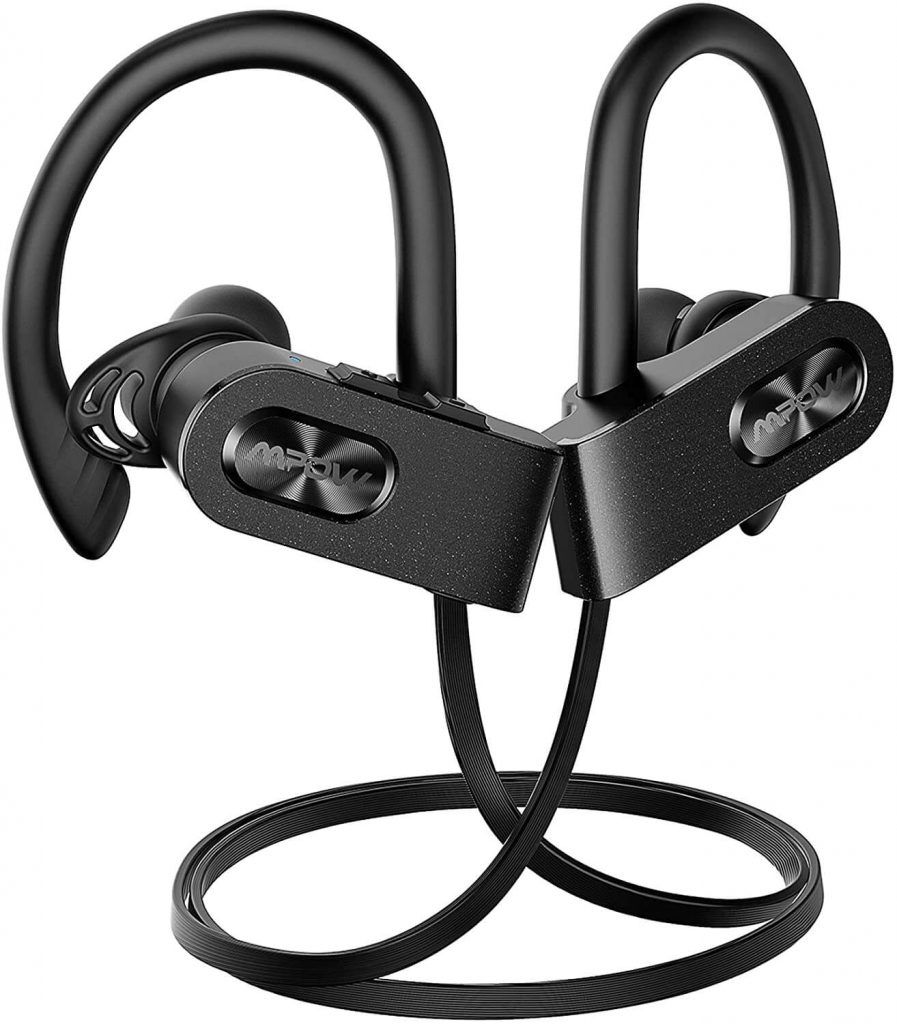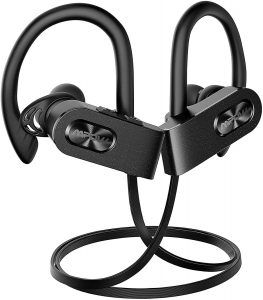 Our third option is from MPOW, and is the Flame Lite wireless earphones. This affordable unit boasts enviable 14.2mm dynamic drivers which deliver a powerful sound signature to get you through any exercise session.
These workout earbuds offer mono and stereo modes, so you can adapt your listening experience to any environment. The immersive sound is enhanced by the advanced Bluetooth 5.0 chip with SBC and AAC audio codecs for low latency, crisp sound. With effortless one-step pairing, excellent audio is only ever seconds away.
20 ft of Bluetooth scope and 5 hours of battery life means you'll be able to enjoy running for miles without any restrictions. When you need to power up, the compact USB-C case delivers an extra 30 hours of playtime, while keeping your buds safe. An additional IPX7 water resistant coating means you won't have to worry about getting caught in the rain.
The multi-function touch controls and built in microphone makes these MPOW earbuds very convenient. The soft silicon ear tips and hooks ensure a comfortable and secure fit that locks into place with a gentle twist. A generous 2 year warranty will put your mind at ease, too.
Best Features
Excellent warranty coverage.
SBC and AAC codecs to boost your audio.
---
4. Iporachx True Wireless Earbuds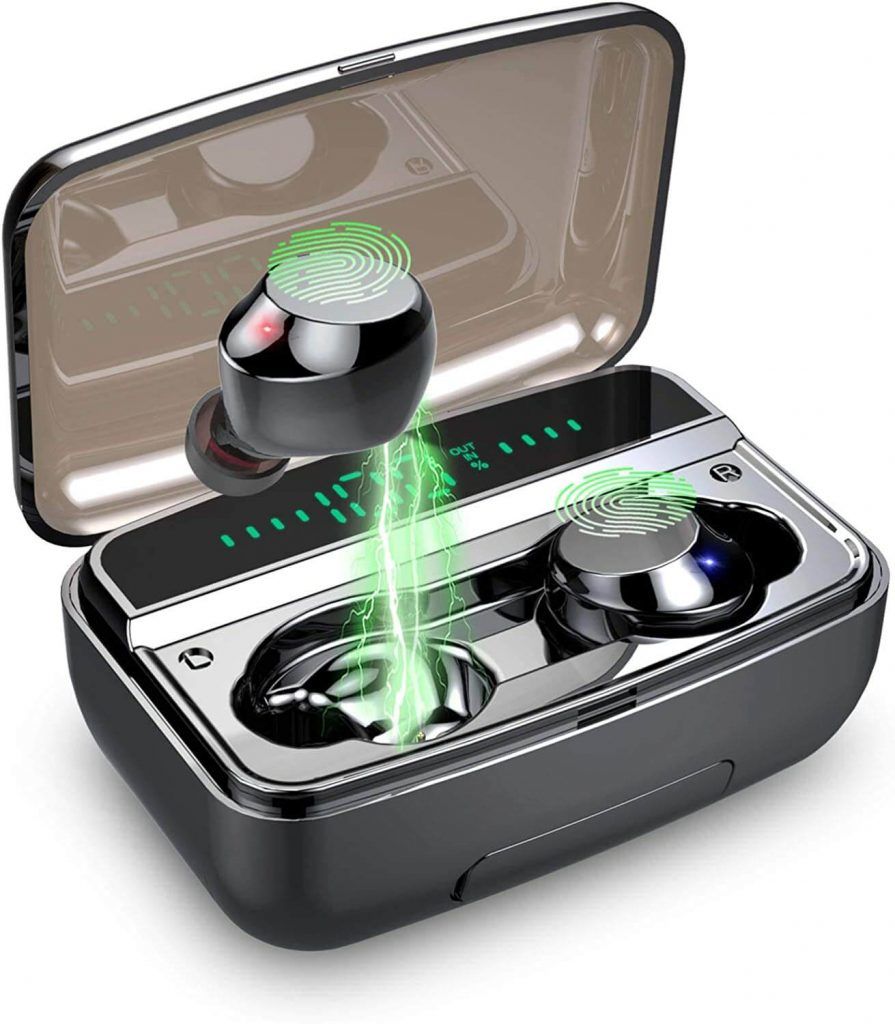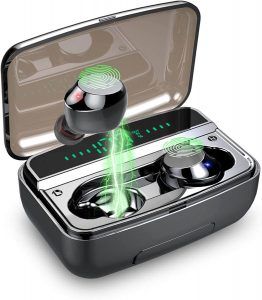 Our fourth selection of the best wireless running earbuds are from Iporachx. They offer Bluetooth 5.1 and Enhanced Data Rate technology for fast and stable audio transmission in any environment.
If you tend to work out in noisier areas, these earbuds are an ideal choice. With CVC 8.0 noise cancelling capabilities and high fidelity sound, you'll be able to exercise without a single distraction. A 35ft wireless scope and impressive 10 hours of battery life means you won't have to press pause on your run too soon.
The excellent charging case delivers an additional 30 hours of playtime for charging on the go, and even has an LED display to show you how much power you have left. An IPX7 nano-coating ensures you're always protected, whether you're running outside or sweating in the gym. The 18 month warranty means you won't have to worry about wear and tear, either.
Iporachx also boasts comfortable and convenient design. One step pairing and touch controls ensure your workout gets off to a great start. The lightweight construction, variety of ear tip sizes, and silicone hooks will provide a gentle but reliable fit.
Best Features
Great sound features to minimize distractions.
Premium charger case.
---
5. Boltune Bluetooth Headphones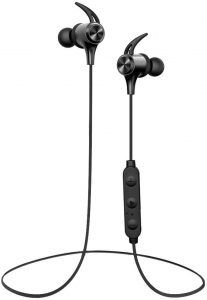 Our fifth pick is the Bluetooth Head Phones from Boltune. These very affordable earphones boast excellent audio features, which makes them one of the best options on our list for music lovers.
10mm drivers and CVC 8.0 ambient noise cancelling capabilities ensure a clear, high fidelity sound profile. 3 separate equalizer modes allow you to adjust your music to your preferences, with bass, treble, and normal modes to optimize your experience. You can also choose between mono and stereo listening modes, so the possibilities are truly endless.
Bluetooth 5.0 support and aptX HD codecs mean that latency won't be an issue. 33ft of wireless scope and an incredible 16 hours of battery will give you all the freedom you need, too. A single charge of just 5 minutes gives you 2 hours of playtime, which is excellent for listeners with an on-the-go lifestyle.
You won't compromise on comfort, either. 3 sizes of silicon ear tips and in-line controls ensure great convenience. The buds are wired together, but don't require wired connection to your phone, and they incorporate a unique travel pouch and in-built magnetic clip to keep everything together. An additional noise cancelling mic will also deliver high definition calls in any environment.
Best Features
Incredible audio options to suit any preference.
Excellent battery life.
---
6. APEKX Sport True Wireless Headphones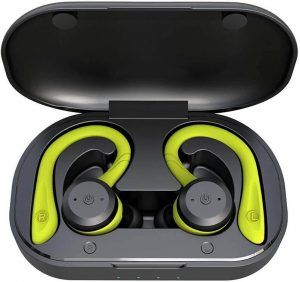 Our sixth selection of the best workout earbuds is the APEKX Sport True Wireless Headphones. This excellent unit offers true wireless charging, and supports Bluetooth 5 and Enhanced Data Rate software with up to 2 devices simultaneously.
With one step pairing, you'll be able to instantly enjoy the deep bass, mono and stereo modes. You won't need to use a single USB cable, and the built-in microphone and button controls make this a truly convenient item. A respectable five hours of battery life and 33ft range won't restrict you at all. Easily recharge with the handy case, too.
The product comes with 2 pairs of ear caps and 2 kinds of ear hooks, so you can truly create the most comfortable fit possible. The APEKX Sport earbuds are water and sweat resistant to IPX grade 7, and a 1 year warranty provides extra protection.
Best Features
Excellent connectivity options.
Customizable fit.
---
7. Motast True Wireless Earbuds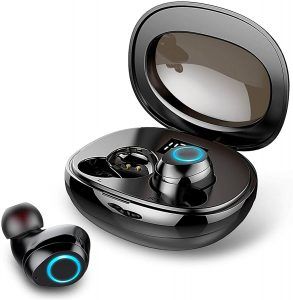 Our next choice is the wireless earphones from Mostat. They deliver an excellent 10 hours of battery life, and with ergonomic silicon memory gel ear hook design, you'll be able to listen in comfort throughout your workout and beyond.
Powerful drivers deliver high fidelity sound, which is enhanced by the BT 5.1 connectivity that reduces skips and latency. Approximately 30ft of scope means you won't be restricted as you exercise, and convenient button controls means you can adjust your audio without touching your smartphone at all. You can even interact with your voice assistant and answer phone calls with the excellent in-built mic.
These Mostat earbuds are water and sweat resistant to IPX grade 7, and are also incredibly lightweight, which makes them perfect for wearing on the go. You can even charge them throughout the day too, with the handy case that includes an extra 30 hours of charge, and an LED screen for displaying your power levels.
An additional 18 months warranty means that wear and tear won't be a problem.
Best Features
Great connectivity.
Light-weight and comfortable fit.
---
8. Aznze True Wireless Earbuds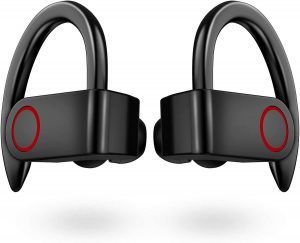 The eight product is the most affordable on our list, but still delivers excellent specifications which will enhance your experience. With IPX8 grade water resistance, these earbuds will be able to keep up with you in all conditions.
For such an accessible cost, Aznze delivers great sound quality. Bluetooth 5 guarantees high fidelity, low latency audio, whilst CVC 8.0 noise cancellation ensures you can enjoy your favorite songs distraction free. The choice between mono and stereo listening modes is a great addition, and with up to 10 hours of battery life, nothing will slow you down.
These true wireless ear buds boast 33ft of scope, and with smart touch controls you'll be able to enjoy your whole run without having to use your phone. You can even answer calls on the go with the built-in mic, making the Aznze earbuds a truly versatile choice.
3 pairs of ear tips and flexible hooks will make sure you have a secure fit, and a soft travel pouch will keep your buds safe when they're not in use. A generous 18 month warranty and 45 day money back guarantee will put you at ease, too.
Best Features
Very accessible price point.
Generous warranty.
---
9. HolyHigh Wireless Headphones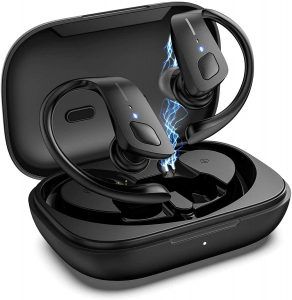 Our penultimate pick is the true wireless headphones from HolyHigh. They offer excellent Bluetooth 5 support for up to 33ft, so you won't be restricted by any cords for the entire 5 hours of battery life.
With 3 different ear tip sizes, and soft hooks to fit the contours of your ears, you're sure to find a comfortable fit for long term use. Button controls make it incredibly easy to adjust your audio while running, so you won't have to pause your workout to switch tracks. A handy microphone means you can even take phone calls or activate your voice assistant, too.
With the choice between stereo and mono modes, you can even customize your listening experience. One-step pairing means you'll be able to easily connect and play your favorite songs, to get your workout off to a great start. They're an excellent choice for on the go, as the IPX7 coating ensures they're water and sweat resistant, and the compact charging case delivers an extra 30 hours of playtime.
To ensure your tech is fully protected, an 18 month warranty has you covered.
Best Features
Very convenient option.
Powerful charger case.
---
10. PowerPro Sport Bluetooth Headphones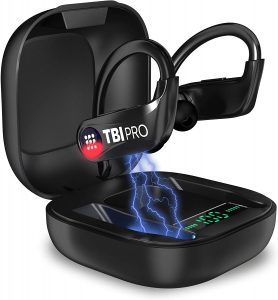 Our final choice is the Sport Bluetooth Head Phones from PowerPro. They boast incredible Bluetooth 5 support for up to 100ft, so you'll be able to focus on your workout without worrying about poor signal.
PowerPro also deliver excellent sound quality. With noise reduction capabilities and the choice between mono and stereo modes, you'll be able to adjust your audio to your preferences, and won't have to worry about being disturbed as you exercise. The 11mm drivers guarantee powerful, bass heavy tunes that will help to get you through the toughest workouts.
These truly wireless earphones won't restrict you at all, and also deliver an excellent ten hours of battery life with a single charge. If you need to charge on the go, the excellent charger case can deliver 50 total hours of playtime, so losing power won't be an issue.
The high quality design also ensures great functionality, making the PowerPro Sport an excellent pair of running headphones. 3 sizes of ear tips and soft silicon hooks will ensure your earphones stay snug and secure even while exercising, and IPX7 protection means that sweat or rain won't be a problem. Multi-function button controls make it easy to change tracks or volume levels while exercising, and a built-in microphone means you won't miss a single call.
PowerPro also offer a great 1 year warranty, so you can be confident that your earbuds will be protected.
Best Features
Powerful and customizable audio.
Excellent BT Scope.
Considerations When Choosing True Wireless Earbuds for Running
Whether you're a keen marathon runner looking to upgrade your running headphones, or are just starting out and want a good pair of wireless earphones to get you through a session, there are several things you'll need to consider before you make a decision. Here are a few key factors to help you choose the best pair for you:
Battery Life
Battery life is one of the most important aspects to consider when you're looking for a good pair of wireless running earbuds. The best pairs will last long enough to deliver excellent audio during your entire run, and will even have some power left for your morning commute.
If you're looking for a pair of earbuds to support you through a marathon, or simply don't want to lose power on the trails, it's always a good idea to opt for audio products with a slightly longer battery life, so that you won't get caught out. No one wants to put a pause on their workout due to low battery.
If you're a casual runner, or only want to use your running earbuds for short workouts, then products that deliver around five hours of playtime should function well. However, if you enjoy long distance running, or want your wireless earphones to last all day, then some units will deliver ten hours of audio and beyond, and won't cut out mid workout.
Ultimately, the best running headphones for you will be the ones that fit in with your lifestyle, so look for a battery capacity that will have all your needs covered.
Size and Weight
Another factor that's particularly important for running headphones is size and weight. Having to stop your run to adjust uncomfortable or heavy earbuds can really affect the quality of your workout, and make it harder to reach your fitness goals.
The best earbuds for going running will be lightweight and comfortable, so that they don't interfere with your movements at all. Truly wireless earbuds can be really useful for runners, as they don't have extra components that you'll have to adjust on the go.
In order to be as streamlined as possible, look for lightweight units that won't weigh you down. Some of the earbuds on our list weigh as little as 0.2 oz per bud, while still delivering powerful audio to motivate you while on the trails. Heavier earbuds can put more strain on your ears and are more likely to fall out as you move, so opt for lighter models to reduce the amount of time you'll have to stop and adjust.
You also need to ensure you'll be as comfortable as possible throughout your workout, so it's important to choose earbud sizes that suit your individual ear canals. The majority of items come with soft silicon ear caps in a variety of sizes, which allow you to truly customize your earbuds for the most secure fit. You may also want to consider more compact units, as they'll create less air resistance as you move, and won't affect your exercise.
Taking the time to find a pair of earbuds with a good weight and shape will really boost your running experience. A great pair of earbuds will be hardly noticeable on your ears.
Sound Quality
When you're looking for a new pair of headphones to get you through a tough workout, you'll want to ensure they deliver powerful sound quality to motivate you towards your goals.
Always look for models with powerful drivers, which will deliver rich, clear audio in all environments. Some items even have different listening modes to allow you to adjust music to your own preferences, and this is especially useful if you enjoy punchy, bass heavy tracks.
When you're using wireless ear buds, you'll also want to minimize the amount of audio latency, which can cause skips or delays. Selecting units with aptX HD codes in addition to BT support will really reduce the risk of latency, and ensure a clear, stable connection in all conditions.
Finally, you may also want to consider earbuds with a variety of listening modes. A choice of stereo and mono modes is the most common, and can really enhance your experience. If you enjoy running outside, but want to stay aware while crossing busy roads, being able to quickly switch to mono mode will help you to stay safe without pressing pause on your favorite tunes.
Selecting a pair of wireless buds that guarantee excellent audio quality will help you power through any workout, and will ensure you get the most use out of your purchase, too.
Extra Features
When you're trying to find the best running headphones for you, ensure you consider what special features are on offer. This way, you'll make sure you've found a great pair of earbuds to suit all of your needs. Some things to consider are:
Active Noise Cancellation
If you struggle with ambient noise, or simply want to minimize distractions, noise isolation technology is a great feature to have. CVC 8.0 active noise cancellation will provide the best noise reduction, but many designs will offer other forms of ambient noise cancellation that work just as well.
Charging Cases
If you have an on-the-go lifestyle, or depend on good battery life, a charger case is an excellent addition. It will help keep your earbuds safe, while also ensure they're constantly powered up. Some cases even support true wireless charging, and have LED displays to make sure you know how much power you have left.
Water and Sweat Resistant Coatings
No matter if you want to use your earbuds to work out or not, a good sweat resistant coating will ensure your earbuds stay securely in your ears as you move. IPX5 is a good baseline, but if you need more protection, grade IPX7 and up will ensure your earbuds are water resistant and protected. Dust protection is a good idea too.
Adjustable Ear Tips and Hooks
Even if your earbuds deliver premium audio quality, if they're uncomfortable to wear, you simply won't use them. Models with a selection of ear tip and hook sizes allow you to customize your earbuds for a more secure fit. If your earbuds are too loose, you risk them falling out and getting lost, and products that are too tight will strain your ears. Being able to adjust your earphones will stop them from interfering with your training.
FAQs
1. Can you exercise with AirPods?
You can definitely exercise with Apple AirPods, and for many users, AirPods are their earbuds of choice. They're water resistant to grade IPX4, so they have good sweat resistance and water protection. With a choice between the original AirPods and the AirPods Pro, you can decide between a harder earbud, or one with adjustable silicon caps.
With Active Ambient Sound Cancellation and adaptive EQ, they deliver great audio quality for music lovers. Touch controls and a sleek charger case make them very convenient too.
As always, ensure you choose a pair of earbuds that fit you well for the best running experience. Apple AirPods don't come with hooks, and only the AirPods Pro models have customizable silicon ear tips, which is something to keep in mind.
2. Are earbuds good for runners?
Wireless earphones are a very good choice for runners and gym lovers alike, for several reasons.
Firstly, they're often very lightweight, with many units weighing less than an ounce. Bluetooth earphones have minimal or no wires at all, so you won't be weighed down as you move. Despite their small sizes, many models deliver excellent audio quality, so you can enjoy your favorite tracks for hours without anything restricting you.
Earbuds are also very convenient for use while running. Many have built-in touch or button controls, and some even have microphones so you won't miss a single call. They're usually water resistant to at least grade IPX4, and often come with handy charger cases for use on the go.
Overall, earbuds are an excellent choice for running, and with so many styles to fit every audio, shape, and design requirement, you're sure to find something that works for you.
3. How can I keep my earbuds secure while running?
Earbuds are so compact and lightweight that they're excellent for use while running. However, because they're so tiny, some users may feel concerned that they'll fall out and get lost while on the trails. Most units are designed to fit securely inside your ear canal, so they shouldn't be able to fall out very easily. However, if you're still unsure, there are a few things you can do to ensure the best ear fit possible.
Firstly, making sure your earbuds are water and sweat resistant will ensure they aren't able to slide out of your ears as you move. This will also keep them safe if you enjoy running outdoors.
Next, opt for earbuds that come with several tip sizes, so you can really choose the best ear fit for you. Choosing models with built-in hooks, or purchasing some separately, is also a great way to keep your earphones secure. They gently grip the contours of your ears, to lock your earbuds in place for your whole exercise session.
Finally, take the time to insert your earbuds correctly, to reduce the likelihood of them starting to shift. Gently press the ear tip into your canal, and twist it lightly back and forth to lock it in place. You can even pull gently on your earlobe while pushing on the bud, to ensure that it's as snug as possible, and won't fall out easily.
The best running headphones for you will be barely noticeable as you exercise.