In the last few years, more and more people have made the transition to wireless earbuds. It's hardly surprising; they're compact, easily portable and far more convenient than being restricted by a wire. While the plethora of options on the market is ideal, it can also be overwhelming. That's why we've curated our top picks of 2021's top 10 best wireless earbuds.
But first, what does 'true wireless' mean? This simply means your choice of headphones require no wires and instead depend on Bluetooth. These offer unparalleled freedom of movement, making them incredibly convenient and therefore popular!
Based on extensive product research and customer reviews, we've considered a variety of factors such as sound quality, waterproofing, noise cancellation, design and more, to bring you the definitive guide of which to buy. We'll take you through out top 10, a round-up of the key features you as a buyer should look out for, and we've even answered some FAQ's to finish off. Whether you're after a pair for exercising, work calls or playing your tunes, we're sure to have the best true wireless earbuds for you.
Top 10 Best True Wireless Earbuds
First up is an overview of our top 10 wireless earbuds so you can make an informed purchase. No one pair meets everyone's needs, so we've included a handy pros and cons list for each of our recommendations.
1. Samsung Galaxy Buds+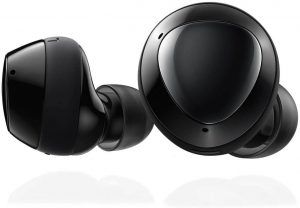 The premium version of the original Samsung Galaxy Buds (see no. 9), these Buds Plus true wireless earbuds are ideal for everyone, but particularly music lovers. With sound by AKG, a two-way speaker system and a boosted driver, the treble and bass on these earbuds is brilliant. Without doubt, these provide premium sound and, therefore, a premium audio performance.
For those looking to take calls, long gone are the days of muffled voices, shouting down the phone against irritating background noise. Instead, the 3-mic system, comprised of 1 Inner Mic and 2 Outer Microphones, ensures high clarity calls. This system enhances the speaker's voice by blocking out any distracting background/surrounding sounds. And coupled with a long-lasting battery, you needn't worry about your wireless earbuds cancelling on you during a busy day. These wireless earbuds provide up to 11 hours of charge alone, or over 22 hours with the Samsung Galaxy charging case. Better yet, fast charging makes life convenient if you're on the go. For example, around 3 minutes of charge will give you 1 hours playback time. The Galaxy charging case is included with your purchase, however you can also charge these on any Qi compatible wireless charger or if you're a Samsung Galaxy smartphone user, grab some spare power straight from your phone.
Design-wise, these come in four colour ways – Black, White, Blue or Red – making them stylish as well as practical. In fact, Samsung have prioritised ergonomics in the design of the ear tips and wing tips so that your pair will fit comfortably in your ears for long periods of time. Moreover, with iOS and Android compatibility, these buds' bluetooth is highly compatible with most smartphones, tablets and even PC's. Our only issue with the design is that at 6.3g an Earbud, there are definitely more light-weight options available. Nevertheless, considering the battery capacity and quality sound system, their marginally heavier weight is well justified.
A unique feature to the Samsung Galaxy Buds is the Ambient Aware setting. Basically, this setting allows users to manage how much surrounding noise they want to hear. This feature is perfect for those out running or walking along busy streets, preventing any dangerous situations going unnoticed. It is worth noting that even without Ambient Aware, the Galaxy Buds do not provide Active Noise Cancellation so for those wanting a completely immersive experience, these may not be the best for you.
Overall, these are incredible true wireless earbuds, which are certainly versatile for a wide-range of users and uses.
To sum up –
Best Features
2-way dynamic speaker system
Ambient Aware2 Setting
22 hours charge (with charging case)
Can be controlled from your smartphone, smartwatch, tablet or even your Alexa
3 built-in microphones (2 outer mics, 1 inner mic)
---
2. Boltune Bluetooth V5.0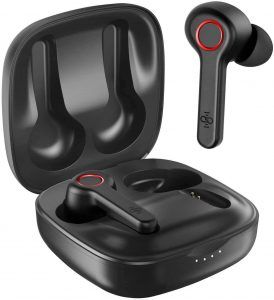 Priced at less than $40, these are a truly affordable pair of wireless earbuds. If you're on a budget or investing in your first pair, the Boltune earbuds are definitely our most affordable recommendation.
Unlike the Galaxy Buds+, the Boltune V5.0 wireless earbuds weigh in at just under 5g, making them incredibly lightweight. Moreover their clever design means they're compact too, making them highly portable and perfect for on-the-go. Design-wise these are rather simplistic. They only come in one finish – matte-black – but this does make them versatile and stylish. Practicality wise, the button control on each earbud allows users to adjust volume easily and quickly. The rubber-based ear tip and varying sized tips included, provides a secure fit for most ears; this ensures they don't slip out but also that they achieve a decent level of sound isolation.
For the price, this pair provide an excellent sound experience. However, they can overpower certain mid frequencies. They also come fitted with a mic, meaning you can easily take calls or send voicenotes if necessary.
The definite selling point of the Boltune earbuds is their Bluetooth 5.0 technology, which provides incredible connection for a wide range of gadgets. This is particularly ideal for those using their wireless earbuds whilst out and about as you won't have to risk losing connection in lower signal areas. Moreover, the IPX8 (yes eight!) waterproofing makes this pair incredibly practical for exercise-lovers who may battle against the elements.
Compared to other pairs, these have a fairly low listening time at only six hours. As well, the charging time can be fairly slow. Nevertheless, the charging case does provide an additional 30 hours of music playback before they would need to be plugged in again.
To sum up –
Best Features
Highly waterproof – IPX8 Level
Lightweight and compact
Bluetooth 5 technology
Budget-friendly price point
---
3. TOZO T6 True Wireless Earbuds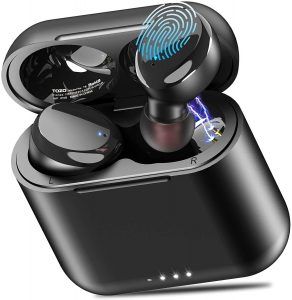 The TOZO T6 true wireless earbuds strike the balance between affordable and high-quality. With a classy black design, soft tips and a slim body, these prioritise style and usability. In fact, the TOZO T6 come with 3 different size rubber tips. Well-fitted ear tips are essential for ensuring your earbuds achieve maximum sound quality and muffle background sound. It also means those using their earbuds for exercising won't have to worry about the risk of them falling out their ears! Moreover, their IPX8 level is impressive, meaning worry not if you're someone who sweats a lot! In fact, you could even wear these in the shower if you really wanted to. We also were a fan of the Touch Controls, which is more convenient and sleeker than button controlled earbuds.
Unfortunately the TOZO wireless earbuds do not have a long battery life, only around 5 hours. However, for those using them intermittently throughout the day this is more than enough battery life. Just remember to pop them back in their charging case when they're not in use. Moreover, the TOZO's have Qi wireless charging meaning they can be charged on any Qi-enabled charger. This is a feature that not all earbuds have, especially not at such an affordable price, so it is definitely a game-changer.
For what they lack in battery life, they certainly gain in the quality of sound and connectivity. The Bluetooth 5.0 tech and Hi-Fi Stereo Sound means these wireless earbuds do not compromise where it matters. Some users report have initial connection problems, in particular with their iPhones. However, this seems to be a short-term issue that is very easily resolved. Ultimately, if you want an affordable pair that pack a punch for music listening, these are definitely your pair.
To sum up –
Best Features
Bluetooth 5 tech
Waterproof – IPX8
Hi-Fi Stereo Sound
Touch Controlled
---
4. Bose SoundSport Wireless Earbuds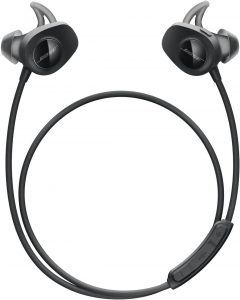 Unlike any of our other recommendations so far the SoundSport Wireless Earbuds were designed with sport in mind (the clues in the name!)
When exercising, a secure fit is imperative. That's why we were so impressed with the multiple sized ear-tips available, the rubber wings that hook onto your outer ear and even a handy neck cable. With the Bose SoundSport buds, you definitely do not need to worry about the risk of your earbuds falling out. Lightweight too, Bose has prioritised comfort when designing this pair. Moreover, their IPX4 rating means this pair is also reasonably sweat and weather resistant, which is essential for sport-use.
Bose is, of course, well regarded for the sound quality of its headphones. And these wireless earbuds are no exception. Users report excellent quality of sound which means you can get easily immersed in your favorite album as you run the streets or cycle rocky pathways. However, if you're after complete noise blockage, this pair do not provide ANC. Personally, we think no ANC is a safer option for those exercising so you can remain aware and vigilant.
Bose also provide a handy companion app – Connect App – which alongside the earbuds NFC Pairing, means you can easily connect (and switch) between your devices. The App also works in conjunction with Tile so you can easily locate your wireless earphones if you ever lose them.
This pair have up to six hours battery life, which is significantly less than others on the market. However, in terms of exercising, it is more than enough battery life to get you through a workout or even a day-long hike. You'll just have to charge them a couple times a week so you're not caught short. Nonetheless, given their expensive price-point (around $130), it is hardly surprising that some wish they boasted a longer battery life.
Ultimately the Bose SoundSport have a specific target audience, but we think they're versatile enough to also serve commuters or those after a pair for travelling.
To sum up –
Best Features
Designed for exercise – good sweat resistance
Up to six hours battery life
Companion App and NFC Pairing
Easy-to-use remote for controlling sound, music and calls
---
5. TOZO NC9 Hybrid True Wireless Earbuds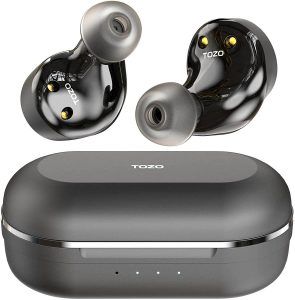 The TOZO NC9 are our first pick which feature Active Noise Cancellation. Indeed, it features incredibly clever mic technology to do so. The outward and inward-facing microphones help detect external and internal sounds, which is then countered with anti-noise. This works to allow you to have a more immersive sound experience if you're playing songs or watching films. Indeed, the 9.2mm speakers also improve their sound performance. ANC also isolates and, therefore, improves the clarity of your voice if using the wireless earphones to make a call.
However, the TOZO NC9 True Wireless Earbuds also come well equipped with 'Transparent Mode'. In short, this feature allows you to let in outside sound when necessary, i.e. if you were on a train or at a road-crossing.
The TOZO NC9's boast over 8 hours battery life from one single charge, as well as an additional 24 hours when in their charging case. The ability to wirelessly charge is incredibly convenient, particularly for days where you'll be using your earbuds for long stretches of time. Yet, some users have reported experiencing slightly lower hours of battery life than TOZO advertise.
Like some of our other recommendations, these wireless earbuds come with advanced Bluetooth 5.0. The one-step bluetooth connecting process also facilitates quick and convenient connectivity between your wireless earphones and your device. This is especially convenient if you want to grab and use while you're on the go, saving you the hassle from the, often, cumbersome bluetooth connecting processes of other devices.
From a design perspective, the TOZO NC9 have a sleek black design with gel silicone ear tips. The easy Touch Controlled sensors also make for a convenient customer experience, allowing you to easily perform desired functions. Furthermore, we were impressed by their relatively high IPX6, which makes them great for exercising or low-levels of water.
To sum up –
Best Features
Active Noise Cancellation
Transparency Mode
Portable charging case
One-step bluetooth pairing
IPX6
---
6. Boltune Bluetooth V5.1 Earbuds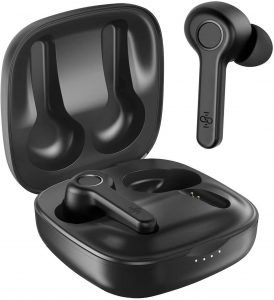 The Boltune Bluetooth V5.1 Earbuds are the slightly more advanced pair of our their V5 counterparts (see No. 2). Without doubt, the Boltune's selling point is their supreme sound quality. With built-in Qualcomm audio and high fidelity drivers, these wireless earbuds boast an excellent sound experience. Moreover, the cVc 8.0 ANC tech is ideal for those wishing to use their wireless headphones for taking calls; it works to block out noise in the background and emphasise your speaking, which improves call quality.
In addition, the Boltune Bluetooth V5.1's have around 7 hours battery life but can boast up to 42 hours when placed in the compact charging case. Even better, these have extremely fast charging; a quick 10-minutes of power can provide around 1 hours worth of playtime.
Like some of our other picks, the Boltune V5.1 come with Touch Control. However, what makes these different is the Smart Pause feature. Smart Pause means your music will automatically pause when you remove an earbud.
Protective-wise, these boast IPX8 Waterproof Protection as well as an 18-month warranty. With such a long warranty, you can easily get them fixed if anything were to break or fail. These Boltune wireless earbuds also have an ergonomic design, with 3 different sized eartips to cater to a variety of ear canals. As previously mentioned, a securer fit makes them more comfortable to wear and ensures better audio performance.
Ultimately, these make our top 10 due to their superior sound technology which creates an excellent user-experience.
To sum up –
Best Features
Touch Controls
IPX8
Pocket-sized charging case
Fast charging power
Excellent audio quality due to Qualcomm tech
Superb noise cancellation
---
7. Skullcandy Sesh True Wireless Earbuds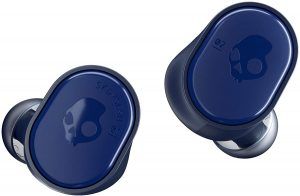 The Skullcandy Sesh True Wireless Earbuds are also a fantastic option for those on a budget. Yet, these wireless earbuds do not compromise on functionality or design.
The Skullcandy Sesh come in three different colourways – Indigo Blue, Black or Moab Red. So if style is a priority to you, rest assured these will not fail you. Moreover, with a lightweight and compact design, these not only look good but feel great when in-ear. Unlike some of our previous options, these wireless earbuds offer push button control, which while less technologically advanced, can be far simpler and fail-safe. Our only criticism is that some individuals have found that the pressured needed to operate the button, can uncomfortably force the earbuds further into the inner ears. Nevertheless, you can also easily manage the earbuds via your mobile so there are certainly other controlling options.
From an ergonomic perspective, these earbuds offer three different sized eartips so they are suitable for a range of people. In addition, the IPX rating of 5 means these are sweat and dust resistant – perfect for commuters or exercise regulars! Furthermore, with around 10 hours battery life, we were fairly impressed with how long-lasting this pair were. Combined with an easily portable charging case, they are unlikely to run out of battery quickly!
Unsurprisingly, these Skullcandy earbuds boast excellent sound, especially for those who enjoy bass-heavy songs. Great audio at such a low-price can be a rare find, so we were impressed with these earbuds. However, despite boasting Bluetooth 5, some buyers did report poor connection when using their Skullcandy's for prolonged periods outdoors. This certainly wasn't a widespread problem but its worth bearing in mind if you're main use will be exercising or commuting. Nonetheless, if you're looking for the best wireless earbuds for enjoying your music indoors, these are a great buy. Also, with a built in mic, you could easily use your Sesh True Wireless Earbuds to take and make phonecalls.
To sum up –
Best Features
10 hours battery life
Lightweight
Ergonomic design
Excellent sound quality
---
8. Monster Wireless Earbuds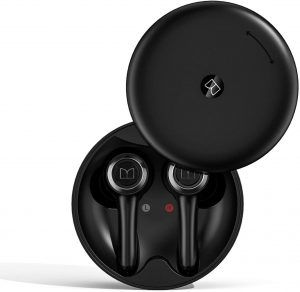 The Monster 102 Airlinks are a mid-priced earbuds which do not disappoint.
Designed in the US, these wireless earbuds boast a fantastic sound system as a result of their digital audio processor and high-fidelity drivers. You will be able to enjoy your favourite records in high clarity and at high volume with these earbuds. Some people report being particularly impressed with the bass quality on these wireless earbuds and the lack of distortion. The Bluetooth 5.0 also ensures these earbuds have consistent wireless connectivity which won't fail you.
The built-in dual microphone means the Monster Wireless earbuds can also conveniently be used for phonecalls. However, some customers have reported difficulties with this functionality. So if you're looking for the best wireless earbuds for work, these perhaps aren't the pair for you.
We were particularly impressed with the ergonomic design of these true wireless earbuds. The gel-soft silicone eartips, which also come in multiple sizes, means these earbuds provide a secure and comfortable fit. Not only does this keep your ears comfortable, but a better fit leads to better audio performance too! We liked the Multi-Function Button controls that allows you to simply and easily manage the earbuds without your phone.
Moreover, the IPX5-rated protection means these earbuds are protected against light amounts of water and sweat, making them perfect for sports or general outdoors.
With users in mind, these earbuds also have around 11 hours battery life, and up to 44 hours with the compact charging case. Moreover, their short charging time is an attractive feature; 5 minute of power can provide around 1 hours worth of playtime.
To sum up –
Best Features
Ergonomic gel soft silicone tips
Bluetooth 5
Multi-Function Button Touch Controls
Long-lasting battery; up to 44 hours of battery life with charging case
---
9. Galaxy Buds True Wireless Earbuds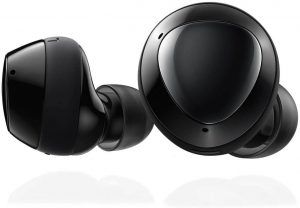 The Galaxy Buds True Wireless Earbuds are the younger sister to the Buds+ at our Number 1. This pair might be cheaper but they don't compromise on functionality, which is why we think they're a worthy member of our Top 10 True Wireless Earbuds.
Unlike their premium counterpart, these are only available in Black. However, they retain the sleek, stylish and ergonomic design typical of all Samsung products. The main stylistic difference is their finish; the buds have a matte finish whilst the Buds+ have a glossier finish. Ultimately, a matter of taste. Don't be fooled though, these wireless earbuds are still incredibly ergonomically designed. We were most impressed with the adjustable eartips and wing tips; Samsung offer three different sizes for both, which means these wireless earbuds are incredibly versatile and cater for the majority. Moreover, the battery life, while not quite the battery life of the Buds+, remains incredibly long-lasting. They provide around six hours of playback, or up to 13 hours in total when using the charging case. Our only real criticism of their practicality is the rather low IPX2 rating; this means they have quite low water and sweat resistance. It's a real shame that Samsung didn't opt for a higher IPX given other budget wireless earbuds do so. Nonetheless, these will still work well for commuting and exercising, you just will have to be careful overexposing them to sweat or water.
For working professionals, these wireless earbuds are a cut above the rest. With an adaptive dual microphone, which controls audio from the inner and outer microphone, these earbuds improve call quality.
Again, we were impressed with Ambient Aware. In Quick Ambient Mode, you can easily adjust your wireless earbuds so you can hear external sound, like traffic or announcements. This feature is not only convenient but prioritises customer safety.
Both Buds have premium sound quality by AKG. The only difference is the Buds+ have an additional speaker which slightly improves the quality of sound. Nonetheless, this distinction is marginal so if price is your main deciding factor, the standard Buds will still provide excellent audio quality.
To sum up –
Best Features
Ambient Noise Feature
Premium sound by AKG
Adaptive dual microphone
Three adjustable sized eartip and wingtip
Long battery life; 13 hours battery life with charging case
---
10. SONY WF-XB700 Extra Bass Wireless Earbuds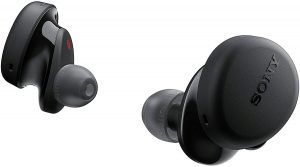 The Sony WF-XB700 true wireless earbuds are our final pick. At around $130, these are slightly more expensive but they deliver.
Design-wise, they have a sleek modern look that comes in two colours – black or blue. They are slightly larger than others on the market, but their design means they provide a far securer fit that creates a tight seal around the ear canal. Moreover, the range of eartips provided by Sony means individuals can craft a more personal fit.
As we said these wireless earbuds can appear slightly clunky, but, in fact, their large design means they also hold a larger battery. As such, these offer around nine hours on a single charge as well as an additional nine (18 hours in total) with the charging case. As such, the Sony WF's sit only just behind the Samsung Buds.
However, where these are more practical than the Samsung Buds is their higher Waterproof protection (IPX4), which means you can feel slightly more safe in the level of protection afforded!
The button touch controlled system is simple and easy to use; with a quick click, you can skip songs, pause, play and change the volume. Indeed, you can even active voice assistant or take phonecalls from the device's button system.
As part of Sony's Extra Bass series, the Sony WF-XB700 provide great sound quality, particularly on the bass. For loud music lovers, these are therefore perfect. Our only real qualm was that the focus on the bass has meant the midrange sound does suffer. In effect all this means is that when watching videos, such as on YouTube or Netflix, the audio can be slightly quieter than desired. Ultimately, this is hardly a dealbreaker but its worth bearing in mind depending on what your main usage will be. The Bluetooth on these is also consistent and stable; customers' only criticism was that there's no multipoint connectivity i.e., you can't easily switch between multiple devices without disconnecting. Again, it's not a dealbreaker, but it can be inconvenient.
Ultimately, with great sound, good connectivity and long battery life, there's not much more you can ask from Sony.
To sum up –
Best Features
IPX4 Water Resistant
18 hours battery life with charging case)
Extra Bass
Ergonomic design; equipped with varying sized-earbuds
Considerations When Choosing the Best Wireless Earbuds
Across our round up of our top 10 best wireless earbuds, there were 5 key features that were consistent across all the above mentioned products. Below, we'll help explain what these features are, why they're important and if/when you need to prioritise certain functions. Hopefully this will also help you understand why our top 10 picks truly are the best wireless earbuds available on the market!
Water Resistant and Sweat Resistant
IPX (International Protection) rating indicates the extent of waterproofing your device provides. Put simply, the higher the IPX, the more protected your wireless earbuds are. It's important for your choice to be water resistant and/or sweat resistant if you're hoping to utilise your true wireless earphones for exercising, commuting or just general exposure to the elements. Clearly, the level of sweat or water resistance rating you need is dependent on the individual and what their main usage will be.
Our recommendations here range from IPX2 all the way up to IPX8. A low IPX rated pair can still be exposed to the elements, they're just slightly more vulnerable.
Bluetooth
Clearly with the focus on being truly wireless, bluetooth connectivity is an important consideration.
The Bluetooth 5 tech is the most popular amongst 2021's recommendations, and has drastic improvements on previous Bluetooth tech. One great aspect is the new Bluetooth 5 uses less energy and therefore extends your device's battery span. However, its most important improvement is that its faster and has a greater range of coverage. For example, Bluetooth 5 can transfer data at around 2 Mbps – almost double the previous version! It can also now cover distances of around 800 feet, which means patchy wireless signal will no longer be a problem.
One aspect to consider is whether you want your wireless headphones to have multi-point connectivity, i.e. they can be easily connected/ switched between multiple devices. This isn't essential for many, but a quick and simple pairing process can be handy and make life more convenient if you want to use your wireless headphones with your phone, tablet or PC.
Battery Life
You'll likely want to use your wireless buds while you're out and about, so battery life is important. Our recommendations all come with a wireless charging case which means they can be charged on the go so you're never caught short; simply pop them in their charging case while they're not being used. This is especially ideal for those doing long commutes or if you're out on a long hike. Simply pop
The Galaxy Buds Plus last the longest at around 11 hours, but any wireless headphones that hold around 6 hours battery life will be suitable for the average user.
Sound Quality
An obvious consideration, but an important one. Regardless of how you plan to use your wireless earphones, you want good sound quality, especially if you're paying a high price.
You need headphones that have high quality speakers, microphones and a degree of inbuilt noise cancellation. For example, if you plan to use your wireless earphones for phonecalls, ANC is particularly important for reducing distracting background sound which would both distract you and muffle your voice for others on the line.
Clearly, if you're not planning on using your wireless headphones for taking phonecalls, then don't waste your money on investing in ones with lots of microphones and as much noise cancellation. Similarly, if your priority is listening to your favorite records, invest in headphones with an excellent speaker system and an overall high quality audio system.
It's worth noting that the better the quality of sound, the higher the price. It can be tempting to sacrifice on audio quality when you're on a budget, but if there was any consideration to not scrimp on it would definitely be sound quality.
FAQs
If you're still feeling undecided or uncertain about which are the best for you, don't worry. Below we've answered our top 3 FAQ to clarify any remaining concerns or queries.
What are the best wireless earbuds 2021?
All of our top picks are, in our opinion, worthy of the status as best wireless earbuds in 2021. Really which ones are best for you depends on what you are hoping to utilise them for, and therefore what you need to prioritise. As well, price is a factor for many, so your price budget will also determine which are the best for you. If you're a professional, we'd recommend the Samsung Wireless Buds or Galaxy Buds Plus. If ANC is your priority, then the TOZO NC9 Wireless Hybrids are the best choice for you. For a good first-time and budget option, the Boltune V5.0 or TOZO T6 are your best choice.
What are the best wireless earbuds for sound quality?
Sound quality is quite broad, and so it really depends on what sound you're listening to, i.e. a phone call, a video or your favorite tunes.
For music aficionados, there are a few options.
The SONY WF-XB700 are great for those who want powerful bass but don't quite deliver when it comes to more midrange sound like a YouTube Video. For overall music listening, the Boltune V5.1 have the best sound; the Qualcomm audio and high fidelity drivers create, in our opinion, an all-round excellent sound experience.
On the other hand, if you're after high quality sound for phonecalls, the Galaxy Buds (Plus) are the best buy. They have a degree of inbuilt noise cancellation, operated via three-way mic and speaker system, which makes for high quality calls.
Luckily all our recommendations have very good audio quality, so it really depends on individual wants and needs as to which are best for you specifically.
What are the most comfortable wireless earbuds?
Comfort is always a priority, especially when you're wearing wireless earbuds for long stretches of times. There a few aspects that affect how comfortable your choice of wireless earphones will be.
We would recommend choosing wireless earbuds which come with multiple size eartips and wingtip so you can create a more personal fit. Moreover, the material is of importance. We were impressed with Monster's gel-soft silicone tips, which create both a secure and non-irritating fit.
It is also worth considering how the control system will affect your levels of comfort. As mentioned, some customers experienced discomfort with the button touch controls on the Skullcandy Sesh headphones. Therefore, some individuals may find a touch control system to be more comfortable.
With everyone being so individual, it's really very difficult to suggest which wireless earbuds are the most comfortable. What we can do, and hopefully have done, is outline the factors you should consider that make for a comfortable fit.