There's nothing like a pair of open ear (sometimes known as open-back) headphones to give you audiophiles that premium music listening experience. The over-ear, open design allows you to immerse yourself in your audio as if you're at a great party or a concert. However, as this particular headphone style doesn't close itself around the ear, it allows some sound to leak out and stops you from being totally isolated from the world around you (unlike closed-back headphones). It's as if you're listening to music on a hi-fi, on the go! If you consider yourself an audio aficionado or a connoisseur of concerts, you'll have to invest in a solid pair of open-ear headphones for your listening adventures.
"But wait," I hear you cry, "How do I know which pair of open-ear headphones is the best for me?!"
We understand it's a huge dilemma in the age of internet purchases. When you're looking to buy yourself a brand new product, how do you know which brands to invest in? How do you know which options to avoid? This is exactly why we're here.
Thankfully we have compiled a pristine list of the best open-back headphones you can buy in 2021. We've got headphones to suit your every whim and budget, so whether you're looking to save some cash or looking to splurge we'll have you covered. We will also go into detail about the key things to consider when buying your first pair of open ear/open-back headphones and answer a few Frequently Asked Questions.
Keep on scrolling to see our top 15 open ear headphone picks!
Top 5 Best Over the Ear Headphones of 2021
1. AfterShokz Aeropex Open-back Headphones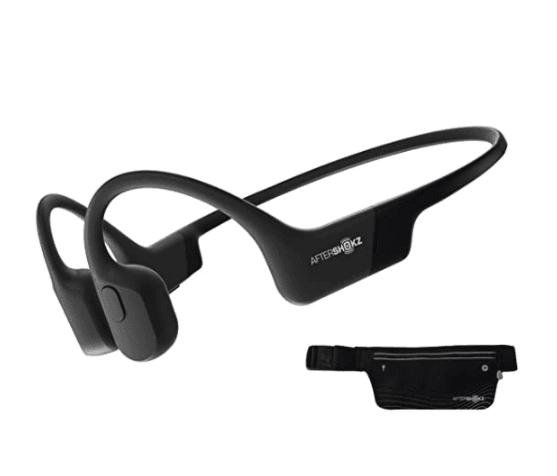 Connectivity: Wireless
If you're in the market for a great pair of wireless running headphones, these AfterShokz Aeropex headphones are guaranteed to impress. You can run, cycle, or hit the gym while enjoying your favorite tunes with Bluetooth connectivity, multipoint pairing, and high-quality sound definition.
The Aeropex headphones by AfterShokz use bone conduction technology that's built into the neck design to conduct sound through your cheekbones. This leaves your ears open to ambient sound, ensuring you remain aware of what's going on around you while delivering an exceptional listening experience.
These headphones feature a new and improved organic wraparound design that's 20% lighter than previous models. This means you can wear them comfortably all day long. They offer a premium audio experience with rich bass and dynamic audio range, which you can enjoy for up to six hours with a single charge.
Best features
Bone conduction technology
Organic, lightweight wraparound design
---
2. Sony NWWS413LM Headphones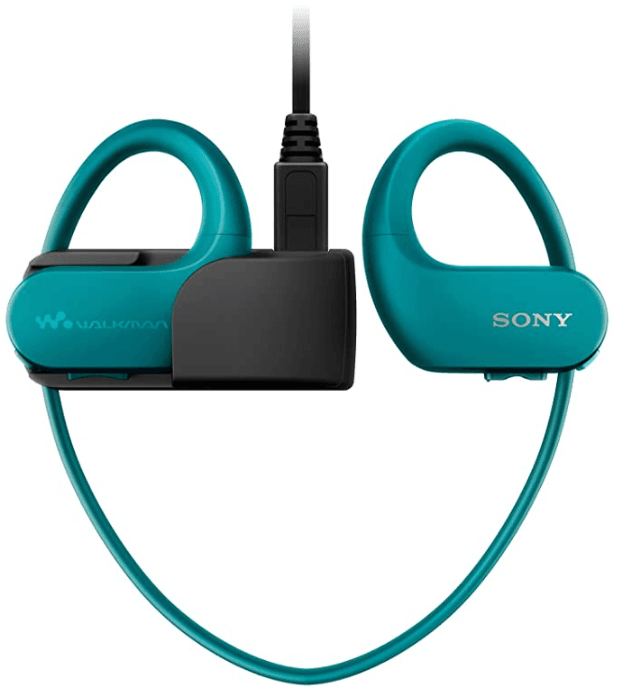 Connectivity: Wireless
If you're looking for the best open-back headphones, then look no further than the Sony NWWS413LM. Offering an ergonomic build, great sound quality, and an affordable price point – if you're a fitness lover or just enjoy casual listening, you can't go wrong with these open headphones.
One of the most important features you'll want from a pair of headphones, especially if you're planning to use them while exercising, is comfort. These Sony NWWS413LM wireless headphones certainly deliver on comfort and so much more. They're ergonomically designed for all-day comfort and feature an ambient noise function to ensure you can stay in touch with your surroundings, even as you jam out to your favorite tunes.
Another great feature that makes these open-back headphones stand out from the crowd is that they're waterproof. They can be used underwater for up to two meters, and are completely sweat and dust resistant – making them the ideal choice for listening sessions while running, cycling, or at the gym. What's more, they have an average battery life of 12 hours, so you can enjoy non-stop listening, all day.
If you're looking for the best open-back earphones that offer well-balanced sound and detailed sound frequency range at an affordable price tag – you won't be disappointed with the Sony NWWS413LM wireless headphones.
Best features
Ergonomic design for optimal comfort
Excellent frequency range
---
3. NuraLoop Open-back Wireless Earbuds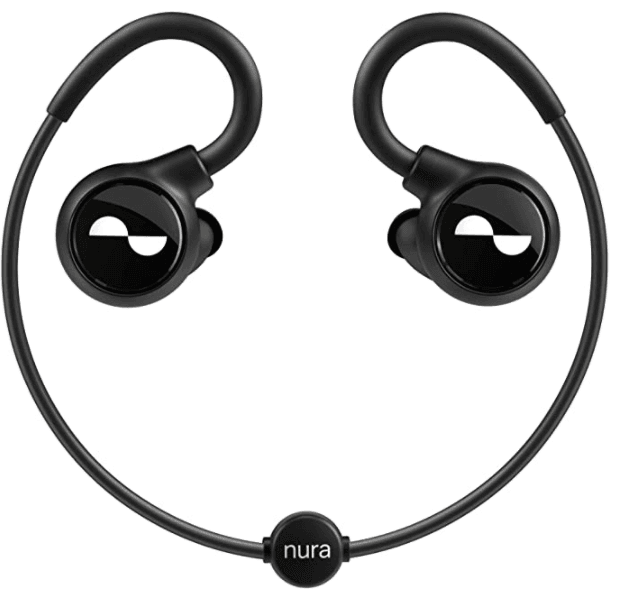 Connectivity: Wireless
These NuraLoop open-back wireless earbuds are some of the best open-back headphones on the market. They come at a slightly higher price point than other products on this list. That being said, the slightly higher price reflects their superior sound experience and build quality.
If you're looking for a pair of open-back earbuds to use while doing sport or relaxing, these audiophile headphones will impress music lovers everywhere. Offering active noise cancellation and personalized sound that learns and adapts to your hearing, you can tailor your sound experience to suit your needs.
Another great feature of these headphones you'll love is their immersive bass. You can set your immersion level via the Nura app to enjoy exceptional bass without losing out on sound quality. What's more, you can listen all day, with up to 16 hours of battery life and two hours of playback from just 10 minutes charge!
Whether you're a hip hop fan, a jazz enthusiast, or a metalhead – you'll love the comfort, quality, and style of these NuraLoop open-back headphones.
Best features
Personalized sound for a unique listening experience
Immersive bass
---
4. Powerbeats Pro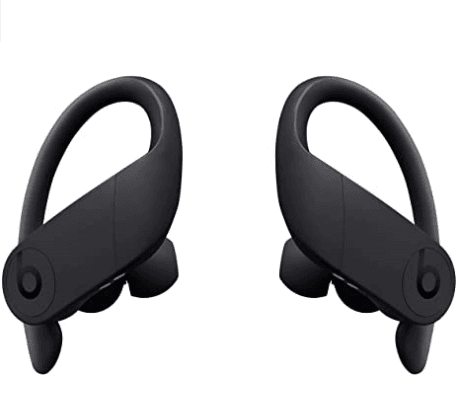 Connectivity: Wireless
If you're in the market for a pair of open-back headphones then you can't go wrong with Powerbeats Pro from Beats. These totally wireless headphones offer a stylish design, solid build, and exceptional audio performance.
Beats are a household name when it comes to headphones. So it was only a matter of time before they came out with one of the best pairs or open-back earphones on the market! The Powerbeats Pro offers lightweight comfort and stability with adjustable ear-hooks. They're sweat and water-resistant for guaranteed protection whether you're hitting the gym or running outside.
Each earbud provides up to nine hours of listening time, so you can enjoy long periods of uninterrupted listening. What's more, just plug them in to charge for five minutes and get 1.5 hours of listening time! Each earbud also features full volume and track controls, so you can conveniently change songs and volume without your device.
Another great feature offered by this pair of open-back earphones is audio sharing. You and a friend can enjoy the same song, movie, or podcast when two pairs of Beats headphones or Apple Airpods are paired with the same iPhone. If you're in the market for comfortable headphones that offer sound isolation, excellent audio quality, and plenty of battery life – look no further than Powerbeats Pro.
Best Features
Lightweight design with fully adjustable ear hooks
Audio sharing for simultaneous listening on multiple devices
---
5. Aftershokz Trekz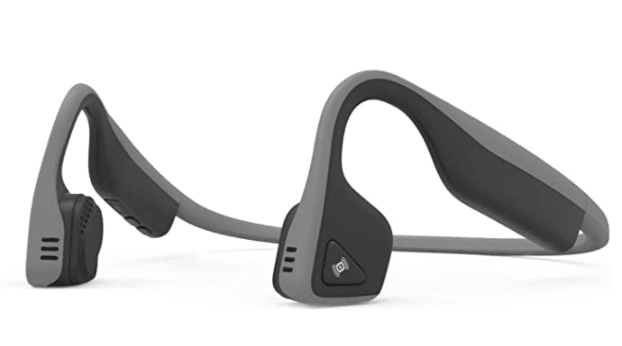 Connectivity: Wireless
Aftershokz Trekz open-back wireless headphones are the ideal choice for fitness lovers seeking quality audio without breaking the bank. They use bone conduction technology to provide listeners with the best in detailed sound listening experiences while allowing them to remain aware of their surroundings.
These headphones feature an organic wraparound design for premium all-day comfort, and they come with a pack of reflective strips to ensure your safety while night-time running. They offer premium pitch sound for a diverse dynamic range, as well as rich bass for the ultimate listening experience.
Whether you prefer working out outside or at the gym, these open-back headphones are sweat and water-resistant. A cheaper alternative to the more recent Aftershokz Aeroplex earphones, these Trekz headphones offer great value and quality at an affordable price point.
Best features
Bone conduction technology
Premium Pitch technology and rich bass
---
Considerations for Buying Open Ear Headphones
Connectivity
Connectivity in a lot of open-back headphones can vary, in most cases for more high-quality listening you re going to have a wired approach, there are some Bluetooth connectivity options in certain headphones but these, in general, are not as good quality as the wired versions. You can receive a well-balanced sound from these wired studio styled headphones, they may cost a little more when it comes to price but the quality cannot be rivaled, making them the effective choice for people who mix, master, or record music either at home or in the studio.
Sound Quality
A lot of the best open-back headphones are perfect for studio use mixing, mastering, and recording songs. These studio-specific pairs of headphones are going to provide the best audio quality and clarity letting you sometimes hear things that you haven't in the past from headphones that don't rival the quality. Bluetooth headphones have the added bonus of wireless freedom but in general, these wired studio versions are the going to provide you with the best sound quality.
Comfort
Some of the best open-back headphones have been chosen with the best quality materials to provide better comfort when wearing. Advanced deluxe materials such as velour and memory foam earcups can help to mold to the contour and shape of your ears which will allow longer durations of listening time. The use of an adjustable head strap and lightweight components are also a great way to know you are purchasing a pair of headphones that are going to be comfortable.
Noise Isolation and Sound Leakage
Noise isolation and sound leakage are sometimes problems found in open-back headphones, the larger size of the speakers sometimes causes this sound leak which can be annoying to other people who are not listening to the headphones you are using. Some open-back headphones have been specifically designed with a tilting earcup that helps to isolate any sound so you have a more immersive experience letting you solely focus on what you are listening too.
Battery Life
Battery life is only a worry when it comes to Bluetooth headphone devices. When the Bluetooth versions first arrived onto the headphones market they were more of a gimmick with the actual headphones being of less sound quality. As the technology has been developed you can now buy wireless headphones that equal, if not improve on the sound quality than some of the wired versions produce. And with technologies also improving in the battery life, you can now listen to music in a completely free way for up to 40 hours of continuous playtime, which is more than you would need before having to recharge.
FAQs
Do open-back headphones sound better?
Open-back headphones overall of a soundstage that is much wider with more presence. This extra airflow is great in reducing the sound bouncing around inside such as closed-back headphones do. This helps to create a more natural and realistic listening experience while simultaneously increasing the overall accuracy of the audio that you are listening too.
What are open ear headphones?
Open-back headphones are designed to allow some outside noise in which mixes with the headphones output. This kind of natural sound rather than the isolated sound received from closed headphones are preferred by some listeners. These open-back headphones can also boost clarity depending on the style of music you are listening too. In general open-back versions are a lot more comfortable to wear with lighter pressure given on the ears. The downside is that open-back headphones do have a little sound seak, so people around you will be able to hear the music you are listening too, so may not be best suited for certain environments.