In recent years, there has been a huge boom in the sales and usage of Bluetooth earbud wireless earphones. One of the biggest reasons people decide to make the switch from wired to wireless earbuds is because of the freedom they offer while still delivering crisp sound quality.
You don't need to worry about the scramble to untangle them from your pocket or feel them restricting your movements while you exercise. Wireless earbuds are perfect for those who are on the move, whether that is for your early commuting, your normal day-to-day activities, or for any kind of exercise. They won't be in the way! What's more, as technology progresses, a lot of phones don't have audio jacks, making the wireless function of these earbuds all the more important.
These earbuds come in a range of different designs. Some wireless earbuds have a cable or neckband connecting the buds together whilst others look just like earplugs. Other extras can include noise cancelling technology, touch controls, and carry cases that double as chargers. There are specialized models out there to fit virtually every need, and some are even versatile enough to keep up whether you're running a marathon or sitting on the bus. With so many options to choose from, how can you know which ones are best for you?
In this review, we are going to take you through the Top 15 best Wireless In-Earbuds of 2021. For each of the models we've chosen, we'll give you a full rundown of reasons why they stand out as some of the best wireless earbuds, leaving no room for questions you might have. You will get the full user experience just by reading these descriptions. With information about this year's latest products at your disposal, we know after reading this article you will be ready to buy the version that will improve your listening experience for the better.
Best 17 Wireless Earbuds of 2021
1. BeatsX Wireless Earphones
BeatsX wireless earbuds offer high-performance noise cancelling technology, the best sound quality, and up to 8 hrs of battery life on the go. These wireless earphones feature a sleek, compact design that's ideal for listening wherever and whenever. Whether you're sweating it out at the gym or commuting to work on a noisy train, you can expect great, uninterrupted sound quality.
With these best wireless earbuds, you can expect authentic, clear sound quality that delivers a clean treble base and distortion-free bass for natural tonality whatever genre you're listening to. You can easily control your music and volume levels, answer calls, and activate Siri with the remote-talk cable.
BeatsX wireless earphones offer fast fuel charging, so you can plug them in for 5 minutes and get 2 hours of non-stop listening playback time. So if you forget to charge your earphones for the next day's commute, just plug them in for a few minutes before you head out the door and you're all set.
The unique flex-form cable provides a flexible fit and supreme comfort that makes them ideal for all-day wear. What's more, you can easily pop them in the carry purse that'll fit perfectly in your pocket. The BeatsX earphones come with ear tips in four size options, a lightening USB-A charging cable, and a quick start guide.
Best Features
Long battery life
Fast-fuel charging for 2 hours of listening in 5 minutes
Available in a variety of colors
Compatible with iOS and Android devices
Flex-Form cable for all-day comfort
---
2. Bang & Olufsen Beoplay E8 Sport True Wireless Earphones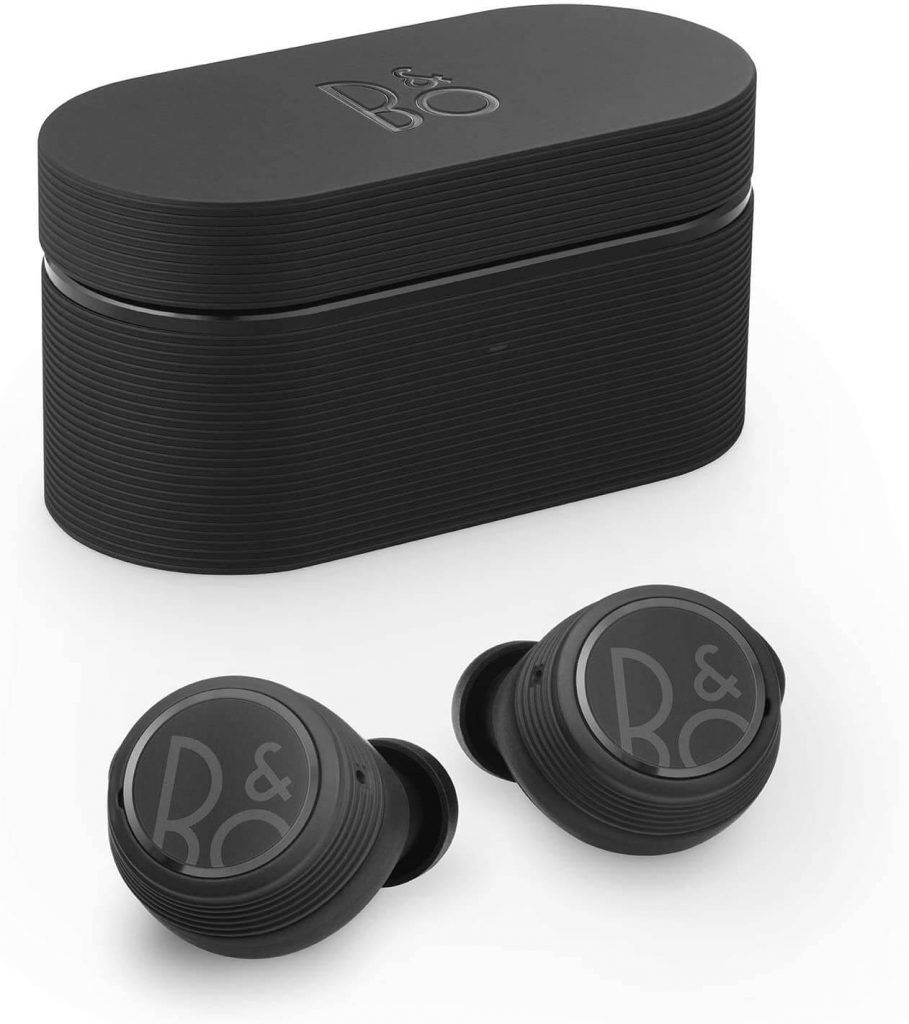 These Bang & Olufsen Beoplay E8 Sport best wireless earbuds provide the freedom to listen on the go, regardless of what you're doing. Whether you're pushing yourself to complete that 10km in the rain, or sweating up a storm in the gym, these true wireless earbuds feature IP57 waterproof and sweat-resistant technology to ensure your listening experience isn't affected.
These earphones offer a fantastic battery life, with up to 28 hours of playtime. The wireless charging case has been optimized for high performance at all times, so you can take these earphones with you and charge them on the go; so you can listen to your favorite tunes whenever you want.
Bang & Olufsen Beoplay E8 Sport best wireless earbuds feature the latest technology and Bluetooth 5.1, which delivers high performance every time while remaining energy efficient. You can add AptX Adaptive for iPhone and Microsoft Swift Pair for the best wireless experience possible for all iPhone or Android devices. These earbuds are available in stylish black or a light blue color.
What's more, you can enjoy clear call quality, making them perfect for use in the office as well as on-the-go. They feature 4 microphones for impeccable call quality. High performance, crystal clear sound quality, and excellent battery life are just some of the features that make these Bang & Olufsen Beoplay E8 Sport wireless earbuds some of the best on the market.
Best Features
Long battery life with up to 28 hours of playtime
IP57 waterproof
Clear call quality
Powerful audio performance
---
3. Sennheiser MOMENTUM True Wireless Bluetooth Earbuds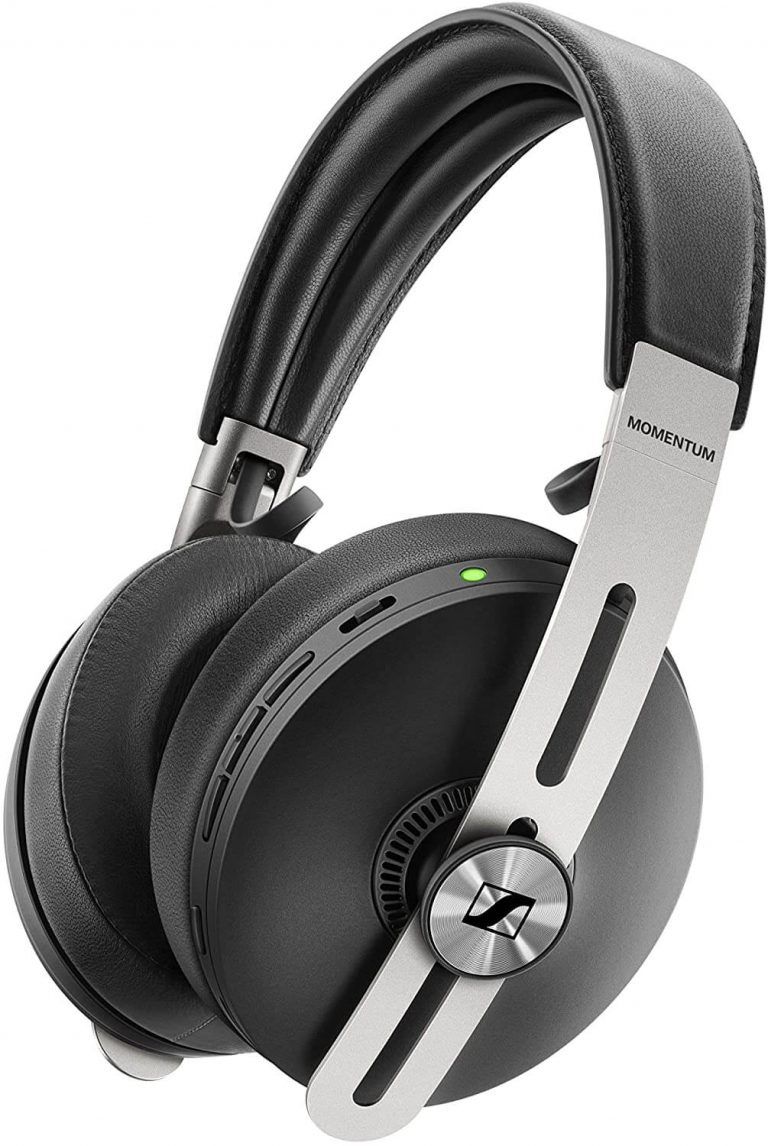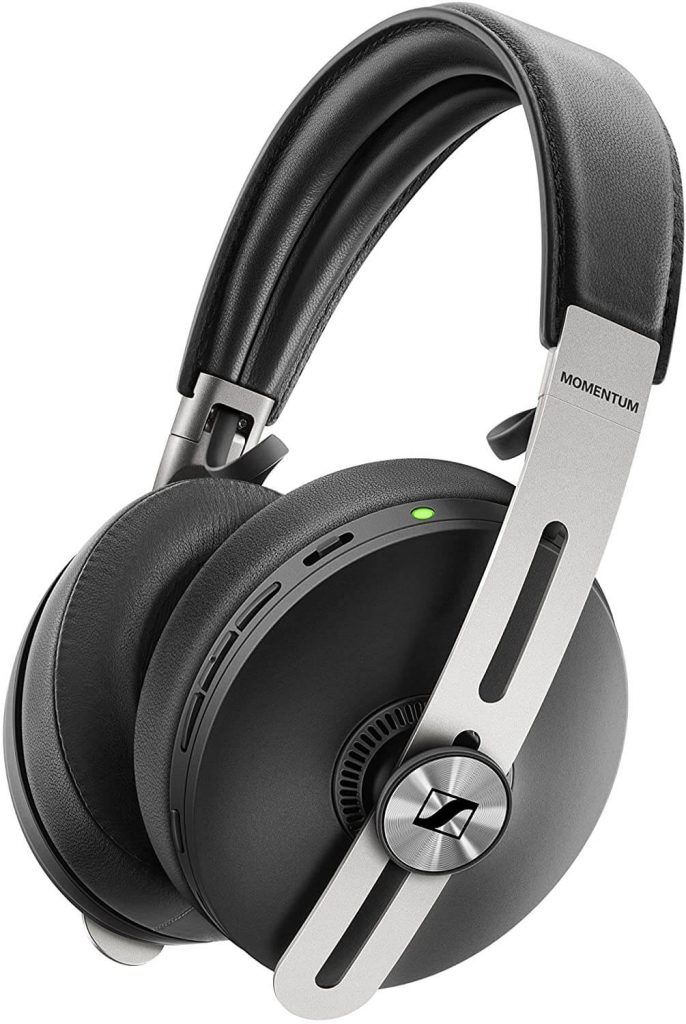 The Sennheiser MOMENTUM best wireless earbuds are designed with every fine listening detail in mind. These are some of the best wireless earphones for impeccable sound quality. The beautifully designed earbuds offer supreme comfort to bring you closer to the songs, podcasts, and other audio that you adore. Easily control your listening experience with the voice assistant and fingertip touch controls.
The transparent hearing feature enables you to stay aware of your surroundings, so you can chat and know what's going on around you as you listen to your favorite tunes – without having to remove your wireless earphones.
The slim and lightweight design provides all-day ergonomic comfort and incredible sound isolation. This means you can listen non-stop, whether you're commuting to work, relaxing in bed, or breaking a sweat at the gym. What's more, they're sweat-resistant and waterproof, so you can rest assured that no drop of water will affect the listening quality.
these in earphone wireless buds offer 4 hours of true wireless listening, which can become 12 hours with the compact charging case which provides 2 extra charges. This means you don't have to worry about running out of power when you need it the most. The compact charging case is portable and fits perfectly in a pocket for charging on the go.
Best Features
Slim and lightweight ergonomic design
12 hrs of battery life with the charging case
Transparent hearing
Touch controls
---
4. Jabra Elite Active 65t Earbuds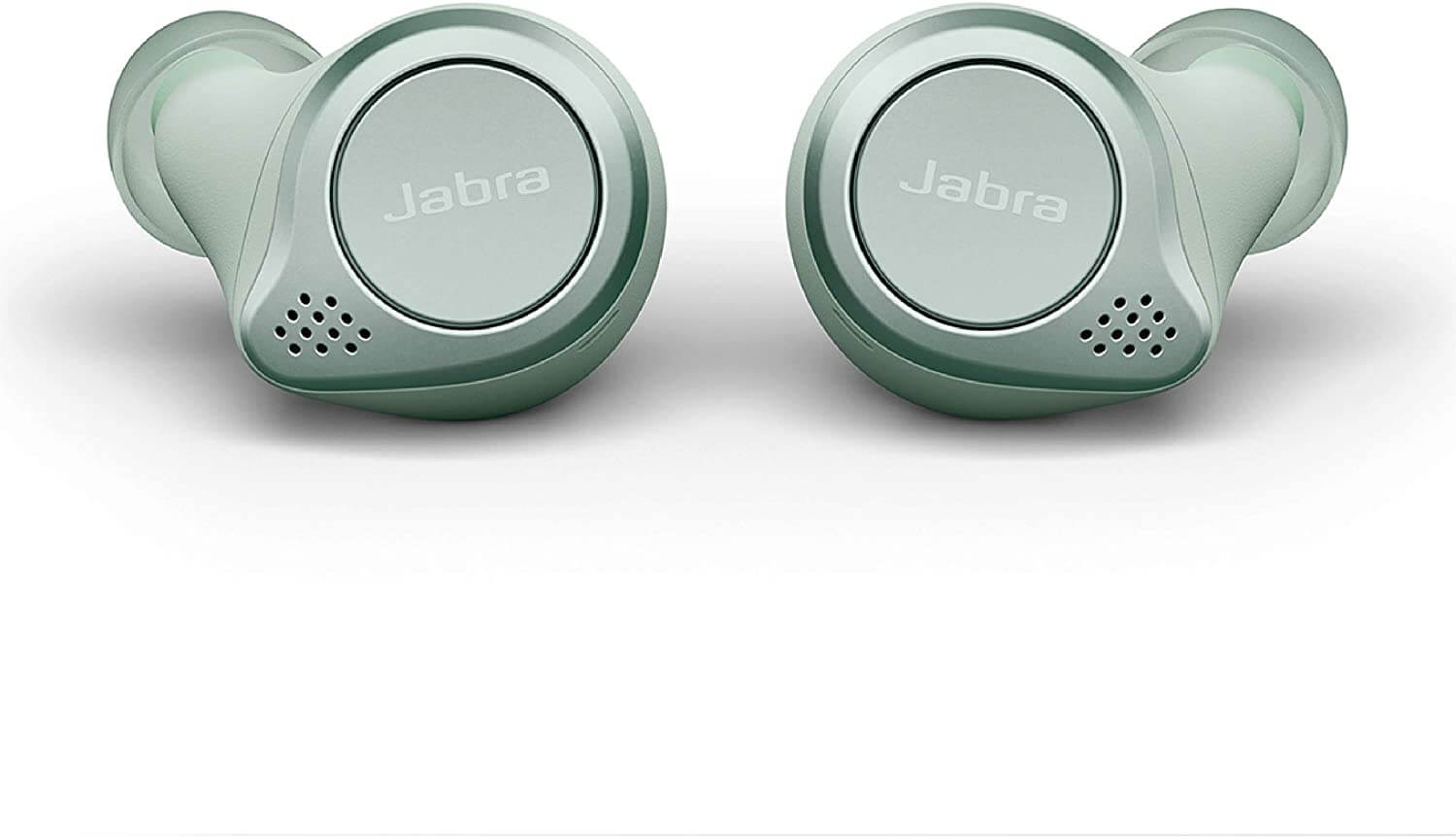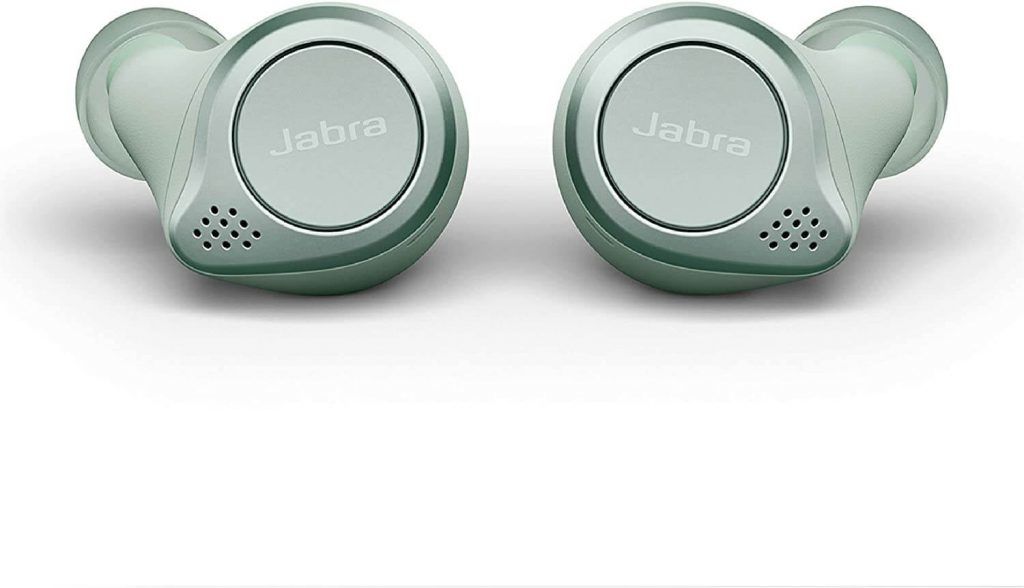 If you live an active lifestyle then true wireless earbuds are the ideal alternative to wired headphones that get in the way. The Jabra Elite Active 65t wireless earbuds offer a great fit, long battery life, and great sound quality for comfortable listening, whether you're listening in the office, on the go, or at the gym.
The Jabra Elite Active 65t wireless earbuds allow you to personalize your listening experience whether you're using an Apple or Samsung device. You can use the Jabra Sound+ app to personalize the sound on your compatible device. These earphones offer a secure and snug fit with a sleek design that's perfect for active lifestyles.
These best wireless earbuds feature Jabra's 3rd generation true wireless stabilization technology, which allows you to take calls, watch your favorite shows, and listen to music without having to worry about audio dropouts. What's more, you can use the voice command option to connect with Siri, Google Assistant, or Alexa in seconds.
Jabra Elite Active 65t earphones offer up to 15 hrs of battery life with the portable pocket-friendly charging case, with 5 hours from a single charge. The case is ideal for charging on the go so you don't have to worry about running out of battery life or silent train rides home at the end of the day!
If you're looking for a great alternative to Apple AirPods Pro, then these Jabra Elite Active 65t are some of the best wireless earbuds on the market. They're available in a variety of stylish colors and come at a very affordable price point.
Best Features
15 hours extended battery life
Great for making calls with 2 microphones in each earbud
Personalized listening experience with the Jabra Sound+ app
Touch controllable with voice command option
---
5. Jabra Elite 75t Earbuds – True Wireless Earbuds


The Jabra Elite 75t headphones are designed for extra comfort while users enjoy an exceptional listening experience. They're designed to fit securely for any user and feature an improved smaller design and ergonomic shape to make the some of the most comfortable best wireless earbuds on the market.
The Jabra Elite 75t wireless earbuds are ideal for making and taking calls due to their enhanced 4-microphone call technology which features noise cancelling ability to ensure you don't miss a single detail. The Jabra 4th generation true wireless connection delivers stable listening no matter what you're doing. Whether you're working out at the gym, walking in a busy city, or working in the office; you can expect clear audio quality and no dropouts or interruptions.
These Jabra Elite 75t best wireless earbuds allow listeners to tailor their music to individual listening profiles through the Jabra Sound+ app. They're compatible with Apple or Android devices, and offer up to 7.5 hours of use with one charge and an additional 28 hrs of battery life with the portable case for wireless charging.
Best Features
Up to 28 hours of battery life
Improved smaller design
4-microphone call technology for great audio quality when making calls
Compatible with Apple and Android devices
Transparent listening feature
---
6. Cambridge Audio Melomania 1 Earbuds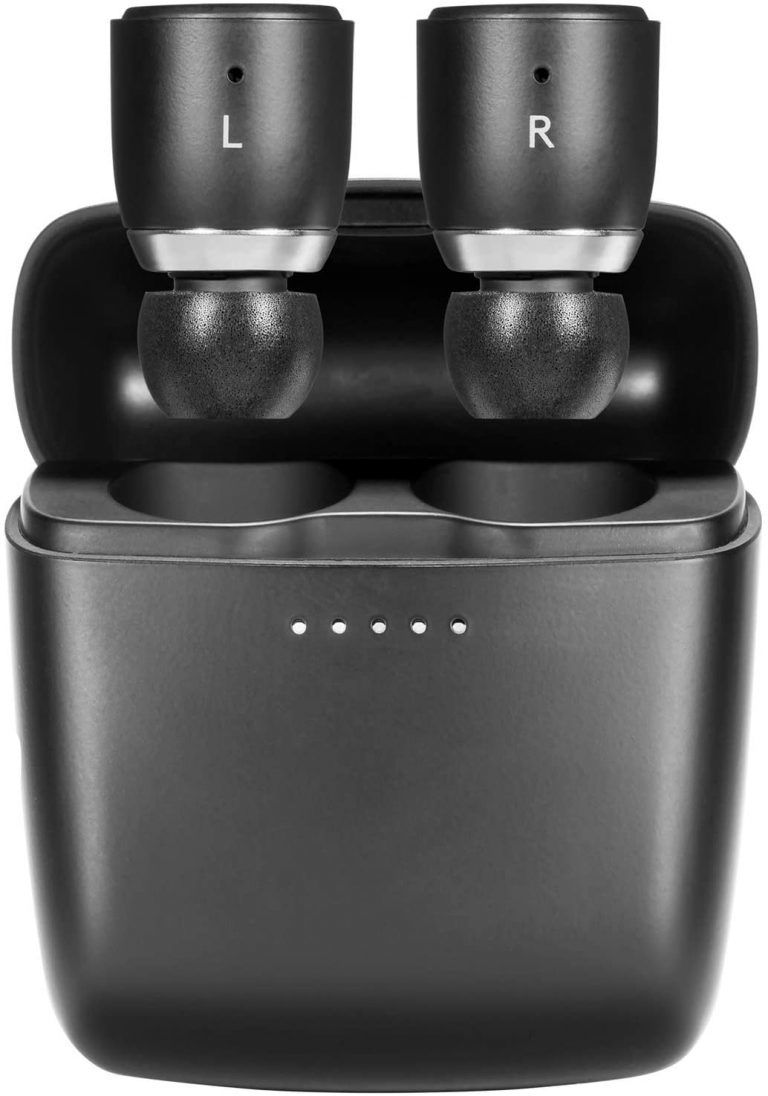 These Melomania 1 in-ear wireless buds deliver exceptional audio quality from Cambridge Audio through supremely comfortable and lightweight ergonomically designed earbuds. You can enjoy up to 45 hours of interruption-free listening with the charging portable case. Without recharging, you'll still be able to delight in 9 hours of battery life whether you're listening to your favorite tunes, binging a TV show, or working away in the office.
They offer advanced connectivity with Bluetooth 5.0 technology for a superior connection free from signal dropouts and interruptions. They can reach up to 90ft distance from your Apple or Android compatible device. You can pair the earphones easily and enjoy voice assistant controls for added convenience.
The Cambridge Melomania 1 earbuds come in a stylish box along with the earbuds, case for portable charging, 4 sets of ear tips, and a micro-USB charging cable. If you're looking for affordable true wireless earbuds that deliver great quality audio at a more affordable price point than Airpods Pro, then Melomania 1 earphones are an ideal choice.
Best Features
Up to 45 hours of battery life with the charging case
Lightweight design
Advanced Bluetooth technology that's easy to use and set-up
Impressive audio quality with powerful bass
Affordable price point (cheaper than Airpods Pro, for instance)
---
7. Sennheiser Momentum 2 True Wireless Earbuds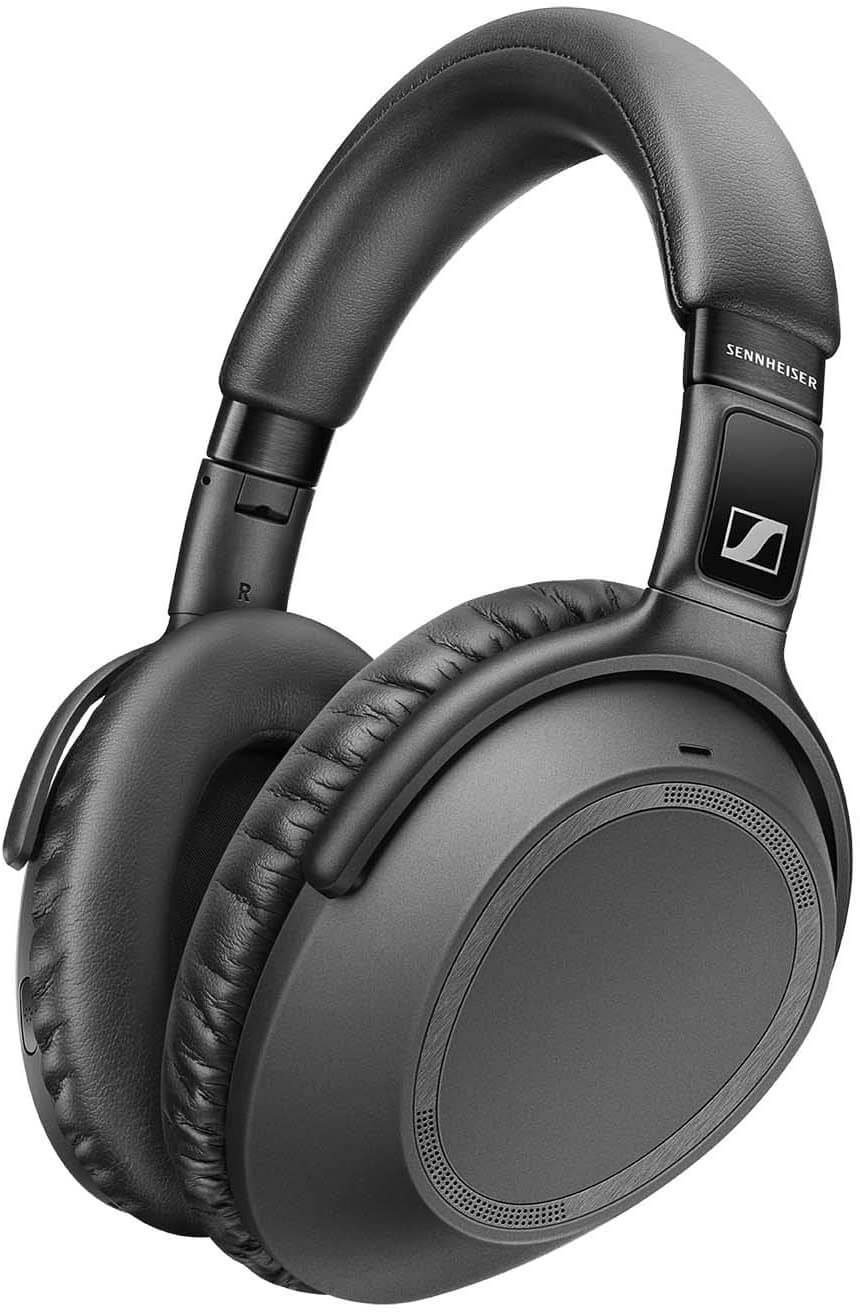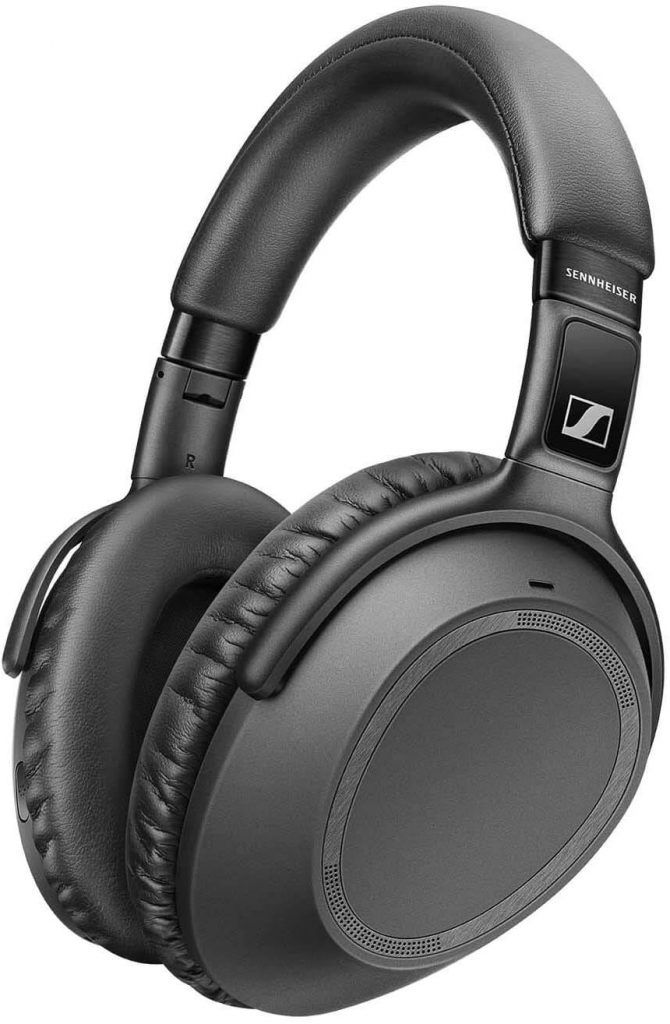 The Sennheiser Momentum 2 True pair of wireless earbuds provide listeners with unrivaled sound quality with their unique 7mm audio drivers. These earbuds enable you to switch off from the rest of the world and immerse yourself in your favorite tunes thanks to the active noise cancelling application.
You can enjoy hours of music playtime, as these Sennheiser Momentum 2 earbuds offer up to 7 hrs of battery life that can be extended to an incredible 28 hours using the portable case for charging. Just pop it in your pocket and take it with you for charging on the go.
These earbuds offer an ergonomic design that delivers optimum comfort levels. Whether you're walking in the city, commuting to work, or working out at the gym you can rest assured that you can experience supreme comfort levels with their lightweight design. You won't even know they're there!
Use touchpad technology to control what your listening to and adjust volume levels. What's more, you can go completely hands-free with the voice control option for smart devices. The earphones are also IPX4 waterproofed, which makes them ideal for using at the gym or when you're caught in adverse weather conditions.
Best Features
Excellent touch and voice control options
Long-lasting battery life for hours of listening
Lightweight design
IPX4 rating
Easy to use and set-up
---
8. Bose SoundSport Wireless Earbuds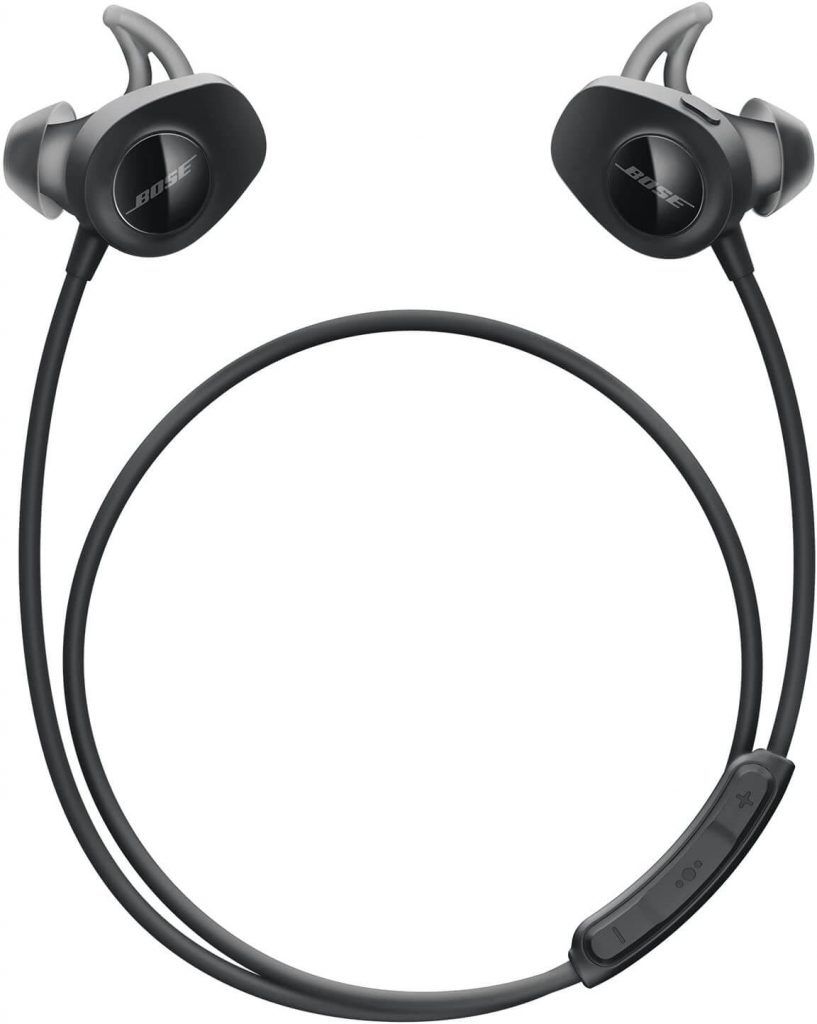 The Bose Soundsport pair of wireless earbuds are the ideal choice for anyone who leads an active lifestyle and enjoys working out to their favorite tunes. These earbuds deliver a high-quality audio experience every time and offer a great volume balance for optimum listening comfort thanks to Bose active EQ.
They offer the best wireless listening convenience and can be easily connected and paired with a variety of compatible devices, whether they're Apple or Android. They're highly sweatproof and waterproof, making them ideal for working out in any weather conditions or sweating up a storm in the gym. You can rest assured that these headphones will provide a reliable experience, whatever you're doing.
Bose Soundsport wireless earbuds provide up to 6 hours of listening time per charge. Their comfortable design is lightweight, and earbuds feature winged tips for a secure and comfortable fit. If you're looking for a great pair of earbuds to suit your active lifestyle, then the Bose Soundsport best wireless earbuds offer great sound quality and a reliable listening experience every time.
Best Features
Extremely comfortable to suit an active lifestyle
Waterproofed
Voice controllable
High audio quality with a powerful bass sound
---
9. Bose SoundSport Free True Wireless Earbuds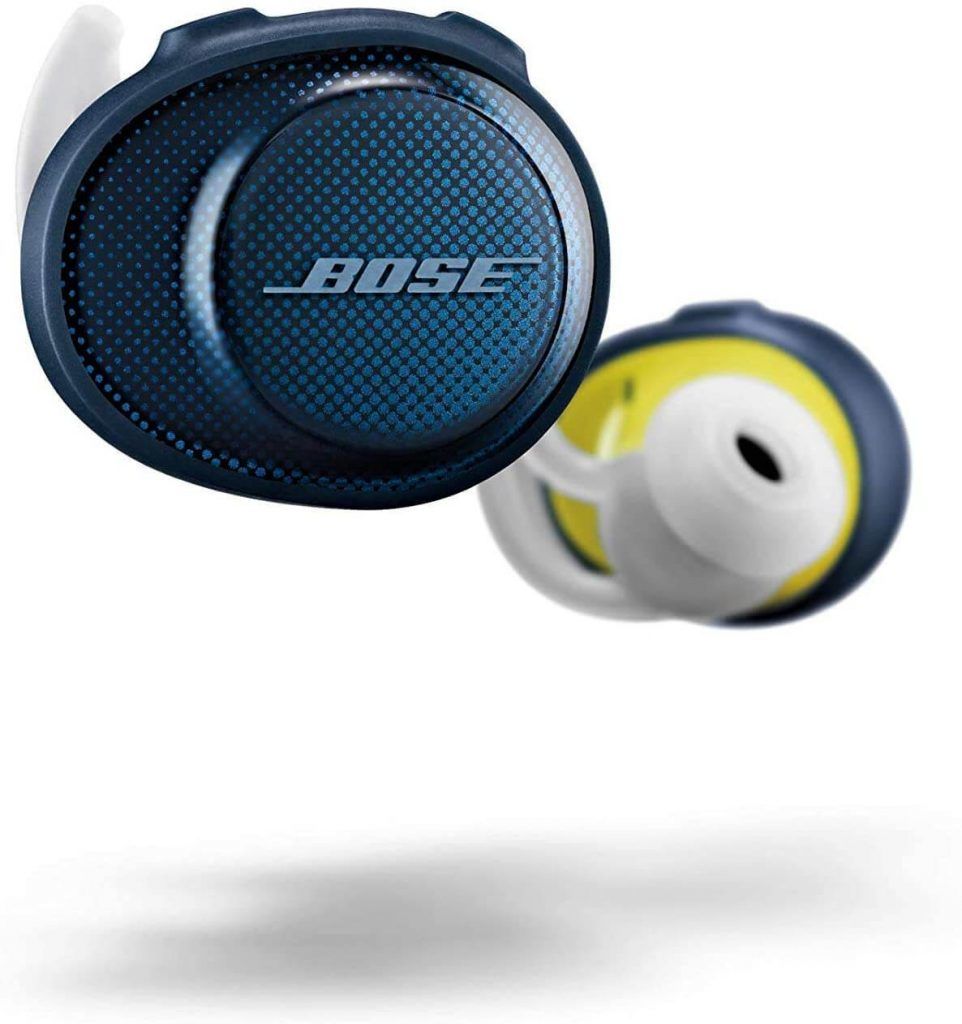 The Bose SountSport Free true wireless earbuds offer total freedom of movement that makes them ideal for anyone who leads an active lifestyle. Chat's more, they're completely waterproofed with an IPX4 rating, meaning they can withstand large amounts of water and sweat and continue to function perfectly.
They're compatible with a variety of Apple and Android devices. They're easy to pair, so you don't have to worry about a long set-up process. They offer up to 5 hrs of battery life, and 10 hours more with the included portable case for charging. This battery life means you can enjoy tunes all day long.
The Bose SountSport Free headphones feature an integrated dual microphone for hands-free calling when you're on the go or a more comfortable wireless experience in the office. What's more, if you happen to lose one of the earbuds simply use the Bost Connect "Find My Buds" app to track them down.
If you want great quality audio and comfortable design perfect for those who lead active lifestyles, then these are some of the best wireless earbuds on the market.
Best Features
High-quality sound comparable to that of the AirPods Pro
Comfortable to wear earbuds plus different size tips
10 hrs of battery life with the charging case
IPX4 rating
---
10. JBL Reflect FLow True Wireless Earbuds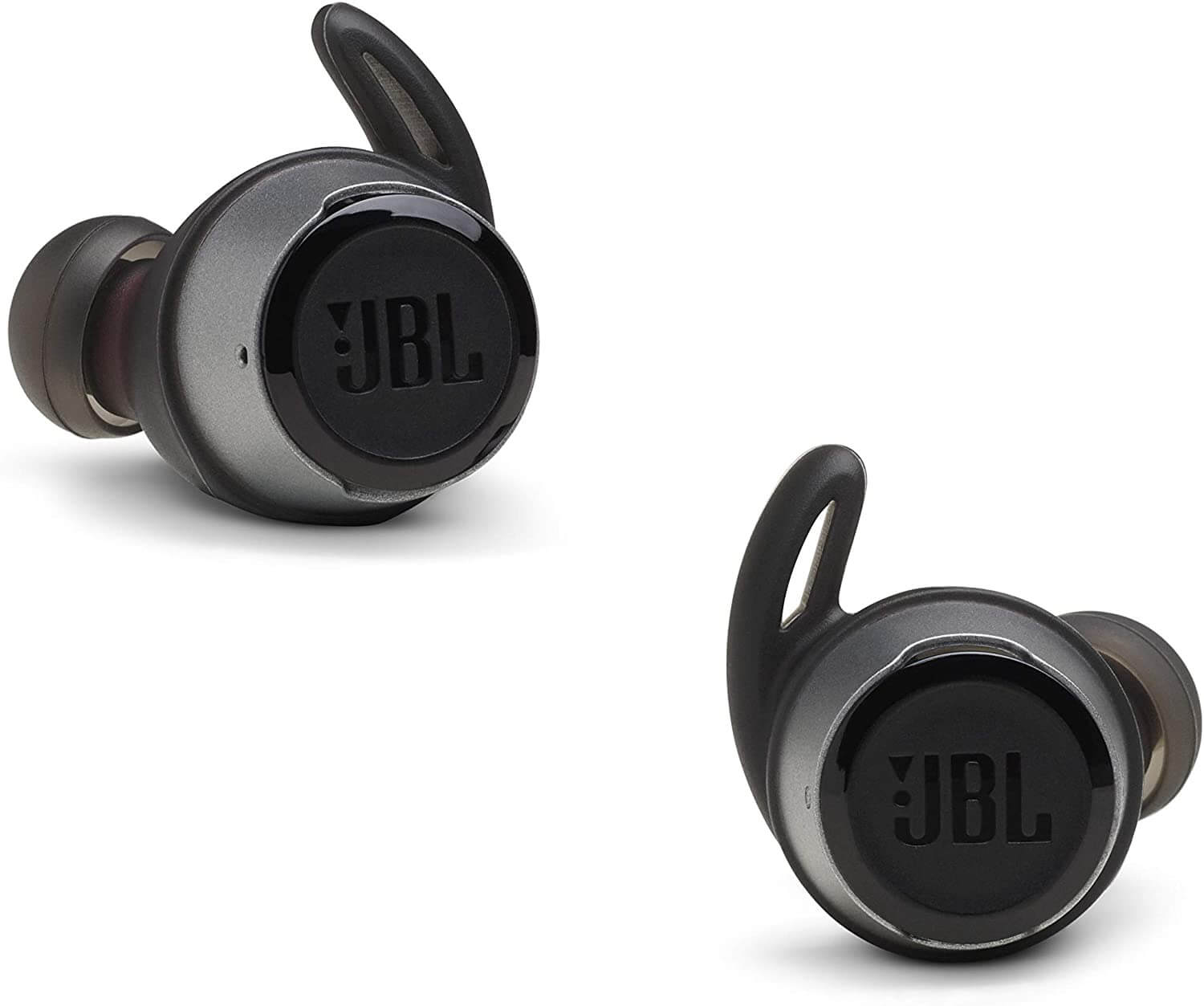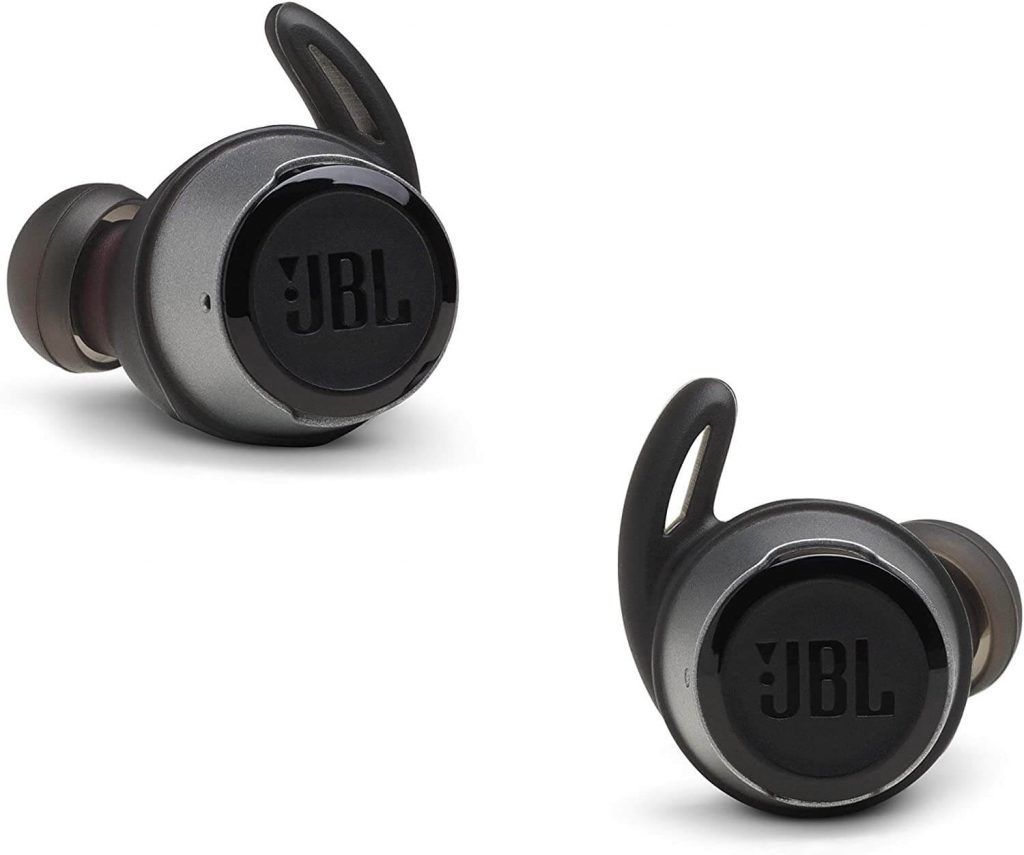 The stylish JBL Reflect Flow are some of the best wireless earbuds on the market for music lovers. These earbuds deliver high-quality audio with intense bass depth for high-quality audio every time. The durable, comfortable design makes them ideal for any kind of listener. Whether you're a gym bunny or use headphones in your daily office duties, JBL Reflect Flow earbuds are an ideal option.
You can control the JBL Reflect Flow earbuds with the touch of a finger, or use the voice assistant to change tracks, adjust volume levels, and answer calls. The truly wireless nature of these earbuds makes them the ideal companion to an active lifestyle.
These best wireless earbuds offer 10+ hours of playtime with one charge, and an additional 20 when plugged into the portable charging case. What's more, the 10-minute rapid charge feature allows you to get 1 hour of battery for those occasions where you don't want to miss out on listening to music. The TalkThru technology allows users to hear their surroundings as well as their music, to have conversations without interrupting the flow of the music.
If you're looking for some of the best wireless earbuds that offer all the excellent features you'd expect and more, then the sleek JBL Reflect Flow earbuds are a great choice.
Best Features
IPX7 waterproof rating
Powerful high-quality audio
Excellent bass-depth
Comfortable to wear with an ergonomic fit ideal for exercising
---
11. Sennheiser HD1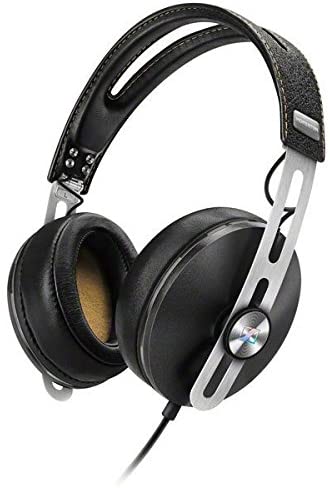 The Sennheiser HD1 Free wireless headphone is a great affordable option for music lovers of all kinds. Although these aren't true wireless head phones due to the cable that connects them, they still provide a comfortable listening experience. What's more, they offer a secure fit to suit any kind of ear shape.
These headphones offer one-touch pairing for easy set-up and connection to your devices. It's compatible with a variety of Apple and Android devices and connects via Bluetooth. You can also enjoy the multi-connection feature that allows you to connect to multiple devices simultaneously.
What's more, they provide listeners with up to 6 hours of playtime life via USB charging. You can use these headphones to make and answer phone calls (including 3-way calling), listen to your favorite tunes when working out, or catch up on the latest episodes of the series you're currently obsessed with. The supreme audio quality never falters.
These headphones feature Bluetooth 4.2, Qualcomm aptX, and ACC codec processing to deliver immaculate hi-fi sound all the time. If you're looking for a wireless headphone that offers a well-balanced sound profile, strong connectivity, and superior comfort then these are the pair for you.
Best Features
Excellent connectivity
Superior comfort even after long periods of wear
Voice controllable
Great battery life
Balanced sound quality
---
12. Monster Earbuds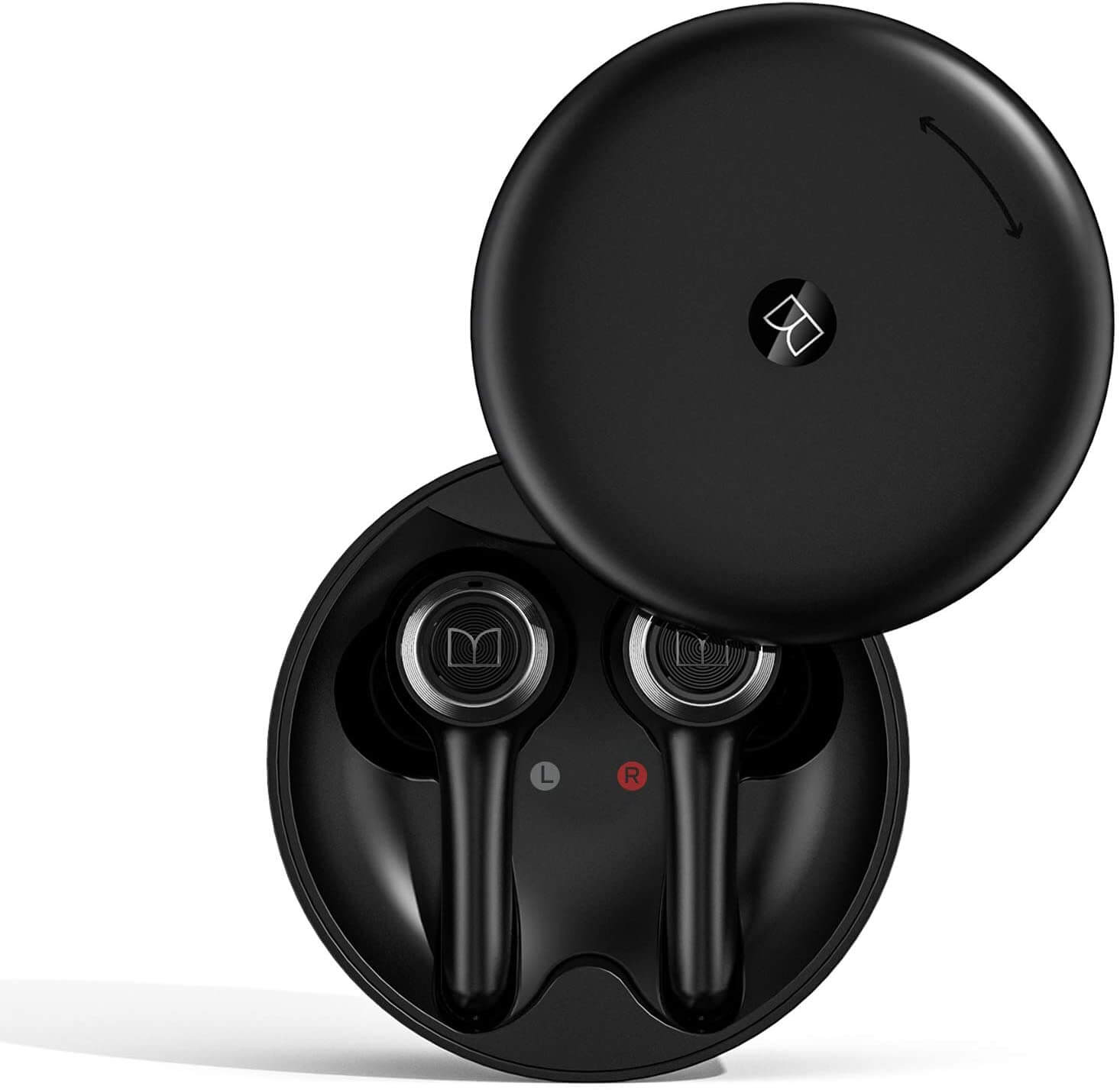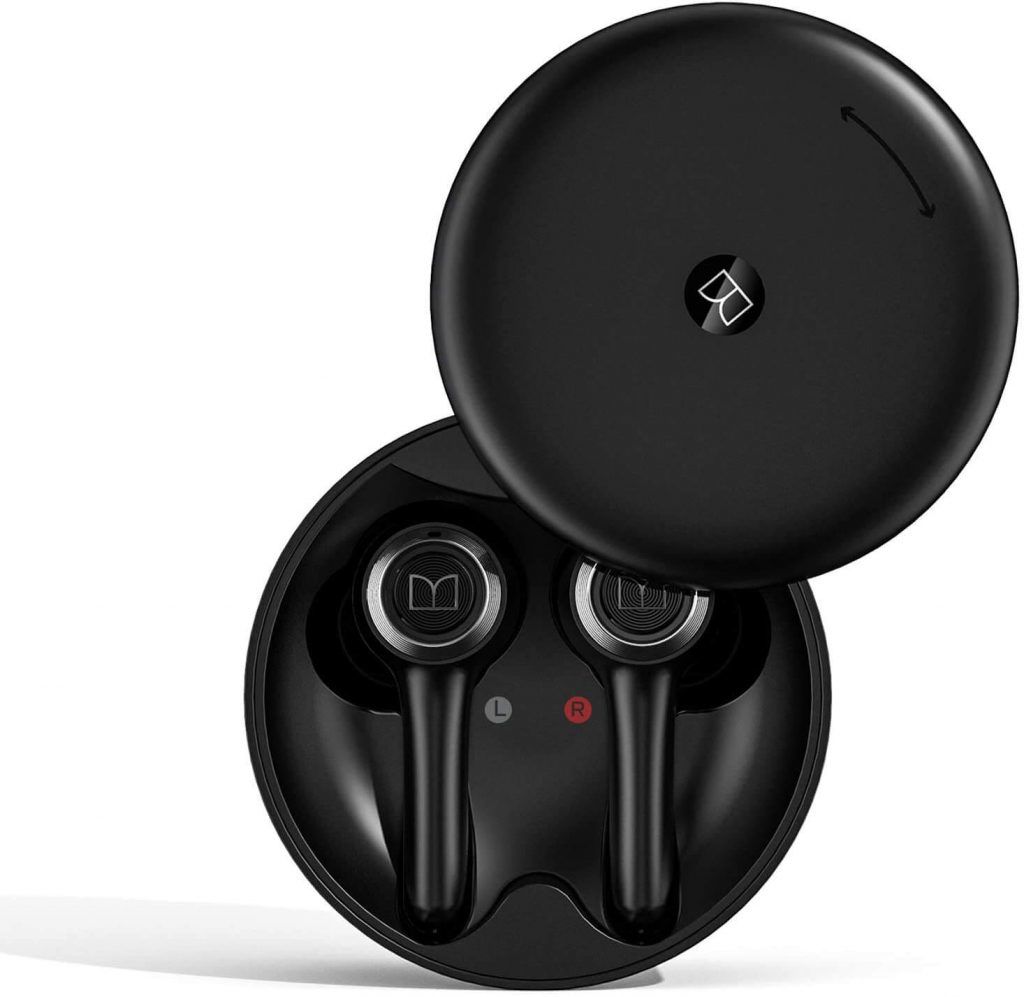 Monster has released a brand new pair of one of the best true wireless earbuds on the market today. These noise cancelling pair of wireless earbuds are a top pick, as Monster as a brand boasts 40 years of experience in sound technology.
These earbuds offer incredible call quality. Suitable primarily for your home office – each earbud is equipped with two microphones and 9th generation microphone noise reduction technology. The ambient noise is reduced by 80% during the call, and 95% of the sound is retained, which makes you hear louder and clearer from the other end of the phone.
They also offer great charging technology. One charge of these earbuds offers 11 hrs of battery life at 50% volume. Using the portable charging case can extend listening time up to 44 hours. If you've forgotten to charge the headset before – don't worry! Charge for 5 minutes with the charging case for 1 hour. Perfectly as a design, it means you can have enough strength to use in work or for exercise.
You can choose between three different sizes of silicone earbuds that you can wear comfortably. If you have any questions, contact Monster directly and expect a response typically between 7-24 hours to provide top quality customer service.
Best Features
The extended battery life lasts up to 44 hours
Great sound quality for listening and making calls
Ergonomic design
Noise cancelling technology
---
13. Taotronics Earbuds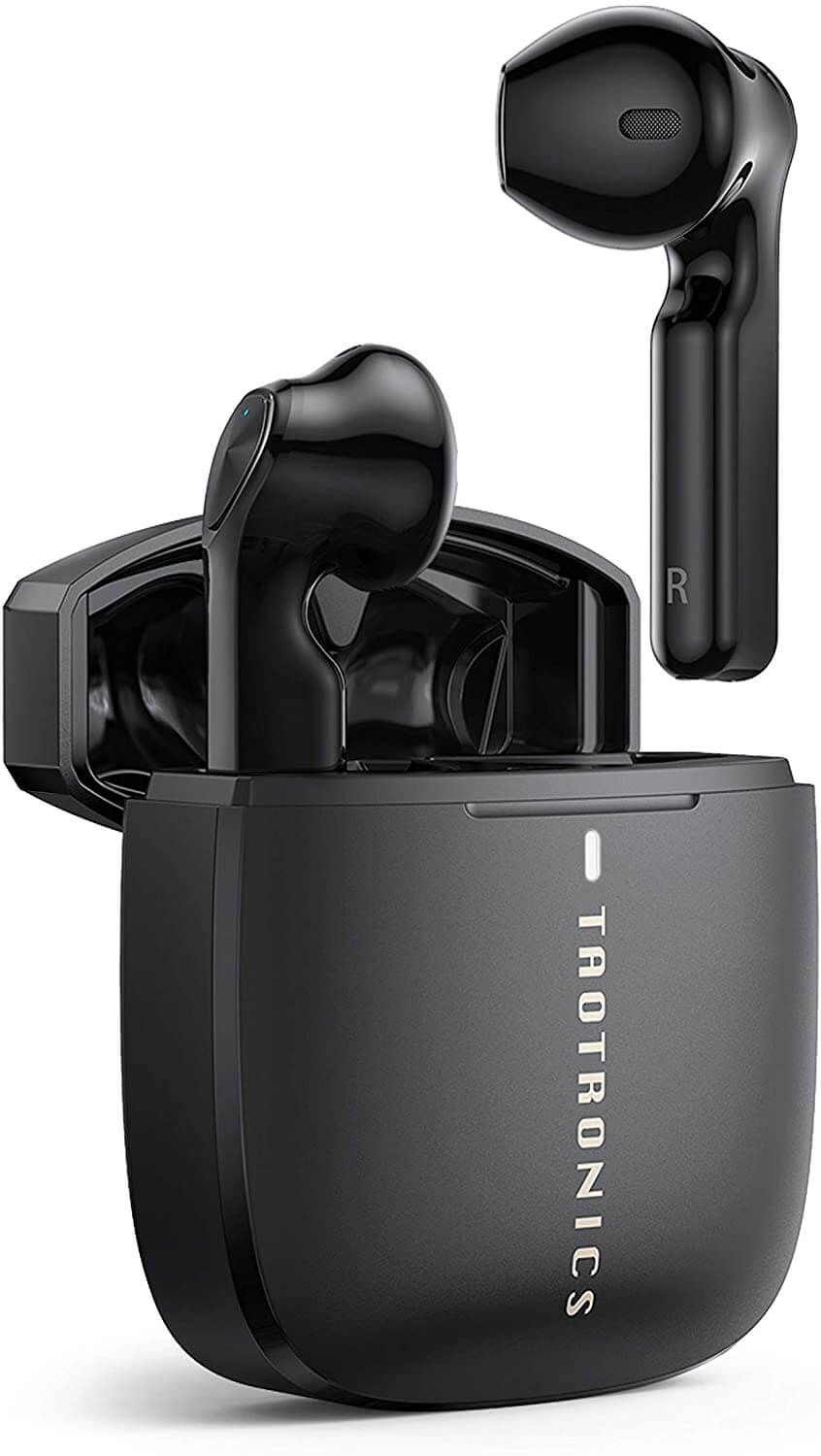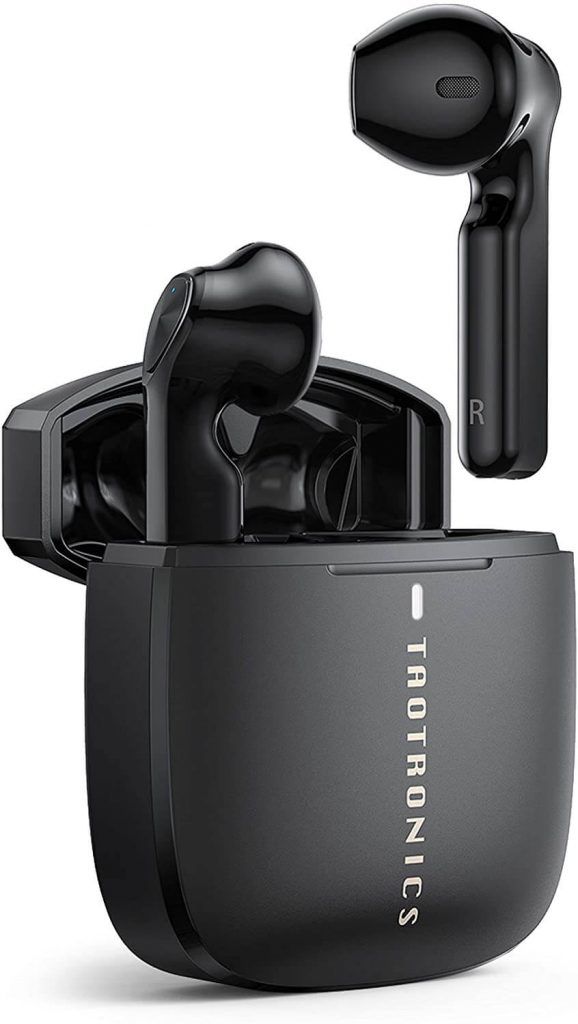 TaoTronics earbudscome in a sleek black color, with a portable charging case making wireless listening simple, offering some of the best wireless earbuds on the market today.
TheTaoTronics earbuds allow users to make crystal clear calls with smart noise reduction technology which allows the wireless earbuds to cut ambient noise over 50dB and retains 98% of your voice with frequencies from 200Hz to 3000Hz. This greatly improves call clarity in noisy situations.
Intuitive ear detection plays music when both Bluetooth wireless earbuds are worn and pauses when you remove one earbud; role switching technology lets you use either earbud and switch seamlessly between the two without interruption.
They offer superior stereo sound with 10mm high fidelity dynamic drivers provide ultra-realistic audio with deep bass, natural mids, clear and detailed treble to Indulging in your favorite tunes. If you're looking for some of the best wireless earbuds available at an affordable price point, then these are a great option.
Best Features
Noise cancelling reduction technology
Superior stereo sound
Intuitive ear detection
Sleek design
Long battery life for hours of listening
---
14. HNTMAO Best Wireless Headphones
HNTMAO has released a pair of wireless head phones that are perfect for usage wherever you may be.
They feature Type-C flash charge and long battery life. After fulling charging, Hntmao S15 earbuds can work continuously for six hours at a time. Surprisingly, the charging case of this model adopts a Type-C flash charging design, which supports charging for 1 hour and use for 30 hours. You can charge your earbuds anytime and anywhere you want for listening on the go.
The one-click multi-functional operation means that Hntmao S15 allows users to listen to music, answer calls, control the volume, and communicate with SIRI with the click of a button.
They're IPX8 waterproofed to protect the headphones from receiving any water damage. With advanced IPX8 technology, these earbuds are protected from sweat, rain, anything else that could disrupt active noise during your listening experience. This makes them ideal to wear at the gym or when doing exercise outdoors.
Best Features
IPX8 waterproof rating
Excellent battery life
Touch controlled
Easy set-up
More affordable than AirPods Pro
---
15. Bose Sport Headphones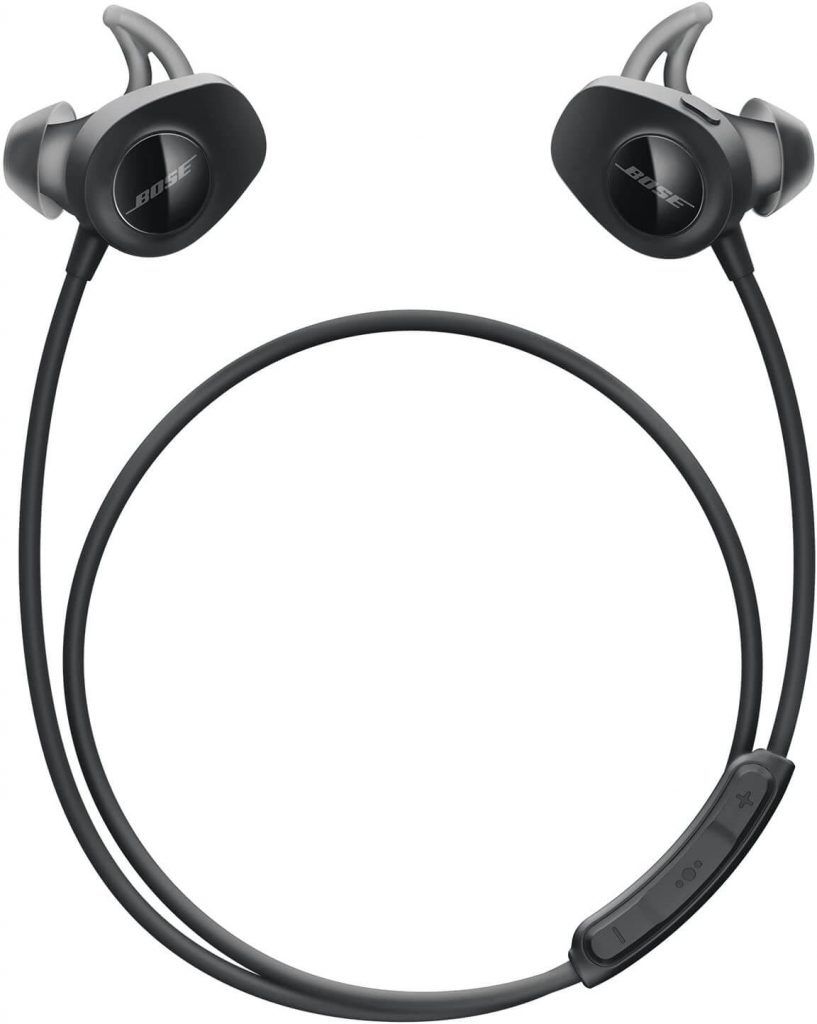 Bose has released the best wireless earbuds, ideal for all the sports lovers out there. Coming in a range of different and exciting colors, these could be your next best purchase, these best wireless earbuds can enhance your exercise experience.
These best wireless earbuds are both sweat-resistant and water-resistant – making them totally perfect for exercising in any environment. They come in a range of different sizes, suitable for any kind of ear shape. The ear tips slot comfortably, providing active noise cancelling during your workout.
These Bose Sport Headphones feature a great battery life, with up to six hours of playtime with each charge and an additional 10 hours with the included charging case. You can take the case with you for charging on the move, ensuring you never run out of battery juice for listening to your favorite beats.
They also feature great compatibility and are able to connect with iPhone, iPad, Android, and other Bluetooth devices thanks to AVDTP support functions. What makes this product unique is that once you have the earbuds, you can download the Bose app. It has the 'Find My Buds' function that means you can locate an earbud that might have gone missing. They're unlike anything on the market right now, which is what makes them some of the best wireless earbuds available.
Best Features
Great battery life
High compatibility
'Find My Buds' function for tracking down a rogue earbud
Available in a variety of colors
---
16. Sony WF Wireless Earbuds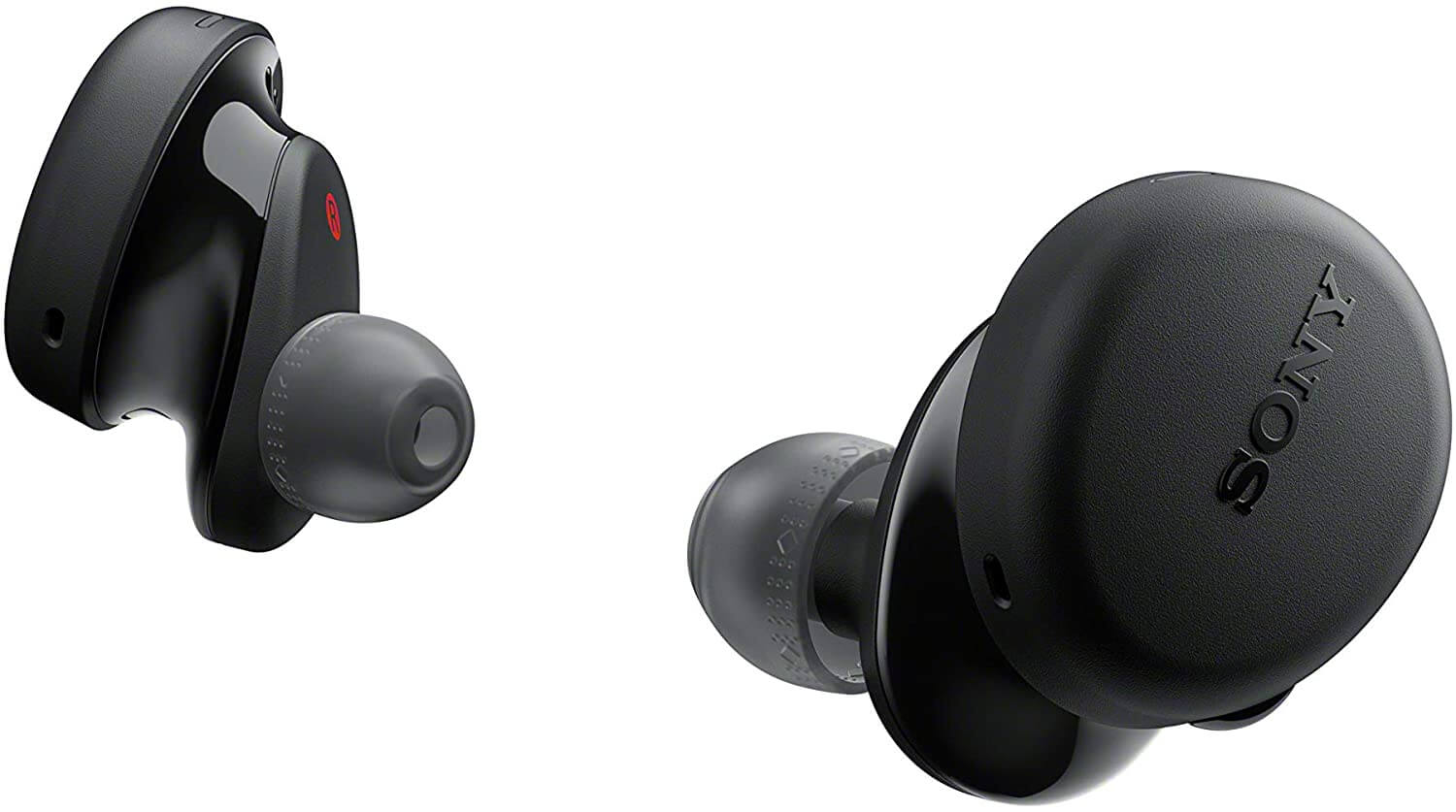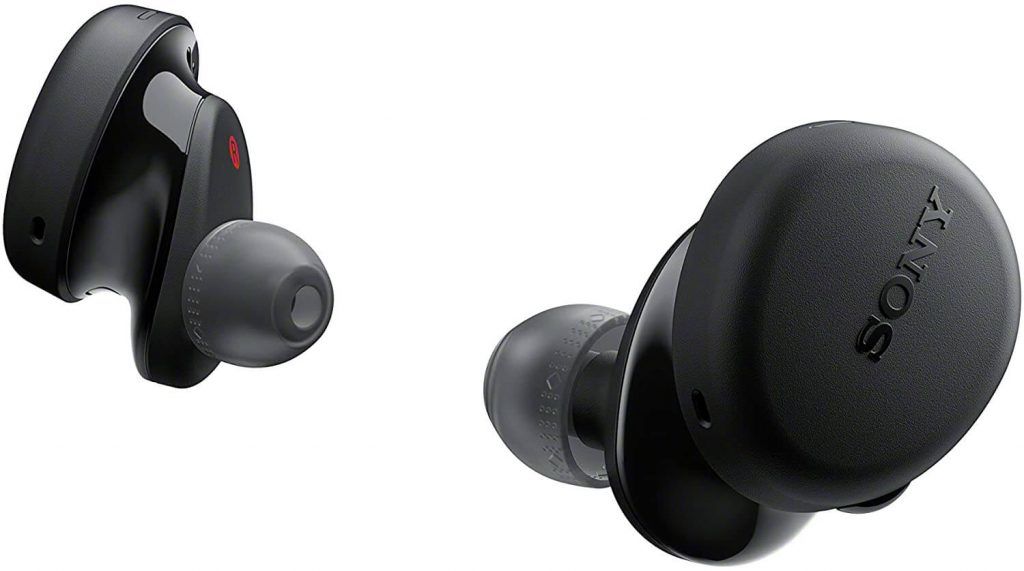 Sony has released new wireless earbuds, their own take on the familiar Apple AirPods Pro. Coming in black or white – these Sony WF best wireless earbuds can blend in no matter what the context.
These Sony WF earphones offer a great battery life of up to 24 hours with a carrying case. You can charge your Sony WF headphones for 10 minutes to get a 90-minute play-time. What's more, they feature a truly wireless design with uninterrupted L/R simultaneous Bluetooth transmission, compatible with both Apple and Android products. What makes this product more unique is it's 'Alexa' voice function. Use voice commands with these Sony WF earbuds to access to music, information, and more. To activate it, all they need is one touch and they're ready to go!
What's more, the Sony WF headphones offer noise cancelling features like no other, allowing listeners to enjoy high quality, immersive music without interruptions from the outside world. The ANC function of the Sony WF earbuds adds a personalized, virtually soundproof listening experience every time.
Best Features
Sony WF headphones off a long-lasting battery life
Voice command control function
Noise-canceling technology for an immersive sound experience
Offer many features of the AirPods Pro
---
Considerations for Buying Bluetooth Earbuds
Sound Quality
When buying any kind of headphones, the reason you do so is usually that you want top-quality sound. Choosing the right sound quality for your headphones is crucial!
These days, many wireless head phones are equipped with aptX technology. Simply put, Bluetooth was never meant for high-quality audio transmissions which means that audio is compressed, making it sound worse. However, as long as the product you choose supports aptX technology – you are in the clear.
Comfort
There are wireless earbuds designed to nestle into your ear canal, a sensitive area, so you want to ensure that they are comfortable for you to wear in whatever context necessary.
There are three forms of wireless earphones: in-ear, on-ear, and over-ear.
In-ear may be self-explanatory but it is the one companies are consistently focused on today, striving to improve its form and functionality.
On-ear headphones are those that rest on top of the ears but do not fully enclose them. In contrast, over-ear headphones enclose the entire ear. The difference between the two is that the latter allows for better sound quality with louder volumes and better bass but may not be as comfortable or as portable.
Whichever type of earbud design you decide to invest in, it's important to consider how much time you'll be spending wearing them. If you need to be plugged in all day at the office to answer calls, then comfortable headphones are essential. The same goes for when you're working out, you want to be sure that your workout goes uninterrupted by annoying ill-fitting headphones. Comfort is an extremely important factor when choosing the best wireless earbuds to suit your needs.
Battery Life
As seen in this review, most of the best wireless earbuds offer a fair amount of hours of usage, making it likely you can get several hours of use out of them per day. If you need extended battery life, as mentioned throughout this article, many companies offer portable charger cases so you can charge your earbuds on the move. However, doing this involves charging times, so if you've forgotten to plug your wireless headphones in when you return from work, it's unlikely you can use them the next day.
In saying that, plenty of the best wireless earbud models provide fast charging options. This means that if you forget to charge your earphones overnight, you can plug them in for a short period of time to get a quick charge. With this feature, you can rest assured that you won't have to spend your morning commute without your favorite tunes to wake you up.
Battery life is an important factor to consider when choosing the best wireless headphones.
Control & Pairing Capabilities
Many of the best wireless earbuds have controls for changing songs, answering calls, adjusting volume, etc, on the actual ear-pieces themselves. The more modern options will include touch-sensitive control. Touch controls can have a huge impact on the convenience of your best wireless earbuds, making it easier to adjust to your comfort levels in seconds.
It's also a good idea to consider voice control functions for added convenience. Many headphone models feature voice control functions for connecting to various voice assistants. This allows you to search for information and change songs instantaneously, without having to lift a finger!
In terms of pairing, as mentioned throughout this article, most earbuds are compatible with Bluetooth connection that can then connect to your Apple, Android, or tablet device. Many include a one-step set-up, meaning you can set up your listening experience in seconds, providing comfort and convenience to the user.
Budget
As with most things on the market today, premium earphones do come at a premium price. It is for you to personally decide what kind of budget works best for you. If you are looking for wireless headphones with great noise cancellation, good battery life, advanced features, great design, and fantastic sound quality, then you should expect to pay quite a lot of money for the privilege.
But if all you are looking for is a convenient pair of the best wireless earbuds for some simple music listening and/or voice chatting, a cheaper pair with a great battery life will do the trick just fine. Take into consideration which features you can live without, and which ones are necessary for your lifestyle and to achieve the listening experience you desire. Where Apple Airpods Pro offers high-quality sound and plenty of great features, there are countless other, more affordable best wireless earbuds options on the market, all you have to do is look!
What are the Best Wireless Earbuds?
We hope that the list of our top picks has given you a few ideas about the best wireless earbuds on the market. If we had to pick one pair that we'd highly recommend to listeners we'd have to go with the Sennheiser MOMENTUM best true wireless earbuds.
They are designed with a stable fit to comfortably suit your ear and offer active noise cancellation, unlike others that tend to fall out of the ear. Once charged, they have an 8 hour playback time and battery life which offers top picks on when you can use them. Offering sweat resistance and being waterproof – they are perfect for any occasion.
This is a product where you really get value for your money – which is why we believe they are the best true wireless earbuds available right now.