Finding yourself the best gaming headset will not only improve your audio experience, it will also improve your gaming experience.
The Xbox One has a whole range of multiplayer games; having high quality audio and good sound quality can be the key to surviving during the game as it will create an immersive atmosphere, one where you can hear even the most subtle footsteps approaching from behind. A great microphone comes in handy for online multiplayer games as it will create a social experience where you can coordinate with your teammates as you play.
We have hand-picked ten headsets Xbox One players will want to learn more about before finding the best product. From SteelSeries to Turtle Beach, we've covered a range of manufacturers to make the process of sifting through all the wireless headsets on the market even easier.
At the end of this article, we have put together a buying guide, as well as answers to some of the most frequently asked questions when it comes to choosing the perfect wireless gaming headsets for Xbox One gamers.
Best Xbox One Headset Overall: LucidSound LS50X
Best Xbox One Headsets for the Money: SLuB Bluetooth Headphones
Best Xbox One Headset for Multiplayer Gaming Sessions: Turtle Beach Stealth 700 Gen 2
Top 10 Best Wireless Headsets for Xbox One in 2021
We have compiled a list of 10 of the best wireless headsets for Xbox One, each with a description, an overview of the headphones' performance highlights, as well as a list of pros and cons.
1. SteelSeries Arctis 1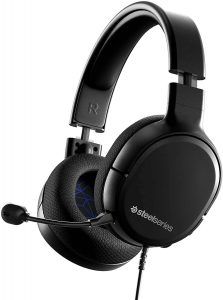 This SteelSeries Arctis model is a versatile gaming headset which works with a range of platforms, so if you're someone who uses a number of different consoles then these headphones could be ideal for you. SteelSeries' USB connection dongle design, paired with the SteelSeries Arctis' overall compactness, means that you'll be able to game both at home and on the go. With an average rating of 4.4 out of 5 stars from over 3,500 Amazon users, you know you'll be getting one of the best gaming headsets for your price range.
Performance Highlights
The detachable ClearCast microphone is noise canceling and provides natural sounding clarity, while the speakers will emphasize subtle sounds to give you an advantage while you game. Adjusting the volume level and muting and unmuting the microphone are easily done by simply using the controls on the headset. With a steel-reinforced adjustable headband, these headphones are lightweight and comfortable to wear while ensuring durability. The battery life on these wireless gaming headphones are 20 hours so you won't need to worry about losing power during those long gaming sessions.
Best Features
Excellent sound and audio quality.
On-ear controls for ease of use.
---
2. Razer Nari Ultimate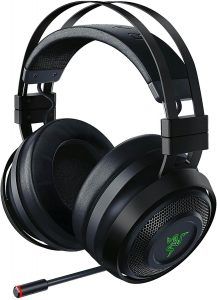 The Razer Nari Ultimate comes from one of most renowned manufacturers of gaming headsets. Identical to Razer's previous headphones designed for PC gaming, the Razer Nari Ultimate are designed for those seeking Xbox One headsets which support XBox Wireless connectivity. This high-end, well-designed headset provides the user with superior sound quality. With impressive build quality and a comfortable design thanks to the lightweight aluminum frame, adjustable headband, and cooling gel-infused ear cushions, you'll be able to wear these for long stretches of time.
Performance Highlights
Razer's dynamic haptic vibrations provide the user with an immersive gaming experience; you'll be able to feel footsteps and explosions as if you were inside the game. The combination of a retractable microphone and audio adjustment means that, by using the on-ear volume adjustment wheel and the microphone mute button, you'll be able to find the perfect balance when talking to your friends and hearing game audio. Offering a 20 hour battery life and the ability to connect directly to your Xbox One, this is a hassle-free yet high quality gaming headset.
Best Features
Features Razer's dynamic haptic vibrations to enhance game play.
Has comfortable cooling gel-infused ear cups.
---
3. Turtle Beach Stealth 700 Gen 2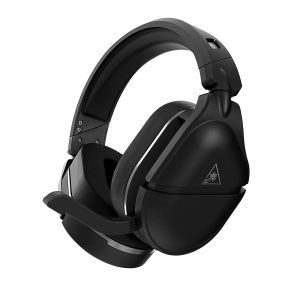 The Stealth 700 Gen 2 from Turtle Beach are set to be released in September 2021 and will feature a number of upgrades from the previous Stealth 700. This unit features a 20 hour rechargeable battery and can be connected directly to your console via Xbox Wireless. The headset itself has had an impressive upgrade in terms of durability; the metal-reinforced headband and cooling gel-infused memory foam ear cups ensure comfort while also being able to withstand a whole lot of use. With Bluetooth Connectivity enabled, you'll be able to take phone calls while gaming, listen to music, and connect to the Turtle Beach Audio Hub app to adjust gaming and audio settings to your taste.
Performance Highlights
The fact that this headset is essentially an upgraded version of the popular Stealth 700 means it's going to be packed with outstanding features. The crisp audio creates a realistic and immersive experience and the highly sensitive, flip-to-mute microphone means you'll be able to chat with your teammates with clarity. Customizing your game and chat audio preferences is independently controlled to suit the game you're playing. Thanks to Turtle Beach's exclusive Superhuman Hearing sound setting, users will have an advantage against opponents as even the most subtle sounds can be clearly heard.
Best Features
Features a range of upgrades from the previous bestselling generation of Stealth 700.
Has numerous customization options in terms of sound preferences.
---
4. ASTRO Gaming A50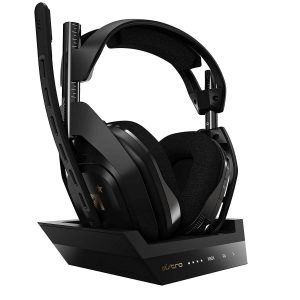 The ASTRO Gaming A50 Wireless Headphones are an impressive all rounder for gaming enthusiasts. Ideal as an XBox One S headset, this model offers 7.1 simulated surround sound. Designed to be a premium gaming headset, the ASTRO A50 has thick velour ear pads and an adjustable headband to ensure comfort while wearing. Kitted out with a range of on-ear controls, the user can adjust the volume, EQ presets, and the balance between game and chat audio. To mute the microphone, it simply needs to be flipped up.
Performance Highlights
One of the most notable audio features of this headset is the Dolby Audio, which brings a little extra on top of providing surround sound; users can expect a cinematic, high resolution audio experience while gaming. The battery life of this unit is approximately 15 hours and comes fitted with a rechargeable lithium-ion battery. Compatible with the XBox One, the XBox One S, and PCs, this is ideal for gamers who prefer playing across different platforms.
Best Features
Exceptional surround sound and audio quality.
Product reviews consistently praise how comfortable these are to wear.
---
5. SLuB Bluetooth Headphones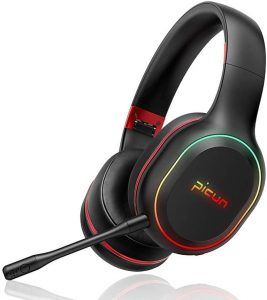 The SLuB Bluetooth Headphones are an affordable yet well-performing pair of wireless Xbox One headsets. With an impressive battery life of up to 40 hours worth of game time, long gaming sessions won't be an issue. Cushioned ear pads, soft memory foam earmuffs, and a foldable, adjustable padded headband all make for a comfortable experience.
Performance Highlights
Multi-dimensional stereo sound quality combined with a vibrating sound mode create an immersive experience while both gaming and listening to music. Featuring both a detachable microphone and a built-in microphone, these headphones provide excellent audio quality. With a sturdy build quality and fitted gradient LED lights, these are an attractive pair of headphones.
Best Features
40 hours of battery life.
Very affordable when compared with similar models on the gaming headsets market.
---
6. LucidSound LS50X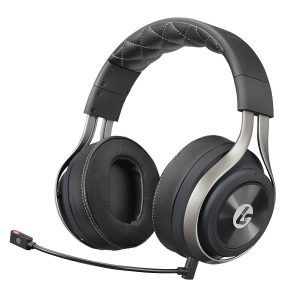 Next up we have selected the LucidSound LS50X. Often described as being one of the best gaming headsets on the market today, the LS50X combines Xbox's wireless signal with Bluetooth connectivity to provide a seamless experience. With a 20 hour battery life and designed with premium materials, this is a top quality choice and is ideal for anyone seeking a headset for gaming and one that doubles up for listening to music while out and about. A nice bonus feature of these headphones is that they come with a hard, durable travel case with space for any cables and accessories.
Performance Highlights
Built using soft, comfortable materials, this headset has luxe ear padding with cooling gel to prevent overheating while you enjoy surround sound with Windows Sonic. By connecting to any of your Bluetooth-enabled devices, you'll be able to play your own music, make phone calls, and use team chat apps on your PC, all while you game. With a flexible boom microphone and an integrated mic, the two separate microphones prevent background noise and cancel any echoes which would otherwise disturb your game play. As all the controls are integrated into the headset, controlling volume, microphones, and answering calls can be done with ease. As a testament to the quality of the LS50X, these gaming headphones have been officially licensed by Microsoft for Xbox One and Windows 10.
Best Features
Provides detailed and accurate sound.
Features a boom mic and an integrated mic.
---
7. Turtle Beach Stealth 600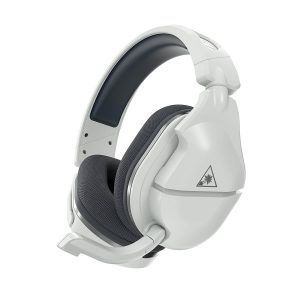 The Stealth 600 from Turtle Beach deserved a shout out on this list; with an average rating of 4.5 stars from over 8,000 Amazon users, these are an affordable yet efficient wireless XBox One gaming headset. Thanks to Turtle Beach's classic high-sensitivity mic, your voice will be clear to all your teammates and you won't be caught shouting as you'll be able to hear the volume of your own voice from inside the headset. Large 50mm over-ear speakers aid in creating the best quality experience in terms of audio.
Performance Highlights
This headset is kitted out with a whole range of gaming features which are particularly impressive when you take into consideration the low price. The rechargeable battery is capable of delivering up to 15 hours worth of gaming per charge and users have the option of activating Turtle Beach's Superhuman Hearing mode by holding down the power button located in among the other on-ear controls. By flipping up the mic, you'll be able to quickly mute it when you don't want your friends and teammates eavesdropping in on your conversations at home.
Best Features
Impressive quality for a budget price.
Features Turtle Beach's Superhuman Hearing to enhance subtle sounds.
---
8. Plantronics Rig 800LX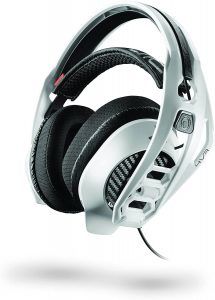 Next up we have the Plantronics Rig 800LX. If it's a lightweight gaming headset that provides the user with an immersive session while gaming that you're after then these could be for you. The left ear contains a volume control, a game chat balance option, the power switch, and a USB port for charging, while the right has the EQ mode switch. Noise-isolating, memory foam ears combined with these controls allow you to adapt your headset to the game you're playing, optimizing your overall experience to make it the best it can be.
Performance Highlights
The Rig 800LX features an easy-to-bend rubber mic which flips up to mute. A useful feature of this is that you'll hear a beep notification once you've muted yourself so that you know for sure your gamer friends won't hear you. This Xbox wireless gaming headset boasts 24 hours of battery life and has a quick charge feature which means that by charging it up for just 30 minutes, you'll have a 1.5 hour stretch of gaming ahead of you. In addition, the 10M range means you can move a substantial distance from your Xbox console without disconnecting. Packed full of features for a very reasonable price, this is an all round great Xbox One headset.
Best Features
Often praised for being comfortable, even when wearing for long periods of time.
24 hours worth of battery life.
---
9. Astro Gaming A20 Wireless Headset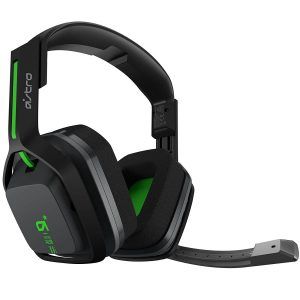 Another great option from Astro is the Gaming A20 Wireless Headset. Constructed using flexible and lightweight materials with cloth cushioning on the ears and headband, these are a comfortable option while being damage-resistant. Consistent with the majority of Astro's best Xbox One headsets, the A20 has square ears with neon accents. Promising 15 hours worth of battery life, they'll be well-suited for a full day of gaming without any issues.
Performance Highlights
The A20 comes with Astro's standard set of three sound presets: Astro, Pro, and Studio. The Astro mode is great as a standard setting, while the Pro mode will emphasize bass, and the Studio mode will allow the user to hear subtle in-game background noises clearly. These settings are easy to switch between by simply pressing a button. On the left side, there's a microphone with a flexible rubber arm which automatically mutes when it's flipped upward.
Best Features
Comfortable and lightweight to wear.
Convenient controls located on the ears.
---
10. Meidong E7B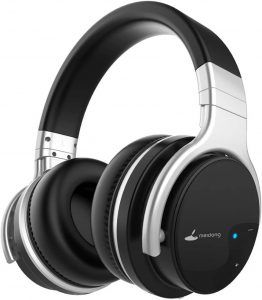 Our final pick is the E7B from Meidong. Despite being the most affordable option on our list, these headphones don't compromise on quality. These simplistic headphones support Bluetooth wireless connection and have a plus and minus button on the right which, if pressed once, will change the song or, if held down, will adjust the volume. On the left side, there's an LED indicator which pauses and plays your music. Although not designed specifically for use with an Xbox console, they're able to connect via a Bluetooth transmitter – keep scrolling to our FAQs section below for our tips on connecting a wireless headset to your console using Bluetooth.
Performance Highlights
With up to 30 hours of battery life and an impressive quick charging time of only 15 minutes for 2.5 hours of power, these are a great option for long sessions in front of the XBox One. Featuring a built-in microphone and noise cancelling technology to prevent background noise from ruining your experience, these are a functional pair of headphones. Memory foam cushioned ears paired with the padded, adjustable headband make for comfortable wearing.
Best Features
A great budget option.
Excellent at noise cancellation.
Our Top Picks
By reviewing our top ten favorite wireless gaming headsets for the Xbox One, we've chosen three categories to make finding the best headset for you even easier.
Best Xbox One Headset Overall
Overall, the LucidSound LS50X comes in as perhaps the best wireless Xbox One headset in the list we have compiled for you. With luxurious gel-infused ears, excellent audio, and a range of convenient features, this is an all-round brilliant headset.
Best Xbox One Headsets for the Money
If you're on a budget, we would recommend the SLuB Bluetooth Headphones as a best buy. Coming in at under $60, these are one of the best value Xbox One gaming headsets on the market and make for a great transition from headphones which use an exclusively wired connection.
Best Xbox One Headsets for Multiplayer Gaming Sessions
Set to be released in September 2021, the Turtle Beach Stealth 700 Gen 2 is designed with multiplayer gaming in mind. The user can customize game and chat preferences to fit with the Xbox game being played and the highly sensitive, flip-to-mute microphone means you'll be able to communicate with your friends and teammates clearly.
Considerations for Buying Wireless Headphones for Xbox One
Below you will find a list of the factors you'll want to keep an eye out for before buying the best wireless headset for Xbox One.
Battery Life
Battery life is an important factor to take into consideration when choosing the best Xbox headsets. As a general rule, we would recommend keeping an eye out for models which have between 15 to 20 hours of battery life. A handy additional feature is a quick charge function; some of the headphones we have listed above can get an extra hour or two of play from just 15-30 minutes worth of charging.
Microphone
The microphone is, unsurprisingly, another key feature to look out for. A flexible yet durable microphone which can flip up into the headset is a good idea, especially if this activates the mute function. You want your teammates to be able to hear you clearly, with minimal background noise to prevent distraction.
Comfort
Comfort is often forgotten about when prioritizing the technological capabilities of a wireless Xbox one gaming headset. Gel-infused, cooling ears will prevent you from overheating while playing, allowing for extended gaming marathons. An adjustable, padded headband is also a must. If you wear glasses, check to see if the headphones have a soft cushioning where your headphones make contact with your glasses. Having a glasses-friendly design is becoming increasingly more common now so it's certainly not worth picking a wireless Xbox headset where the pressure of your glasses against your head begins ruining your winning streak!
FAQs
We've put together a list of the most frequently asked questions when it comes to finding a great wireless Xbox One gaming headset and given you the answers you've been looking for.
How to connect Bluetooth or Wireless headphones to Xbox One:
Headphones compatible with Xbox Wireless are the most straightforward to connect to your console. Just as your controller connects to your console, an Xbox Wireless compatible headset will connect directly to your console without the need for an adapter. Xbox Wireless automatically configures the headset's connection, so you'll just need to turn on the headset and begin playing.
With Bluetooth headphones, you'll need to purchase and connect a Bluetooth transmitter to your controller using the 3.5mm aux port. This will act as an adapter and will connect to your headphones. Once connected, use the pairing button on the transmitter to activate and begin your Xbox One gaming session.
What are the best brands of wireless headphones?
Several brands pop up more than once on our list above and that's simply down to the fact they're among the best manufacturers of wireless headphones. Turtle Beach, Razer, and Astro are among our favorites and we feel confident in recommending their products because they're bestsellers which have been tried and tested by thousands of customers who praise their performance and reliability.
How easy is it to use Bluetooth headphones on Xbox One?
As many of you will already know, the Xbox One doesn't have Bluetooth connection capabilities. Xbox One consoles use Microsoft's Xbox Wireless to connect to other devices and the controllers themselves. Most of the headphones with Bluetooth connectivity options listed above use Bluetooth simply for taking calls and listening to music, while using Xbox Wireless for gaming.
If you wish to use Bluetooth headphones with your console, you can purchase a third-party Bluetooth Transmitter which is inserted into the aux port on the controller. This will pair your headphones with your console pretty easily and you'll then be able to use your Bluetooth headphones to listen and talk with friends while gaming, all without needing a wired connection.