Looking for wireless headphones for your TV and tired of dealing with headphone cords? Do you want to watch late night TV without waking the baby? Well, this is the article for you!
Wireless headphones are good option for TV, as no one wants to worry about cords and cables. Whether you're suffering from hearing loss, or simply want to add to your home theater set up, they're a great choice. They can be much more comfortable, and won't interfere with your listening experience.
To help you choose the best pair for you, here's a list of the top ten best wireless headphones for TV that are on the market now. With plenty of great choices for different budget, comfort, and sound quality needs, there's something to suit everyone.
We hope our list provides you with the information you need to choose the best wireless headphones for you.
Top 10 Best Wireless TV Headphones
1. Artiste Wireless TV Headphones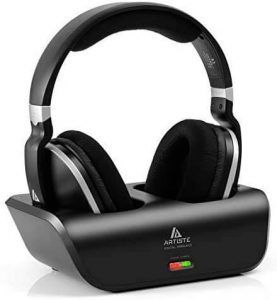 Our first product is the Artiste Wireless TV Headphones, which boast a 100 ft wireless range with 20 hours of battery life, so you won't need to worry about staying close to your television
The 40 mm high resolution drivers deliver incredible quality audio output, and with a padded headband you'll be listening in comfort for hours. The fully sealed ear cups effectively reduce sound leakage, so watching TV shows late at night won't be a problem.
The item comes with a great charging dock, which doubles as a useful desktop transmitter. They support 3.5 mm and RCA, and do come with an adapter which should increase your connectivity possibilities.
Best Features
40 mm drivers ensure great audio quality.
They come with an easy to use base station.
---
2. Mpow H19 IPO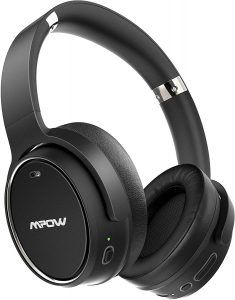 Our second option is from Mpow, and is the budget friendly Mpow H19 IPO wireless headset with active noise cancelling. Available in two color combinations, the product includes built in digital active noise reduction so that your TV watching won't be interrupted. As the cheapest wireless headphones for TV on our list, the Mpow headset's 40 mm ensure great audio quality for the price.
Compared to other models, this over ear option is one of the lightest on offer, and also boasts memory foam ear cups for an incredibly comfortable fit. No matter how noisy your family or roommates, you'll be able to watch in comfort for hours with the enviable 35 hours of battery life.
With support for Bluetooth 5.0, the Mpow H19 IPO will give you great wireless range, and integrated control buttons mean you won't be hunting for the television remote. A built in CVC 8.0 noise cancelling microphone makes this product great for playing video games or making phone calls, too.
Best Features
Lightweight with memory foam ear pads for long term comfort.
Uses Active Noise Cancellation technology.
---
3. Avantree HT5009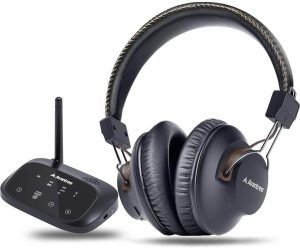 Our next pair of headphones boasts premium specifications for a reasonable price tag. The Avantree HT5009 headset certainly packs a lot of punch, and offers something for all.
Unlike the Avantree Audition Pro headphones, this model supports FastStream, as well as aptX HD and aptX Low Latency codec, keeping audio latency to a minimum. The headphones' Class 1 transmitter with 100 ft range, and impressive 40 hour battery life, means you'll be able to enjoy watching TV for hours without worrying about low latency or charge.
The Bluetooth headphones have a plug and play set up, making them easy to use for anyone. They incorporate a 'Bypass Mode', meaning you can play audio through the headset and wired speakers at the same time. This is especially great for family members who have hearing loss, as they can enjoy watching movies with the rest of the family without having to turn up the TV speakers.
The transmitter can support up to two pairs of wireless headphones simultaneously, making the Avantree HT5009 a great addition to your home theater setup. Simply purchase a second pair of headphones and pair it with the original transmitter. Volume control on the ear cups means each user can customize the sound to their preference.
Best Features
Only wireless TV headphones in the list to support aptX HD and aptX Low Latency Codec.
Great range of features for a moderate price.
---
4. Rybozen Wireless TV Headphone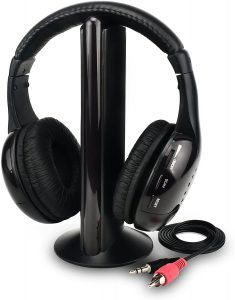 Our fourth pair of wireless headphones for TV comes with an enviable audio range that can stretch beyond 100 ft. The Rybozen Wireless TV Headphones create a great audio experience without the need for a single audio cable.
The product includes a rechargeable battery that provides up to 18 hours of battery life, and they can be converted to a wired unit when a wireless connection isn't needed. The included RF transmitter doubles as a battery charging station, and the product can work with RCA optical, or standard 3.5 mm audio jacks.
The Rybozen Wireless TV Headphones are one of the weightiest options on the list, but the soft touch padded ear cushions should create a comfortable fit. With Bass Boost and 3D sound modes, a lot of feedback states that the Rybozen Wireless TV Headphones offer great sound within an affordable price range.
Best Features
Great audio quality at a reasonable price point.
Impressive wireless range means you won't be restricted.
---
5. NEEGO Sony Wireless Headphones for TV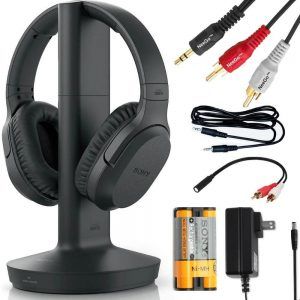 Our fifth pick is a high performance product and great addition to your home theater system. The NeeGo Sony Wireless Headphones for TV comes with several amazing features, specifically for those with hearing aids. An impressive wireless range of over 100 ft means that all users will be able to enjoy high quality sound effects in comfort.
These wireless headphones come in a bundle pack which includes the wireless headset, a dual use charging dock and transmitter, alongside a Bonus Y-adapter with a 3.5 mm stereo and 2 RCA Plug. The item is compatible with RF and Bluetooth, meaning your connectivity options are endless.
The product is optimized for cinema with 40 mm drivers, and additional sound modes mean you can customize your audio experience. The NeeGo Sony Wireless Headphones include a 'voice mode' which enhances speech and makes it much easier to follow. Several customers mention how effective the headset's voice mode is, making it one of the best wireless options for watching TV with hearing loss.
This option is the weightiest product on our list, but adjustable ear pads and a respectable 20 hours of battery life should help you enjoy TV shows in comfort.
Best Features
Great option for watching TV with hearing loss.
Range of connectivity features
---
6. Sennheiser RS120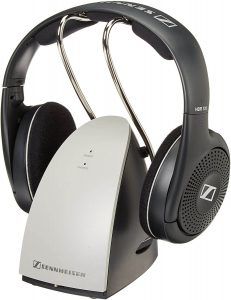 Our next product boasts one of the most impressive wireless ranges yet. The Sennheiser RS 120 supports a wireless range of up to 300 ft, even when outside. This item does not support Bluetooth, but allows you to choose between 3 RF channels, so you can pick the connection with the least interference.
The product includes a charging dock that also works as a transmitter, and NiMH rechargeable AAA batteries that can deliver up to 20 hours of battery life. The transmitter allows very easy setup, as it connects automatically to any device with an analog output. You can also connect multiple pairs of headphones, allowing you to enjoy late night movies as a family.
Ear cup controls allow you to easily change volume and tone without a remote, whilst the Open-Aire design delivers a high quality and customizable sound profile. The strong bass response makes the Sennheiser RS 120 an ideal pair of home theater headphones, allowing you to enjoy sound effects in full.
As one of the lightest headphones on our list, this option from Sennheiser delivers comfort and sound quality on a respectable budget.
Best Features
Superior range of up to 300 ft, even outside.
High quality sound for a reasonable price.
---
7. COWIN E7 Noise Cancelling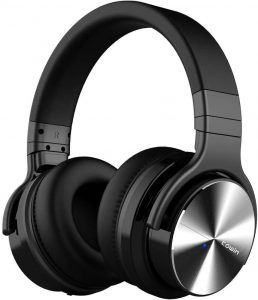 Our seventh choice of the best wireless headphones for TV is an affordable option that comes in up to 6 different colors – so you won't be limited to the classic black. The COWIN E7 headphones boast Active Noise Cancelling technology, and 40 mm drivers will deliver great sound quality, even in noisy environments.
The built in microphone makes these headphones a great choice for use as a gaming headset, or for hands-free calls. NFC technology ensures quick and easy device pairing using voice prompts, and supports a range of up to 100 ft in direct line of sight.
The COWIN E7 does offer Bluetooth connection, but doesn't support the latest Bluetooth 5.0. The fairly lightweight design means you'll be listening in comfort for up to 30 hours of battery life.
Best Features
NFC technology and voice prompts makes them quick and easy to set up.
Supports Bluetooth connects.
---
8. Bose SoundLink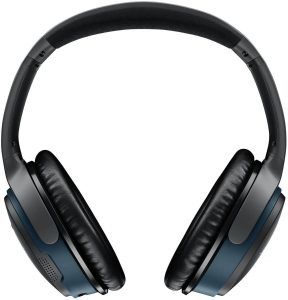 Our next choice offers several connection options for a premium budget. The headphones enable you to switch between up to 2 devices at one time, so you can watch movies while staying connected to your smartphone. Convenient controls on the side of the headset allows you to adjust volume and easily switch between devices.
The Bose SoundLink is the lightest headset on our list, with 'circumaural' ear cups that create a comfortable seal and reduce sound leakage – so you won't be bothering your household. The product does support Bluetooth for low latency television watching and a high quality connection. The Bose SoundLink supports a modest 30 ft range and 15 hours of play time.
Best Features
Multiple device pairing for great connectivity.
Comfortable and incredibly lightweight design.
---
9. Sennheiser RS175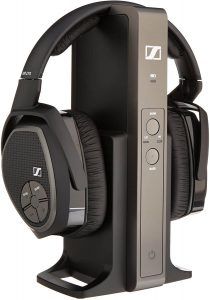 Our penultimate choice is a great pick for any TV loving audiophile. The Sennheiser RS 175 offer several listening modes that make them an ideal pair of home theater headphones. Bass Boost and 2 different surround sound listening options will enhance your watching experience, whether you're watching action movies or simply browsing TV shows.
The headphones boast plug and play setup, and several users have commented on how easy they are to use. The charging dock is also a transmitter, and can support up to two pairs of headphones simultaneously. Cable free charging and a 300 ft range means you'll never be worried about wires. The main controls are incorporated into the headset, making them even easier to use.
The headset does not support Bluetooth, and some users have commented on how the lack of RCA jack or adapter does limit your connectivity. Many customers praise the product's dynamic and compact build quality. Battery life can last up to a moderate 18 hours, and as one of our lighter options, comfort is guaranteed.
Best Features
Great sound quality with customizable options for all of your television show needs.
Impressive 300 ft range.
---
10. Jelly Comb Wireless TV Headphone Set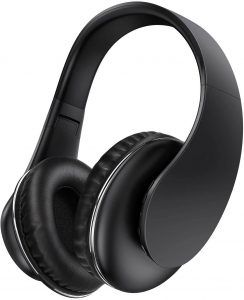 Our final pick is one of our most budget friendly choices. The Jelly Comb Headphone Set delivers an impressive 100 ft range at an accessible price point, and will suit many of your requirements.
The product is one of the best wireless headphones for compatibility, and has the advantage of working with most televisions with optical, AUX/ 3.5 mm or RCA audio outputs. The product does not support Bluetooth, and instead provides a wireless connection using radio frequencies. An included transmitter doesn't have dual function as a charging dock, but it does allow you to use multiple wireless headsets at once.
If you don't mind compromising on battery life, the Jelly Comb Headphone set offers excellent stereo sound, making it perfect for film, television or music.
Best Features
Accessible price point.
Respectable 100 ft range.
Our Favorites
Best Overall
Our overall best wireless headphones for TV are the Avantree HT5009. At a reasonable price point, this product offers a range of features that makes them one of the best headphones to add to your home theater. The only headphones on our list to support aptX HD and aptX Low Latency codecs, the Bluetooth Class 1 transmitter will offer you an incredible home entertainment experience with minimal audio lag.
The Avantree HT5009 boasts an impressive 100 ft range and high performance 40 hour battery life. The wireless transmitter can support up to two headsets simultaneously, and with simple plug and play setup, you'll quickly be able to enjoy a movie with multiple people at once.
The innovative Bypass Mode technology adds a new dimension to the way you watch TV. Allowing playback from the headphones and TV speakers simultaneously, everyone in the family will be able to enjoy television without turning up the soundbar speaker volume and annoying the neighbors. The lightweight design makes it a comfortable option for all – even kids.
It may not have a charging dock, but the Avantree HT5009 certainly packs a punch for the price, and is a great piece of tech for improving access to wireless tech.
Best For the Money
Our best buy for the money has to be the Mpow H19 IPO Bluetooth headphones. They may be the cheapest on our list, but the Mpow H19 IPO deliver an impressive range of features for an incredibly low cost.
The lightweight build quality and memory foam ear pads make for comfortable use for up to 35 hours of battery life. The noise cancelling technology means you won't have to worry about outside noise, whilst support for Bluetooth 5.0 and 40 mm drivers will consistently delivery high quality sound. The headphones' 100 ft range means you won't be confined to one room in the house, and will be able to enjoy Netflix cord-free.
A built in CVC 8.0 noise cancelling mic makes the Mpow H19 IPO a versatile choice – they'll be great for Skype, listening to podcasts, or enjoying a new season of your favorite TV show.
One drawback is the lack of charging dock, so you may need to purchase a separate transmitter to enjoy these home theater headphones. However, the Mpow H19 IPO undeniably offers a budget-friendly and high quality sound experience, without a sound bar in sight.
Best for the Sound Quality
When choosing a pair of headphones that guarantee clarity and premium audio quality, the Sennheiser RS 175 has to be a no brainer. The various Bass Boost and Surround Sound audio modes mean you can truly customize your experience, and will consistently deliver high power audio.
Sennheiser as a brand has truly earned its reputation for great audio performance, and you won't have to worry about missing any dialogue.
For the premium price, expectations will be high, but the Sennheiser RS 175 delivers great specifications. The charging dock doubles as a transmitter, which supports up to 2 headphone sets at once, so you can really share a great television experience. An impressive 300 ft range and respectable 18 hours of battery life mean you won't have to cut your movie marathon short, and should reduce any issues with syncing or latency.
Some drawbacks include the lack of support for Bluetooth or RCA audio input, but if your focus is sound then you can't go wrong with the Sennheiser RS 175 headphones. With such crisp audio, picking up dialogue and subtle sound effects will be easy.
Buyers' Guide and Things to Consider
Connectivity
The main factor you need to consider when choosing the best wireless headphones for TV is connectivity, as it can really affect your signal. Unfortunately, not all wireless earbuds or headphones support Bluetooth, and many smart TVs don't use it either. It's important to make sure that you purchase wireless headphones that are compatible with most televisions.
3.5 mm and RCA input options are always a good choice, but you can also purchase adapters which will increase your connectivity options.
Some wireless headphones include a useful charging base station which can also work as a transmitter, and some connected devices also have this function, such as soundbars. You may have to purchase your own transmitter separately, in which case it's good to consider one that allows you to connect multiple headsets simultaneously. If you own a PS4 or an Xbox One, these can work in the same way, but you'll have to use wired headphones to connect with the wireless controllers.
Sound Quality
Sound quality is another important factor that can really impact your audio experience. If you have hearing loss, products that include voice isolation modes can help emphasize TV dialogue. If you're keen on an authentic home theater experience, the best headphones for you might include Bass Boost or Surround Sound audio options.
Similarly, if you live somewhere noisy, or want to watch TV on your commute, then choosing a product with noise cancelling technology will help bring your experience to the next level. Noise cancelling can impact overall sound quality, but it can also keep you free from distractions.
Don't forget that better sound quality can come with a premium price tag, especially if the product includes customizable modes or special features.
Size and Material
Size and material can be easy to overlook, but there's no use purchasing wireless headphones if you can't enjoy your next movie or Netflix marathon in comfort.
Wireless earbuds will make a more lightweight option, but they can't guarantee immersive sound or noise cancellation. Neckband design can also be less durable than the headbands on wireless headphones.
It's important to keep product weight in mind, especially when purchasing headphones for children or for long term use. A weighty model can be uncomfortable on your ears or head after several hours of use, and features such as memory foam ear cups or padded headbands will make a lot of difference.
If you're keen on noise cancellation technology, over-ear headphones can produce better effects than on-ear models.
Battery Life and Wireless Range
No one wants to press pause on their TV watching because of a poor audio signal or low charge, so battery life and range are also key factors to consider.
Keep in mind that some models only guarantee impressive range when you remain in the transmitter's line of site, so if mobility is important to you, choose a model that guarantees signal across multiple rooms.
A minimum of 10 hours of battery life should be fine for standard living room use. However, if extended battery use is important to you, quick-charge models and products with up to 40 hours of usage are available.
FAQs on How to Watch TV with Headphones:
How Do Wireless Headphones Work for /with TV?
Many wireless headphones come with a base station that can be used as a charging dock, and also as a transmitter that is plugged into your TV. These options work with radio frequencies, and can be plugged into the optical or 3.5 mm audio jack.
Alternatively, you can purchase headphones that support Bluetooth, which can connect to many Smart TVs. If your TV isn't Bluetooth enabled, you can purchase a separate transmitter which uses the 3.5 mm or RCA output from your television, and converts it into a Bluetooth signal.
Unfortunately, if you own other sound devices, such as soundbars, you'll have to swap them out of the jack when you want to use your headphones. This applies for RF and Bluetooth headphones.
RF frequencies can provide bigger wireless ranges, but headphone models that support Bluetooth 5.0 can provide a lower latency experience.
Are Wireless Headphones for the TV Worth It?
Purchasing dedicated wireless headphones can be one of the easiest options for enjoying wireless audio from your TV.
Firstly, there are some drawbacks to wireless headphones for the TV. Your frequency can be interrupted, particularly if walls block the signal. Battery life can also cut your TV watching short, and audio latency might affect your experience. Weightier models might become uncomfortable after long term use. However, wireless headphones for TV also carry many advantages, and make a great addition to your home theater setup.
They're often a more durable alternative to wireless earbuds, and can be more effective at noise cancelling, or providing enhanced audio experiences.
If a member of your family has hearing loss, wireless headphones can be a great option. Some models include a 'Bypass Mode' so that audio can be played through the TV and headphones simultaneously, and everyone can enjoy movies at their preferred sound level. Other wireless headphones also boast impressive voice enhancement tools, so that dialogue is easier to understand.
Wireless headphones might also be your best option if you enjoy late night TV, but are worried about receiving a noise complaint. Some models might produce sound leakage when listening at high volumes, so purchasing over-ear headphones is something to consider.
If you enjoy watching TV or listening to music whilst cleaning or being active, wireless headphones will also benefit you, as you won't have to worry about missing a single second. Many products allow you to connect several headsets at once, so enjoying great audio with friends can be easy.
Overall, wireless headphones for TV are a great choice. With so many options for every audio quality, comfort, and budget requirement, you're sure to find a solution for your needs.