When it comes to headphones the wired version has always been the main contender with Bluetooth versions being more of a gimmick that doesn't provide the kind of sound quality and connectivity that a lot of people desire. Over the past few years, the technology in these Bluetooth headphones has become more advanced making them just as good, if not better than a lot of wired models available.
If you are looking for these good quality wireless products it doesn't mean you have to break your bank account in order to find something that is of great quality. In our list today we are going to show you some of the best options that are currently out on the market, all of them under $50 price range.
Best Overall- Motorola Escape 220 Over-Ear water resistance Headphones
Best for Sound Quality- Sony wireless WH-CH510 headphone
Best for Commuters- HolyHigh waterproof earbuds
Top 10 Best Headphones under $50
1. iTeknic Active Noise Cancelling Headphones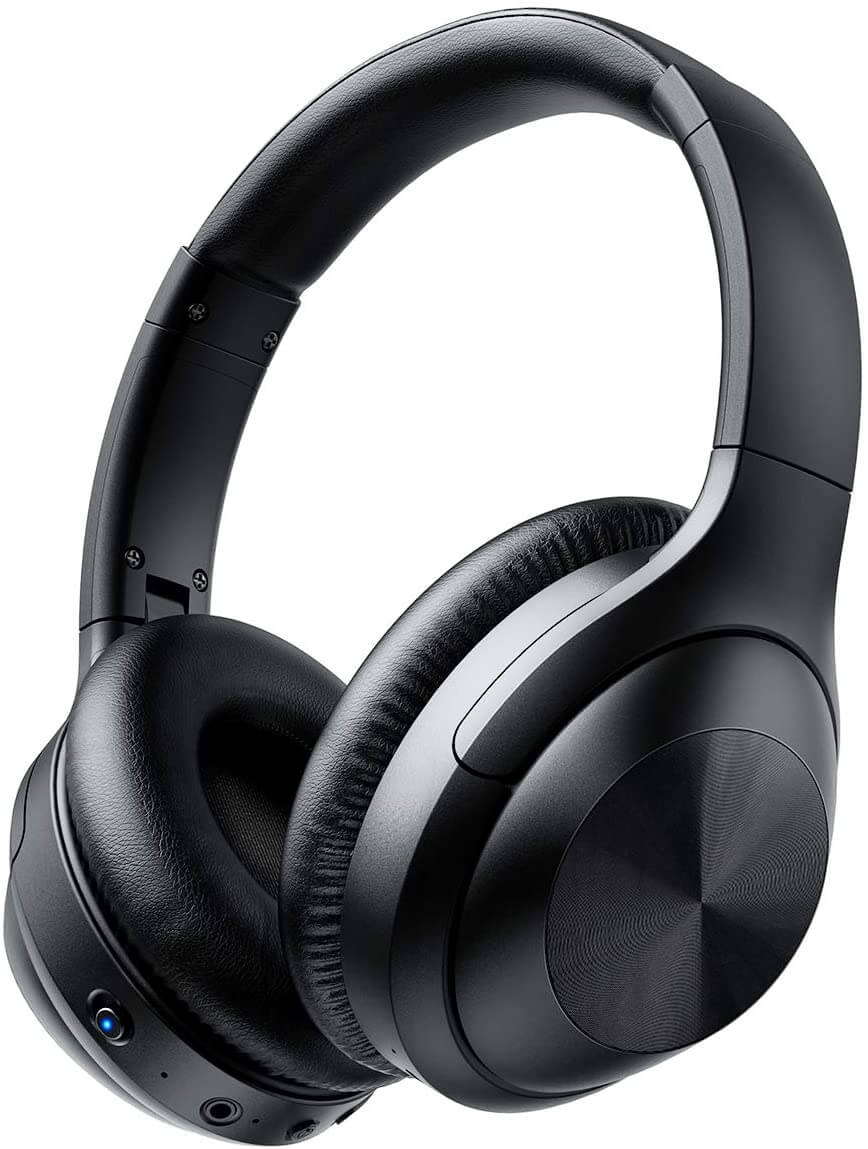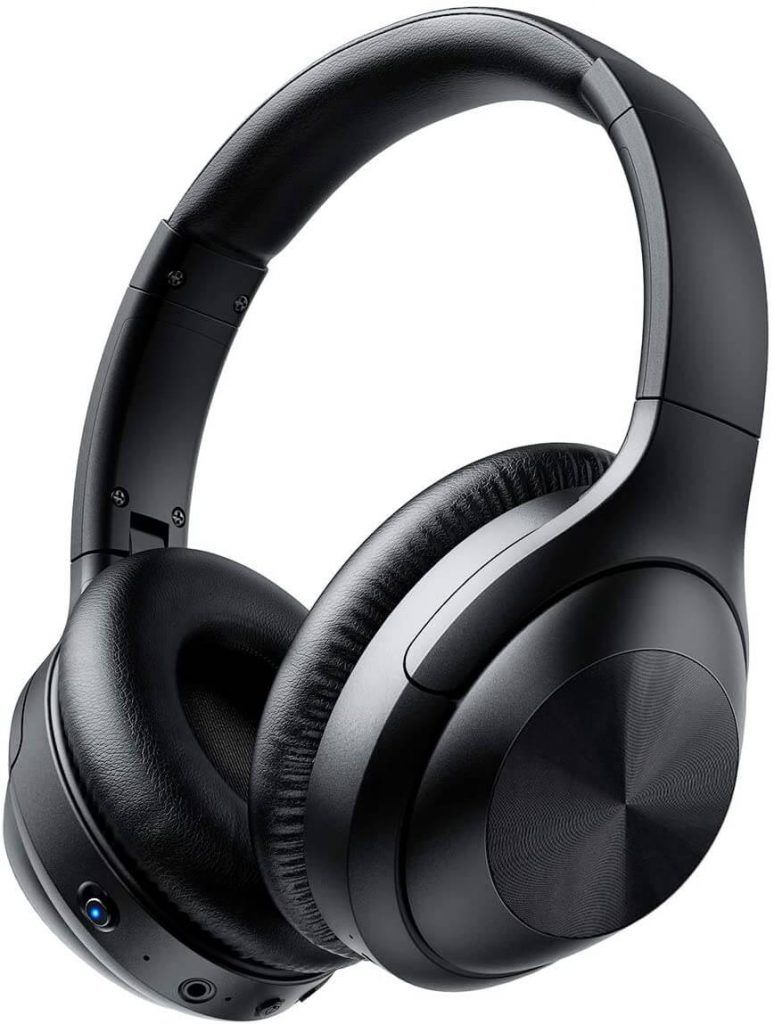 The iTeknic active noise-canceling headphones offer the best in this modern technology which can reduce sound in a single second, even when you are in a loud and busy environment. Advanced AS3435 noise-canceling technology is a great way in providing you more pleasant moments listening to music and protecting your ears from any excessive noises.
In a single 1 hour charge there are 30-hours of playtime that the 500mAh battery offers, and after just 5 minutes there is 2-hour battery life. An added extra that isn't always available in headphones cheap is the active sound cancellation, blocking out any disturbing or stressful background noises.
The decent sound profile is amazing with a complete Hi-Fi Sound and captivating Bass production, all enhanced with an independent chip, independent switch, neodymium magnet, and deep, accurate bass responses. All of this helps the iTeknic noise-canceling headphones provide you with an overall more pleasant music listening experience.
Comfort is instantly brought to your ears with the lightweight design and 90-degree revolving earmuffs that have soft protein ear pads that help relieve any stress and pressure on your ears, even after wearing them for a considerable amount of time. The microphone that is built into these pairs of headphones has a built-in CVC 6.0 double microphone sound reduction system that suppresses any environmental noises helping you get a completely clear sound when you are using it for calls.
A stable connection is brought wherever you go with the steady Bluetooth 5.0 that is quick, offering you the best hands-free call experience available. These speakers can be enjoyed both wireless and wired giving you a good amount of options.
Best Features
Both wireless and wired connectivity
Comfortable earmuffs for long wear
Noise-cancelling
---
2. Sony WH-CH510 Headphones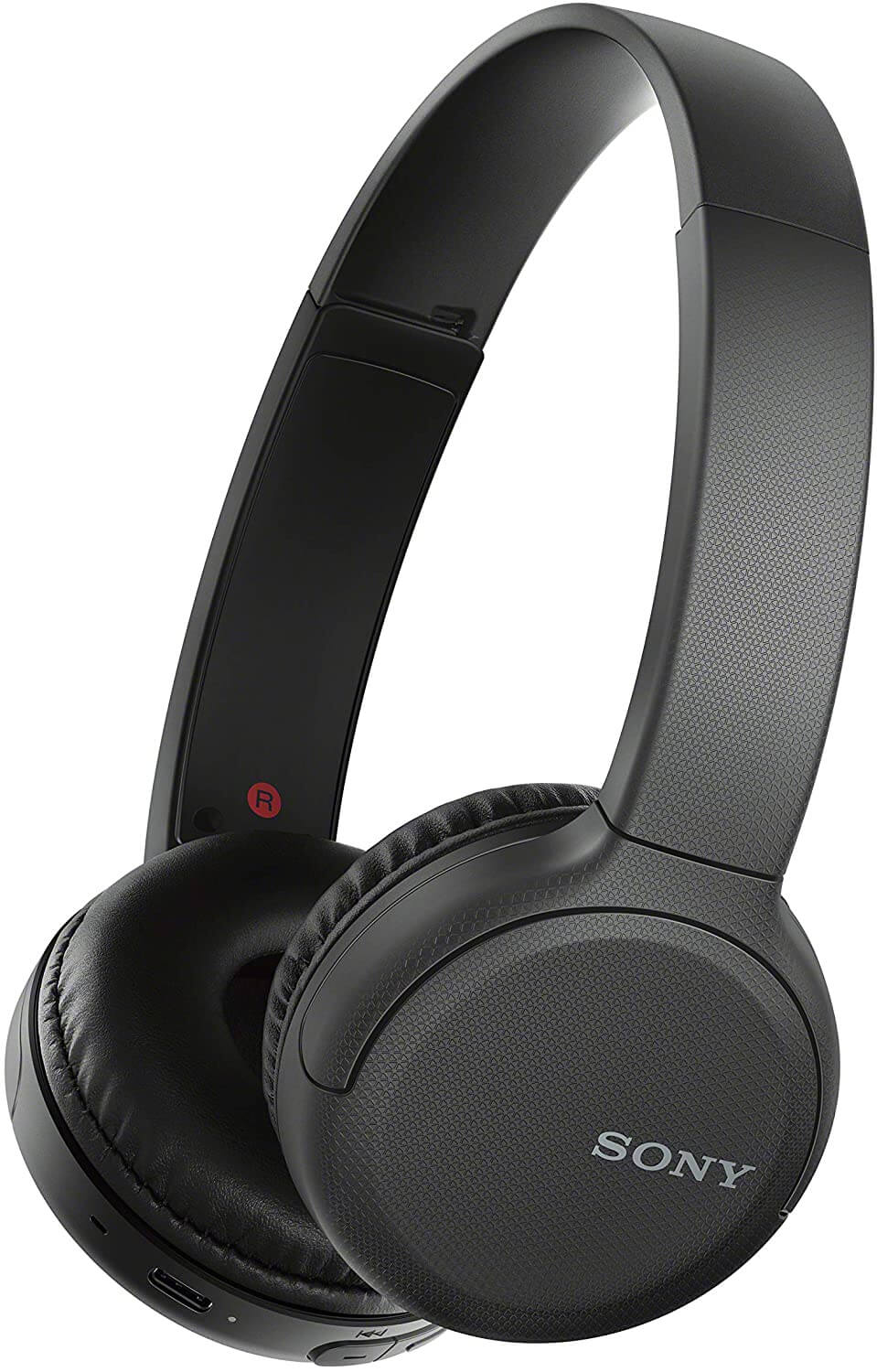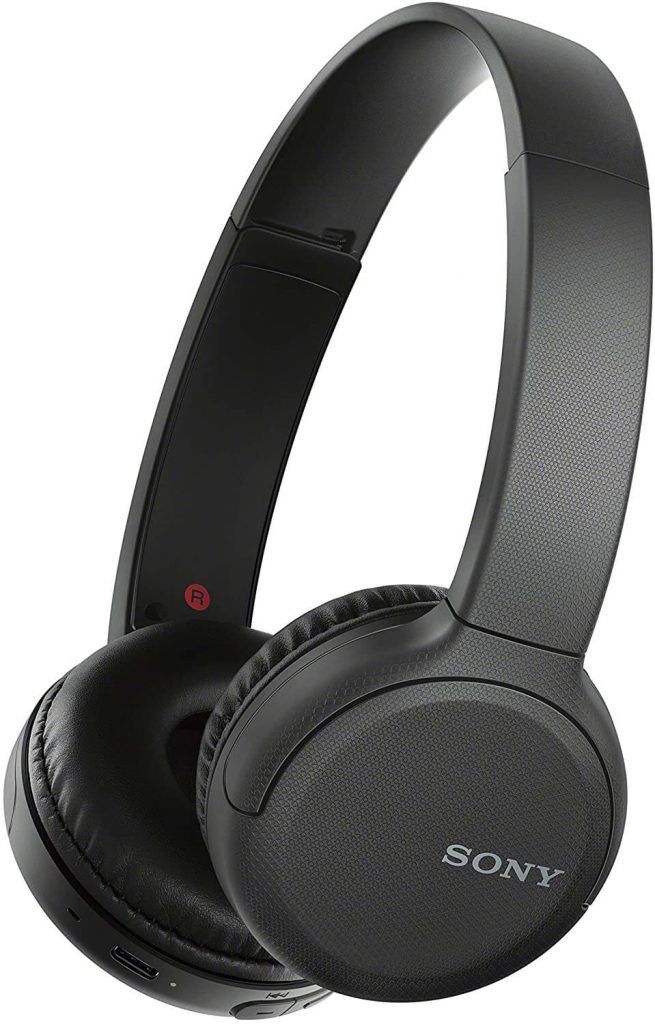 The Sony wireless WH-CH510 headphones are amazing, they are lightweight headphones with great battery life with a super-fast USB-C charging connection which gives super long life. They connect via Bluetooth 5.0 and off great balanced sounds.
A nice little feature for these cheaper headphones is the 90-degree swivel from the earcups which allows you to lay them flat on your neck or the table if you are not using them. These have been ergonomically designed for ultimate comfort not putting too much pressure onto the ears when they are being worn.
Cheap headphone wireless products of this price range usually don't have the best microphone, but surprisingly the Sony's microphone is really good for calls. The battery life boasts an impressive 35 hour of music listening time, and when they are in need of a charge the extremely fast USB-C port can bring an extra 90 minutes battery life with just 10 minutes of charge.
The construction is completely plastic which makes it feel a little fragile, and the headband doesn't include any padding which isn't the best for bald heads.
The decent sound profile is balanced across the entire frequency with great stereo separation for clear crisp listening. The sound doesn't leak too much either so you will not disturb anyone around you listening to your own music. An overall simple set of lightweight headphones that offer an amazing battery life with balanced funds that everyone can enjoy.
Best Features
Balanced sound
Long battery life
---
3. Motorola Escape 220 Over-Ear Headphones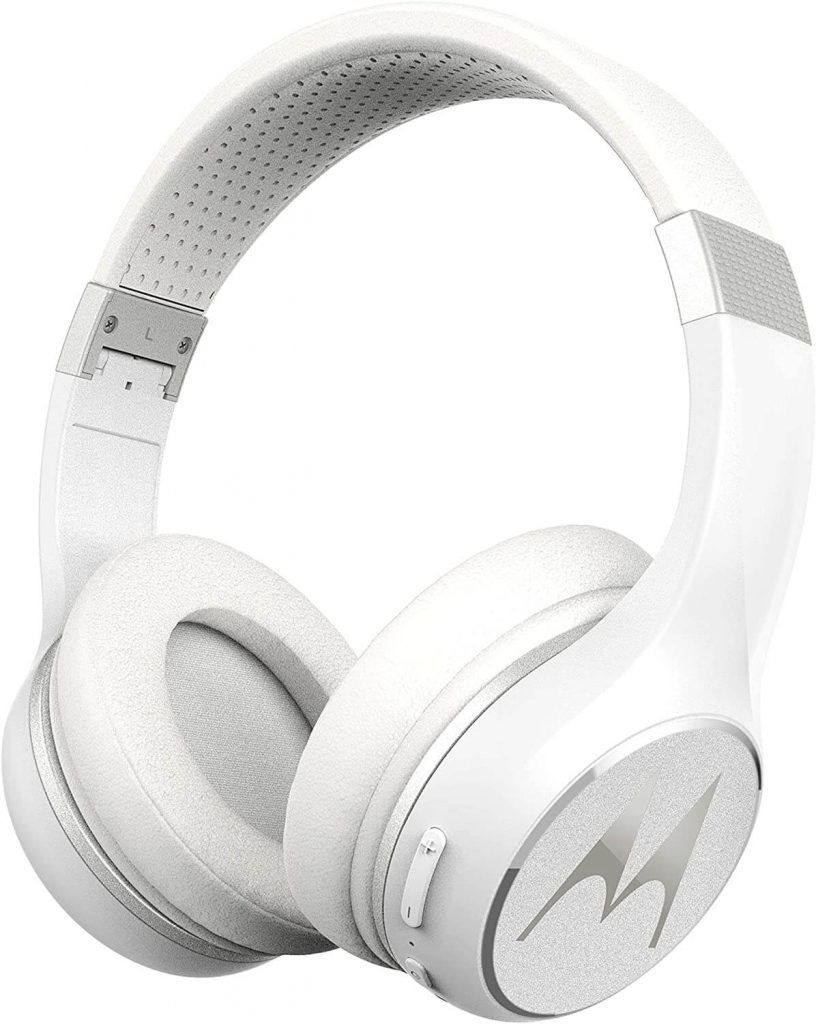 Stay connected for longer with the Motorola Escape 220 Over-Ear surround sound Headphones including a 300mAh Li-ion battery, that provides 23 hours of non-stop play-time. These headphones under 50 feature an integrated microphone that is able to capture your voice very loudly but also in a crisp, clear way, ensuring you are left with distortion-free phonecalls anytime you make or receive a call.
Listen to your favorite tracks at the best ability with beautiful audio received at a high-quality as these over-ear headphones hold 40mm sound drivers making crystal clear audio. Having tangled wires is a thing of the past as the ear headphones connect to your devices via Bluetooth allowing you to move around freely in any situation you are in, such as working to walking around.
Designed to be worn all day without feeling any head or ear discomfort, the ear cups are cushioned and the adjustable headband allows a soft and comfortable fit. An amazing feature that isn't always seen at headphones at this price is the passive noise cancellation that blocks out any external sound and noises that can be distracting or stressful.
Best Features
Comfortable fit
Noise cancellation
---
4. HolyHigh Waterproof Earphones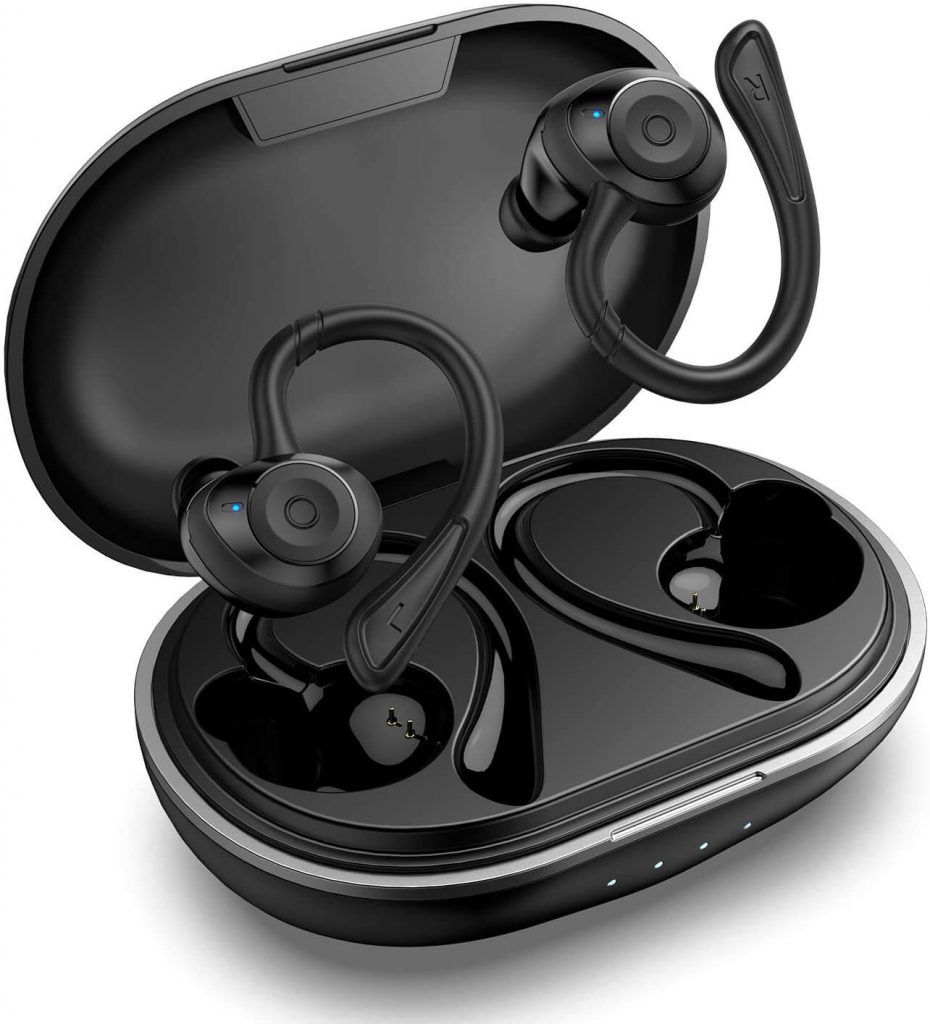 The HolyHigh water resistance earbuds provide the ultimate comfort and stability in your ear, with numerous tests and development changes the final design with the ear hook fits your ears completely and comfortably. The materials are skin-friendly not leaving nay irritation. No more discomfort or pain will be had even if these ear headphones are used for long periods of time.
These wireless earbuds are the perfect choice for people who love sports, the hook design fully fits the contour of your ear and will guarantee a comfortable wearing experience without them falling out. The waterproof IPX7 material on these earbuds helps you fully focus on your workout and not have to worry about your listening headphones. The operation button system plays a big part in this with you not having to worry about misoperation such as sudden pauses by touching accidentally.
Music can be enjoyed from morning till night making the audio experience better than ever before. With a continuous playtime of around 5 hours which isn't the longest compared to other models but the charging case offers 6 available full charges which give you 35 hours of total playtime helping you enjoy your music all day and night.
The latest in wireless pairing technology allows you to seamlessly switch between Stereo mode and Mono mode at any time you desire. Convenience is also brought to you as once connected these true wireless ear headphones under 50 will remember your device and connect automatically when they are turned on and an available Bluetooth connection is located.
Best Features
Stereo and Mono available modes
Water-resistant
---
5. PowerLocus Over-Ear Wireless Headphones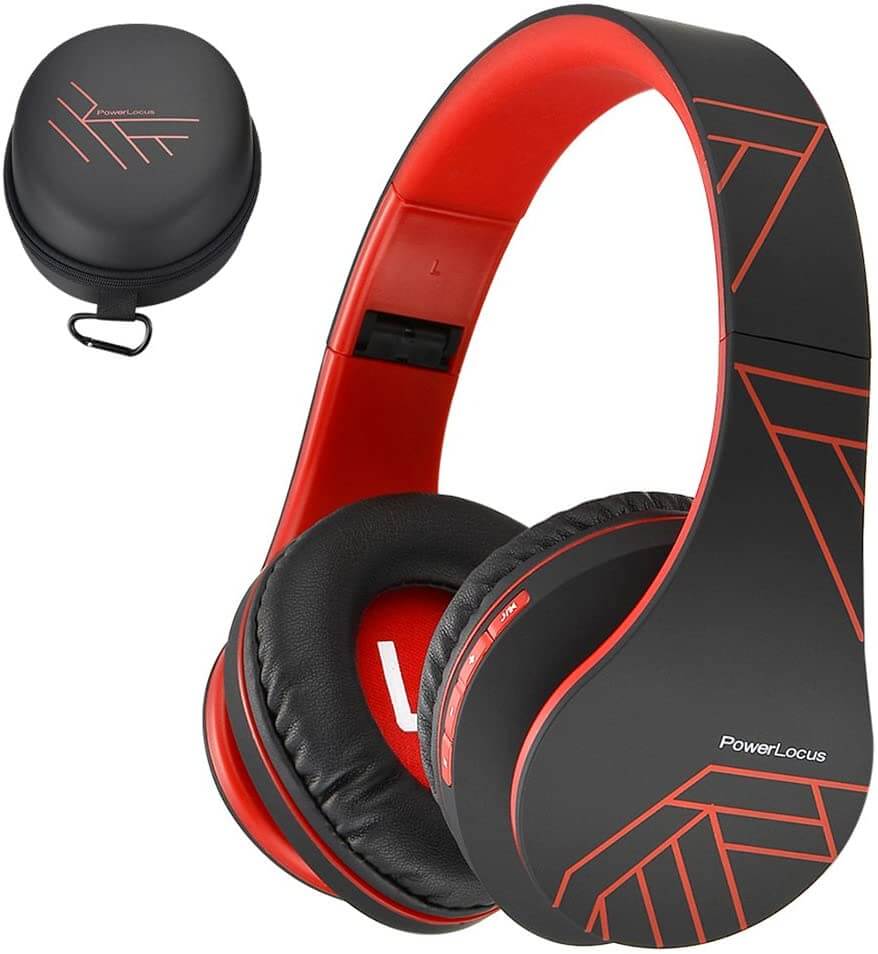 PowerLocus has developed a set of amazing Over-Ear Wireless Headphones offering a high-definition stereo output that produces amazing quality sound profile, and specially developed software that provides noise cancelation technology that aims to offer a new experience to you from your device. The combination of both low bass and dynamic power sound creates a superior audio quality that is well balanced even when listening to louder volumes.
These true wireless connected best headphones under 50 are foldable and stretchable making them comfortable for pretty much any size head, making them the perfect choice for any age. PowerLocus bring joy to everyday use with the elegance in style and convenience in the technology, the number one choice for travel, sport, and everyday use.
The 5.0 connectivity is fast and strong, with the connection being really easy to use having a slide on/off button that pairs the headphones to any connectivity enabled device. There is also a 3.5mm jack output that lets these best headphones be compatible with both Bluetooth connectivity and wired connections.
A microphone is on these pair of headphones that makes hands free calls simple and effective, with the added use of sound reduction technology that prevents any background noises coming through as you are speaking. The materials that are used offer a premium look, design, and feel giving the finish of a much more top-end product, especially with the memory foam leather earmuffs that mold to your ear shape giving the best comfort.
To keep them looking as fresh as ever there is a premium carry case that is included in the package which stops the casing from getting scratched or damaged. Completely rechargeable with a 15-hour playtime on a single charge you will have no problems using these headphones on the move all for a great low price.
Best Features
Memory foam earmuffs for extra comfort
Sound reduction technology when making phone calls
Well balanced sound
---
6. Falwedi Active Noise Cancelling Headphones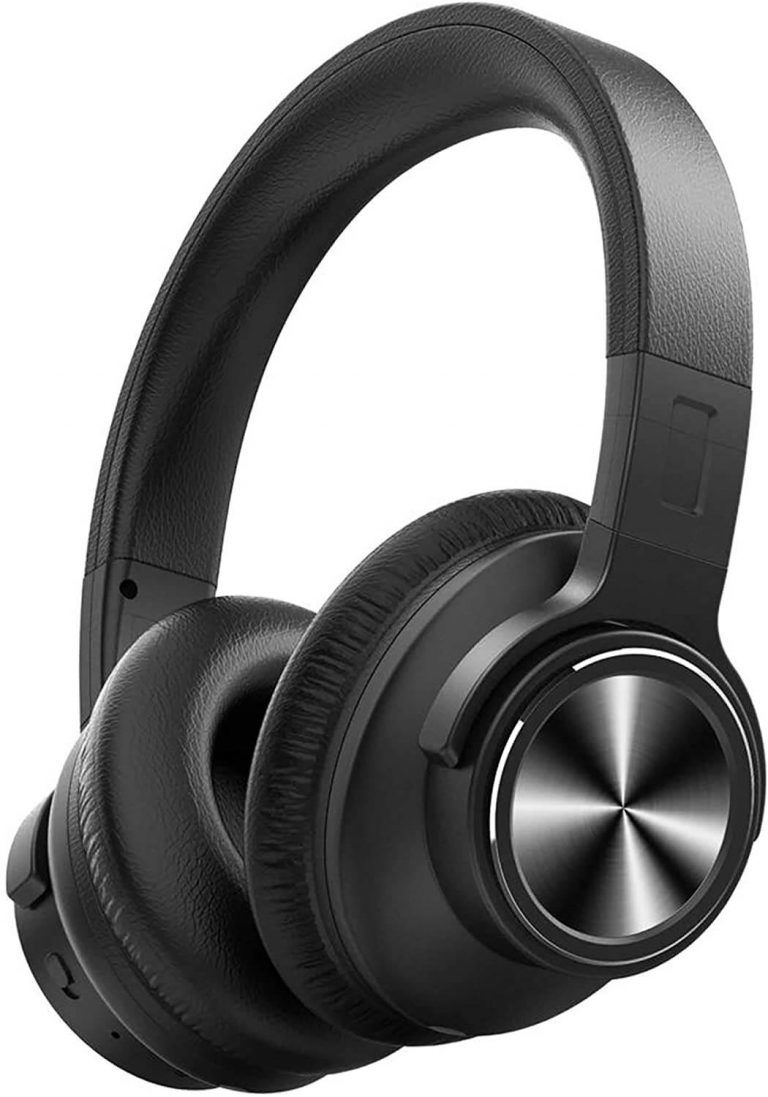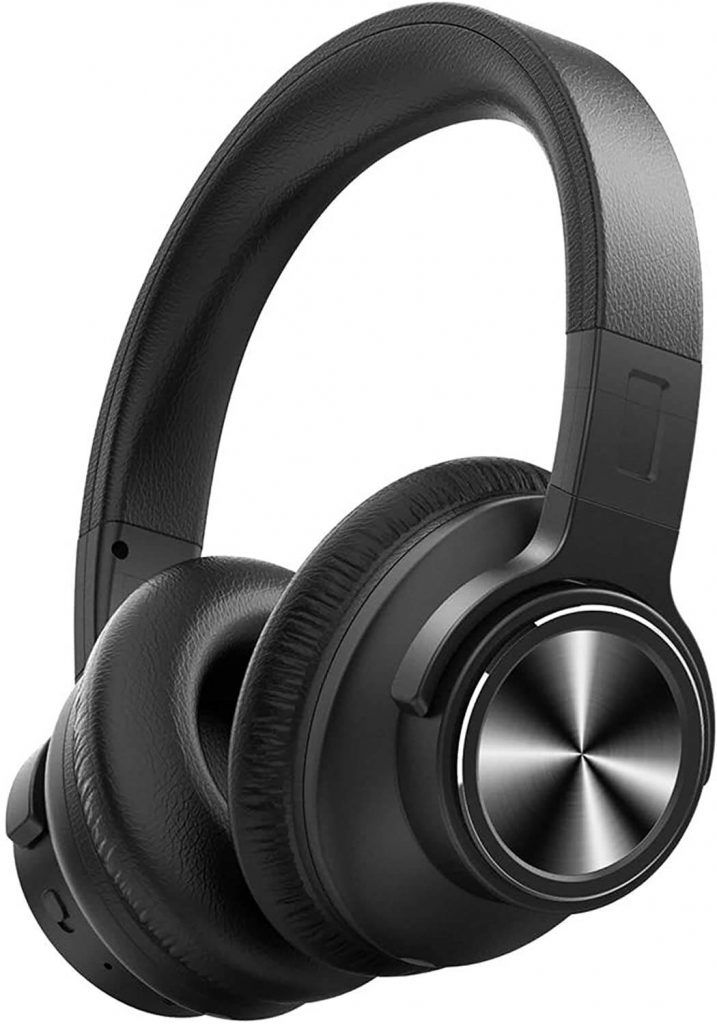 The Active noise cancelation headphones from Falwedi are amazing with the new and improved AMS 3415 technology featuring Qualcomm QCC3005 and Austrian AMS, making the sound reduction high-end providing you a speed sound reduction experience through the enhanced active noise cancellation developments. These best wireless headphones will denoise to a depth of 28db no matter what the environment is you are in, simply turn the ANC switch on and enter a calm quiet world with just your music and yourself.
With super-fast charging, the type-C port allows the 1000mAh rechargeable battery to playback a massive 2 hours of music from just a 5-minute charge. When these pair of headphones under 50 are completely charged they will last 48 hours constantly playing, and a whopping 90 hours are achieved when the non-music, noise reduction mode is being used. The playtime does alter with different settings such as music type, volume, and the ANC mode, so to avoid any power consumption it is advised that you turn the ANC off when the headphones are not in use.
The Bluetooth and mixed wired modes are great with a built-in 2pcs CVC 8.0 top of the range microphone, your calls will be instantly improved by suppressing any external nose that some other microphones may pick up from the background. The technology is truly amazing for a set of headphones at this price range, even working in the noisiest outdoor environments your calls will be crisp and clear with no interference. Regarding the connections, these wireless best headphones include the 5.0 technology that will ensure you have a strong connection with limited interruptions, and if the connection isn't the greatest on your device then there is a 3.5mm AUX wire input giving you choice in your usage and wearing habits.
These true wireless noise-canceling headphones under 50 include a large dual 40mm diameter dynamic driver design that accompanied with the APTX format decoding support brings you clear and crisp stereo sound and a full deep bass providing the listener with a superior sound profile. The best choice for you to enjoy music and really immerse yourself in the songs you are listening too.
If you're looking for comfort then these headphones under 50 are the choice for you, providing you with hours of listening being comfortable to wear. The earpads are made from high imitation protein leather that has been professionally developed to wrap your ears to perfection. A breathable and cozy mesh material has been employed combined with an adjustable headband that alleviates any pressure for long-wearing durations of time. The portable design is great too, with a folding design making them suitable for traveling.
Best Features
Foldables and breathable design for convenience and comfort
Both wired and wireless connectivity options
Noise-cancelling
Great build quality
---
7. Mpow H19 IPO Active Noise Cancelling Headphones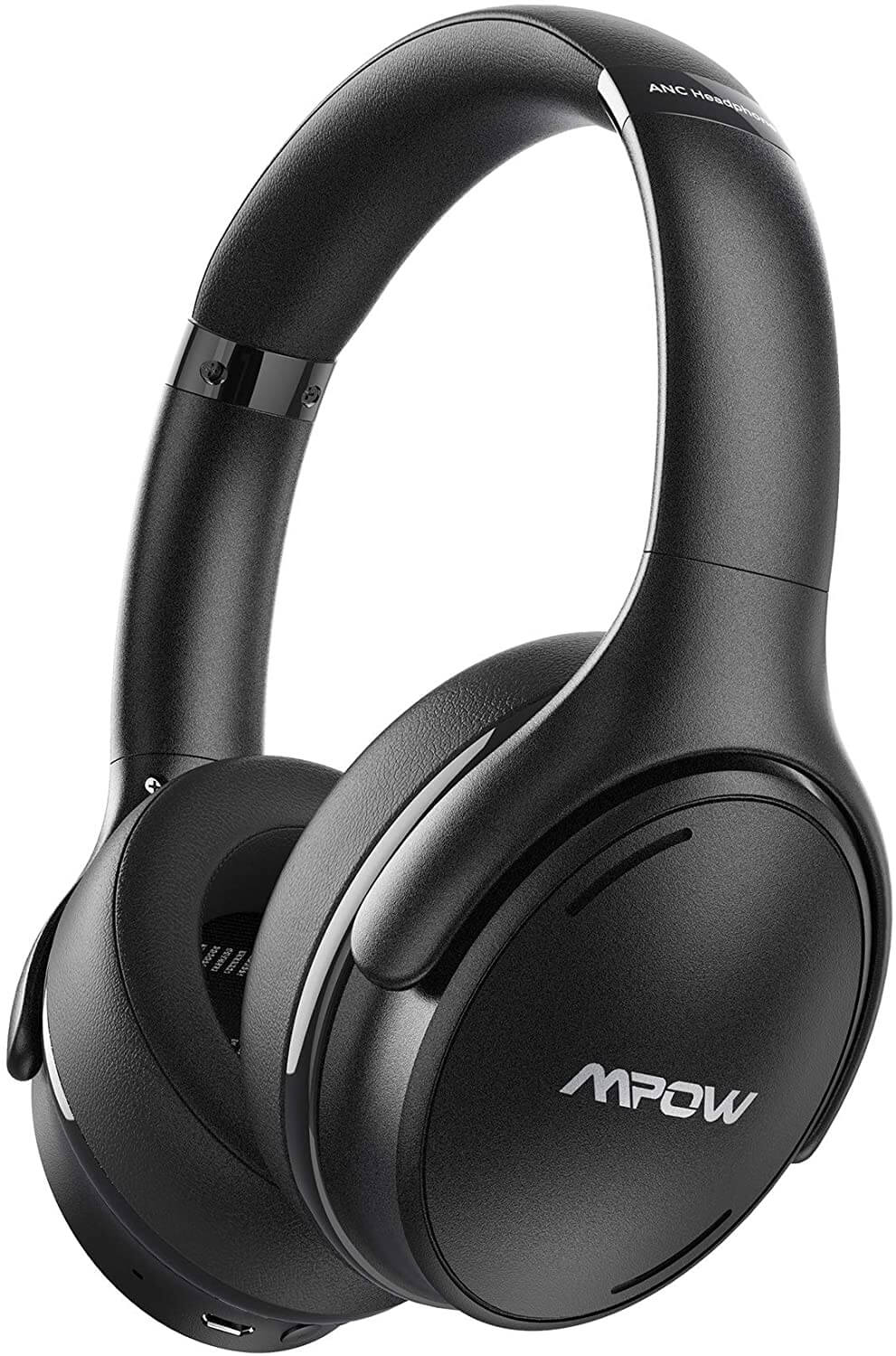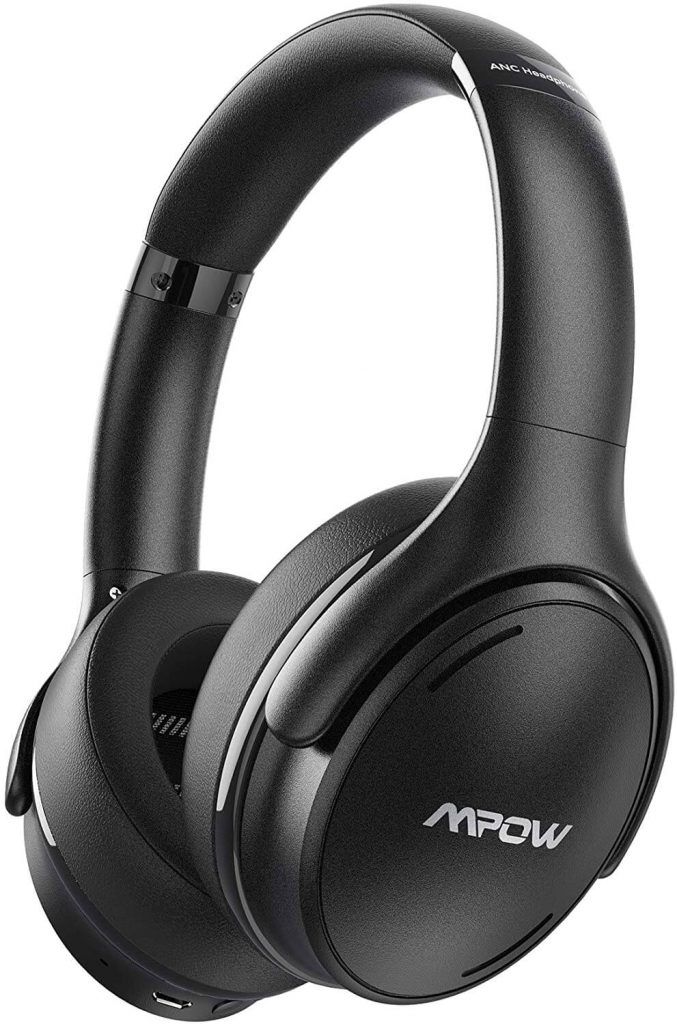 With the Mpow H19 IPO headphones under 50, the sound quality is amazing with a crystal clear 40mm Large-aperture proprietary drivers that give you deep, accurate bass response, and an overall balanced sound that is powerful and ultimately enhancing your listening encounter.
Ambient noises are reduced by 90% with the built-in digital active noise canceling algorithm that has been featured inside the Mpow H19 IPO. This advanced noise reduction technology is great for air cabin sounds, city traffic, and even the busy office providing you with complete focus in any place you need it. This offers you more efficiency if you are working, or full-depth concentration if you are watching a film or playing games.
All-day listening is achieved with the quick charge technology offering 2 hours playtime after 10 minutes of charge time. The rechargeable battery life will last for 35 hours of non-stop playtime in wireless mode with the ANC turned off.
For a secure fit, these over the ear headphones under 50 are made to be lightweight only weighing 240g, and support memory foam ear cups that gently mold around the shape of your ear making the fit as comfortable as ever. Another development is the rotating headband that adjusts to the shape and contour of your head automatically for the perfect fit. All of these design enhancements deliver maximum comfort and a secure seal.
For more noise reduction technology the CVC 8.0 sound-reducing microphone promises to allow high-quality phone calls that will diminish any external background noises that come from wherever you are. Connectivity isn't a problem either with the advanced Bluetooth chip that makes sure there is no latency, just a secure and stable connection that is convenient, freeing you from any wires.
Best Features
Memory foam ear cups perfect for comfort
Strong connectivity reducing lag or latency
Easy control buttons to configure
---
8. LETSCOM Over-Ear Headphones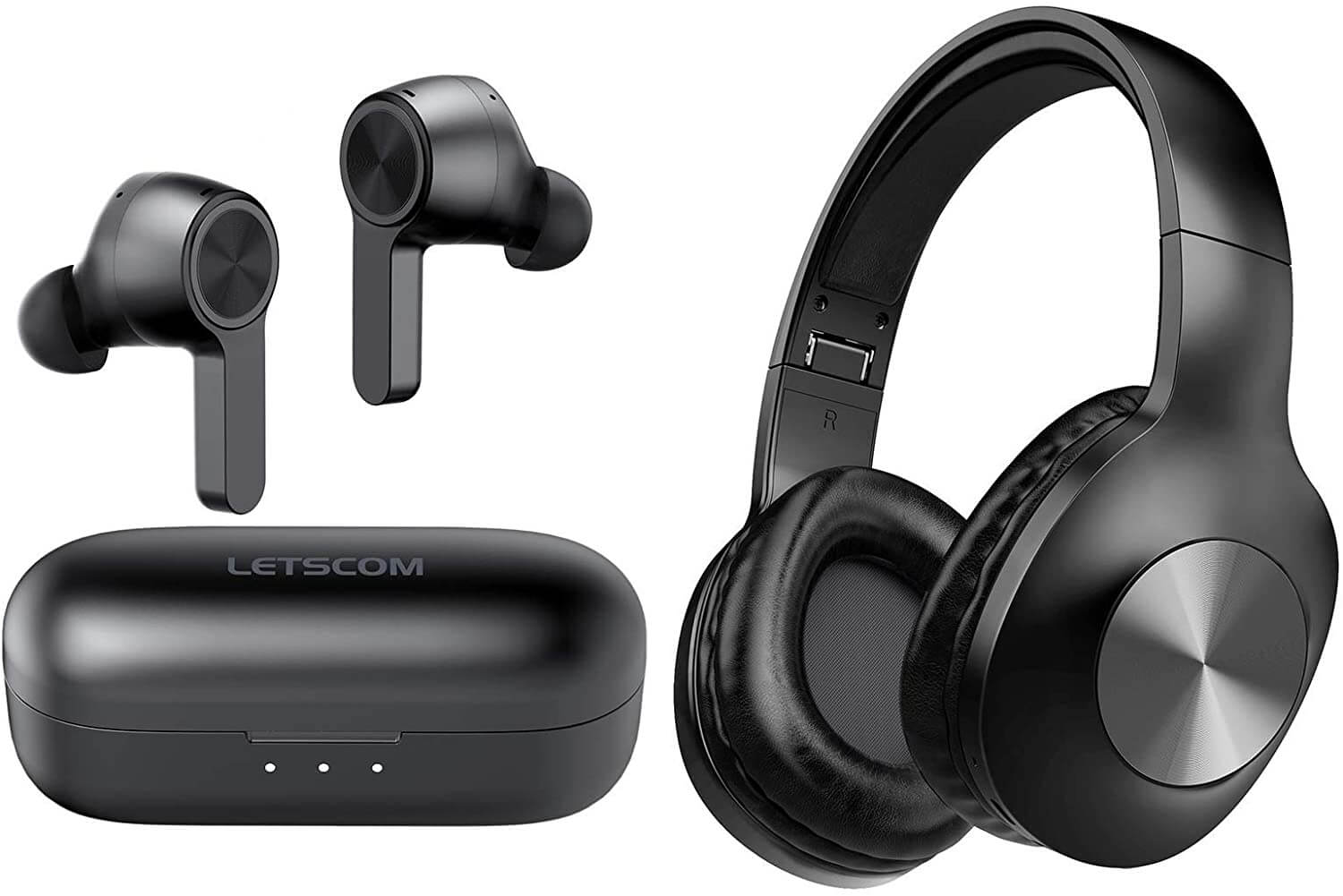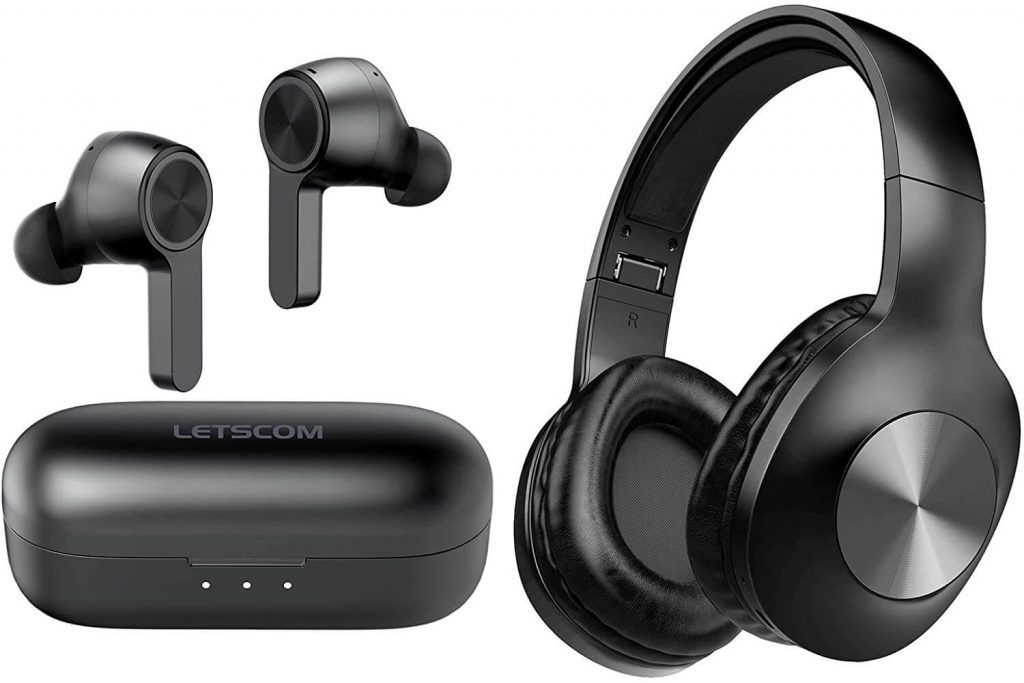 The LETSCOM Bluetooth headphones offer an unbelievable amount of battery life lasting up to 100 hours, that's equivalent to 40 days if you are using them for 3 hours each time, giving you no more problems regarding listening power, even when traveling for an entire month.
There is a deep bass function given from the large size 40mm aperture drivers delivering premium playback with ultimate HD clarity and bass depth. The upgraded connectivity has advanced technology that ensures there is a fast and stable connection from your true wireless connected headphones under 50, to your connected devices with low latency during audio and video streaming. Calls and music listening will no longer encounter any audio dropouts that some other products have been known for in the past.
These wireless best headphones can be used both with a wireless connection and wired so the music can never end if you happen to drain that incredibly powerful 100-hour battery life. The 3.5mm cable will connect any device with a jack connectivity input port.
Compared to other devices there is no question that the LETSCOM Bluetooth headphones under 50 offer ultimate comfort, with an ergonomically designed shape that has super soft and comfortable ear cups with an amazing over the ear fit. The headphones can also fold away making them convenient for traveling so your music can be with you wherever you go.
Best Features
Lots of color choices
Extremely long 100-hour battery life
---
9. Riwbox XBT-80 Folding Wireless Headphones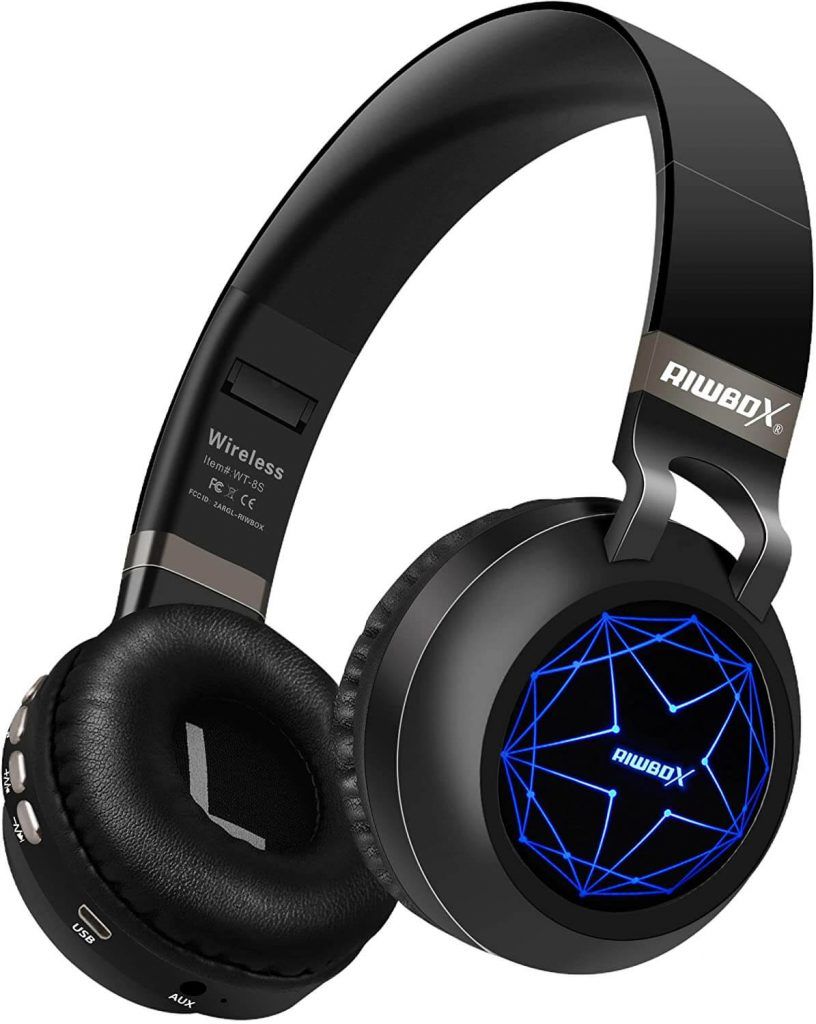 When it comes to sound quality the Riwbox XBT-80 is very impressive with its 50mm Large diameter aperture drivers that also have a built-in high detail microphone. They offer a wide frequency range that reproduces precise deep base and high clarity sound. Both phone calls and music playing will give you expected comfort in your sound experience.
The memory foam protein ear cushions simulate a human skin texture which helps provide long-lasting comfort to the user. Durability is guaranteed also with the stainless steel slider and softly padded headband that allows you to find the perfect fit for the best possible wear.
There is a 420mAh battery that provides up to 13 hours of music listening time on a single charge or 15 hours of battery life during talking time and making calls. There is also a wired capability within this pair of headphones that gives you non-stop power.
These headphones also feature foldability making them compact for traveling and really convenient, the best choice for studying, work, and travel. Overall these Bluetooth headphones fit the modern city life for pretty much anyone who needs them, whether you are a student, teacher, or office worker the Riwbox XBT-80 are comfortable and durable, connecting to pretty much any of your smart devices such as tablets, computers, laptops, and phones.
Best Features
Portable and durable
Balanced sound overall
---
10. iJoy Rechargeable Wireless Headphones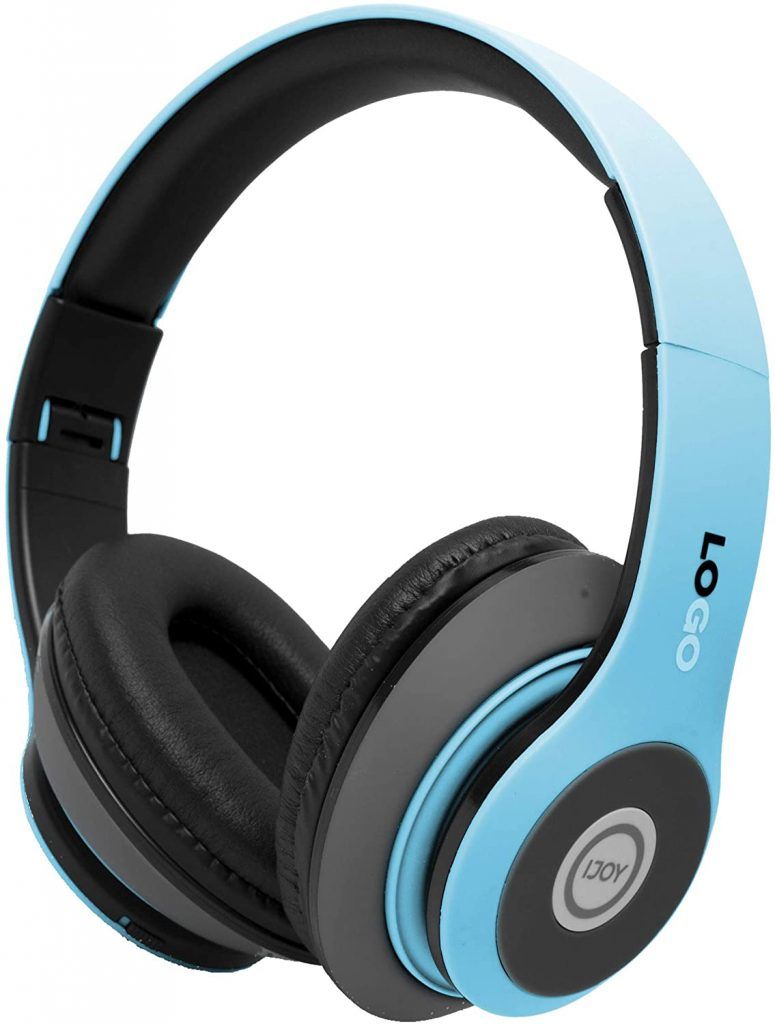 With the rechargeable Bluetooth headphones from iJoy, you will receive an accurate and low bass response with an extended frequency range for better quality. The 5 button control is really easy to use and extremely convenient allowing you to pause, play, answer, hang-up, skip track, alter the volume, and adjust the equalizer all from the headset construction allowing you to leave your device in your pocket or bag.
The ear cups fit around the ears perfectly helping to isolate the audio with the noise canceling design. The folding feature is great for portability and easy to carry functionality. There are a built-in microphone and radio receiver for ultimate hands-free calling.
All of this comes with a 6-month warranty, and although this is the cheapest product on our list by no means is it the worst. The warranty offers a free replacement headset for any headset breaks or damages that may happen to give you peace of mind about your purchase which is great for headphones under 50.
Best Features
Compact size for portability
Convenient button controls
Our Top Picks
Considerations for Buying Wireless Headphones
Connectivity
When it comes to connectivity you want something that is strong and reliable that isn't going to have any latency, lag, or loss of connection that makes audio drop become a thing when you are enjoying your favorite song or at an important place in a film. The Bluetooth 5.0 technology is amazing, strong, and reliable there isn't much wrong with this type of connectivity. If you are still experiencing some problems it may be the device you are streaming from such as a laptop or smartphone as both devices need to have this better quality of the connectivity in order to achieve the best possible results.;
Comfort and Ergonomics
The comfort and ergonomic design is something to consider if you are someone who is going to be using your headphones for a long duration. Some earbuds can begin to hurt and irritate your ears, as over the ear models can too. A lot of new products have been using soft materials and memory foam ear cups that will specifically mold to the shape of your ear to provide you with ultimate comfort and enhanced listening experience. The headband is also something to take a look at, some devices have an adjustable fit that will automatically shape to the size of your head providing you with a sleek and comfortable feeling every time you wear them.
Sound Quality Features
Sound quality is always a big feature and a must-have if you are someone who takes music seriously and wants the best possible sound. The bass frequency and response given from your driver is a big feature, but so are the higher frequencies that can be offered, so overall you want a balanced sound that is going to provide you with an all-round good listening experience. The quality of Bluetooth headphones use to lack as the main selling point was the lack of wires, but in recent years this quality has made a massive improvement so you don't have to compromise on the quality for the wireless convenience.
Portability
Portability may be a selling point for you and earbuds may be the better choice with them being pocket-sized and fitting pretty much anywhere on your person not needing to take a bag out with you. In recent times the portability of headphones has gotten better with folding designs enabling them to be stored in a more compact fashion which is great for someone who prefers over the ear headphones to wireless earbuds.
Brand and Build Quality
Brand and build quality are always something you want to take a look at, especially when it comes to more technology-driven products. Some versions of these headphones can be cheaply made, or not provide you with the quality of connection or sound that you are looking for. Warranty is a big thing that you want to try and see is included in your purchase in order to make sure that your product is performing and delivering the kind of experience that it claims to do.
FAQs
Where can I buy headphones for cheap?
Cheap headphones can be bought from many different places but for us, we believe that online sites such as AMAZON are the best choice. Here you can check out the product description, specifications compared to different models, and most importantly reviews from actual buyers of the product who are giving first-hand experiences that they have come across from there time using the product. These kind of reviews are an amazing way to hear an honest account of the product rather than the company's version of what they are trying to achieve from the product.
Is it possible to find cheap headphones that are good?
As technology is getting more and more advanced there are cheaper versions of headphones that are being released at a fraction of the price of some of the more top-end versions but still offering all of the tech and spec of what you are looking for.
What are the best headphone brands?
When it comes to brands there are lots to choose from. The more established brands such as Sony, Sennheiser, and Motorola have been working within the sound and audio business for many years and with the technology developing they have been achieving it is no wonder why they are so successful in these markets. Brands such as these are normally renowned for a reason not just by chance, but it doesn't mean that all cheaper and newer brands are not up to the standards of the top contenders. If you have a good warranty then buying wireless earbuds or headphones can be safe and secure.
Are wireless headphones better than earbuds?
Overall it is based on your own personal opinion and what you are going to need the products for. If you are someone who doesn't like to carry a bag and wants something small and compact then earbuds could be the better choice for. If you are someone who prefers the comfort of over the ear wireless best headphones then they are going to be the best for you.