Sound quality is an often overlooked factor when it comes to your gaming setup, but having the best wireless gaming headset can transform your gaming experience into something more exciting, more immersive, and more enjoyable.
We have hand-picked 10 of the best wireless gaming headsets so that you can find the perfect pair for all your gaming needs. With a description, a list of pros and cons, and a link to each product, you'll be able to determine which headphones are best suited to you.
Keep scrolling to read our buying guide on the factors you'll want to take into consideration before buying, followed by our answers to some of the most frequently asked questions when it comes to sifting through the vast market of wireless gaming headsets.
Overall Best Wireless Gaming Headset – Corsair Virtuoso RGB Wireless Special Edition Headset
Best for the Money – Corsair Void RGB Elite headphones
Best for Noise Cancellation – HyperX Cloud Flight
10 Best Wireless Gaming Headphones
Here you'll find our top 10 recommendations for the best wireless gaming headsets.
1. SteelSeries Arctis 7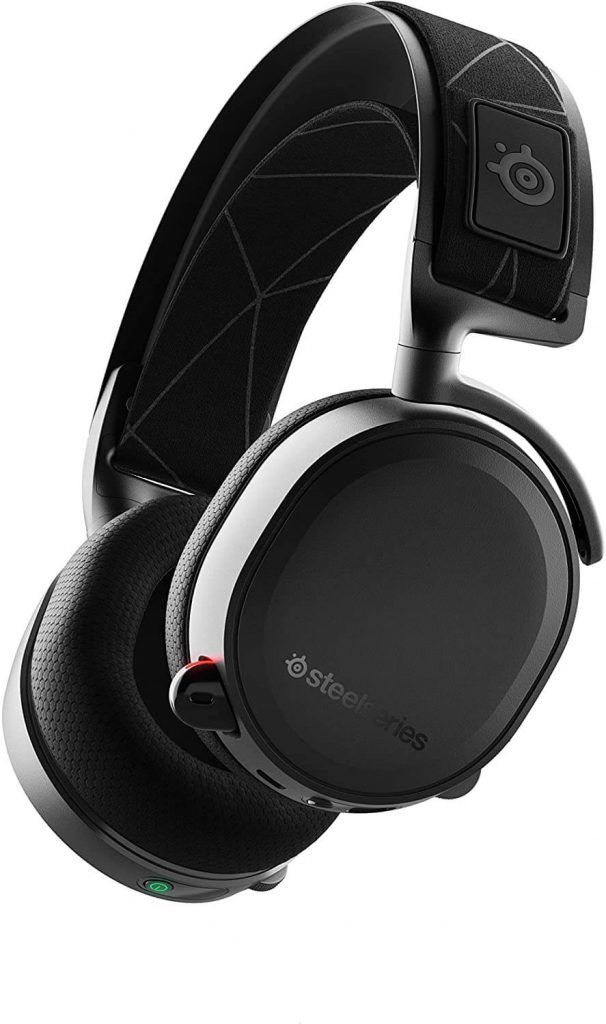 Our first recommendation is the Arctis 7 from SteelSeries, one of the leading brands in gaming headsets. As a testament to the quality of this wireless gaming headset, over 12,500 Amazon users have provided an average rating of 4.3 stars out of 5. With a long battery life of up to 24 hours, a Discord-certified microphone, and wireless connectivity, the Arctis 7 is ideal for gamers who enjoy playing on a range of consoles. Suited primarily for PC and PS4, as well as Xbox One and Nintendo Switch, this wireless gaming headset offers an immersive experience thanks to Windows Sonic Spatial Audio .
The ear cups and metal headband are covered with padded rubber, meaning these headphones don't feature any cheap-looking plastics. The bendable microphone flips up into the left ear when not in use and on-ear dials for volume and chat level are easily accessible. By connecting to your console using the 2.4GHz wireless USB dongle, you won't end up wasting that all-important gaming time having to connect your headset through Bluetooth. An affordable yet well-performing wireless gaming headset, the SteelSeries Arctis 7 are great all-rounders.
Best Features
Comfortable fit.
Excellent battery life.
Good quality mic.
---
2. Corsair Void RGB Elite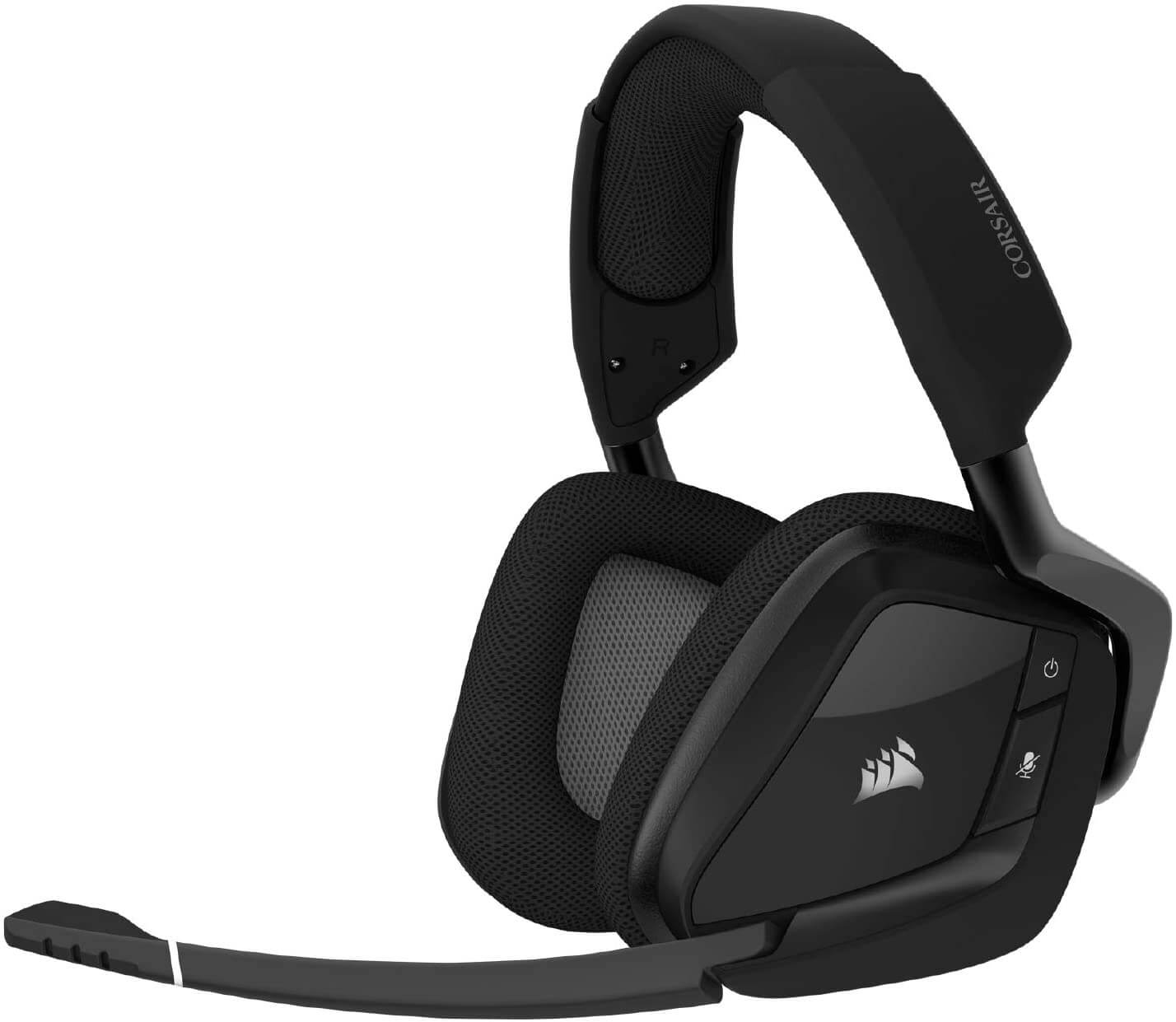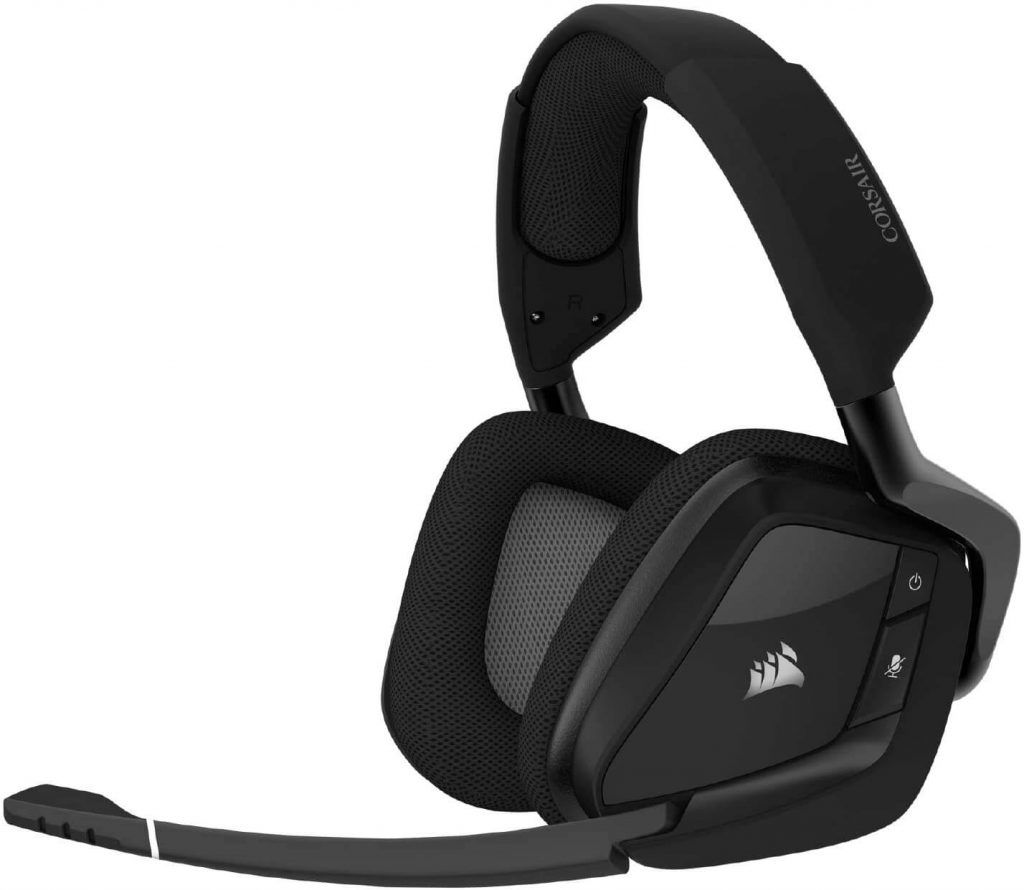 Manufactured by Corsair, a well-liked and trustworthy brand, the Void RGB Elite headphones are a best budget option without compromising on quality. Coming in at a low price point of under $100, this wireless headset is ideal for PC and console gamers.
With padded, large ear cups and a well-cushioned headband, long gaming sessions won't be an issue. Boasting 7.1 surround sound when PC gaming, a flip-to-mute microphone, and a durable construction, these are one of the best budget wireless gaming headsets. Having up to 16 hours battery life and up to 40 foot range are not only practical factors, but also enhance your overall experience. Offering a number of customization features including EQ settings, dynamic RGB lighting on each ear, and on-ear controls, you'll be able to game exactly how you want to. As a testament to the quality of this gaming headset, almost 2000 Amazon users have provided an average rating of 4.3 stars for these Discord-certified headphones.
Best Features
The price tag makes these a great budget option.
Feature a range of customization options.
Comfortable to wear.
---
3. HyperX Cloud Flight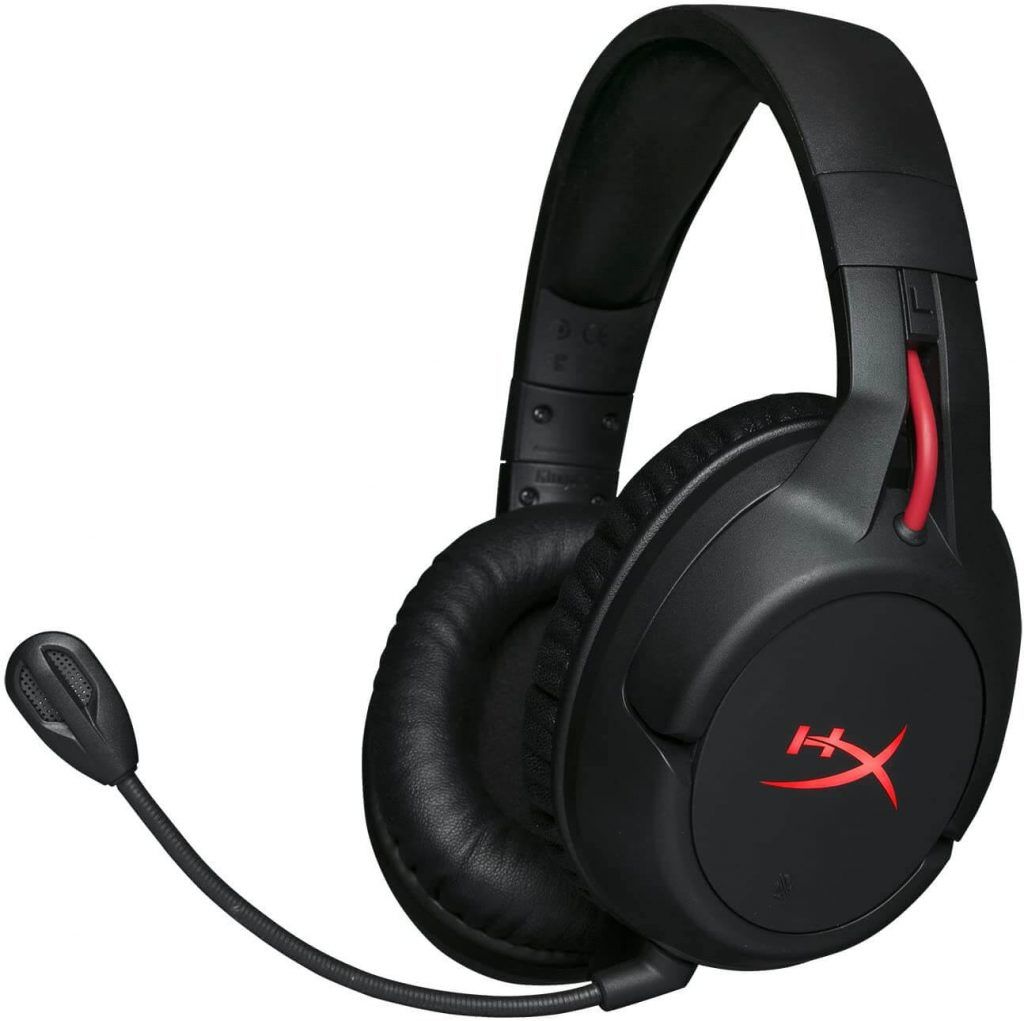 Next up, we have the HyperX Cloud Flight. If you're on the lookout for a gaming headset compatible with your PlayStation 4 and ones that are also great for PC gaming, then these are a great option. Promising an immersive listening experience and a high quality mic, the HyperX Cloud Flight are both affordable and well-performing. The detachable microphone, often praised for its ability to separate your voice from any unwanted background noise, means that when you're not gaming they make for a practical everyday wired headset. In addition to the detachable mic, the fact that the Cloud Flight are designed to resemble traditional headphones means that you won't look like you're wearing a bulky gaming headset when listening to your playlists out in public.
Comfortable during even the longest of gaming sessions, this wireless headset has padded ear cushions and a foam pad on the underside of the adjustable headband. Even better for those of you who enjoy spending hours at a time in front of the PC and PS4, the Cloud Flight have an impressive 30 hour battery life. This headset outputs a 2.0 stereo sound and features two 50mm drivers which do a good job at amplifying bass.
Best Features
Impressive battery life.
Double up as traditional headphones you can wear out in public.
Comfortable to wear for long periods of time.
---
4. Mpow Air Wireless Gaming Headset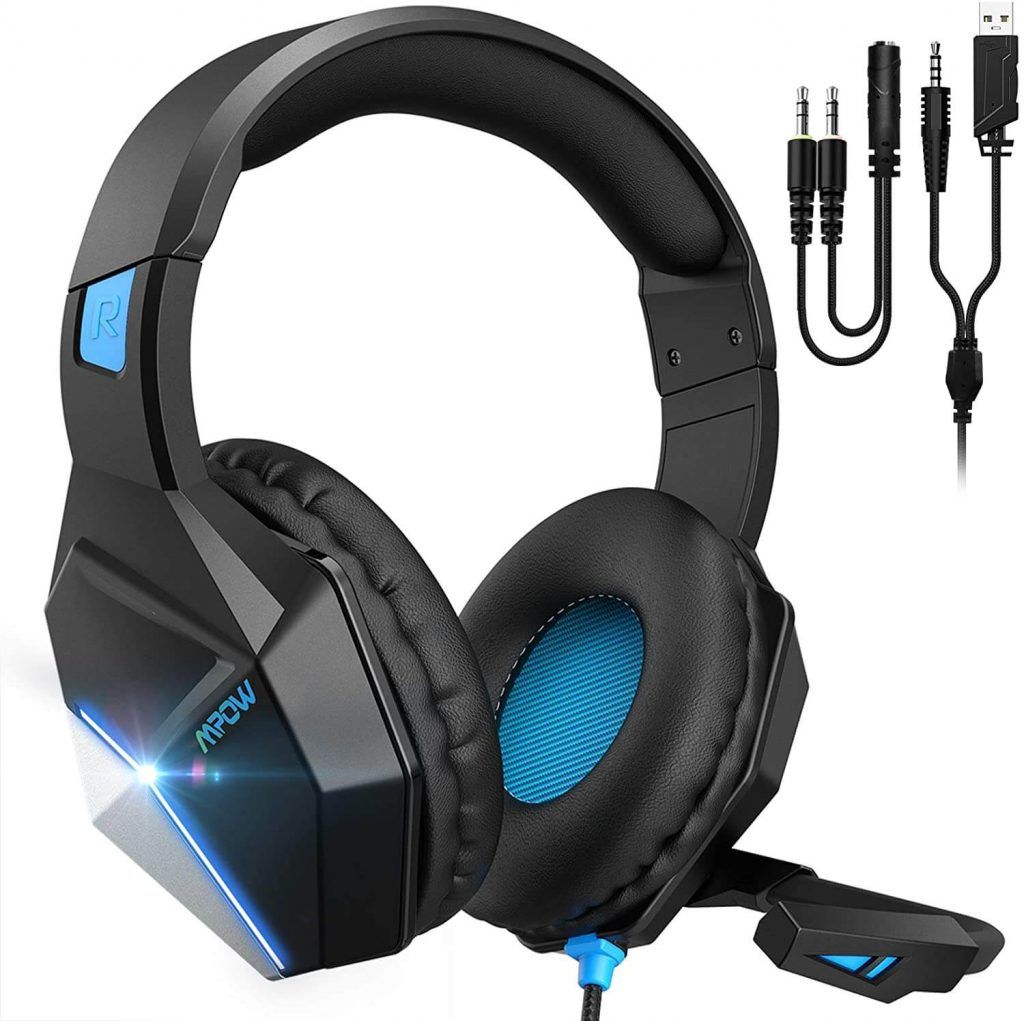 Our fourth pick is the affordable Air Wireless Gaming Headset from Mpow. Costing less than $60, this headset is compatible with both PlayStation 4 and PCs without a wired connection, and with Xbox One, Nintendo Switch, and mobiles by using a standard 3.5mm cable. With up to 17 hours worth of battery life and constructed with memory foam ear pads and a padded headband, you'll be able to wear these for hours.
The detachable, unidirectional microphone is noise-cancelling, delivering clear communication to your teammates. With this headset, gaming is enhanced by 3D surround sound created by two double chamber drivers. Boasting an average rating of 4.4 stars on Amazon, users of this headset consistently report that these headphones feel premium despite their low price.
Best Features
Impressive price-to-quality ratio.
Features a noise cancelling microphone.
Well suited to PS4 and PC gaming.
---
5. HyperX Cloud Stinger Core Wireless 7.1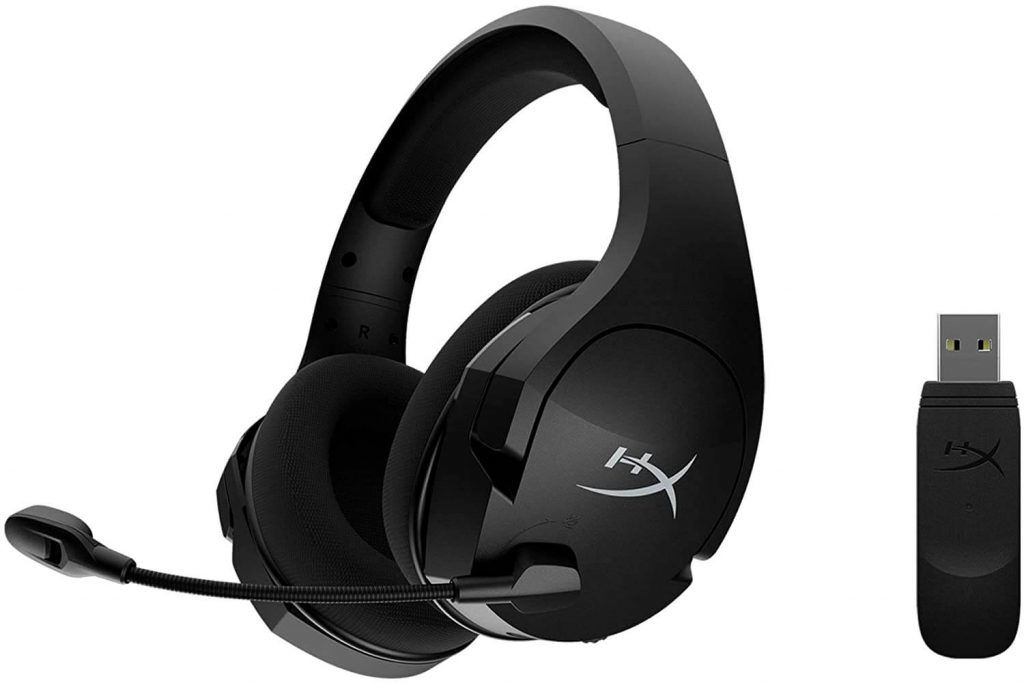 Another great option from HyperX, the Cloud Stinger Core Wireless 7.1 retail for under $80 all while sharing many of the features you'd expect from high-end, high-cost wireless headsets. Coming with 7.1 surround sound, users can expect a truly excellent sound quality. Featuring a padded, plastic headband with an expandable steel bar supporting it, as well as foam over-the-ear cups, the lightweight Cloud Stinger Core are practical and comfortable. A swivel-to-mute noise cancelling boom mic and on-ear controls which include a volume dial, a power button, and a USB-C port, cover all the basic functions you'd expect from a gaming headset.
With up to 17 hours of battery life and a 2.4GHz wireless connection, the Cloud Stinger Core provide the user with freedom from wires without compromising on the overall audio experience. If you have a money-saving budget in mind, then HyperX's gaming headset are certainly a best buy; Amazon users frequently describe how it would be hard to find a set in this price range that's better quality than these.
Best Features
7.1 surround sound.
Affordable.
Lightweight and comfortable.
---
6. JBL Quantum 600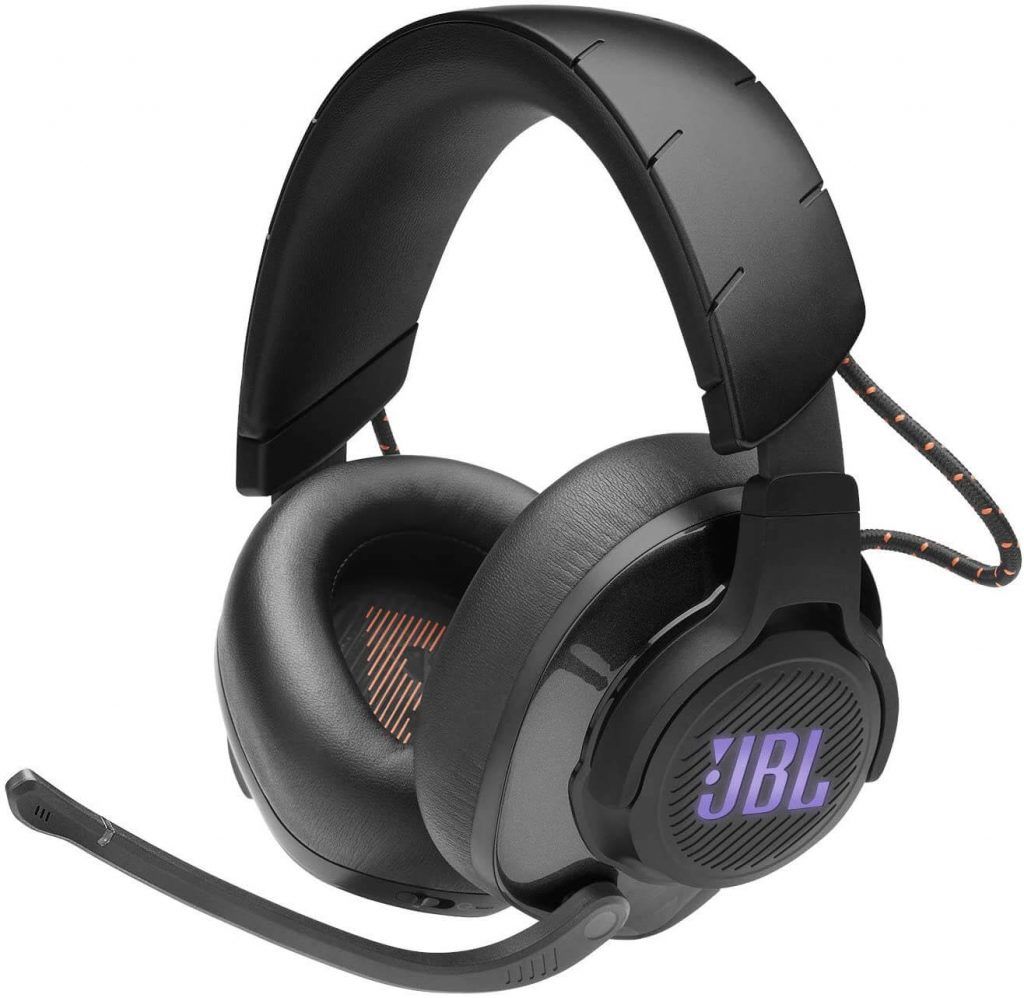 The JBL Quantum 600, made out of heavy, sturdy plastic materials are another durable yet highly affordable headset. With a flexible, cushioned headband and large memory foam ear cushions, these are a comfortable set designed to help you through up to 14 hours worth of continuous gaming. The flip-to-mute boom microphone is easy to use and will reduce any background noise so that your teammates can hear you clearly.
Promising excellent sound quality thanks to JBL's Quantum surround sound, this wireless headset is well-suited to PC gamers. Versatile in terms of multi-platform compatibility options, users will require a wired connection with some consoles. Although this wireless headset doesn't have Bluetooth connectivity, they come with a USB dongle and a 3.5mm audio cable. A nice addition to these headphones are the RBG LEDs on the outer sides of the ears; by downloading JBL's QuantumEngine app you'll be able to customize the colors and patterns of the lights while you game. This app also provides users with access to the equalizer settings so that you can adjust the audio to suit the game you're playing.
Best Features
Surround sound.
Multi-platform compatibility.
Sturdy build quality.
---
7. TOKSEL Wireless Gaming Headset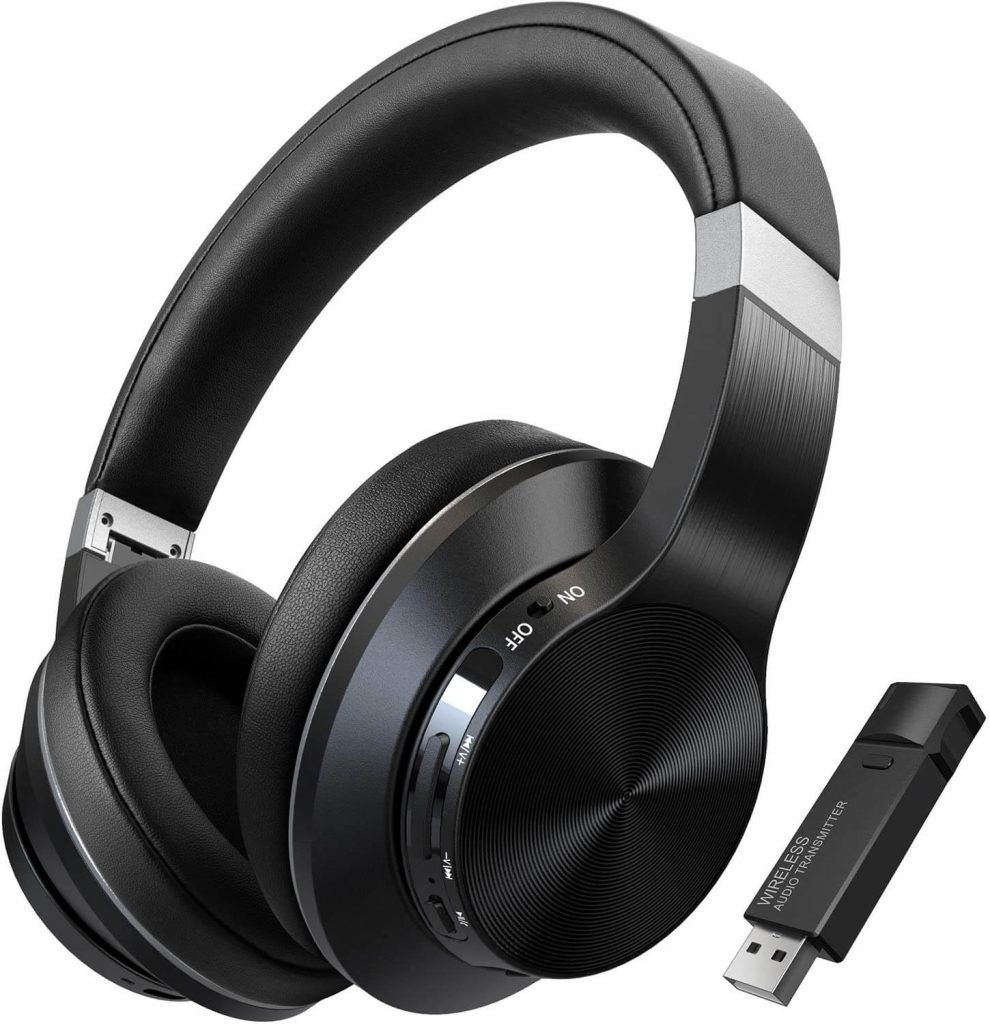 Next, we have selected TOKSEL's wireless gaming headset for our list. Another great budget option, these wireless headphones have a USB audio transmitter which enables Bluetooth connectivity with PS4, Switch, Windows PC, and Mac. Both the transmitter and the headphones themselves have built-in low latency codec so that you can game without worrying about delays.
Soft, protein ear cups and an adjustable headband make these a comfortable set, while the folding design, on-ear controls, and built-in mic ensure practicability. A number of Amazon users have praised the quality of the mic and reviews frequently mention the impressive price-to-quality ration of TOKSEL's wireless headset. As a testament to their reliability, TOKSEL provide a two year free warranty and a 100% money back guarantee on the headset and transmitter.
Best Features
Multi-platform compatibility.
Great customer service.
Budget-friendly.
---
8. Corsair Virtuoso RGB Wireless SE Headset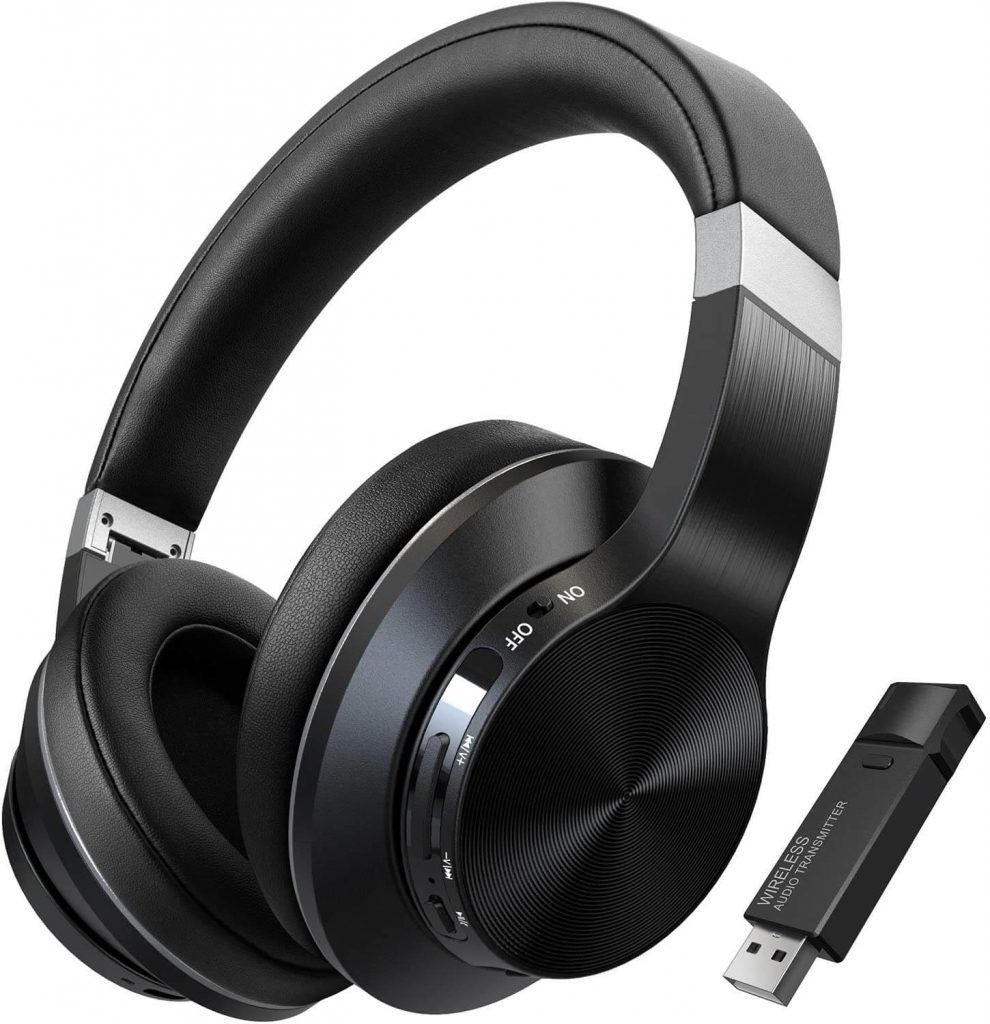 Another excellent option from Corsair, the Virtuoso RGB Wireless SE Headset are praised by users as being incredibly comfortable to wear. A padded headband and large cushioned ears make this wireless headset easy to wear for hours at a time. Designed primarily for PS4 and PC gaming, users can plug the wireless dongle into either console for a wireless connection. Or, if you're a fan of the Xbox One and Nintendo Switch, then you'll be able to plug the Virtuoso in using the 3.5mm cord.
Running using Corsair Utility Engine software (iCUE), this gamers headset offers a range of customization options; you can select stereo or surround sound, adjust the microphone levels to fit with your teammates' conversation and the game audio, and you'll be able to set the EQ levels yourself. With a promise of up to 20 hours of battery life on a single charge and having Corsair's reputation backing their quality, these wireless headphones will make a great addition to any gaming setup and are up there as a strong contender for the best wireless gaming headset.
Best Features
Great sound.
Highly customizable.
20 hours battery life.
---
9. Razer Nari Wireless Gaming Headset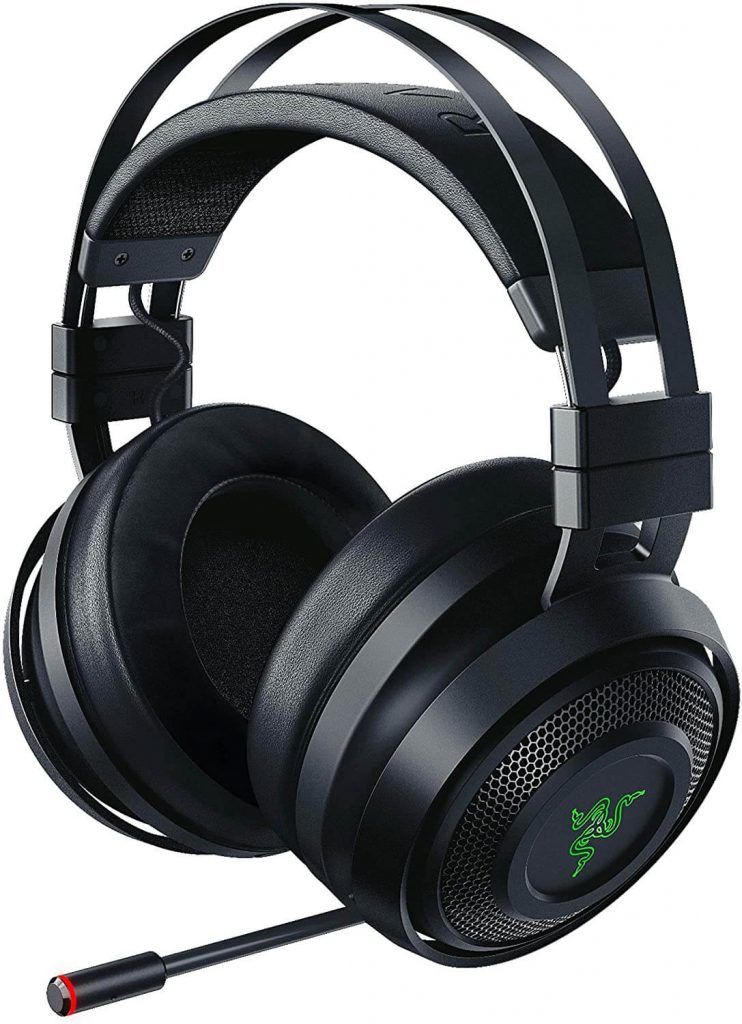 A list of the top 10 best wireless gaming headsets wouldn't be complete without a set from Razer. The Razer Nazi are built to last and built to perform; the adjustable, lightweight aluminum headband combined with plush leatherette, gel-infused ear cushions enable the user to experience sound isolation without sacrificing comfort. You'll be able to customize each game's audio levels and team communication volume, while THX Spatial Audio will create an immersive, nuanced surround sound experience.
With a battery life of up to 16 hours, 2.4GHz wireless connection, and supporting a range of up to 40 ft, you can expect long-lasting, lag-free gaming sessions. An all-round impressive wireless gaming headset from one of the leading manufacturers of gaming hardware, the Nari are up there among the best affordable pieces of gaming kit on the market.
Best Features
Users are able to customize game/chat levels.
Comfortable, cooling gel-infused ear cushions.
Supports a large range of up to 40ft.
---
10. Corsair Void Pro RGB Wireless Gaming Headset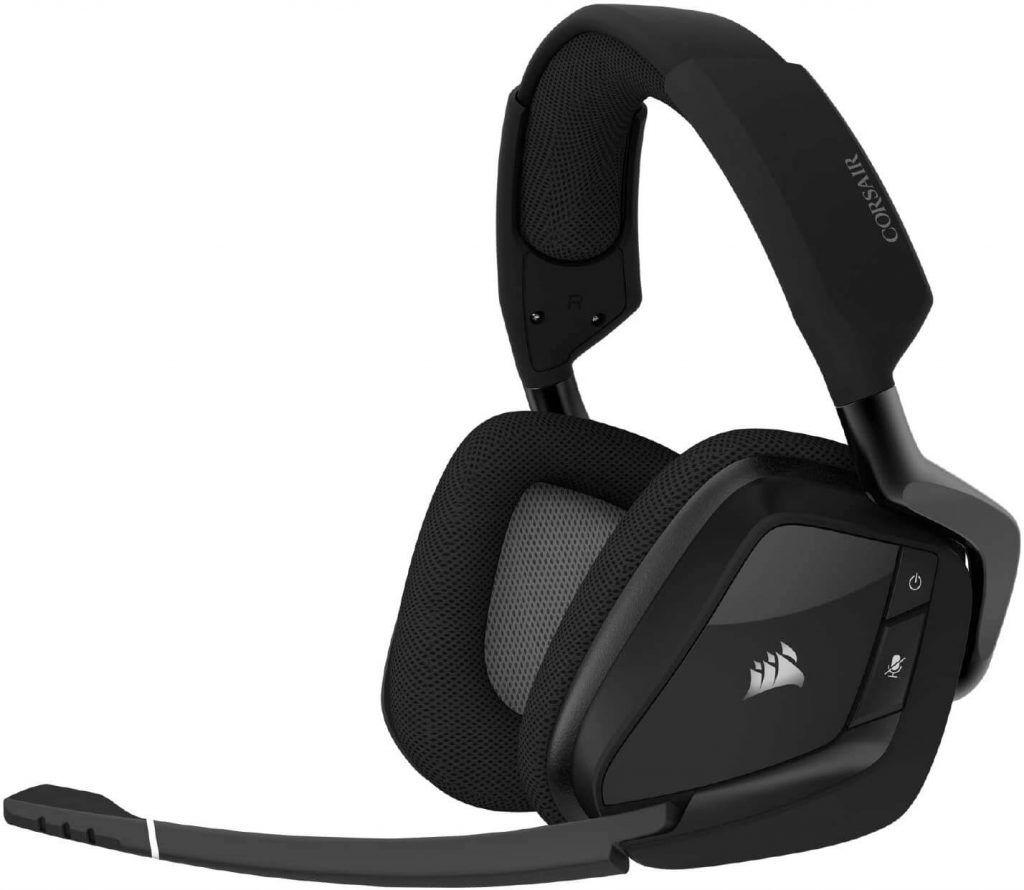 Our tenth and final recommendation comes, again, from Corsair. The Void Pro RGB Wireless Gaming Headset are a premium set of gaming headphones. With aluminum pillars, a plastic outer casing, and memory foam padded cups and band, these are comfortable and durable. On the left is positioned the flip-to-mute mic which can be adjusted by bending the arm to optimize its angle for audio quality. On-ear controls, similarly on the left, include a mute button, a power button, and a USB port for charging.
Boasting 7.1 virtual surround sound, the sound quality of this pair is one of the best. Both the microphone and the audio drivers are Discord-certified so communication with your teammates will be clear and crisp. 16 hours of battery life and up to 40ft range only aid in making these headphones convenient and enjoyable to use. With an average rating of 4.2 stars from over 1,600 Amazon users, you'll know you can't go wrong with this headset.
Best Features
7.1 surround sound.
Features RGB lighting.
Discord-certified microphone and audio drivers.
Considerations for Buying Wireless Gaming Headphones
Here we have put together a buying guide to help you know what it is you should be looking for when finding yourself the best wireless gaming headset.
Surround Sound vs Stereo Sound
Sound is, as you would expect, a crucial factor to consider when looking through the best wireless gaming headsets. Initially, it can be a little confusing knowing what the difference is between stereo and surround sound. Simply put, stereo uses just two separate channels of audio, one in the left ear and one in the right ear. Surround sound instead uses up to 8 channels (7.1) to create a more full, immersive soundscape. Although likely to come down to personal preference, we'd suggest that, to get the most out of your game, you'll want to select a headset with either 5.1 or 7.1 virtual surround sound.
Microphone
Another important consideration is the microphone. The majority of wireless gaming headsets have a built-in microphone so that you can communicate with your teammates while playing multiplayer games. Having a good microphone which is maneuverable can make a big difference to the audio quality of your call.
The majority of gaming headsets will have a flip-to-mute style microphone so that you can easily mute your call when you don't want your teammates listening in on your conversations at home. Some will have a compact design which allows the user to retract the microphone up into the ear cup.
Gaming headsets should focus on your voice as the only source of audio by pick up sound coming from directly in front of the microphone. Unwanted background noise can be distracting for your teammates and the general conversation so take a look at each product's microphone specifications and the user reviews to determine the mic's audio quality.
Battery Life
As with any wireless hardware, the battery life is one of the most significant factors; the longer the battery life, the longer you'll be able to play uninterrupted for. As a general rule, you'll want to find yourself a set which has between 15 to 20 hours of battery life.
Compatibility
Now this sounds like an obvious factor to look out for when purchasing a gamer headset, but you don't want to end up buying yourself a headset only to find that it isn't going to work with your hardware. Make sure to check that the headphones are compatible with the console or consoles you intend on using it with and look at what its connectivity options are.
Whether you're looking for a headset exclusively for use with your Xbox One, or whether you're going to need a headset capable of multi-platform compatibility, the connection options available are one of the most important considerations.
In some instances, the headset will be capable of connecting with multiple platforms but will only be wireless when used with specific consoles. Some of the gaming headsets we have listed above are wireless when used with a PlayStation 4 but require a wired connection with the Xbox One. It may be the case that you'll need to purchase a third-party Bluetooth Transmitter for your headset to be wireless.
One of our top tips when looking for the best wireless gaming headphones is to take time to read up on the connection options offered by the headphones you have your eye on. Ideally, you'll want a set with wireless multi-platform compatibility.
Comfort
The more lightweight the headphones are, the more comfortable you'll be and the longer you'll be able to game for. Look for a pair which have an adjustable headband with padding on the underside as these are less likely to apply pressure to your head. A number of our recommendations feature gel-infused ears; these prevent you from overheating thanks to their cooling properties and will, again, help you to game in comfort for extended periods of time.
Glasses-friendly headsets are becoming more and more common now so, if you're a glasses wearer, take a look at the design of the headphones. Look to see if the manufacturer has implemented soft cushioning at the points where your glasses would make contact with the set as this will prevent your glasses from pressing in on your head, making for an overall more comfortable experience.
FAQs
Below we have answered some of the most frequently asked questions when it comes to finding the best wireless gaming headphones.
What are the best gaming headsets?
As you may have noticed, our top 10 list includes a number of recurring brands and that's simply because they produce some of the very best headsets. Corsair and HyperX are two top manufacturers of gaming peripherals and have introduced some of the best headsets on the market today. Our top headset is the Corsair Virtuoso RGB Wireless Special Edition Headset, however the HyperXloud Stinger Core Wireless 7.1 are undoubtedly up there too. These two models have in common impressive sound quality, noise-cancelling microphones, and comfortable designs – factors which all of the best wireless headsets should feature.
What is the best gaming headset for Xbox One?
If you're looking for a wireless headset suitable for use with your Xbox One then you're going to want to keep an eye out for a pair that use Microsoft's Xbox Wireless. This essentially connects devices, including the controller, to the console without the need for a wired connection. On our list of the top ten best wireless headsets, gaming on an Xbox will require a wired connection with all the products listed. The Razer Nari are a great pair and, with a wired connection, work well with Xbox One. Razer also have a similar set, the Razer Nari Ultimate, which use Xbox Wireless.
What specs should I look for on the best headsets for gaming?
When it comes to finding the best gaming headphones, you'll want to begin by determining which platform you want it to be compatible with. As you may have noticed from our top ten best wireless gaming headsets above, the connection options vary between models. Use our buying guide above to help you work out which factors it is that you'll want to prioritize and which will provide you with the best experience. You'll want a set which is comfortable, has a high quality, noise-cancelling microphone, a long lasting battery life, and one with a sound profile suited to your tastes.