Do you want a pair of wireless earbuds that won't break your budget? Are you wondering what the best wireless earphones under $100 are? Well, this is the article for you!
True wireless earbuds can seem like a premium product. However, they don't have to come with a premium price tag. There is great variety of affordable choices available in 2021, with many products delivering lightweight design, high impact audio, and good wireless scope for under $100. With lots of excellent items on the market, you'll be able to find great sound for an accessible cost.
Wireless earbuds are a convenient and lightweight way to listen to your favorite music on the go. They deliver high quality audio combined with an incredibly comfortable design, and won't interfere with your activities. True wireless earbuds are a good option for workouts, your commute, or even just relaxing at home. They're an excellent alternative to a bulky headset. No matter what you're doing, they won't restrict you.
With so many wireless headphones for cheap on the market in 2021, it can be hard to find what's best for your needs. To help you make your decision, here's a list of the top ten earbuds under $100 available now. With plenty of great products for every budget, sound, and comfort requirement, there's something to suit everyone.
Scroll to the bottom of this article for a handy buyer's guide on choosing the right earbuds under $100 for you. You'll also be able to find more information and the answers to some commonly asked questions at the end.
Top 10 Wireless Earbuds Under $100
Boltune BH020 In-Ear Wireless Headphones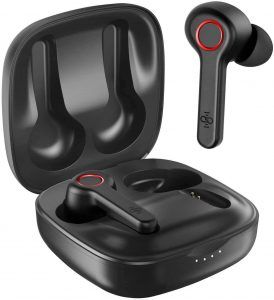 Our first pick of the greatest wireless earbuds under $100 are the Boltune BH020 Wireless Headphones. At just $40.99, they boast great Bluetooth 5.0 connectivity for up to 50ft, so you won't have to worry about being restricted.
The earbuds have a great battery life, allowing up to 6 hours of playtime on a single charge. The handy case is able to fully charge the Boltune BH020 earbuds in just 90 minutes, with USB-C fast charge technology. An included battery indicator in the case shows the power level of each earbud.
With grade IPX8 water protection, the Boltune BH020 earbuds are a very versatile unit, and you won't have to worry about wearing them outside or during a workout. The multi-function button on each earbud allow you to effortlessly adjust your music volume, change tracks, or answer calls with the inbuilt microphone. You'll won't even have to pick up your smartphone for great call quality.
With 6mm Graphene drivers, and a choice between mono and stereo audio modes, great sound performance is guaranteed. The ergonomic design and different sized ear tips will allow you to listen in comfort for hours. With a generous 12 month warranty, you won't have to worry about wear and tear either.
For such an affordable price, Boltune deliver a great selection of features.
Best Features
Durable and comfortable design.
Enviable Bluetooth coverage.
---
TOZO T6 True Wireless Earbuds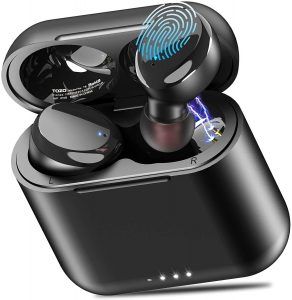 Our second pick is from TOZO, and is the T6 True Wireless Earbuds. They boast Bluetooth 5.0 connectivity for up to 30ft. With 6 hours of battery life, you can be sure of great sound without having to worry about charge. Cords and cables won't restrict you either.
With impressive IPX 8 waterproof certification, the TOZO T6 earbuds are incredibly durable, so getting caught in the rain won't be a problem. The touch buttons on each earbud are incredibly versatile, so adjusting your audio will be effortless. You'll even be able to answer or end calls, and activate your phone's assistant, with the useful in-built mic.
With one step quick pairing, the TOZO T6 earphones are incredibly convenient. You'll also be able to charge on the go with a carry case that supports fully wireless charging. The high quality design ensures comfort, and 8 different sized ear caps allow you to customize the fit to your preferences.
You can also be sure of very good sound quality, as the 6mm driver type delivers HI-FI stereo sound and powerful bass. The additional 1 year warranty will also put your mind at ease.
Best Features
Great charging case that doesn't need a charging cable.
Convenient controls.
---
DuoTen Wireless Earbuds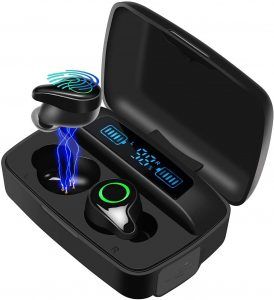 Our third selection of the best earbuds for under $100 is from DuoTen. These true wireless earbuds deliver great functionality and different audio options.
With support for Bluetooth 5.0, low latency sound is guaranteed. A single charge delivers up to 5 hours of use, which you can boost throughout the day with the charging case. The case includes a digital LCD display which shows the power level of each ear bud. It can also function as a power bank for your cell phone, which is a great extra feature for when you're on the go.
DuoTen's wireless earbuds are also incredibly convenient. With one step pairing and touch control capabilities, listening to your favorite tracks is effortless. The inbuilt mic means you can answer calls and activate your voice assistant by simply tapping your earbuds. They're also water resistant to grade IPX7, which will put your mind at ease when wearing at the gym or outside.
If background noise is a key concern, the DuoTen earbuds include great CVC 8.0 noise cancelling technology, so you can listen to music in peace. The innovative ear hook design helps to ensure a good fit in your ear, so you won't be disturbed by uncomfortable components.
Best Features
Great variety of extra features.
Charging case is especially useful.
---
MPOW M30 In Ear Bluetooth Headphones
Our fourth choice of the best wireless earbuds is the MPOW M30 Bluetooth Headphones. These are an excellent choice for people who want to listen to music while in the gym or during workouts. With additional Bluetooth 5.0 connectivity, low latency sound quality is certain.
The IPX8 waterproof nano coating will keep the M30 earbuds safe from extra moisture. The ergonomic ear fin design is an excellent addition for people who enjoy playing sports, as it helps to disperse pressure well. The differently sized ear tips will also ensure a great fit, so you'll be using them in comfort for the whole 5 hours of battery life.
The compact Type C quick-charge case is useful for when you're on the go, and the touch control capabilities are very convenient. With the built-in mic, activating your phone's assistant or taking calls will be effortless.
The M30 earbuds also deliver fantastic sound quality, with advanced driver systems and powerful bass effects. The choice of mono and stereo audio modes is also excellent. MPOW offer an impressive 2 year warranty, so wear and tear won't be a problem.
Best Features
Generous warranty.
Very ergonomic build quality.
---
OKG True Wireless Stereo Earbuds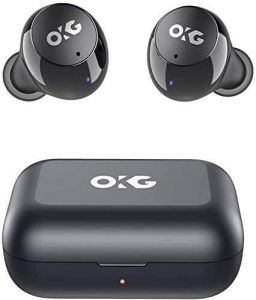 Our fifth choice of the best true wireless earbuds for under $100 offers great features for just $29.99. The OKG earbuds support Bluetooth 5.0 connections for up to 33ft, offering excellent restriction-free use with one step pairing.
With 5 hours of battery life, and a good quality 6mm driver, you'll be able to enjoy quality audio and strong bass for hours. The tap buttons make switching tracks easy, and the integrated microphone means you'll be able to answer a call or activate your voice assistant without touching your cell phone. They're also water resistant to grade IPX8, which will help keep your earbuds safe.
The charging case offers 25 hours total charge, and with 3 different sizes of tip and a compact build, you'll be able to listen in comfort all day. Background noise reduction technology, and mono and twin modes means you can really customize your audio experience. With an enviable 90 days no-reason refund, and a lifetime warranty, OKG have got everything covered.
Best Features
Excellent refund and warranty system.
Variety of sound modes.
---
Aukey True Wireless Earbuds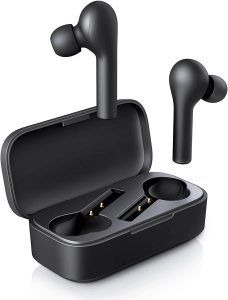 Our next choice of the best true wireless earbuds is from Aukey, and is another affordable unit. With Bluetooth 5.0 capabilities, you'll enjoy a stable and efficient connection for up to 5 hours of playtime. With simple one step connection, each time you take your earbuds out of their case they'll instantly pair with your chosen device. This way, enjoying your favorite tracks will be easy.
A microphone on each bud, and simple touch controls make Aukey's earbuds an even more convenient choice. Easily manage audio playback and calls, activate your phone's assistant, or skip tracks. The case gives you 6 additional full charges, so you won't have to worry about battery life.
The drivers will deliver crisp sound quality, and with a choice of three cap sizes, comfort is guaranteed. The choice of 2 audio modes, and the IPX4 grade splashproof and sweatproof rating, ensures great functionality. You'll be able to easily switch between mono or stereo mode, or listen during workouts without worrying about damage. An extra 24 month warranty will put your mind at ease.
Best Features
Generous 24 month warranty.
Simple one-step pairing.
---
OKIMO Bluetooth Wireless Earbuds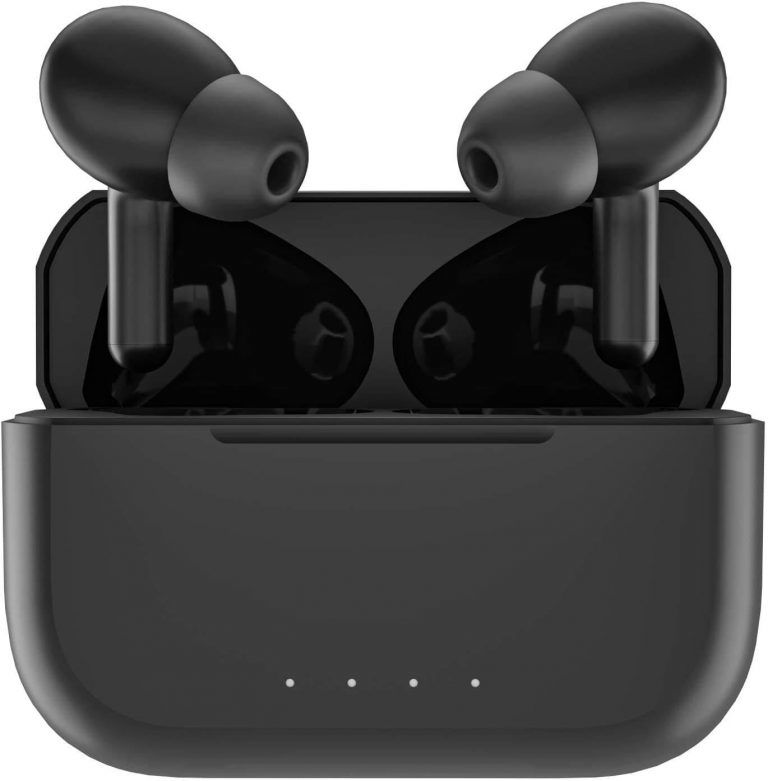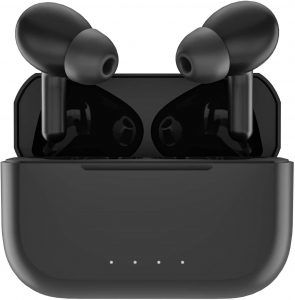 Our seventh pair of wireless earbuds are from OKIMO, and they boast Bluetooth 5.0 support with one-step pairing. The excellent sound quality from the Graphene-Enhanced dual driver technology means you'll be able to enjoy clear audio quality and deep bass with a great connection. Reviews have also praised the good wireless coverage.
The OKIMO Bluetooth Earbuds come with a great charging case, that can fully recharge your earbuds several times a day. Just 1 charge will give you 5 full hours of battery life. The sleek, ergonomic design allows you to customize your fit with different ear cap sizes, so comfort won't be an issue.Diverse touch control capabilities, and a built-in mic makes the OKIMO earphones very versatile, too.
With IPX5 water resistance, you'll be able to enjoy the HIFI stereo sound without worrying about rain. Overall, OKIMO has provided a great choice of ear buds under $100.
Best Features
Lightweight build.
Great drivers.
---
VEATOOL Wireless Earbuds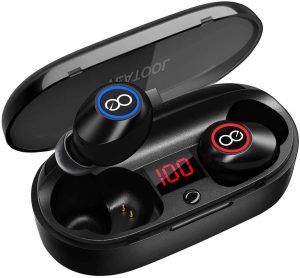 Our eighth product is the VEATOOL wireless earphones. At just $17.99, they're the cheapest option in our selection of the best earbuds under $100, and they still pack a great punch. This true wireless unit supports Bluetooth 5.0 connection for an impressive 50ft, so nothing will restrict you at all. There's no master/slave restriction either.
With quick pairing abilities and multi-function tap controls, they're incredibly easy to use. VEATOOL's large dynamic driver tech also delivers excellent sound quality, with high fidelity sound and bass boost. Mono and 3D surround sound listening modes are all possible too. With a built in noise cancelling HD microphone, even answering the phone will be simple.
The in-ear earphones have high quality design, with each ear tip tilted 45 degrees to ensure the most comfortable fit, even when you're moving around during workouts. IPX7 grade water resistance means you won't have to worry about rain or sweat either. A single charge will give you around 4 hours of battery life, and the handy charging case is great for when you're on the move.
Best Features
Great selection of features for an incredibly affordable price.
Excellent Bluetooth connectivity.
---
Monster Isport True Wireless Earbuds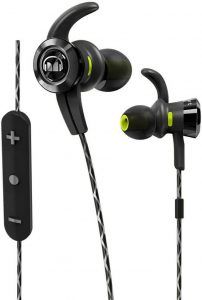 Our penultimate pick is from Monster, and is the Isport True Wireless Earbuds. They do come at a higher price point, but with support for both Bluetooth 5.0 and aptX codecs, you're sure to enjoy excellent sound quality. Reviews also praise the high standard wireless connection.
Impressive 3D audio, a choice between mono or stereo modes, and CVC 8.0 noise cancellation is all on offer. The one step pairing and multi function touch control makes the Monster Isport earphones a very convenient option. A built-in noise cancelling mic also ensures excellent call quality. The device boasts great charging capabilities, with just 5 minutes of charging offering 1 hour of play time. A full charge can last up to 6 hours, and the Type C charging case will allow you to recharge several times throughout the day.
Monster also delivers a unique ergonomic design, with additional ear hooks to ensure a secure fit. You won't have to worry about losing an ear bud while playing sport or on the go. 3 different ear tip sizes allow you to customize the fit and choose the most comfortable option. Impressive IPX8 water protection will put your mind at ease, and you'll be able to listen in any environment.
Best Features
Supports aptX codecs for a low latency sound signature.
Good durability and impressive features.
---
Monster Clarity 101 Earbuds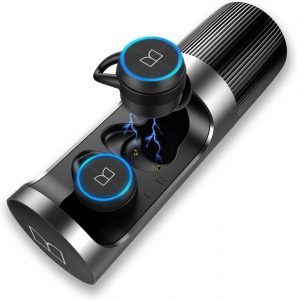 Our final pick of the best true wireless earbuds under $100 is also from Monster. With support for Bluetooth 5.0 and one step pairing, the Clarity 101 Earbuds are a great choice.
The built-in controls allow you to easily adjust the volume settings, change songs, or even activate your smartphone's assistant with the built-in microphone. Several reviews mention that the Clarity 101 Earbuds have good noise isolation. With additional mono and stereo modes, you're guaranteed an excellent listening experience. The 5 hours of battery life mean that nothing will interrupt your music.
The compact build and freebit enhancers ensure a very snug fit. Simply twist each ear bud until it secures in the ear, and you won't have to worry about losing them. It also comes with IPX5 water resistance and sport clips to keep them extra secure when on the go. When you're not wearing your earbuds, the aviation aluminum case will make sure they're safe, and will keep them charged, too. Just 5 minutes of charge gives an hour of play time.
Best Features
Incredibly comfortable fit.
Excellent carrying case will keep them secure and powered up.
Considerations for Choosing Wireless Earbuds Under $100
When you're looking for the best true wireless earbuds under $100, there are a few factors you'll need to consider.
Our handy buyer's guide will help you find the best earphones to suit your needs.
Wireless Range
One of the greatest benefits of true wireless earbuds is the fact that they don't require a single cord or cable. Being able to listen to music without wires or a bulky headset weighing you down will allow you to have a much more comfortable experience. However, it's important to make sure that the earbuds you choose have a long wireless range, so you're free of restrictions.
Wireless scope can vary across units, but choosing a pair of earbuds with at least a 30ft scope will provide you with the best Bluetooth connection. Therefore, you'll be able to move around without worrying about a poor signal. Some models can go up to 50ft or more, and such great connectivity doesn't have to come at a premium cost. A number of the under $100 earbuds in our selection boast impressive 50ft scope, so you'll be able to enjoy music restriction-free without hurting your wallet.
Comfort
A really important factor to consider is comfort. If your earbuds aren't soft and lightweight in your ears, you won't enjoy wearing them for long periods of time. The best true wireless earbuds will deliver a snug fit that stays secure all day.
Checking user reviews online is a great way to make sure that you've chosen a pair that's comfortable. Devices that come with soft silicon ear caps in a variety of sizes will allow you to customize your fit to your preferences, even if you have a smaller ear canal.
Lots of earphones will come with additional ergonomic ear fins or sports clips to ensure they don't interfere with your activities. This is an ideal feature for users with active lifestyles. Choosing a more lightweight version will also allow you to enjoy great wireless music for longer.
Sound Experience
Choosing a pair of earphones that deliver an excellent sound signature is a must, and you can find devices that provide premium audio in any price range, even under $100.
Look for items with a powerful driver, which can deliver clearer sound and deeper bass. This way, you'll have a much more immersive sonic experience. If you have noisy surroundings, or enjoy listening on your commute, then CVC 8.0 Noise Cancellation technology can also allow you to enjoy your music to its fullest.
Finding wireless earbuds that support Bluetooth 5.0 will ensure a great connection with a smartphone or laptop, and boost your audio quality. Models that support aptX and AAC codecs will guarantee low latency sound, meaning you won't have to worry about poor connection. A surprising amount of affordable units provide this feature.
Additionally, Bluetooth earphones that come with different listening modes can be really useful. Several models support mono, stereo, and share modes, which can be great for multitasking or listening with a friend. Being able to customize your sound can greatly improve your listening experience.
Usability
When you're considering the best cheap true wireless earbuds, choosing a device with several extra features will help you make the most out of your purchase.
Firstly, something with good battery life is a must. Long lasting charge will allow you to enjoy excellent sound for longer, and no one wants to interrupt their music to recharge. If you want Bluetooth earbuds to last all day, choosing a pair with a charging case is always a great idea. This way, they can recharge whilst also staying safe in a sturdy carry case. Some models also offer quick charge, which is another useful feature.
If you enjoy listening to music outside or while doing exercise, a high IPX grade will ensure you're protected from sweat or rain. Grade IPX8 will provide the highest levels of shielding, but anything from IPX5 upwards is a good idea.
Wireless audio products that don't interfere with your daily life will also have better usability. Models with built-in controls will allow you to execute a variety of functions without touching your cell phone. Being able to skip songs and adjust your playback with a single tap is incredibly convenient. Some true wireless earphones even have built-in microphones to allow you to use your voice assistant, or answer phone calls on the go.
FAQS
What are the best wireless earbuds below $100?
If you're looking for a great pair of wireless headphones, cheap options can definitely deliver excellent specifications. However, finding the best true wireless earbuds under 100 dollars can be difficult, especially with the wide array of products available on the market.
Firstly, a device with powerful driver tech will ensure you get the best sound profile possible. Many Bluetooth earbuds under $100 have excellent ones that provide immersive sound and great bass response.
Secondly, choosing wireless headphones that support Bluetooth 5.0 will guarantee a great connection with minimal latency. Models that also support aptX or AAC codecs will really boost your connectivity and overall wireless sound profile.
A great pair of earbuds will also be comfortable to wear for long periods of time. Select a pair that's light weight, with silicon or foam ear tips in many sizes. Being able to customize your fit will ensure that your earphones are much more enjoyable to wear. Checking online headphone reviews can help you find the most comfortable options.
Finally, choosing a model with great utility will help you to get more for your money. Convenient touch or button controls, and ambient noise cancelling technology are excellent additions. Devices with good microphone quality make on-the-go calls very simple. Selecting an item with good battery life is a must. Some even come with a charging case to keep your earbuds safe and fully charged throughout the day.
If you enjoy listening to music during workouts or while outside, a high IPX water resistance rating is very important, as it will put your mind at ease.
Luckily, all of the cheap true wireless earbuds in our top ten selection cover these criteria, so you're sure to find something to suit your requirements.
Are cheap wireless earbuds any good?
Affordable Bluetooth earbuds are an excellent choice for a variety of users. If you're looking to try out wireless technology, or are sticking to a budget, lots of cheap earbuds deliver competitive specifications at a very affordable price point.
If excellent sound quality is a priority, a variety of affordable earphones offer powerful driver systems and multiple listening modes. A great number of cheaper earbuds provide excellent Bluetooth and aptX codec connection with an impressive wireless scope, in addition to good battery life.
You can also find many options with great extra features. Ambient noise cancellation, charging cases, and multi function button controls are all possible. For those who love working out or being outside, durable and ergonomic designs are available, too.
All of the units on our list cover various key areas whilst staying under 100 dollars, so you're sure to find an affordable option that is perfect for your requirements.