What are the best wireless headphones of 2021? Times Now Pakistan News Are you looking for a way to block out the noises of every day life? Find out which headphones work for you, and fall deeper into whatever it is you are passionate about. Lots of products use active background noise cancellation to make your life as simple as possible. From brands like Sony and Bose, top headphones manufacturers have a range of features to offer you that bring together the best cutting-edge technology to suit every need. With wireless headphones, you never need to worry about tangled cords when you are running around on busy days. Here we have compared ten of the best headphones which are wireless from 2021 out there and which ones will suit you and your lifestyle.
With products ranging from £20 to £350, we see which headphones do not compromise quality with cost and what each pair of wireless headphones can offer you in terms of audio quality, noise cancellation, connectivity, hands-free usage and lots more features.
Top 10 Best wireless headphones
If you are looking for the best wireless headphones, you have come to the right place. Here we have compared the various functions each pair of headphones can offer you, as well as its cost and special functions that make each pair of headphones unique. Read on for what we are think are the top picks of wireless headphones and which ones will be the best for your needs.
1. Bose QuietComfort 35 II, Noise Cancelling, Wireless Headphones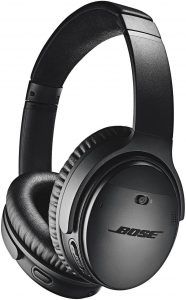 These headphones are renowned for their noise-cancelling qualities, with Amazon Alexa and Google Assist built in so you can enjoy complete access to millions of playlists and more, all hands-free. The Bose QuietComfort 35 II can be bought in three different colours – black, silver, midnight blue or a limited edition rose gold. Along with the Bose noise cancelling headphones, you are also able to buy an aeroplane adapter, a sturdy carry case, ear cushion kit and a USB cable to ensure all of your travelling needs are met and that you are as comfortable as possible. However, these items are sold separately.
The dimensions of these headphones are: 3.20 x 6.70 x 7.10 inches. They weigh in at just 0.52 lbs.
Best Features
Noise cancelling
Built in Amazon Alexa #
3 different colours
Hands-free
Light-weight
20 hours of battery life
---
2. Sony WH 1000XM3 Wireless Noise Cancelling Headphones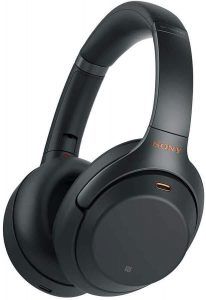 Description: These Sony headphones allows anyone to escape the humdrum of the city with advanced noise-cancelling technology. With these headphones, they can automatically adjust to your surroundings and you can adjust the volume with just a slight touch, leaving no need to remove the headphones and no phone calls will be missed again. With its Noise Cancellation functions, ambient noises can be blocked out to ensure it is just you and your tunes. These headphones are ideal for the person who wears them throughout the day, as the soft earpads and padding on the headband ensure maximum comfort. The Sony WH 1000XM3 has a NC processor to ensure that your music experience is never compromised.
They come in two different colours: black or silver.
Dimensions: They are also extremely lightweight, at just 0.39 x 0.39 x 0.39 inches and 9.2 ounces.
Download the Sony Headphones Connect App in order to adjust the sound to whatever you like and to use Smart Listening by Adaptive Sound Control.
Best Features
Great for flights – unique Atmospheric Pressure Optimizing delivers optimal sound at high altitude
Sense engine – automatically adjusts to your environment
Active Noise Cancellation (ANC)
Soft, pressure-relieving earpads
Lightweight
Bluetooth
Battery included
Liquid Crystal Polymer (LPC) diaphragms means that these headphones are ideal for heavy beats
Digital Sound Enhancement Engine – upscales compressed data files to bring them to the quality of High-Resolution Audio
Simple to use – easy functions for volume control and customizable settings
---
3. Sennheiser HD 450BT 5.0 Wireless Headphones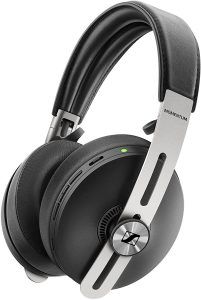 These are a pair of versatile wireless headphones and is the perfect companion to anyone looking to enjoy better audio with a deep, dynamic base. These Sennheiser headphones include a Virtual Assistant button for Google and Siri. You will listen to your favourite songs in a whole new way, at an affordable cost. However, some users have complained about discomfort after wearing the headphones for long periods of time, so if you are looking for headphones to wear for hours at a time it might be worth considering other products. The Sennheiser noise cancelling headphones are hands-free, so enjoy answering calls and adjusting your tunes with just a simple tap.
These headphones are slightly heavier than the previous items mentioned , as the dimensions are 6.1 x 2.6 x 7.6 inches and 1.2 lbs.
Best Features
30 hours of music playback
Multiple colour options
Virtual Assistant for Google and Siri
Bluetooth
Hands-free.
Easy to use
---
4. Bose Noise Cancelling Wireless Headphones 700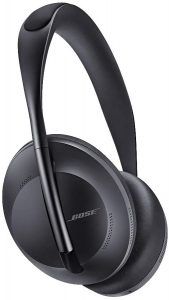 Similarly to the Bose QuietComfort 35 II, these headphones come with Alexa voice control and hands-free qualities, meaning your phone can be left in your pocket as you adjust your music to the way you like, or answer calls. If you are looking to buy headphones that are critically acclaimed for its noise cancelling qualities, you have found it. Bose noise cancelling headphones and its automatic sound system ensure the functions are simple to use. Built-in voice control does a great job of ensuring that you get your music and messages fast to make sure none of your phone calls are ever missed.
One special feature of these Bose 700 headphones is it water resistance, ensuring durability with everywhere you go. These wireless headphones are a sleek and stylish design and ensures a comfortable feeling so they are ideal for someone who plans to wear them for a hours during the day. It has a streamlined band and comfortable ear cups designed to mirror the anatomy of the human head and ears.
It is lightweight, with dimensions of 2 x 6.5 x 8 inches and 8.8 ounces.
Best Features
20 Hours of battery life and wireless music playback with noise cancellation activated
Water Resistant
Comfortable ear cups
ANC
---
5. Bowers & Wilkins PX7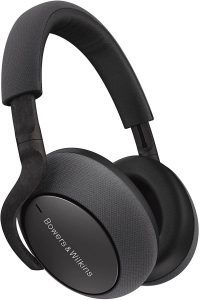 These over-ear wireless headphones are perfect for anyone looking for headphones with a long battery life and adaptive noise cancelling. Wherever you go, they will put you right at the centre of music. With its adaptive noise cancelling, it will automatically respond to your environment. These headphones also come with a hard-shell zippered carry case to ensure maximum long-lasting durability. Special functions include noise cancellation and universal phone control, which are functions that can't be found in all headphones. They are also designed for maximum relaxation and can be worn during long days of working or on long-haul trips. The Bowers & Wilkins PX7 come in either space grey or silver.
Like other headphones mentioned, these are also lightweight with dimensions of 3.15 x 6.89 x 8.66 inches and 0.67 lbs.
Best Features
30 hours of battery life and can be quickly charged in fifteen minutes to give you five more hours
Hard shell carry case
Great sound system
Comfortable
Two year warranty
---
6. Jabra Elite 85h Wireless Headphones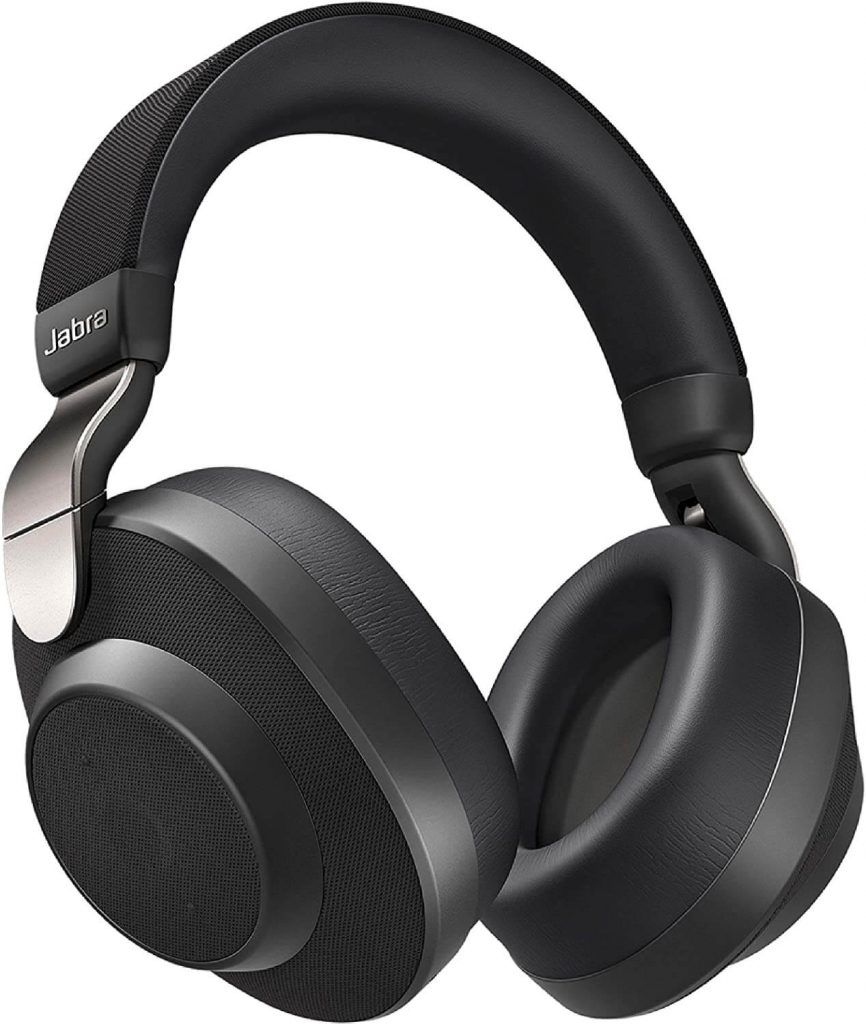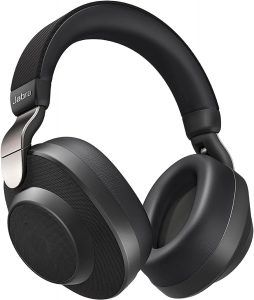 Block any unwanted sounds with the excellent noise cancelling function of these over-ear headphones and with the revolutionary Smart Active Noise Audio technology, it automatically adjusts to whatever your surroundings are. The Elite 85H noise cancelling functions ensures crystal clear sound quality and hands-free so you are able to make calls, adjust your sound volume and much more with complete confidence using its simple controls. It also has On-Ear detection, so will automatically pause your music once you remove them.
An additional great feature of these headphones is its ability to handle all the elements, with its water resistant features. The Elite 85H come in Copper, Beige Gold, navy or Titanium Black. Download the Jabra Sound app to make the most of your headphones and access SmartSound and other functions, which lets you personalise your device.
These are a little heavier than other earphones on this list, with dimensions of: 8.5 x 7.4 x 3.2 inches and 2.05 pounds.
If you are looking for multi-purpose headphones for an office environment, then these are the perfect ones for you.
Best Features
Water-Resistant
SmartActive Noise Cancellation
Range of colours to purchase headphones in
Hands-free
36 hours of battery life
On-Ear detection
Personalization on sound profiles
---
7. Jabra Evolve 65 UC Wireless Headset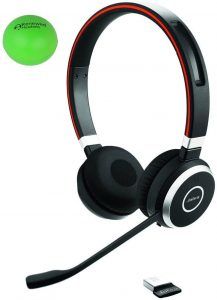 Are you a mobile professional seeking the best headset for your work? Or perhaps you are looking for the best cutting edge technology to improve office life. These headphones are great for work environments as they come with a special 'do-not-disturb' feature your colleagues will be able to see during busy hours of the day. This has compatibility with all leading UC platforms and is certified with Skype to Business to Microsoft Teams, and more. The Jabra Evolve Wireless Headset will ensure your office staff are met with as few IT problems as possible and ensures seamless quality. Bluetooth connectivity gives you up to one hundred feet (or thirty metres) of hands-free connectivity to your smartphone or PC for up to fourteen hours. All accessories are included when you buy this item which makes it ideal for any office.
Its dimensions are: 0.79 x 2.73 x 3.19 inches and weighs in at just 5.6 ounces.
Now more than ever, it is important to have the best equipment for your office and this wireless item is the perfect finishing touch to ensure all business calls and meetings are problem free. Enjoy high performance with the Jabra Evolve 65 UC.
Best Features
Hands-free features allows up to 100ft/30m for up to 14 hours
Lightweight
Best suited for office or business environments
'Do Not Disturb' light to ensure no interruption
---
8. Srhythm NC75 Pro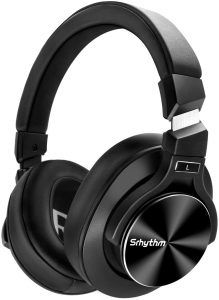 These are some of the cheaper headphones on the list but that takes nothing away from the quality. These over-ear headphones uses noise cancellation to cancel out up to 92% of low-frequency background noises to ensure your walk through the city or long-haul flight is nothing but you and your sound. Its built in 750mAH energy-efficient battery ensures forty hours of playtime, and the headphones only require 2 hours of charging to get back to full power. The memory-protein ear pads leave you comfortable after hours of usage. There are 100degree earcups and a portable carry case which is convenient for anyone who is on the road frequently.
This is also quite lightweight, with dimensions of 6.81 x 3.39 x 7.95 inches and a weight of 0.61 lbs.
If you cannot quite afford the other devices in this review, this is a great alternative for someone with a lower budget who is still looking for a quality sound system, great noise cancelling functions and a long battery life then the Srhythm NC75 Pro headphones are the wireless ones for you.
Best Features
40 Hours of Battery life – takes 2 hours to charge back to full power
Active Noise Cancellation
Bluetooth
Handsfree call and built-in mic
Comes with zippered carry case
---
9. PowerLocus Over-Ear Headphones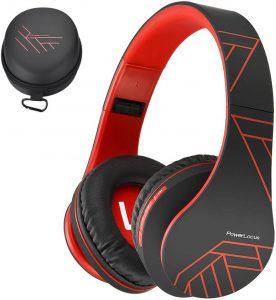 These are another cheaper product currently on the market that still does not compromise quality. You can get amazing sound quality, connect quickly via Bluetooth and headphones that are compatible with any device with this function enabled, all at an affordable cost. These headphones are flexible and can be adapted to fit any sized head, so are suitable for people of all ages. These foldable over-ear headphones also come with its own carry case so you can take them with you wherever you go! PowerLocus is powered by a Lithium Polymer 400mAH battery and has a wide frequency response to ensure that you get the most out of your music.
You can buy them in a range of colours: Black, Black/Red, Black/Yellow, Camo, Purple, Black/Orange, Black/White, Blue/White, Rose Gold, White/Violet.
Dimensions: 3.80 x 6.00 x 8.10 inches
Best Features
Affordable price
Comes with its own carry case
Look stylish
Two year guarantee and great customer service
Flexible and foldable
Bluetooth 5.0 connectivity
Comes in a range of different colours.
Light weight
Comfortable for all ages
---
10. Sennheiser Momentum 2.0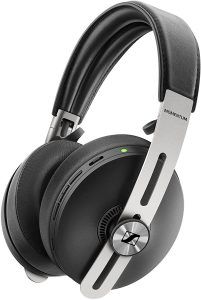 Description: The Sennheiser Momentum 2.0 offers the latest and most dynamic technology and superior sound quality. The Momentum Wireless ensures you never miss a call with a friend or a business meeting as it features intuitive audio controls designed for any situation. Noise Cancellation and Transparent Hearing functionality means you can enjoy music on your terms, wherever you are. This uses 4 microphones for ultimate isolation.
It comes with a 22 hour battery life to ensure you can enjoy your music during any flight or long working day. Its sturdy, stylish design with durable covers and steel arms creates a durable set of wireless headphones that will stand the test of time. They are the perfect long-term companion for anyone who is always on the move.
These slightly weightier Sennheisers have the dimensions of 7.40×4.0x9.90 inches and weight of 2.00 lbs.
Best Features
Great battery life (22 hours)
Active Noise Cancellation
Intuitive audio controls
Stylish design
Sturdy and durable
Considerations Choosing wireless headphones
There are many features to consider when it comes to picking which wireless headphones work for you. Are you better suited to overear or earbuds? Are you looking for a great value for money, with amazing sound quality, all at an affordable price? There are several things to consider before purchasing your set of wireless headphones, and this review will compare the different considerations and which ones will be best suited for what you are looking for.
Price
The list of headphones within this article has a range of products at different prices. Cost does not always equate to the best sound quality, so it is good to go with a company you trust to deliver the functions you need.
The cheapest pair of wireless headphones on this list are the PowerLocus at just £15.29 when purchased from Amazon, whereas the most expensive are the Sony WH 1000MX3. Both Bose and Sony produce headphones that have outstanding sound quality and noise cancelling functions, so if it is necessary to find headphones that can block out all unnecessary noise of everyday life than the slightly pricier headphones might be the ones for you. These companies have spent a long time creating the best headphones with the most recent and best technology to make sure they are worth every penny.
Battery life
The wireless headphones on this list offer a range of battery life and so it is important to consider how long you wish to use your headphones during the day. If you travel frequently or are always on the move, then perhaps the Srhythm headphones (offering a battery life of 40 hours) or the Jabra Elite (battery life of 36 hours) might be the ones most suitable.
Other considerations
Wireless earbuds have not been included in this list, so you may wish to explore those possible options with the companies listed above. It is important to consider whether over-ear wireless headsets or wireless earbuds are more your style.
Are you purchasing head phones more for business or pleasure? The Jabra Evolve headset is perfect or any office environment, but the Bose QuietComfort 700 are great for anyone on the move, travelling or simply seeking some peace and quiet. Noise cancelling headphones are ideal for people who want a life of little fuss, but the items that offer this feature to the best quality are a bit pricier than others on the market.
Another important thing to consider is comfort. If you are planning on wearing these for hours during the day, it is best to invest in a pair of headphones that can provide you with maximum comfort so that your ears don't get hot or your head doesn't hurt from a few hours of wearing your head phones. If you are aiming for something comfortable, then perhaps consider the Bose QuietComfort 65 II, or the Srhythm NC75 Pro if you are looking for something a bit cheaper.
If you are planning to wear head phones come rain or shine, you may value a product's water resistant qualities so it is prepared to take on any element and retain its quality. This can be found in the Jabra Elite 85H, which will keep you going through any environment you are faced with.
Conclusion
We hope you have enjoyed this review of the ten best wireless headphones of 2021. There are many things to consider when making your purchase, but try to think about what matters most to you. Some of these headphones are perfect for both business and pleasure; their wireless connectivity and Bluetooth functions allows for multi-tasking in the office, or for sitting back and relaxing during a long-haul flight. Find the perfect headphones that will block out all unnecessary noise and will let you fall deeper into what really matters.
Below are some frequently asked questions, but if you still are unsure about which wireless ear headphones are the best for you, feel free to leave a comment down below.
FAQS
What is the best wireless headphones on the market?
There are many things to consider when finding the 'best' wireless headphones, mainly cost, battery and noise cancellation. In terms of sound quality (perhaps the most important feature of wireless headphones) and noise cancellation, Bose and Sony have always produced headphones with the most cutting edge technology and, although they are slightly pricier than other wireless head phones on the market, they are certainly worth the investment.
What are the best Bluetooth headphones to buy?
All of the headphones listed above use Bluetooth to ensure your music listening, calls, etc, are handsfree. If you are looking for headphones for the office, then the Jabra Evolve Headset will be the most suitable because of the range it allows from your computer or phone (100ft). However, if you are looking for head phones for travel or just for everyday usage, then the Sony WH 1000MX3 have received the best reviews.
What is Active Noise Cancellation?
ANC uses microphones and speakers to reduce background and surrounding sounds. It uses a feed-forward and/or a feed-back system. This becomes more sophisticated when it adapts automatically to environments. Transparency mode is also important as it lets you tune back into the world around you without having to turn your music off or removing your headphones.
How important is the Active Noise Cancellation?
Having the best Noise Cancellation technology in your headphones is great for anyone looking to block out the ambient sounds of city when walking around, a noisy office or for someone seeking a peaceful silence during their long haul flights. Noise Cancellation adjusts automatically to your environment without you having to do anything. Some headphones on the list we have compared are the best Noise Cancellation headphones on the market in comparison to others so if this is an important feature to you, it is best to research which ones are most effective.
What is the difference between the Sennheiser Momentum and the HD 450 BT?
If you are having a bit of trouble deciding between these two particular models then here are some key differences. One difference is the cost. The HD 450BT is £159.99 whereas the Sennheiser Momentum is £349.99, but can be found cheaper on Amazon. Both have great sound, are wireless and use Bluetooth connectivity, and the Sennheiser HD has a longer battery life. However, the Momentum has Noise Cancellation and Transparent Hearing Functionality, which could be important if you are someone who works in a loud office or is always on the move through noisy cities.